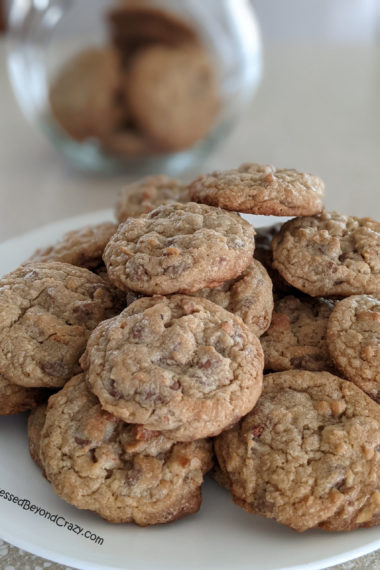 This Island Treasure Cookie Recipe is amazing! Why? Because every single bite is bursting with tantalizing flavors. That is to say, it contains tropical flavors such as coconut and macadamia nuts. Another delightful ingredient is milk chocolate chips.
Besides all of that, the recipe is extremely easy to make gluten-free!

---
To help support our blogging activities, our site contains affiliate links. If you make a purchase from a link on our site, we may receive a small percentage of that sale, at no extra cost to you. Blessed Beyond Crazy is a participant in the Amazon Services LLC Associates Program, an affiliate advertising program designed to provide a means for sites to earn advertising fees by advertising and linking to amazon.com. As an Amazon Associate, I earn from qualifying purchases.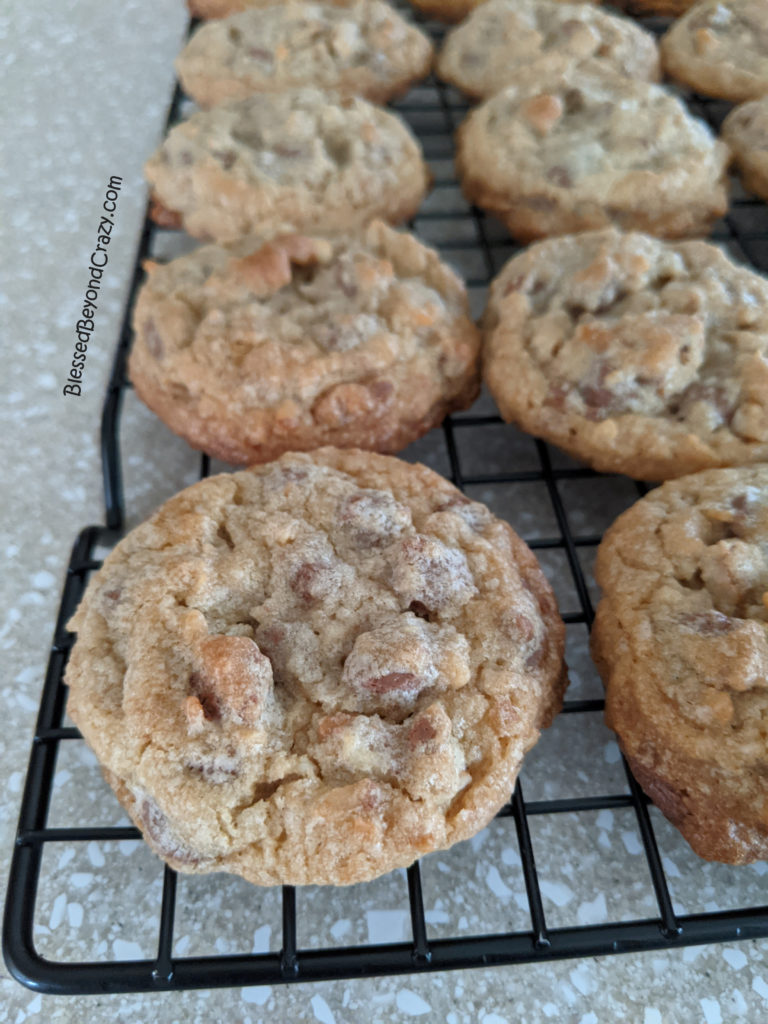 Cookies
Don't you just love cookies? I certainly do! First, there's a wide variety of cookies to choose from. Secondly, you can easily hold a cookie in your hand. Thirdly, no dishes are required. Fourthly, everyone seems to enjoy nibbling on a cookie.
For example, some of our favorites are: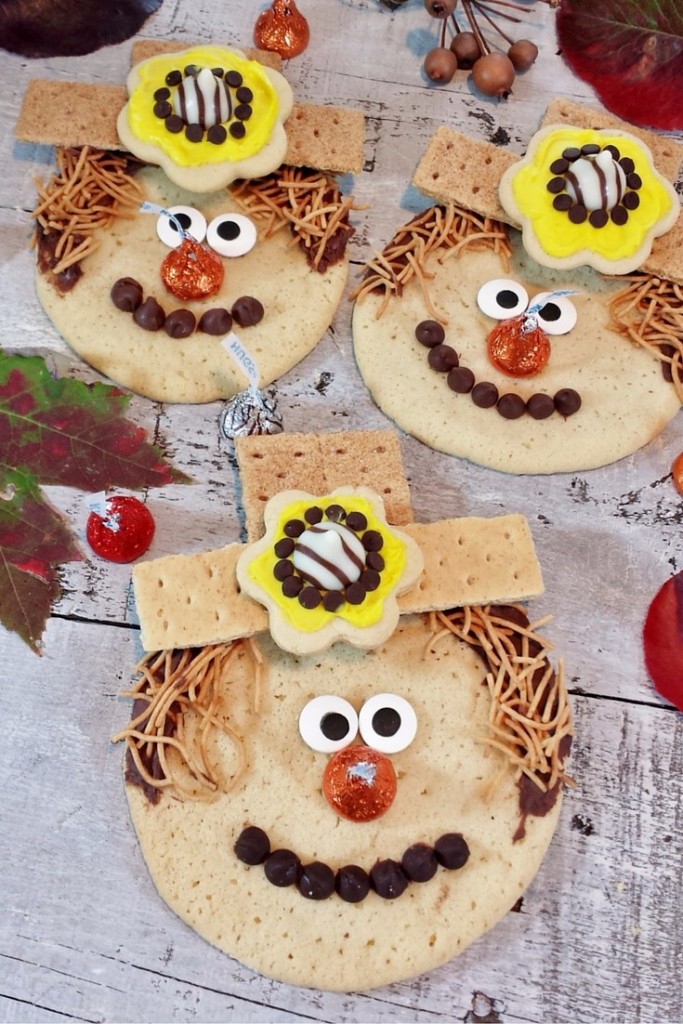 We also love adorable and fun holiday cookies. For example: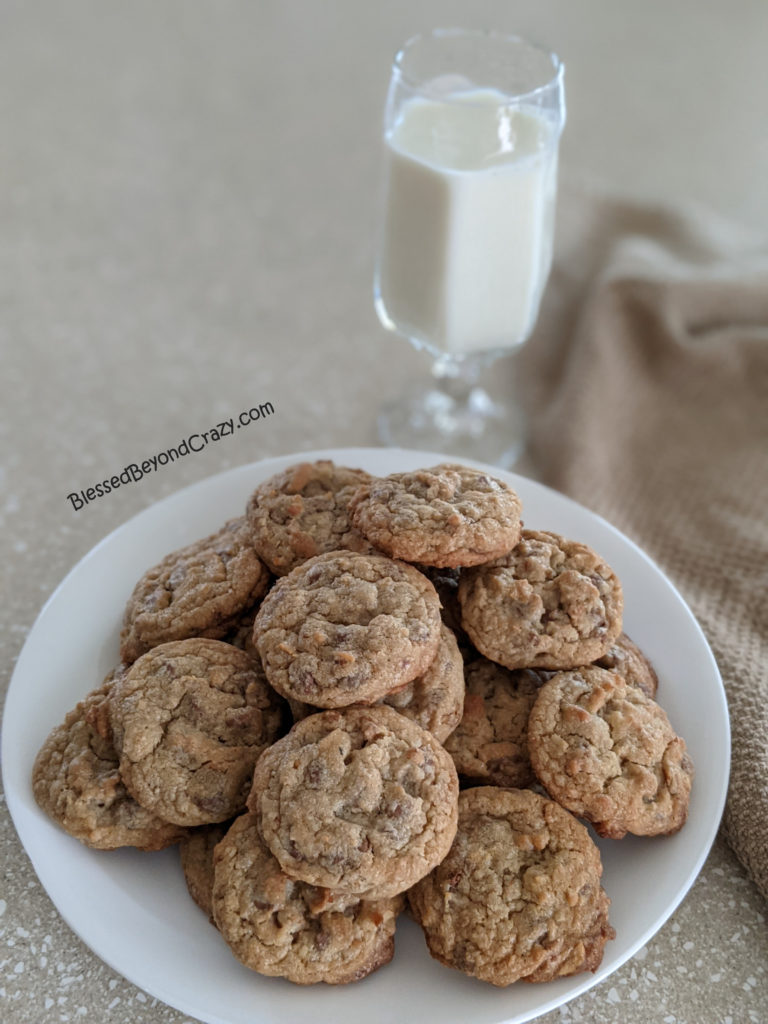 Modifications
As previously mentioned, this recipe calls for toasted shredded coconut, macadamia nuts, and milk chocolate chips. However, pecans or walnuts can replace macadamia nuts.
Also, I use unsweetened coconut because it lessens the sweetness.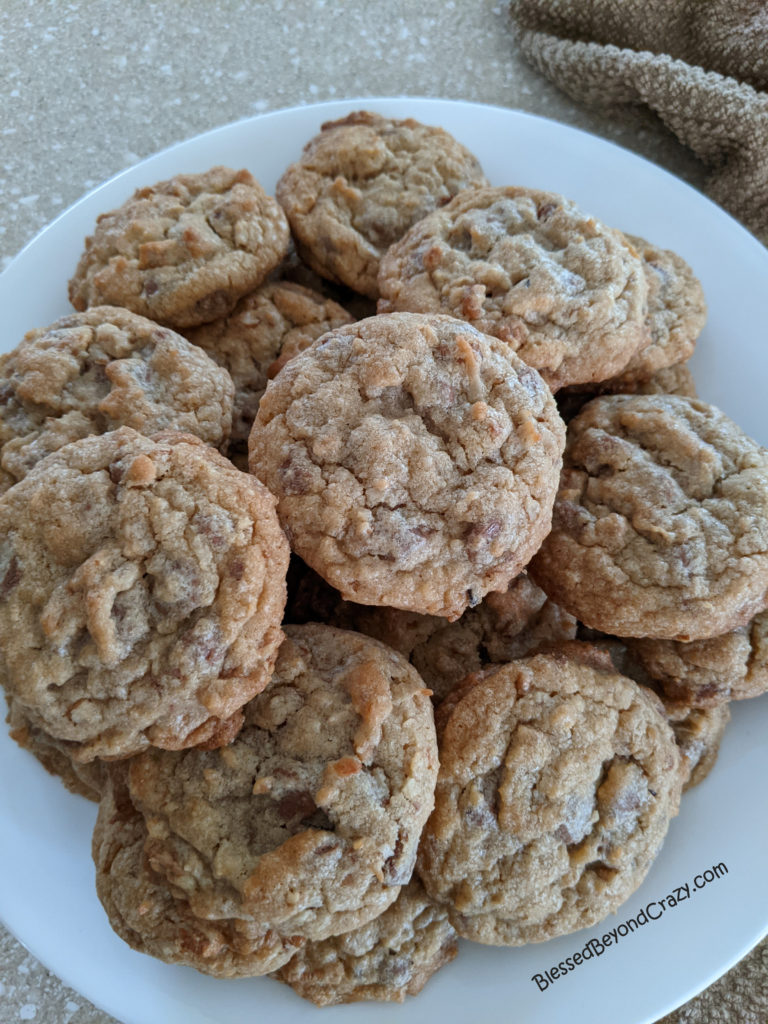 Chunky Goodness!
Notice how chunky these cookies are? Don't you just want to grab one and dig in? Especially straight out of the oven!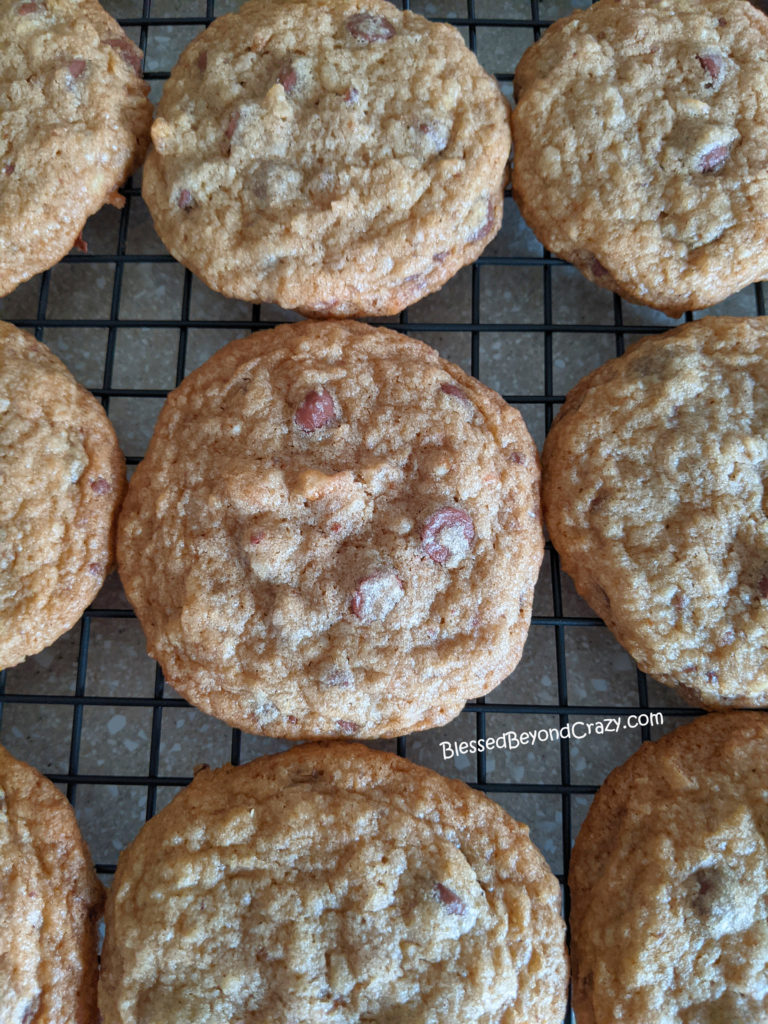 Gluten-Free Cookies
Finally, let's talk about the gluten-free version. It's easy to substitute regular ingredients with gluten-free ones. (See notes in the recipe card.)
Although the gluten-free version may look slightly different they taste every bit as delicious.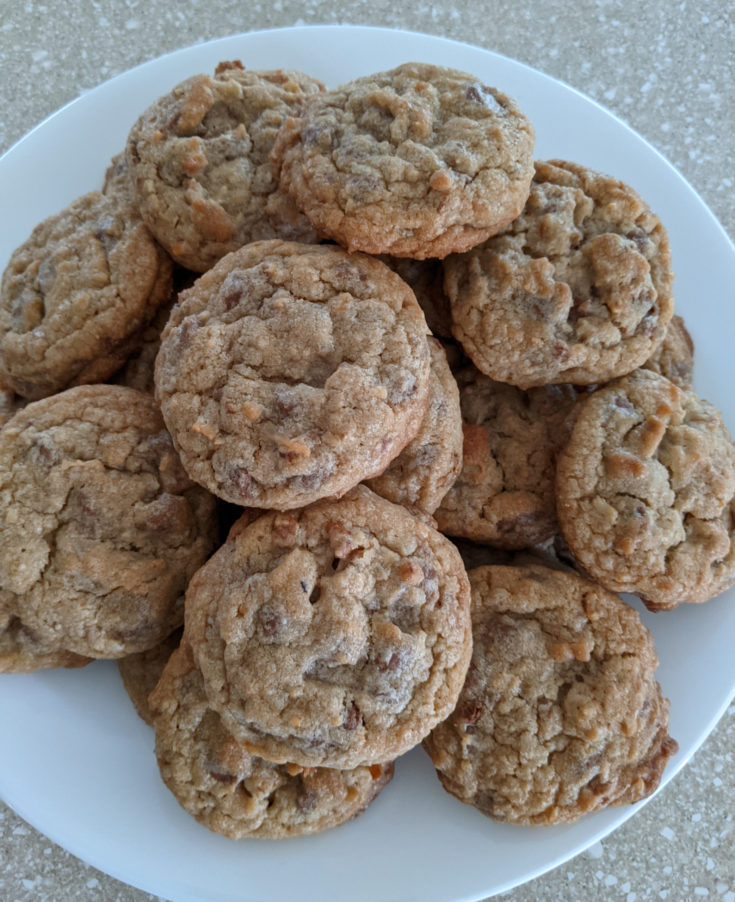 Yield:

3 dozen
Island Treasure Cookie Recipe with Gluten-Free Option
Additional Time:
2 minutes
These delicious tropical-inspired cookies come together quickly and will satisfy any sweet tooth.
Ingredients
1-2/3 cups all-purpose flour (GF Option: use gluten-free flour blend + 1-1/2 teaspoons xanthan gum unless flour already contains it)
3/4 teaspoon baking powder (GF Option: use a gluten-free brand)
3/4 teaspoon salt
1/2 teaspoon baking soda (GF Option: use a gluten-free brand)
3/4 cup + 2 Tablespoons butter, softened
3/4 cup brown sugar
1/3 cup granulated sugar
3/4 teaspoon vanilla
1 egg
3/4 cup toasted coconut (GF Option: I like to use gluten-free organic unsweetened coconut)
3/4 cup chopped macadamia nuts (may substitute with chopped pecans or walnuts)
1 package (11.5 ounces) milk chocolate chips (GF Option: use a gluten-free brand)
Instructions
Preheat oven to 375 degrees F.
Combine flour, baking powder, salt, and baking soda; set aside.
In a medium mixing bowl, beat butter, sugars, and vanilla until creamy. Add egg; mix well. Gradually add flour mixture. Stir in coconut, nuts, and chocolate chips.
Drop by heaping tablespoons (3-inches apart) onto a parchment-lined baking sheet.
Bake for 10 -12 minutes or until lightly browned.
Cool for 2 minutes before moving cookies to a cooling rack.
Store in an air-tight container or freeze for use later.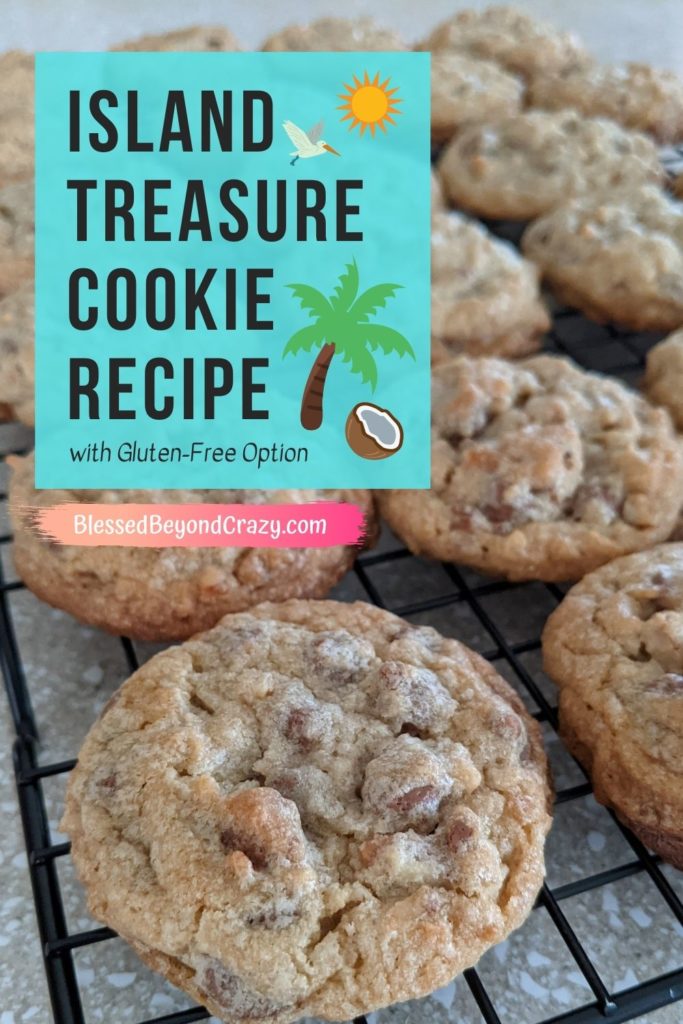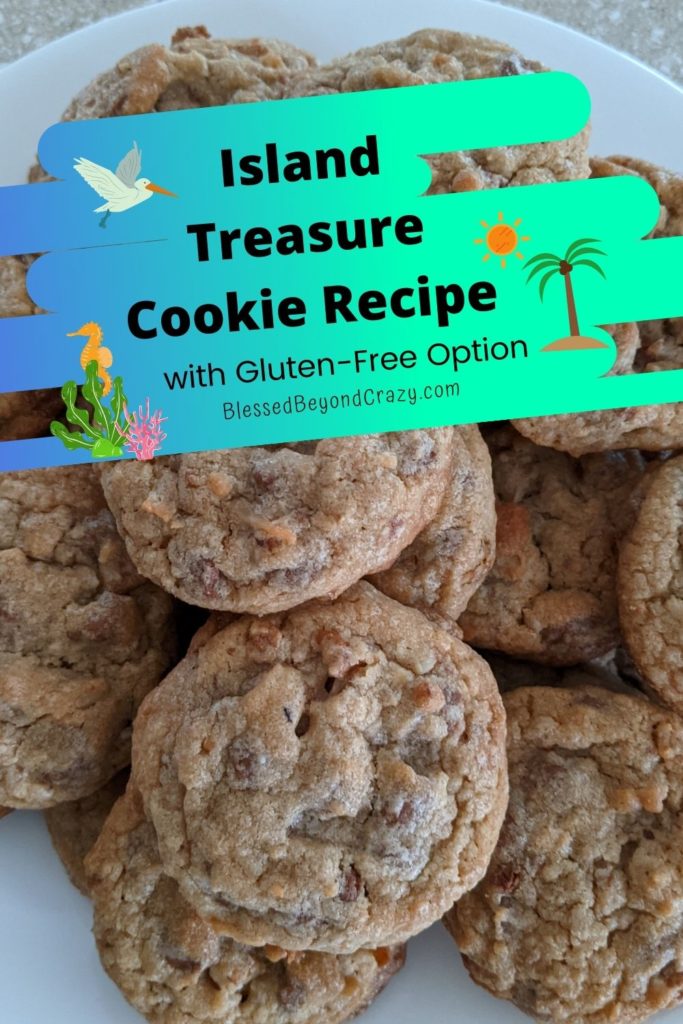 You really gotta try this recipe because Island Treasure Cookies are scrumptious. Furthermore, they are freeze-friendly. Simply thaw before serving. (You can also warm them up in a microwave.)
Moreover, they're perfect for a Pirate-themed party!
Enjoy!
Linda
More great ideas: