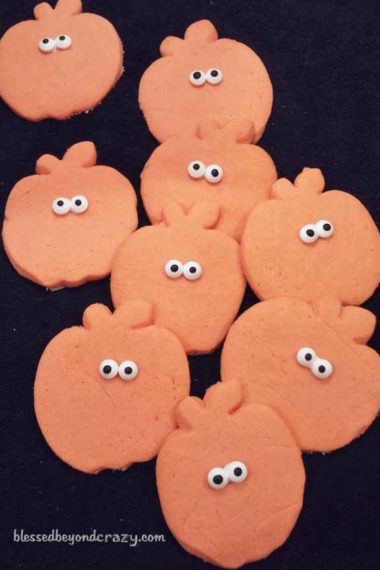 Halloween is rapidly approaching so now is the perfect time to collect a few new recipes. Children of all ages certainly do love making and eating these super cute Halloween Sugar Cookies!!! Make a batch, pile them onto a plate and watch how quickly they disappear! 

To help support our blogging activities, our site contains affiliate links. If you make a purchase from a link on our site, we may receive a small percentage of that sale, at no extra cost to you. Blessed Beyond Crazy is a participant in the Amazon Services LLC Associates Program, an affiliate advertising program designed to provide a means for sites to earn advertising fees by advertising and linking to amazon.com.
These fun Halloween Sugar Cookies (a.k.a. Sugar Cookie Monsters) started by making a scrumptious sugar cookie dough or this gluten-free sugar cookie recipe.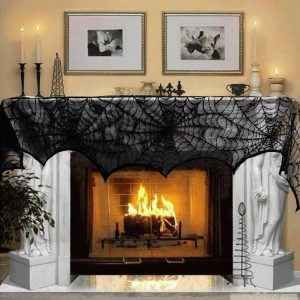 Check out Easy Peasy Halloween Decorations!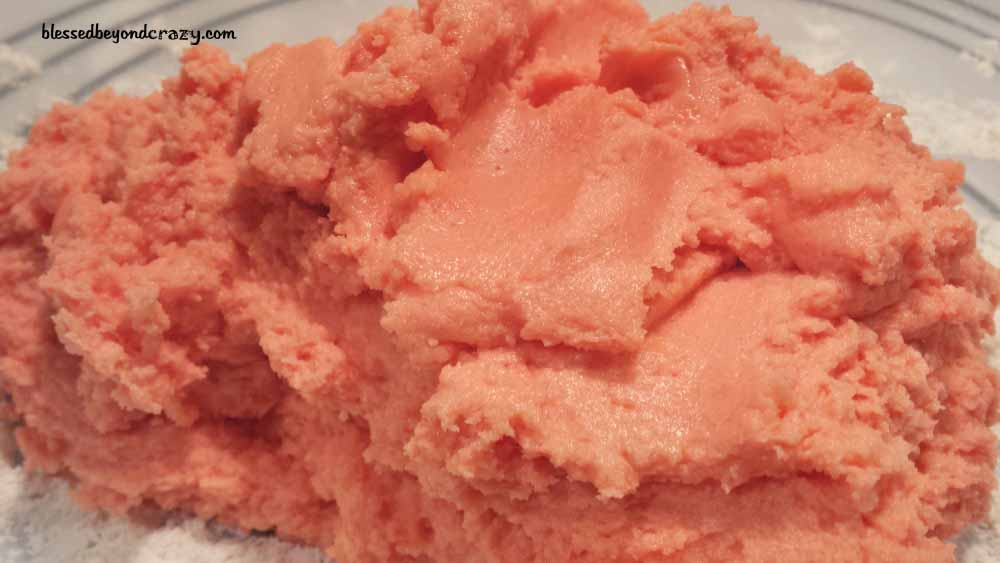 A combination of several drops of red and yellow food coloring will quickly turn the dough orange color. I used 2 drops of red food coloring per three drops of yellow food coloring. Sprinkle your working surface with a little all-purpose or gluten-free flour and roll out the dough to approximately 1/4 inch thickness. An apple-shaped cookie cutter works great when cutting out the shapes. The apple-shaped cookie cutter can be used for either apples or pumpkins.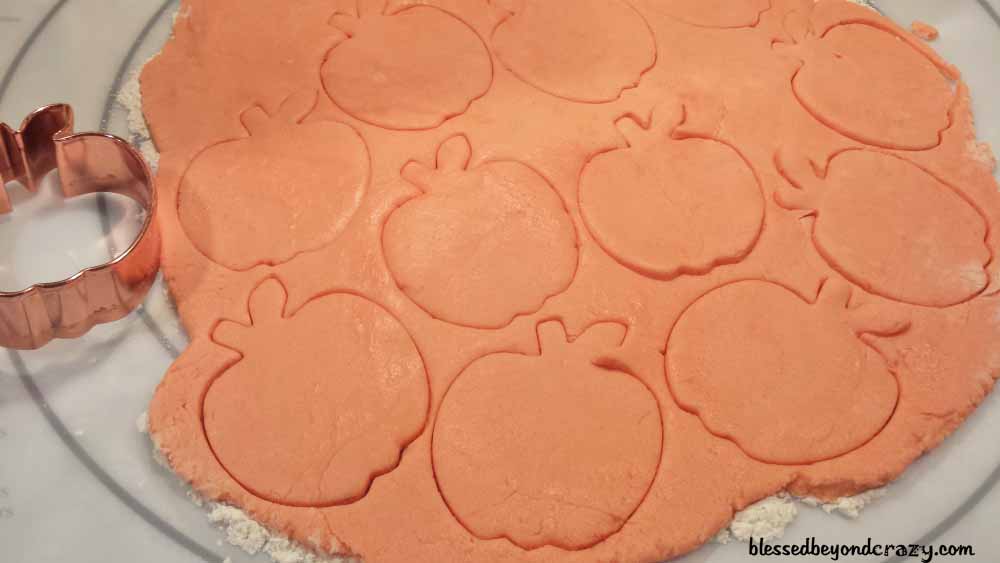 Bake the cookies in a preheated 350 degrees F oven for 10 to 12 minutes.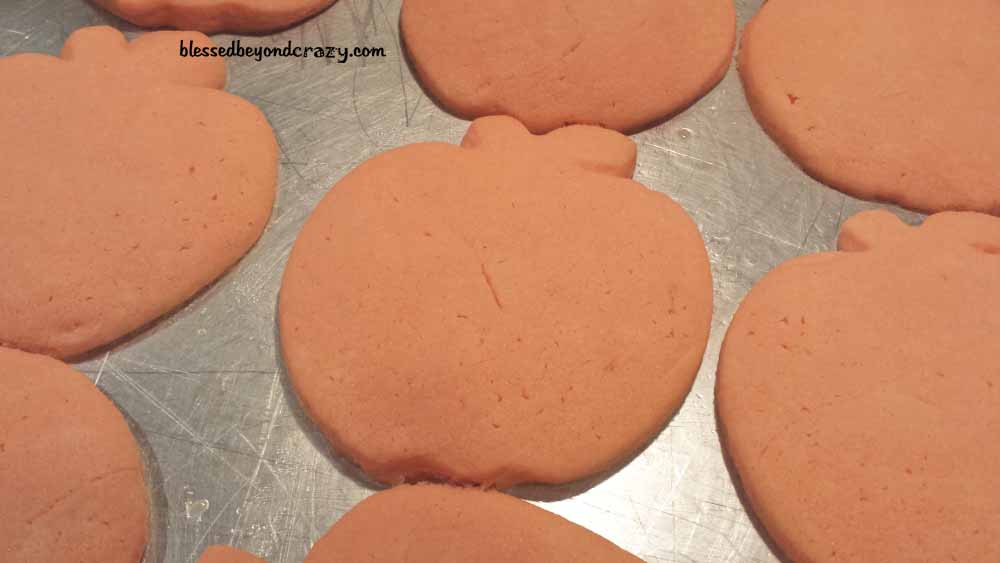 When the Halloween Sugar Cookies are finished baking, allow them to cool for 5 minutes before removing the cookies from the baking sheet. Because the cookies need to be completely cool before icing, place the cookies on a wire baking rack to finish cooling.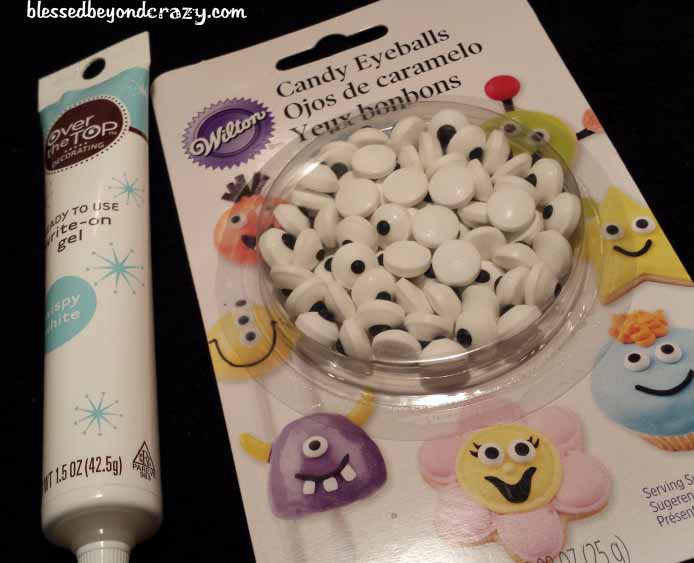 Now comes the super fun part, adding candy eyeballs!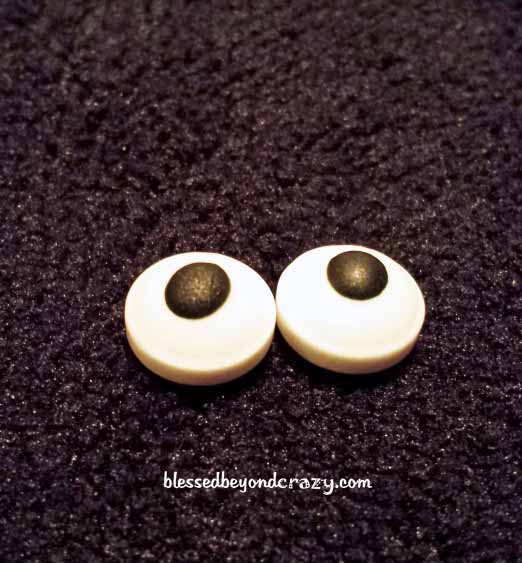 I love these fun little eyeballs! Some of the pupils were larger than others so you can mismatch them to give your cookies character, or match the pupils so they are the same size. To attach the eyeballs to the cookies simply add two dots of icing to the cookies, then place the eyeballs on top and allow the icing to harden for a few minutes. It doesn't take long to create a whole family of Halloween Sugar Cookies (a.k.a. Sugar Cookies Monsters!)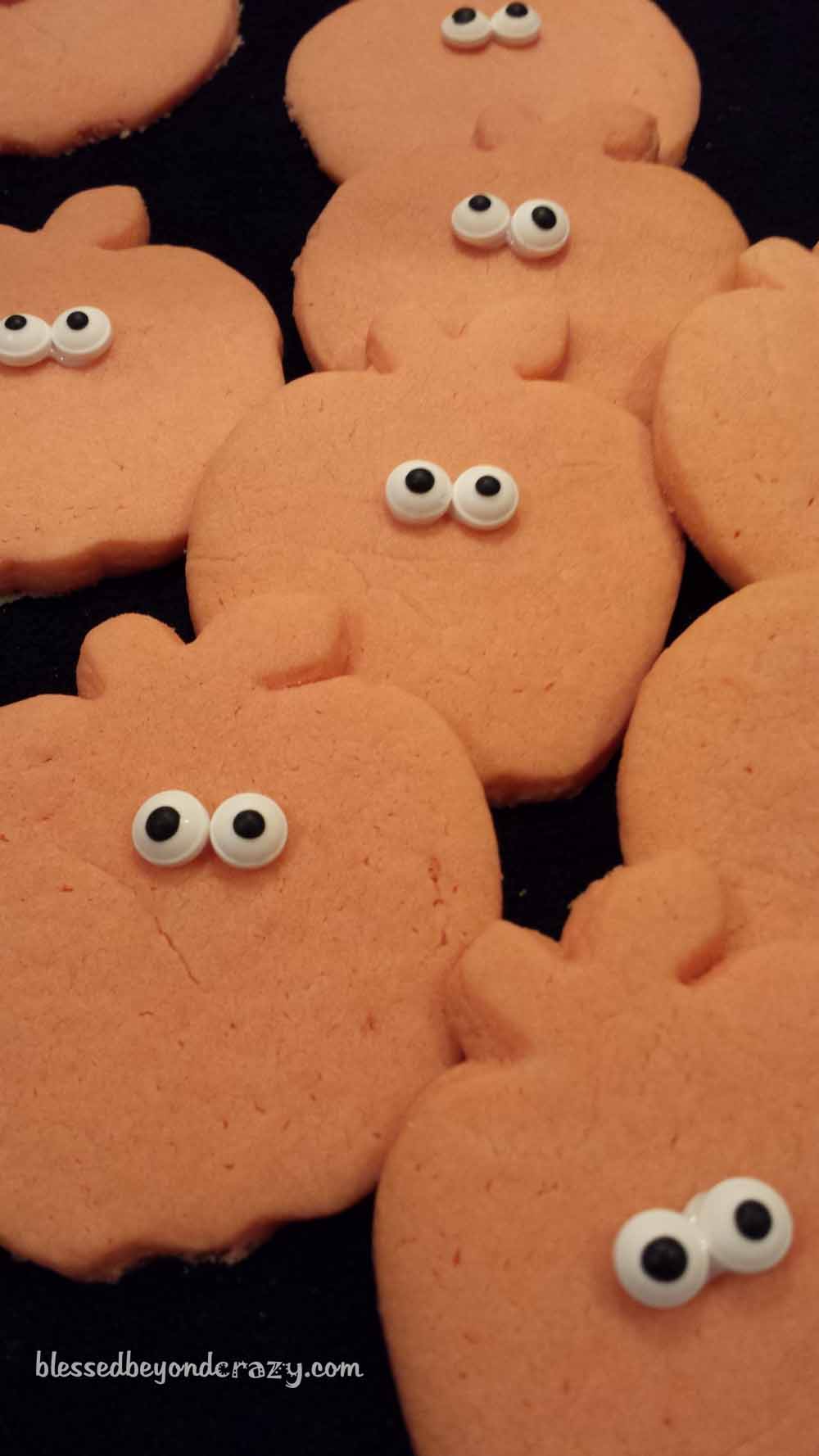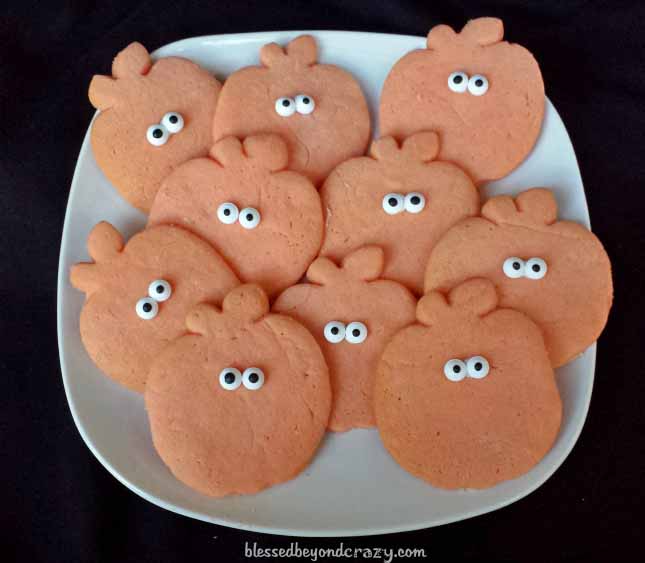 Yield:

Yields 5-1/2 dozen
Halloween Sugar Cookies
Additional Time:
15 minutes
Total Time:
2 hours
27 minutes
Delicious, fun, and festive cookies.
Ingredients
2 cups butter, softened
1 package (8 ounces) cream cheese, softened
2 cups sugar
2 large egg yolks
1 teaspoon vanilla extract
4-1/2 cups all-purpose flour
Red and Yellow food coloring
1 small tube of white icing
Edible candy eyes
Instructions
In a large bowl, cream butter, cream cheese and sugar until light and fluffy.
Beat in egg yolks and vanilla.
Gradually beat flour into creamed mixture.
To make cookies orange-colored, add 2 drops red food coloring for every 3 drops of yellow food coloring, until color you desire is obtained.
Divide dough in half. Shape each into a disk; wrap in plastic wrap.
Refrigerate 2 hours or until firm enough to roll.
Preheat oven to 350°.
On a lightly floured surface, roll each portion of dough to 1/4-in. thickness.
Cut with floured cookie cutter.
Place 1 in. apart on greased baking sheets.
Bake 10-12 minutes or until set (do not brown).
Cool on pans 5 minutes.
Remove to wire racks to cool completely.
Add one small dot of icing where they edible eyes will go.
Place candy eyes on top of each dot of icing.
Allow icing to dry.
Serve.
Notes
The original sugar cookie recipe from Taste of Home is titled White Velvet Cutouts Recipe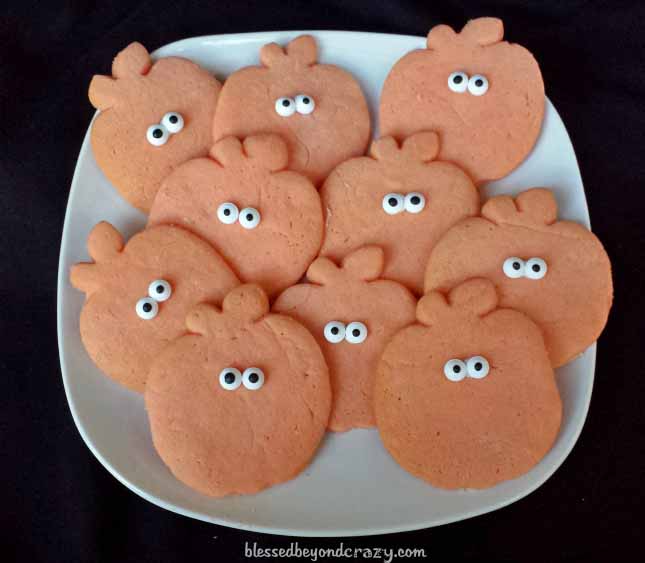 Place the cookies onto a serving platter right along with other Halloween treats. You can also surprise your kids after school and have a plate full of these cute cookies ready for them when they walk through the door.
Here's how to make an Easy DIY Creepy Halloween Wreath!
Easy. Quick. Cute. Fun.
Happy Halloween!
Linda
More great ideas: