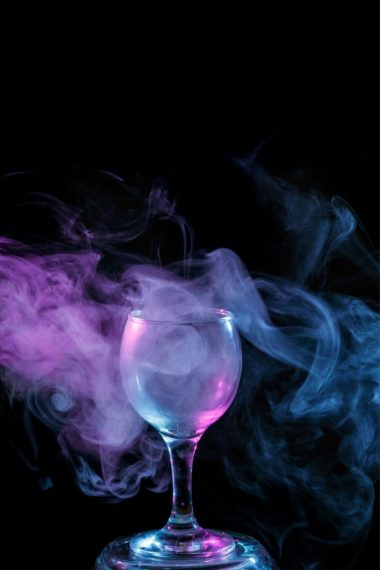 Halloween is near and therefore it's time to display my spooky decorations. Since I'm a busy gal, I'm always looking for Halloween decorations that do not require a lot of time, money, or effort. This attitude also applies to my list of appetizers. Tasty finger foods and electrifying drinks are high on the list. In today's post, we are featuring 10 Creepy Ways to Serve Halloween Drinks at your party this year.
To help support our blogging activities, our site contains affiliate links. If you make a purchase from a link on our site, we may receive a small percentage of that sale, at no extra cost to you. Blessed Beyond Crazy is a participant in the Amazon Services LLC Associates Program, an affiliate advertising program designed to provide a means for sites to earn advertising fees by advertising and linking to amazon.com.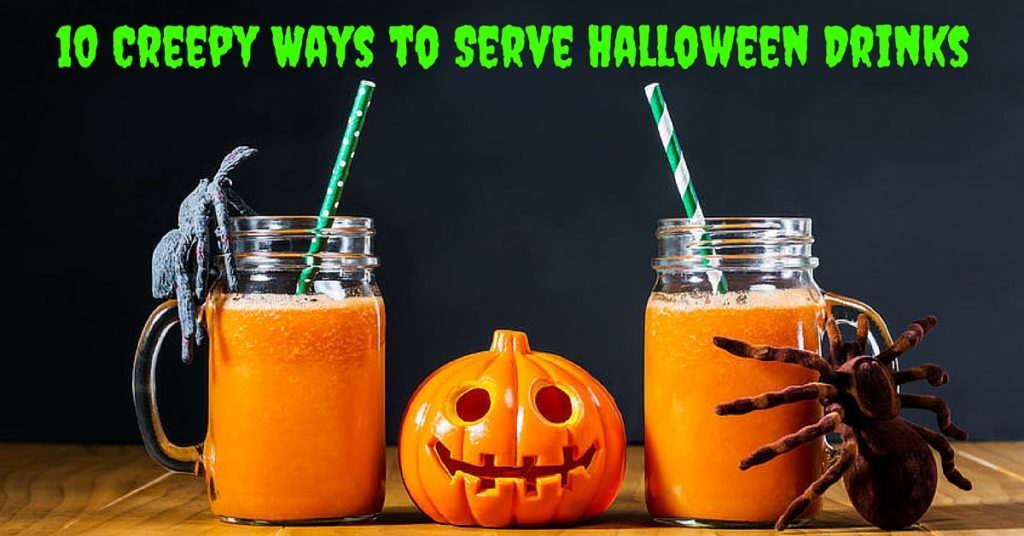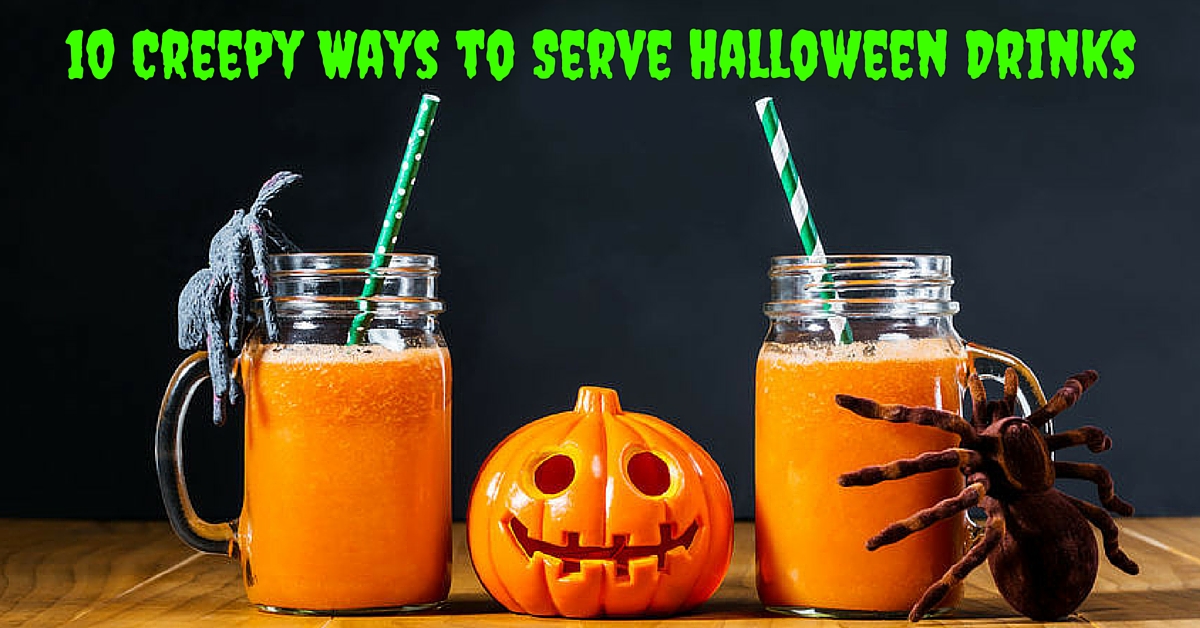 Now, let's take a look at 10 Creepy Ways to Serve Halloween Drinks!
By simply adding a few creepy elements you can quickly take an ordinary Halloween party and transform it into a hair-raising one! Guest can munch on a variety of eerie Halloween-themed foods while sipping on deliciously ghoulish beverages.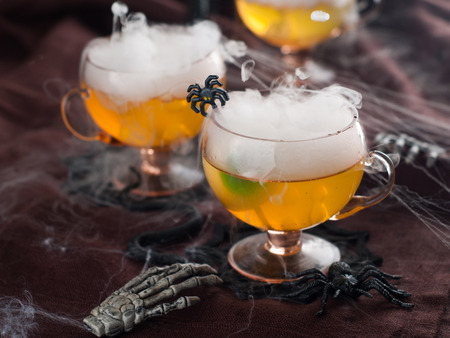 Dry Ice
One of the quickest ways to turn any drink into something sinister is to add a small chunk of dry ice. Dry ice is inexpensive, can be purchased at most local grocery stores, and is usually sold in 1-2 pound blocks. It's best to purchase dry ice a few hours before your party starts. Since a freezer isn't nearly cold enough to keep the dry ice for any length of time, you should store dry ice in a styrofoam cooler.
Be careful when handling dry ice as it registers at a negative 109 degrees F. To prevent burning your hands and getting frostbite, always wear heat-resistant oven gloves or insulated gloves when handling dry ice.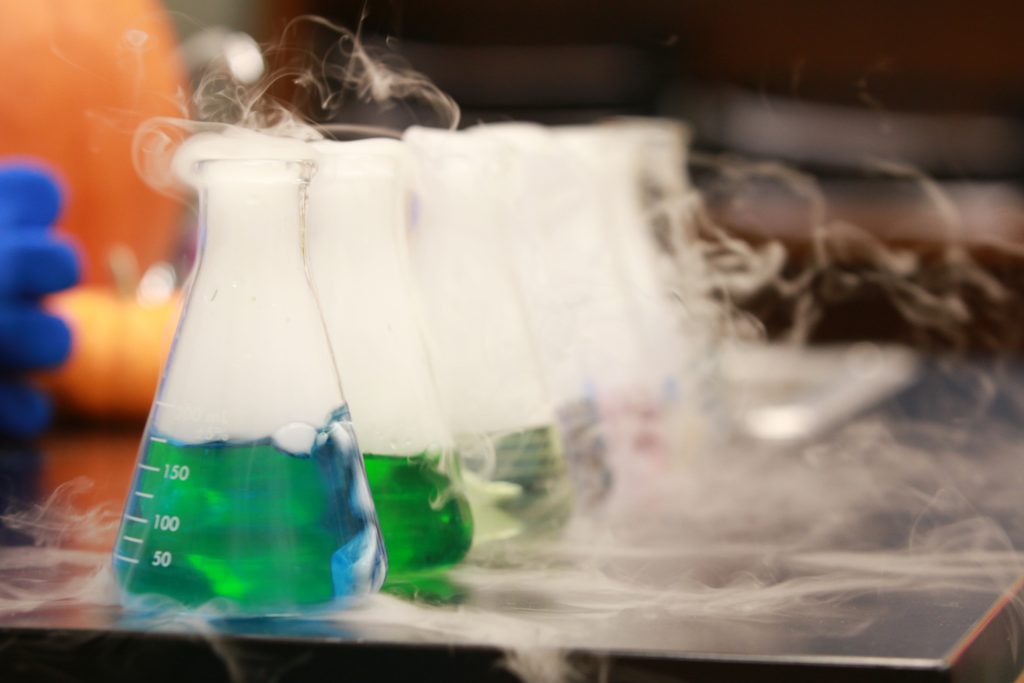 Wear a pair of safety glasses when chopping dry ice, (the glasses will protect your eyes from possible flying shards). To break off a small chunk of dry ice, place a flathead screwdriver on one corner of the ice and carefully tap the handle with a hammer. Break the ice into approximately 1-inch size small chunks, then wrap the chucks in a thick towel. Use tongs to drop dry ice cubes into drinks right before serving. The warmer your beverage, the "smokier" the effect will be. A small 1-inch cube will quickly and effectively chill a cocktail drink and will bubble for about five minutes before dissolving.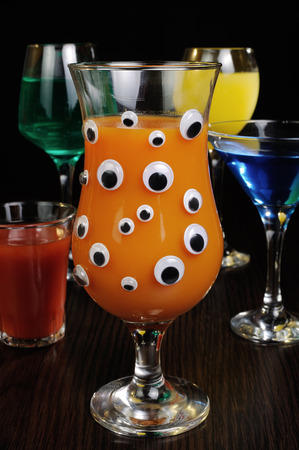 Googly Eyes
What would Halloween be without monsters??? You can quickly create a creepy "monster" by attaching googly eyes to a hurricane glass. (Kids will have fun creating and naming their very own google-eyed monster glass!) Mix a variety of sizes of googly eyes in a random pattern, then fill the glass with a colorful beverage. Although googly eyes are inexpensive, if you attach them with double-sided adhesive tape, you can easily remove them and use them again for another project.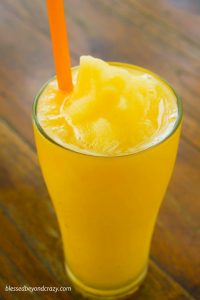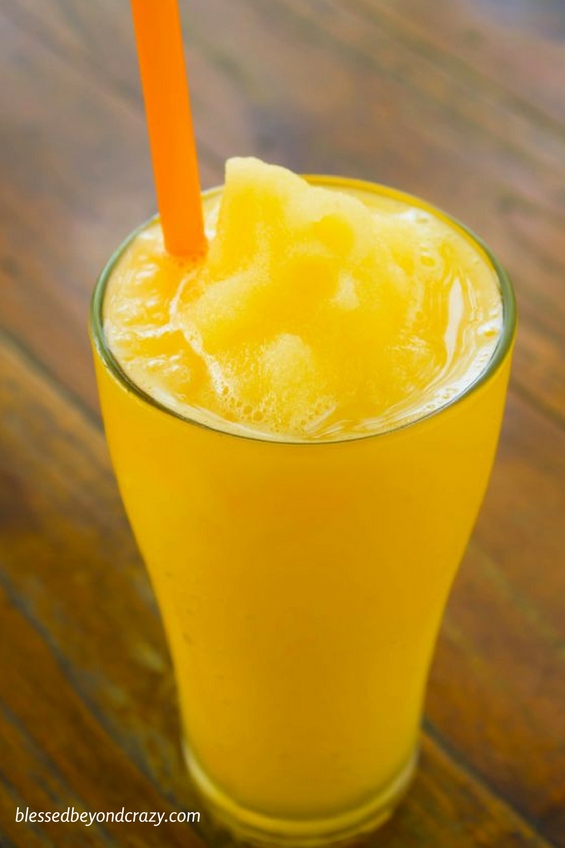 Vampire Blood Bags
It's a well-known fact that vampires drink blood, so add a touch of gruesomeness by serving your guest their libations in a vampire blood bag. The bags are transparent and made of tough, food-grade material. Fill the bags with energy drinks, Kool-Aid, your favorite cocktail, or other colorful beverages.  Your guest will have a "scream" sipping their drink from one of these bags.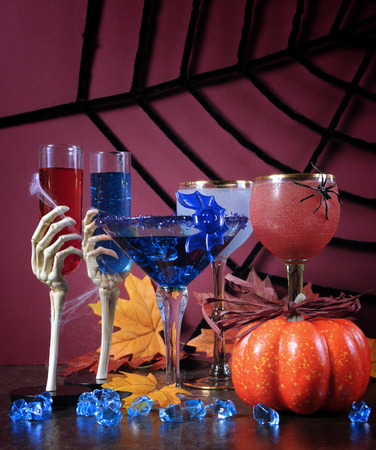 Goblets and Accessories
To make the party even more interesting, serve a variety of colorful beverages in mix-n-match styles of glass stemware. Creepy Halloween goblets, canning jars, laboratory beakers, corked vials, and hollowed-out mini pumpkins, are perfect ways to serve ghastly beverages to your guest. Display a selection of drinks along with Halloween accessories such as creepy fake spiders, hanging bats, a skeleton and/or skull, plastic rats, fake furs, cobwebs, glowing rocks, various Zombie body parts, mini pumpkins, rubber snakes, and more.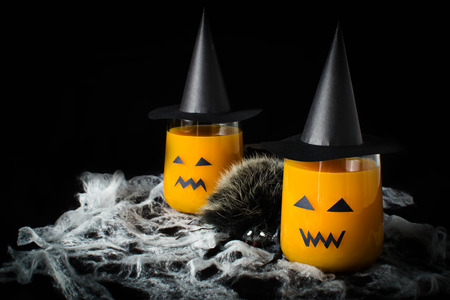 Terrifying Faces & Witch's Hats
Another easy, inexpensive and creepy way to serve a Halloween beverage is to add a terrifying face to the side of a glass and a witch's hat on top. Use black construction paper to create faces and hats, then attach the faces to the side of a glass with double-sided tape or a tiny drop of washable glue. After filling the glasses with a beverage, sit the witch's hats on top. Add fake spider web cotton or spider web cotton fabric to create an ominous setting.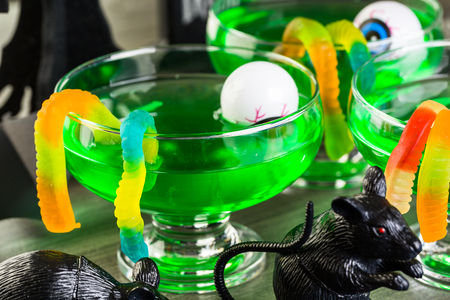 Creepy Crawly Things
Instantly turn any Halloween party punch into something frightening by simply adding a few creepy crawly candy Gummy worms and some Witches Brew fake eyeballs. (Be sure to gently wash and rinse the plastic eyeballs before adding them to your drinks.) Select from sour flavored neon gummy worms or fruit flavored gummy worm candies (or a combination of both), depending on the beverage.
Pineapple Mint Cilantro Smoothie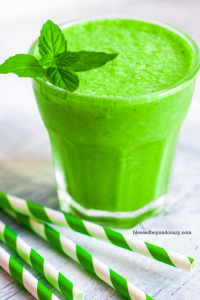 Spooky Tags and Straws
Conjurer up a spell with spooky Halloween tags straws. Attach them with a touch of sheer black ribbon, and watch as they disappear from their vessel and into your guest's drinks! You can purchase Halloween tags, or you can print your own using printable tags.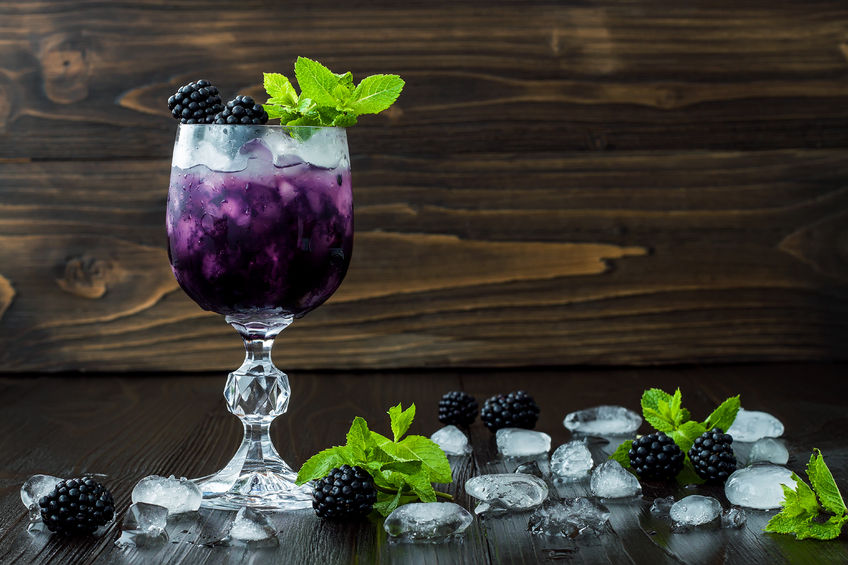 Eerie Stir Sticks
Eerie drink stir sticks are a great touch at any Halloween party and there are tons to choose from such as creepy skeleton bones, machete knives, bloody eyeballs, skulls, sailing ships, pirate swords, bats, ghost, witch's hats, and more.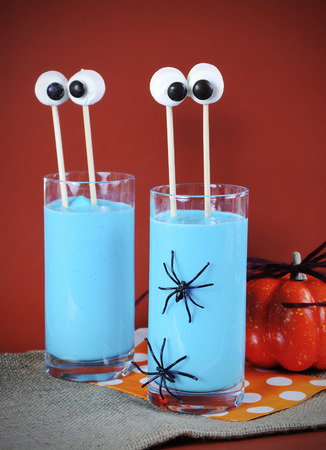 Edible Eyeballs
You may need to take the creepiness down a notch if young children will be attending the party. Instead of something scary, garnish children's drinks with a couple kooky edible eyes. To make DIY edible eyes, gently push a large marshmallow onto the end of a long plastic stick and attach a chocolate M&M candy with a small dollop of white icing. In order to keep the M&M candies from sliding off the marshmallow, you will need to keep the eyes flat and allow the icing to dry a little. Right before serving, place the cake pops upright into the beverage to create a unique and adorable creature. If you are going for total creepiness, then you can always purchase devilish edible eyeballs.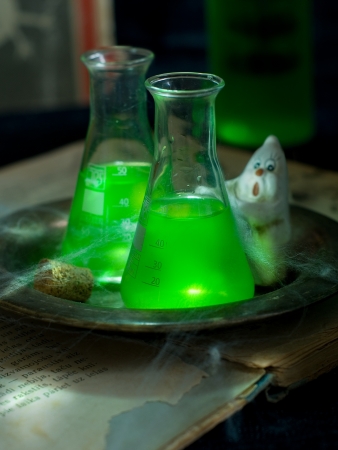 Glowing Drinks
Dim the lights and send your Halloween party over the top by serving drinks that actually glow in the dark! If you do a search on Pinterest, you can find all kinds of glow-in-the-dark drink recipes. There are even recipes for glow-in-the-dark ice cubes! (Make creepy ice cube shapes by using Halloween ice cube molds.)


Another fun idea is to activate a couple of glow-in-the-dark sticks and bury them in the bottom of a clear beverage container. The light from the glow sticks will illuminate ice cubes and bottles of your favorite beverages.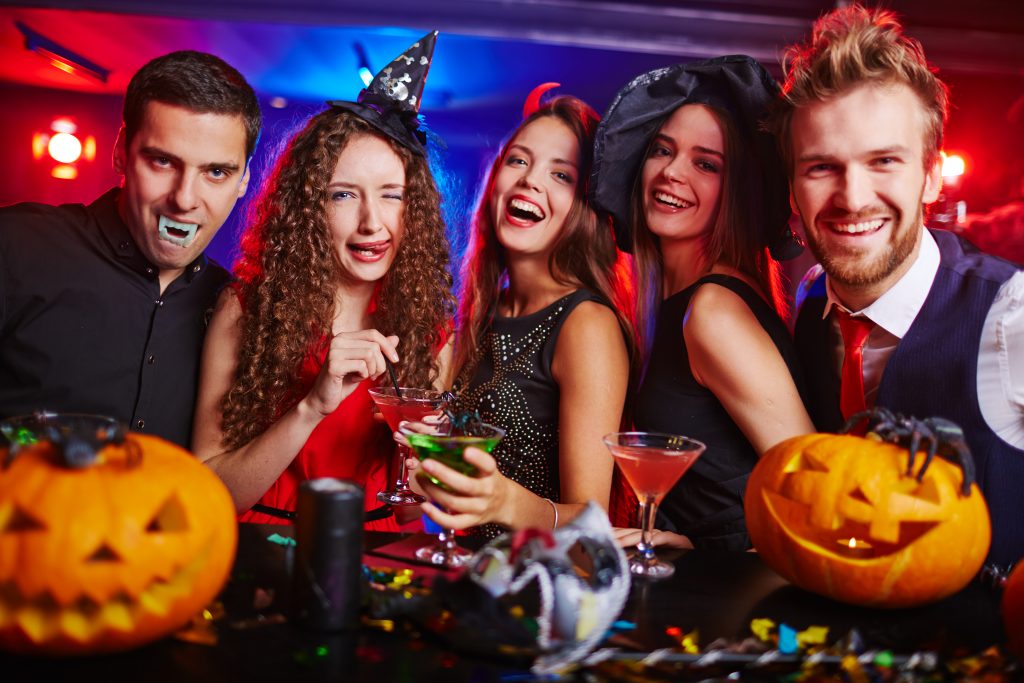 Pendant Necklace
Send everyone home with a keepsake glow-in-the-dark pendant necklace.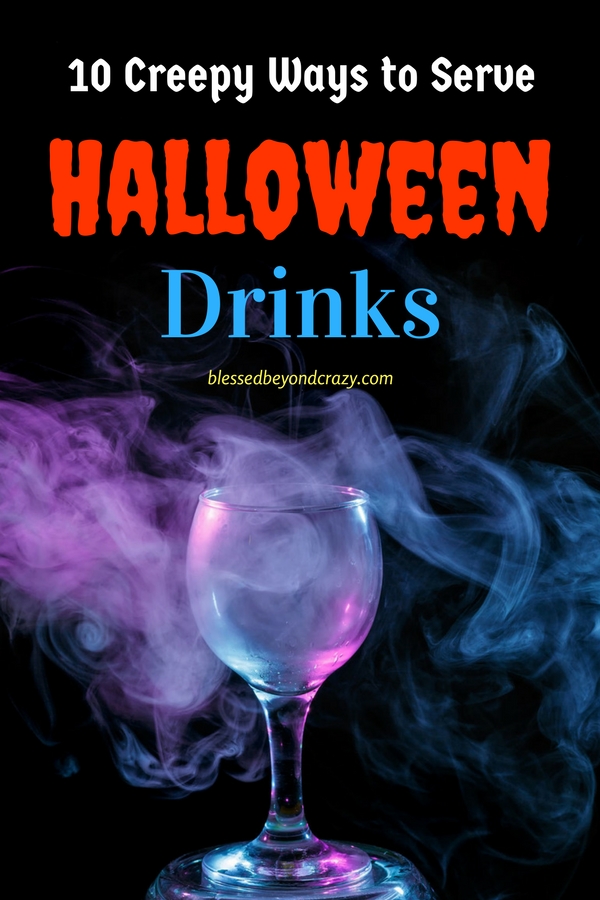 By simply adding a few creepy elements you can quickly take an ordinary Halloween party and transform it into a hair-raising one! Guest can munch on a variety of eerie Halloween-themed foods while sipping on deliciously ghoulish beverages.
Which of these 10 Creepy Ways to Serve Halloween Drinks is your favorite?
Boo!
Linda
More great ideas: