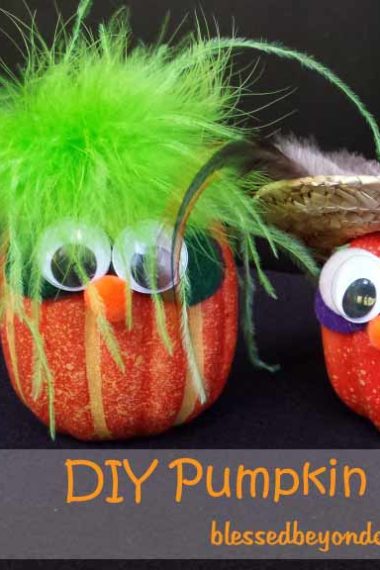 Now that Halloween is just a few weeks away it's the perfect time to make DIY Pumpkin Monster Babies! Rather than being spooky or scary, these monsters are simply adorable. Besides that, the kids will have fun making them!
These DIY Monster Babies are super easy, inexpensive, and fun for kids of all ages to make. They can use their imagination and make their very own individualized monster baby!
To help support our blogging activities, our site contains affiliate links. If you make a purchase from a link on our site, we may receive a small percentage of that sale, at no extra cost to you. Blessed Beyond Crazy is a participant in the Amazon Services LLC Associates Program, an affiliate advertising program designed to provide a means for sites to earn advertising fees by advertising and linking to amazon.com. As an Amazon Associate, I earn from qualifying purchases.
One day this week, I ventured into one of those fabulous dollar stores to pick up some paper plates. While I was shopping, I noticed they had these tiny little display pumpkins priced at $1 each. I ended up buying three and thought I might use them somewhere in my fall home decor.
However, I started thinking to myself, "Self… what fun creations can you make with these great little thingy's?" These little pumpkins fit in the palm of my hand and weigh about as much as 3 cotton balls. Perfect! Just perfect for a kid's craft project. Thus, Monster Babies were born!
Now… on to the next purchase…
I purchased several different colors of craft felt for this project. Each sheet of felt cost a whopping 39 cents. (Yay! I can create a whole ARMY of Monster Babies now!!!), a package of medium-sized googly eyes and a small package of bright orange tiny pom-poms.
I cut out two different sizes of 'egg' shapes with the craft felt and hot-glued the larger size 'egg' shaped felt onto the pumpkin first. Then I glued the smaller piece of craft felt on top of the first piece.
Next, I glued googly eyes on top of both pieces of craft felt and added eyebrows to one pumpkin.
Because I wanted to give each DIY Pumpkin Monster Baby a nose, I used a dab of hot-glue to secure an orange pom on each pumpkin.
Although I thought these little DIY Pumpkin Monster Babies were cute, I wanted to add one more element to completely turn them into super cute "Monsters!" Therefore, I made a quick trip to Hobby Lobby and for just a few dollars I purchased a cute straw hat and a couple of fuzzy hair clips.
I also added three feathers to the straw hat. I didn't need to glue these because I could easily stick them in between the woven straw.
The addition of colorful feather puffs attached to hair clips gave the DIY Pumpkin Monster Babies personality.
To give the DIY Pumpkin Monster Babies hair, I simply clipped the hair clip to the pumpkin stem.
Now the "hair" can easily be taken off, colors changed, or a hat added. Totally interchangeable and kids will love having that option. They can have their very own Monster Babies Fashion Show!
I can't begin to tell you how much fun I had creating these cute little guys. However, I think I had more fun taking pictures of them and changing out their hair! lol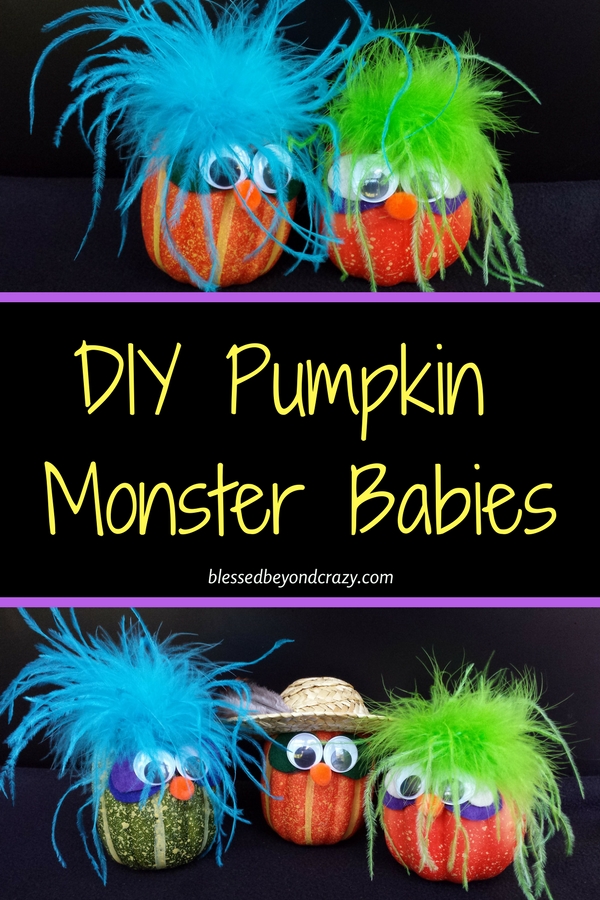 Each Pumpkin Monster Baby cost less me around $3 to make, so this is a fun and inexpensive craft for little people to make. *If they are not old enough to use a hot glue gun just have them use craft glue instead.
Have fun making your very own Monster Babies!
Happy Halloween!
Linda
More great ideas: