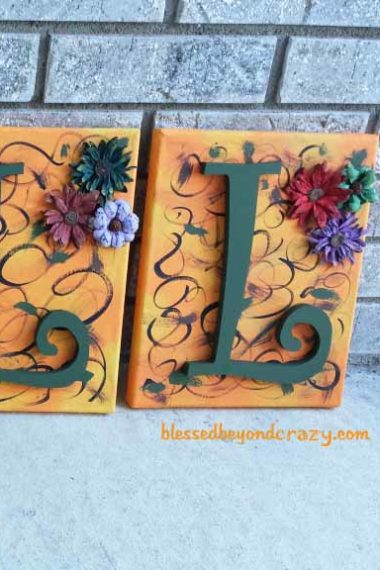 Can you see it? Can you smell it? Yep! Fall is here and now is the time to make this easy DIY Fall Sign!
This post started out to be something entirely different. That's because I was in the process of making a DIY Fall Burlap Wreath when I purchased letters that spell out the word FALL. I thought that I would possibly use the letters in creating my burlap wreath, but decided against it in the end. So, off I went… using the creative side of my brain, and thus this DIY Fall Sign was born!
To help support our blogging activities, our site contains affiliate links. If you make a purchase from a link on our site, we may receive a small percentage of that sale, at no extra cost to you. Blessed Beyond Crazy is a participant in the Amazon Services LLC Associates Program, an affiliate advertising program designed to provide a means for sites to earn advertising fees by advertising and linking to amazon.com.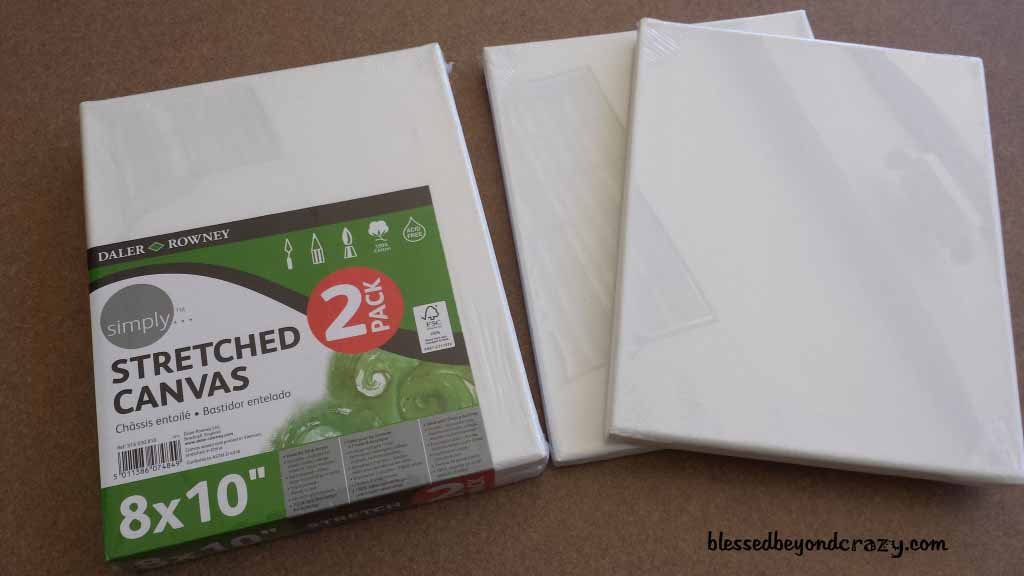 I purchased two packs of art canvas, (there were two canvases in each package), and some craft paints. Originally, I was planning on covering each canvas with colorful fall fabric but decided to just paint them instead.
I selected craft paints in the following colors: King's Gold Yellow, English Ivy Green, Jack-o-lantern Orange, Jet Black, and Melted Chocolate Brown.
The FALL letters were painted with two coats of English Ivy Acrylic craft paint and allowed to dry in-between coats.
Now for the really personal creative part. I started with one drop of the Jack-o-lantern paint on my canvas board.
Next, I then took my small paintbrush and smeared the paint around.
I also painted the sides of the canvas.
I continued adding alternate drops of paint, (Jack-o-lantern and King's Gold), and blending the colors together with my brush.
The paint dried overnight.
The next day I took a thin, pointed paintbrush and made swirls all over the canvas with the Jet Black paint. I also added wisps of English Ivy Green and Melted Chocolate Brown. Again, I let the paint dry overnight.
I was almost finished with the project but felt like it needed a little something extra. Earlier I found some really cute flower embellishments for half price at Hobby Lobby. In the end, I didn't use all of the flowers however they will not go to waste because I will be using them for future craft projects.
I added a hook to the back so that I have the option to hang the canvases on the wall if I wanted to. Since the canvases are not heavy I didn't need a heavy picture hook.
The final process was to hot glue the letters and embellishments onto the canvas.
I really had fun making this DIY Fall Sign and I love that I have the option to display them on the wall or rest them on a tabletop.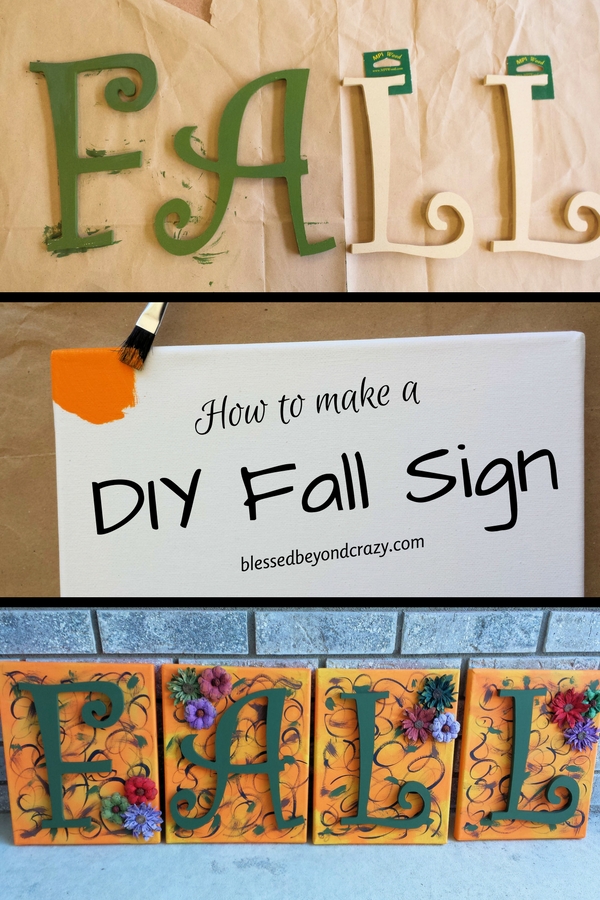 What do you think the price tag would be if purchased in a store?
Have fun creating your very own, personalized fall wall decor.
Linda
More great ideas: