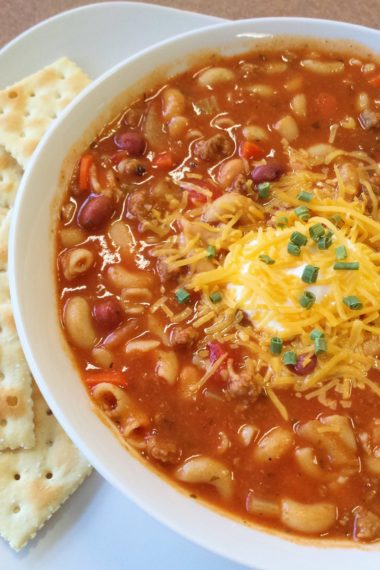 Over the weekend, I took a road trip and ended up having lunch at an Olive Garden restaurant. A friend ordered a bowl of Pasta e Fagioli and simply loved it. Since I am on a gluten-free diet, I decided to make my own copycat version of Olive Garden's Pasta e Fagioli and wow, am I glad I did!
To help support our blogging activities, our site contains affiliate links. If you make a purchase from a link on our site, we may receive a small percentage of that sale, at no extra cost to you. Blessed Beyond Crazy is a participant in the Amazon Services LLC Associates Program, an affiliate advertising program designed to provide a means for sites to earn advertising fees by advertising and linking to amazon.com.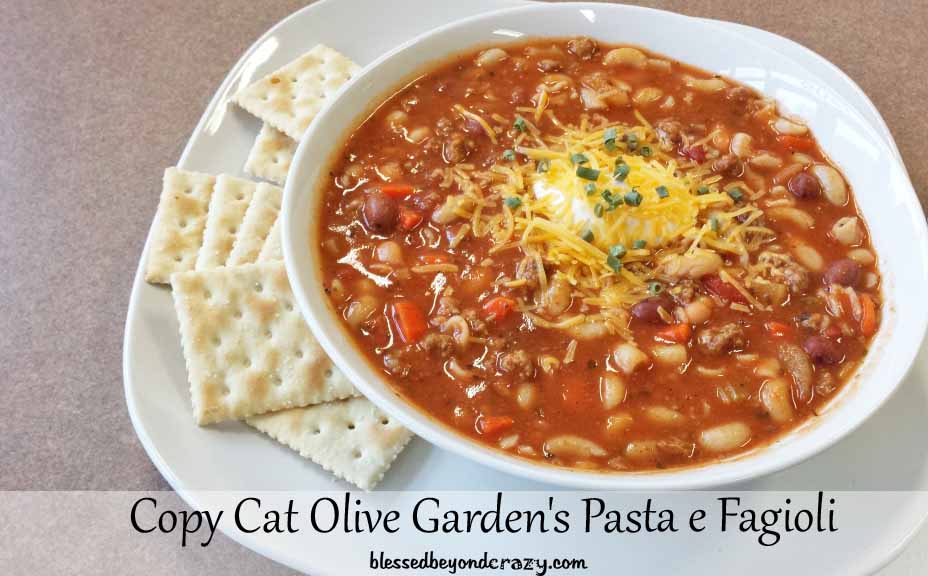 After tasting my gluten-free version of this delicious soup, I asked my friend if they thought it was a good copycat variation. They instantly said, "Yes!"
Therefore, I enjoyed a big bowl of Copy Cat Olive Garden's Pasta e Fagioli soup for dinner tonight.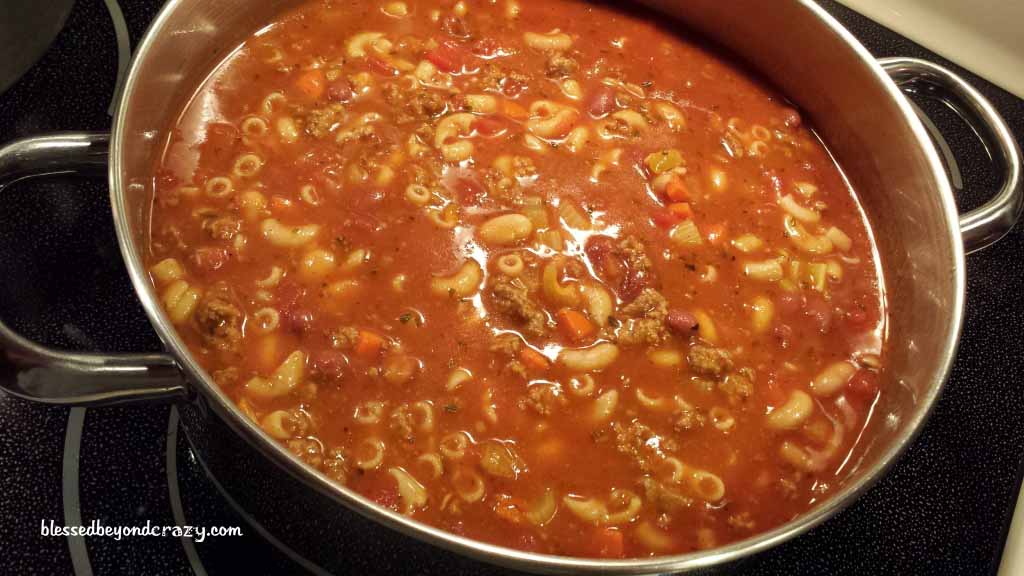 Fall is that special time of year when I break out of a stock pot and whip up a batch of soup. A hot, steamy bowl of soup helps take the chill off the old bones.
Plus, it's great when I come home from work I can quickly heat up a bowl of this scrumptious goodness. That sure makes for an easy dinner any day of the week!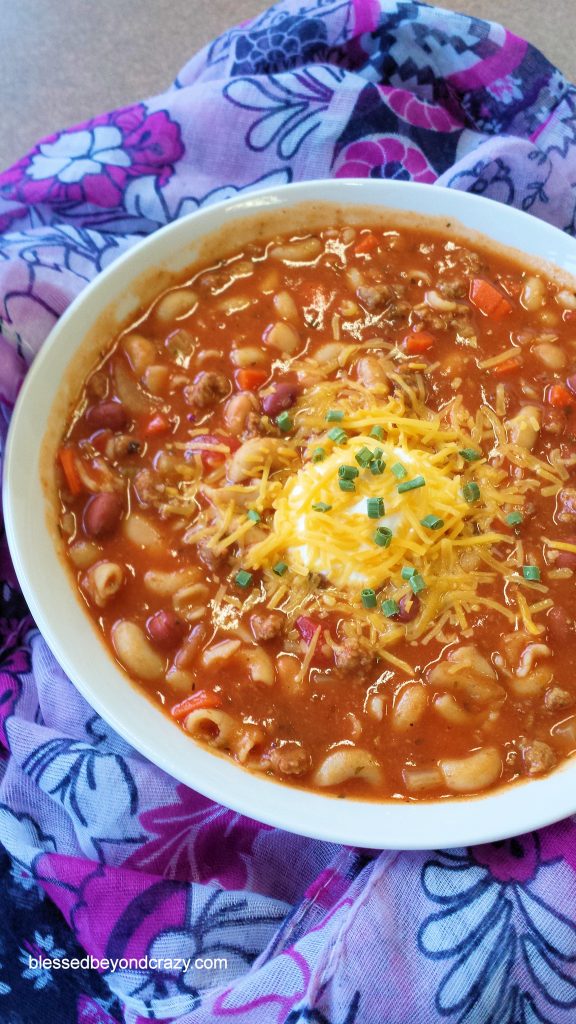 This Copy Cat Olive Garden's Pasta e Fagioli has all kinds of fantastic ingredients such as yummy veggies, tomatoes, pasta, beans, and ground beef. The flavors remind me of a combination of an Italian pasta dish and chili soup. So, so good!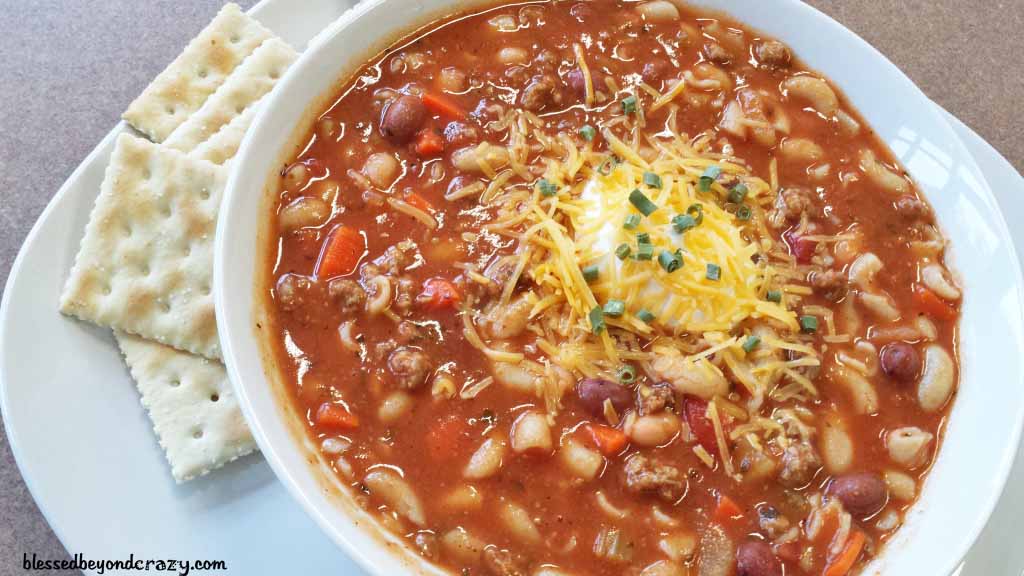 If you are on a gluten-free diet you can easily modify this recipe and make it a totally gluten-free soup. (Perfect for all of your upcoming holiday entertaining!)
Copy Cat Olive Garden's Pasta e Fagioli
---
Linda Wiseman
Yields Approx. 4 quarts
A delicious and hearty soup recipe and one that can easily be made gluten-free.
30 minPrep Time
60 minCook Time
1 hr, 30 Total Time
Ingredients
1 lb ground beef
6 oz tomato paste (GF Option: use gluten free tomato paste)
1 qt tomato juice (GF Option: use gluten free juice)
1 qt water or beef broth (GF Option: use gluten free beef broth)
2 cups diced carrots
2 cups diced celery
1 cup onion
2 tsp pepper
1 1/2 tsp salt
2 tbsp sugar
1 tsp cilantro flakes
1 tsp garlic powder
2 tsp oregano leaves
3 tbsp parsley leaves
2 tsp sweet basil leaves
2 tsp tarragon leaves
14 1/2 oz tomatoes, petite cut (GF Option: use gluten-free tomatoes)
8 oz elbow macaroni noodles (GF Option: use gluten-free pasta)
1 (15 1/2 ounce) can great northern beans (GF Option: use gluten-free beans)
Sour cream (GF Option: use gluten-free brand)
Chives
Shredded Cheddar Cheese (GF Option: use a gluten-free brand)
Instructions
In a skillet over medium heat, cook ground beef, drain, set aside.
In a stock pot, add tomato paste, tomato juice and beef broth, bring to low boil.
Add carrots, celery, onion, pepper, salt, sugar, cilantro, garlic, oregano, parsley, sweet basil, tarragon and tomatoes.
Cook until vegetables are tender.
Add macaroni, cook until noodles are tender.
Add great northern beans and ground beef. Cook until thoroughly heated.
Garnish with dollop of sour cream, a sprinkle of chopped chives, and a sprinkle of cheddar cheese.
Serve hot.
Notes
To add a little more 'kick' to this recipe, simply add a splash of hot sauce and/or more chili powder seasoning.
7.8.1.2
129
https://blessedbeyondcrazy.com/copy-cat-olive-gardens-pasta-e-fagioli/
www.blessedbeyondcrazy.com
I have not tried making this Copy Cat Olive Garden's Pasta e Fagioli in the crockpot, however, I think it would work just fine. Just be sure to cook your ground beef and drain it before adding it to the other ingredients.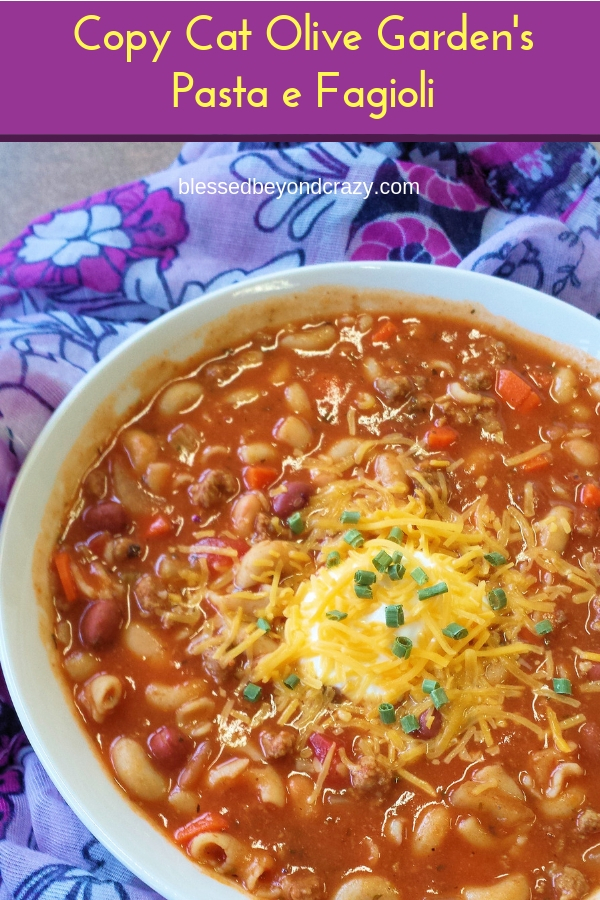 Finally, to make this an even heartier meal try adding a delicious muffin alongside.
Here's to staying warm!
Do you have a favorite soup recipe?
Linda
Disclaimer: Manufacturer's formulations and policies may change at any time, therefore it's important to always read product labels yourself and contact the manufacturer with concerns. We have found that most companies are eager to help answer your questions.
More great recipes: