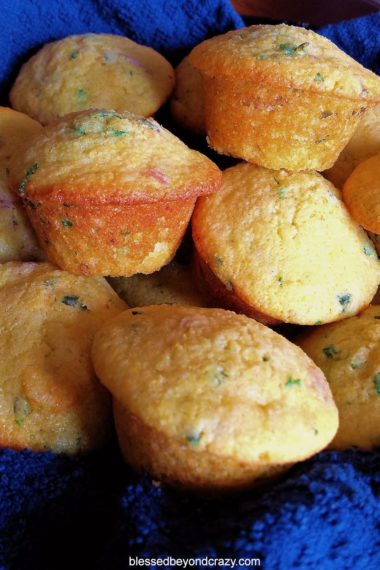 Cornbread Herb Muffins are a delicious combination of corn, peppered bacon, cheddar cheese, and chives. These muffins are savory, full of flavor, and easy to make gluten-free.
To help support our blogging activities, our site contains affiliate links. If you make a purchase from a link on our site, we may receive a small percentage of that sale, at no extra cost to you. Blessed Beyond Crazy is a participant in the Amazon Services LLC Associates Program, an affiliate advertising program designed to provide a means for sites to earn advertising fees by advertising and linking to amazon.com.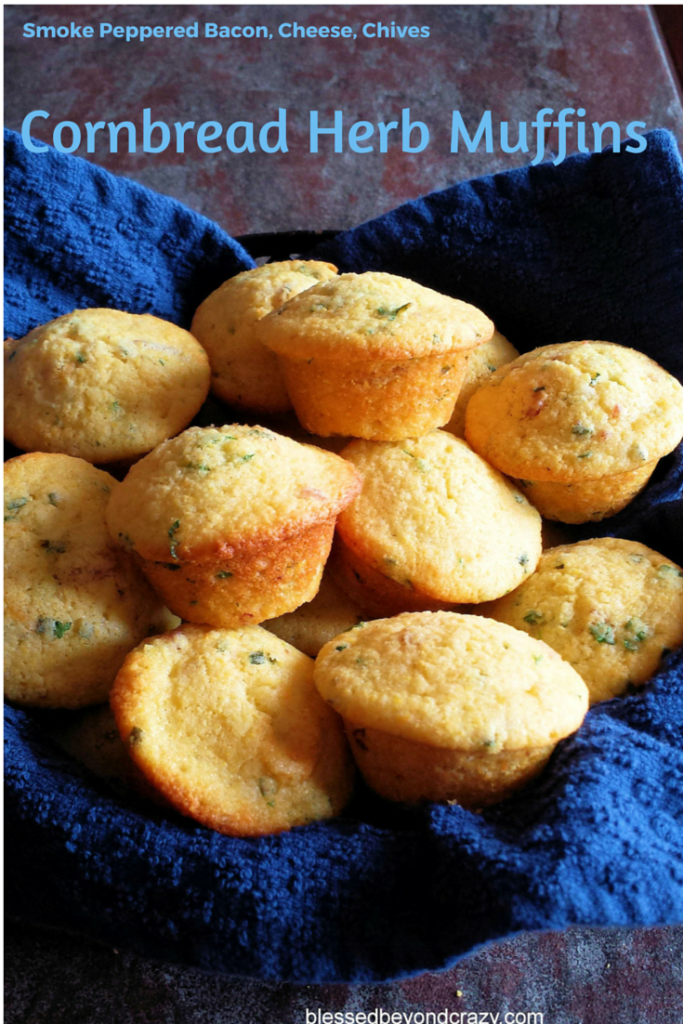 Yummy Muffins!
Today was super cold in our neck-of-the-woods so I hunkered down and relaxed. At one point I had the urge to bake something, so I looked in my pantry and refrigerator to see what I had on hand.
Among canned goods, pasta noodles, cereal, etc… I found half a container of cornmeal, a little leftover smokehouse peppered bacon, half a bag of shredded cheddar cheese, and some chives and parsley.
Perfect! A batch of savory Cornbread Herb Muffins was being born!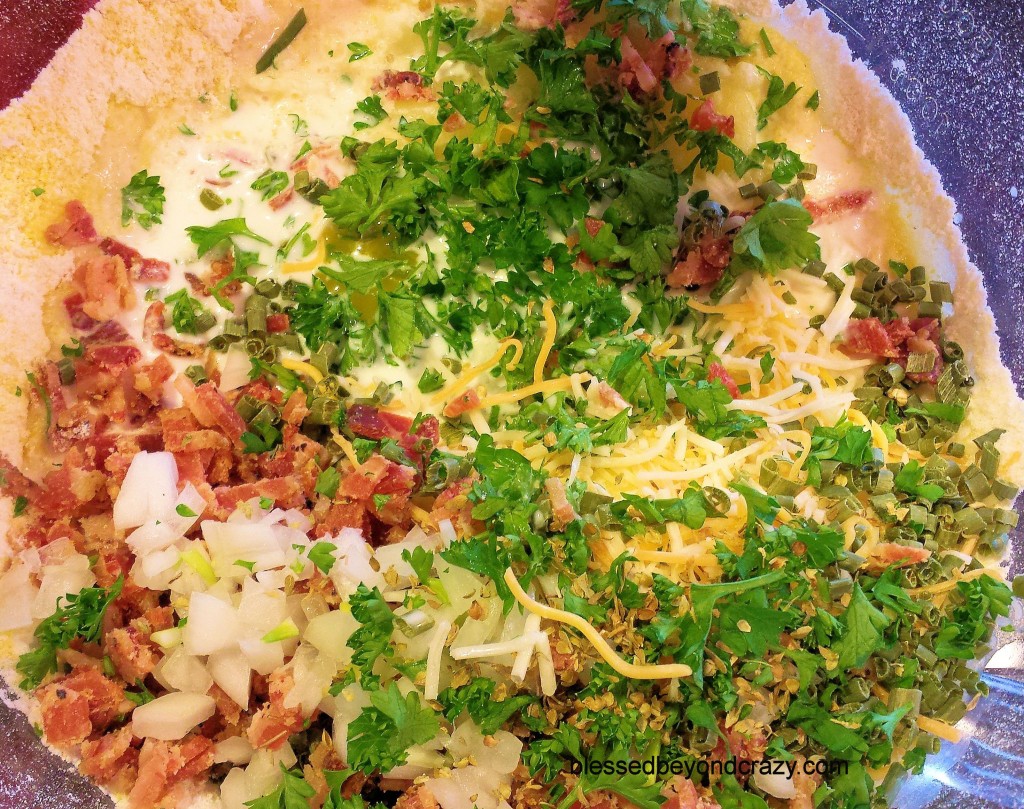 Ingredients!
The first step is to add all of the dry ingredients into a mixing bowl and gently stir the ingredients together. Next, add the liquid ingredients, the cheese, onion, chives, oregano, and bacon. Stir together just until blended (do not over-stir).
Next, fill a well-greased mini muffin pan and bake them at 400 degrees F for approximately 20 – 25 minutes. One recipe yields 24 mini muffins or 12 regular-size muffins.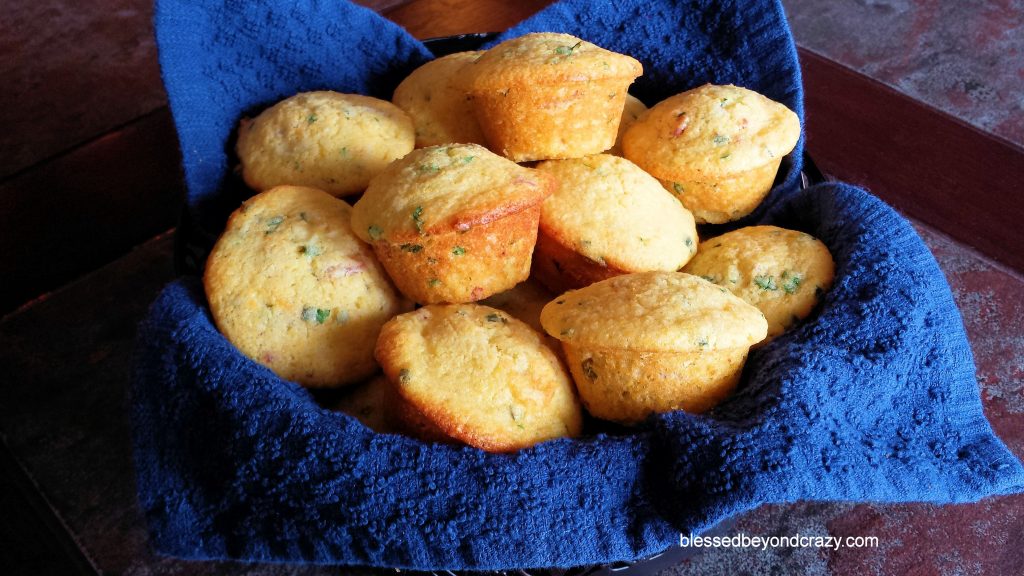 Bake!
As the muffins began to bake the most delicious aroma filled my home. Needless to say… it was heavenly 🙂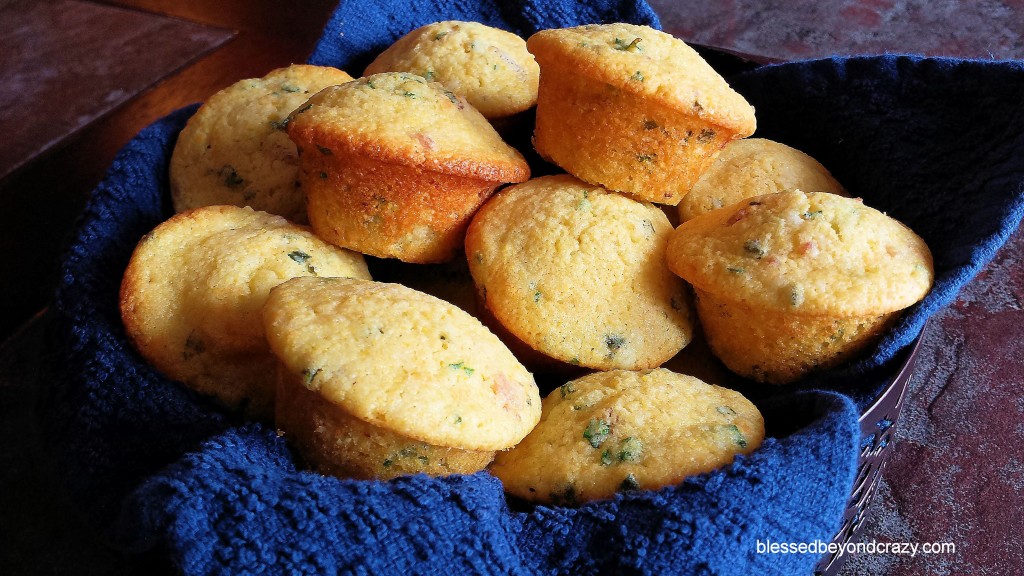 Gluten-Free!
Be sure to use bacon that is gluten-free if you are on a gluten-free diet. Many cured types of meat, although considered to be gluten-free themselves, become cross-contaminated during packaging. Be sure to read the labels and contact the manufacturing company if in doubt.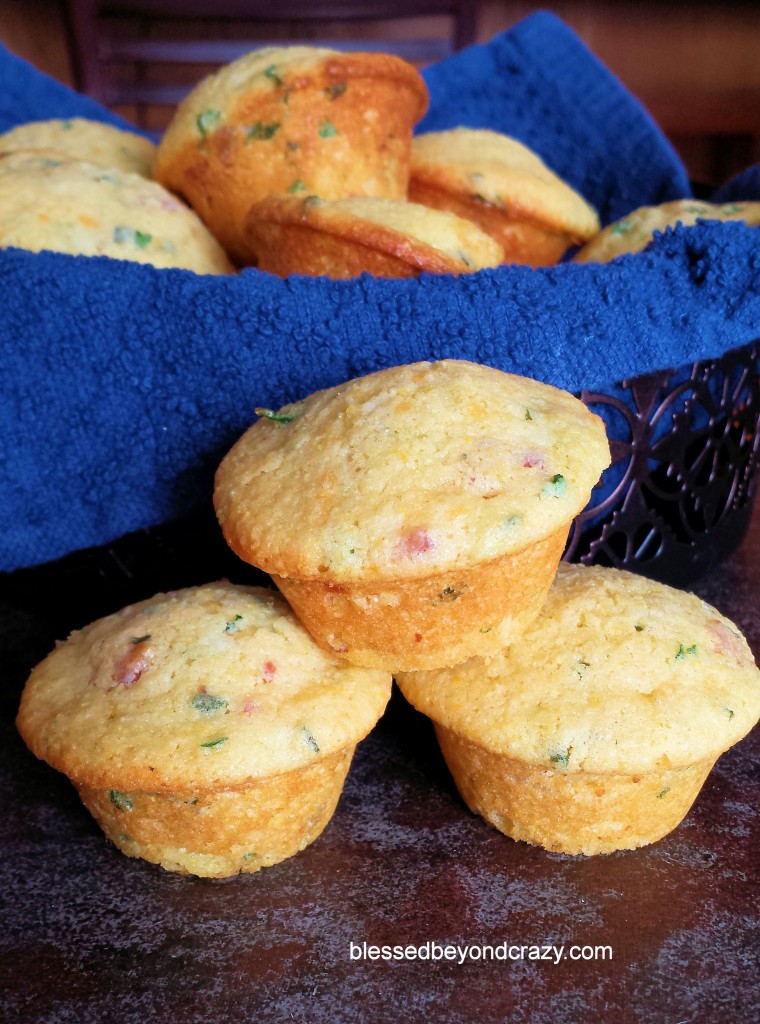 Cornbread Herb Muffins can be made both as mini muffins or regular-sized muffins.
I like to serve muffins with butter and a bowl of steaming hot vegetable soup. It's a perfect meal on a cold winter's night!
These muffins also pair well with a wide variety of soups, stews, and meat dishes.
Cornbread Herb Muffins (GF Option)
---
Linda Wiseman
Yields 12 muffins
15 minPrep Time
25 minCook Time
40 minTotal Time
Ingredients
1/2 cup cornmeal
1 cup flour
1/2 tsp salt
1/2 cup sugar
1 tbsp baking powder
2 tbsp chives, fresh
2 tbsp onion
1 Dash oregano, dried
2 tbsp parsley, fresh
2 tbsp Burger's smokehouse peppered country bacon
1/2 cup butter, softened
2 eggs
1/2 cup milk
1/2 cup cheddar cheese
Instructions
In a mixing bowl combine cornmeal, flour, salt, sugar and baking powder.
Gently mix in chives, onion, oregano, parsley and bacon.
In a separate mixing bowl combine butter, eggs, and milk; fold in cheddar cheese.
Stir dry ingredients into wet ingredients; stir just until blended. Do not over blend.
Fill well-greased muffin wells 2/3 full.
Bake in preheated oven at 400 degrees F for approximately 20 - 25 minutes, or until golden brown.
7.8.1.2
139
https://blessedbeyondcrazy.com/cornbread-herb-muffins-gf-option/
www.blessedbeyondcrazy.com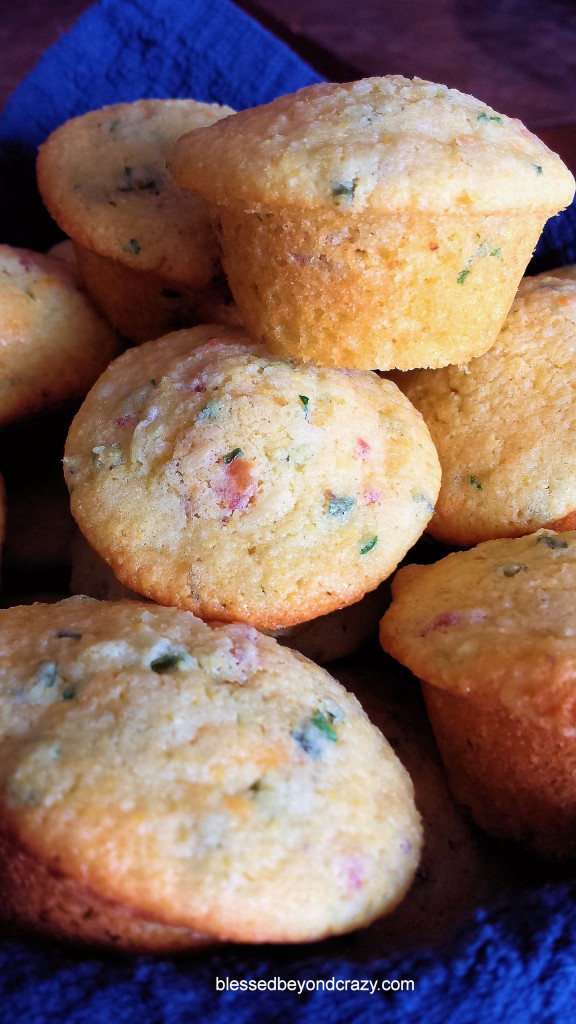 *Full Disclosure: I am allergic to some of the ingredients in this recipe, therefore I gifted these muffins to family members.
Enjoy!
Linda
More great ideas: