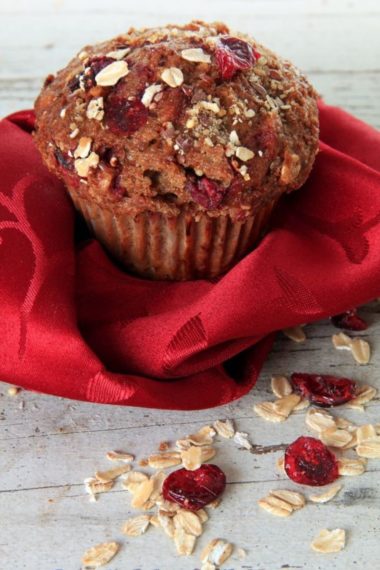 If you love muffins for breakfast then you are going to love Cranberry Honey Pecan Bran Muffins! These yummy muffins are loaded with healthy ingredients, are high in fiber, and make a fabulous start to any day.
I simply love a good recipe when both the texture and the flavors are amazing!

To help support our blogging activities, our site contains affiliate links. If you make a purchase from a link on our site, we may receive a small percentage of that sale, at no extra cost to you. Blessed Beyond Crazy is a participant in the Amazon Services LLC Associates Program. This affiliate advertising program is designed to provide a means for sites to earn advertising fees by advertising and linking to amazon.com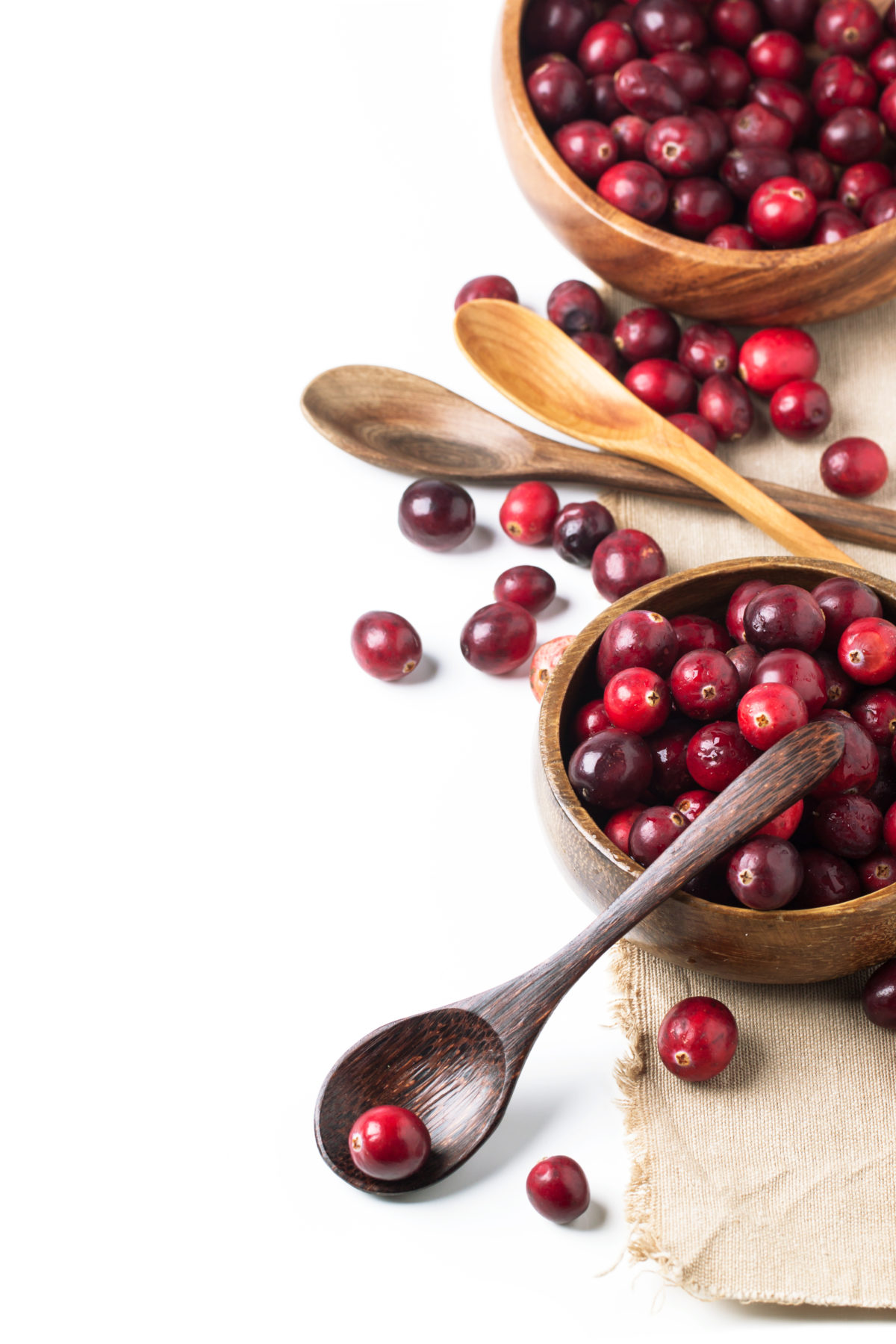 Cranberries
First of all, we need to talk about cranberries. These tiny, red gems have some amazing health benefits, such as:
Containing antioxidants.

Having anti-inflammatory properties.

Having anti-cancer fighting properties.

They also lower the risk of urinary tract infections.

Improves immune function.

Decreases blood pressure.

Only 25 calories in 1/2 cup of cranberries.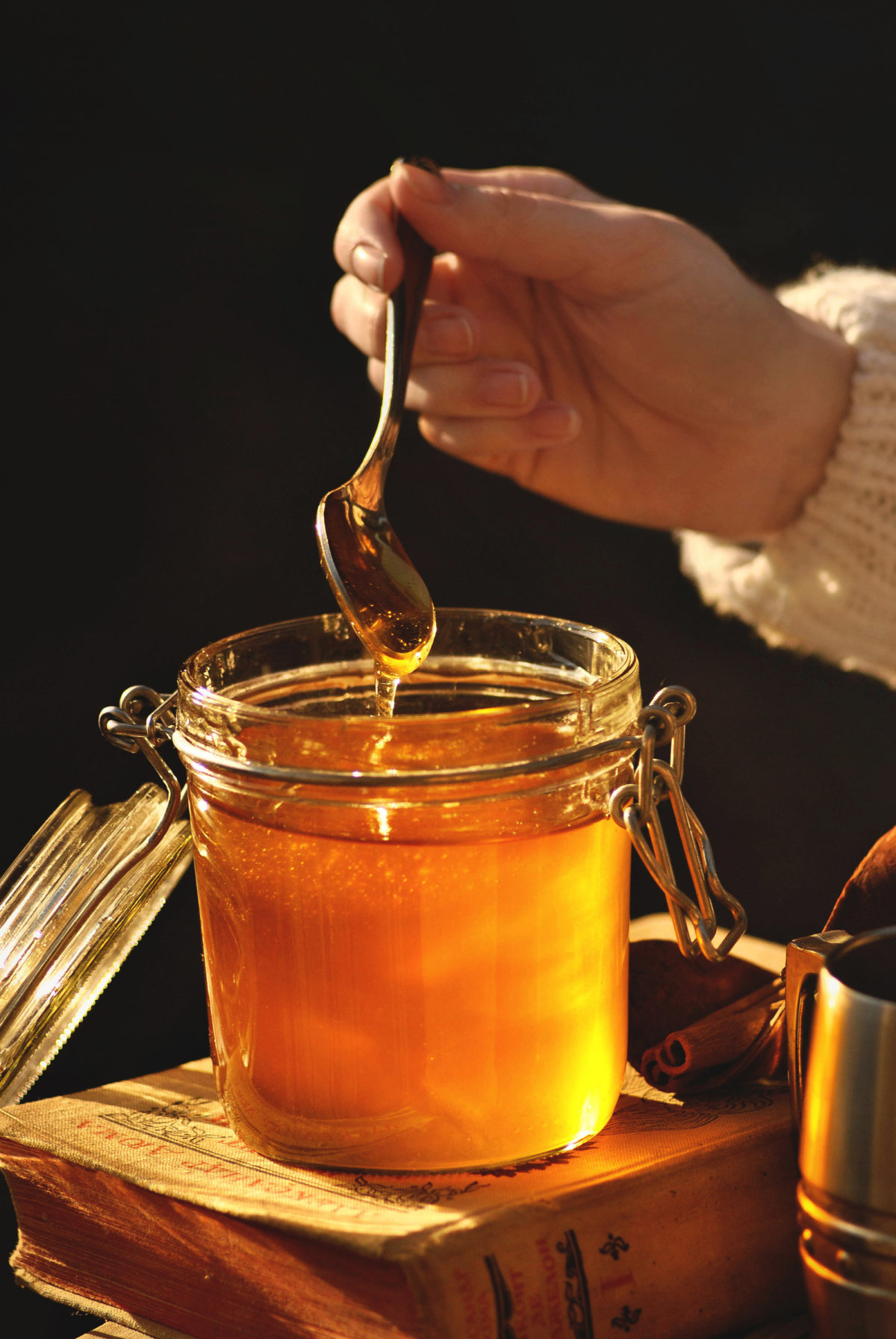 Honey
Did you know that honey can help reduce the risk of cancer and heart disease as well? Honey can also help ulcers and other gastrointestinal disorders. Many throat lozenges contain honey to reduce coughing and throat irritation. In addition, honey is considered to have anti-bacterial and anti-fungal properties. Certain types of honey contain large amounts of friendly bacteria and therefore may have a natural probiotic effect.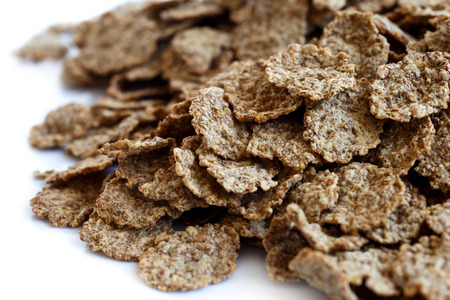 Bran
Bran flakes are yet another wonderful ingredient. Fiber is necessary to help eliminate waste and toxins from our bodies. Thus, one muffin will consequently help in that department. Almost everyone needs a little help from time to time.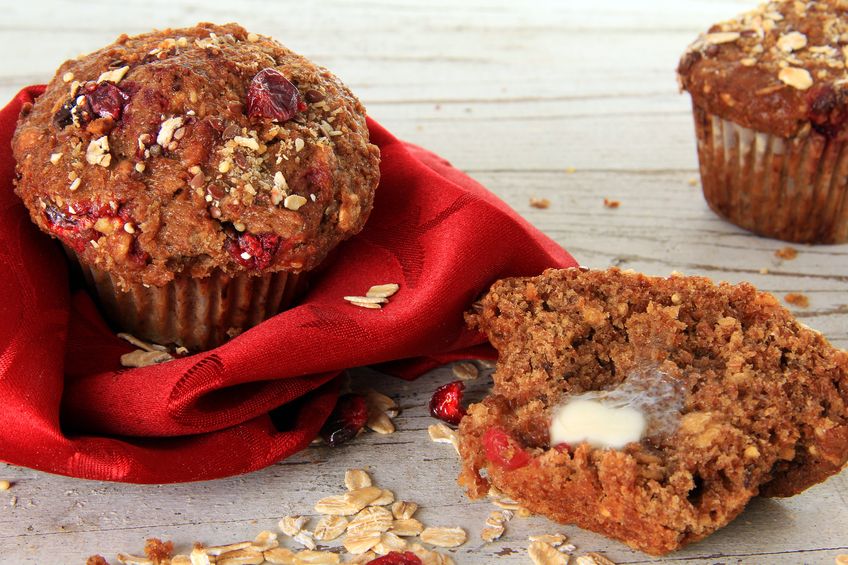 Gluten-Free & Dairy-Free Options
Various muffin recipes can be modified (to some degree), and this one is no exception. For example, Cranberry Honey Pecan Bran Muffins are easy to make gluten-free and dairy-free. People on a gluten-free diet either ask for the recipe and/or ask for another muffin!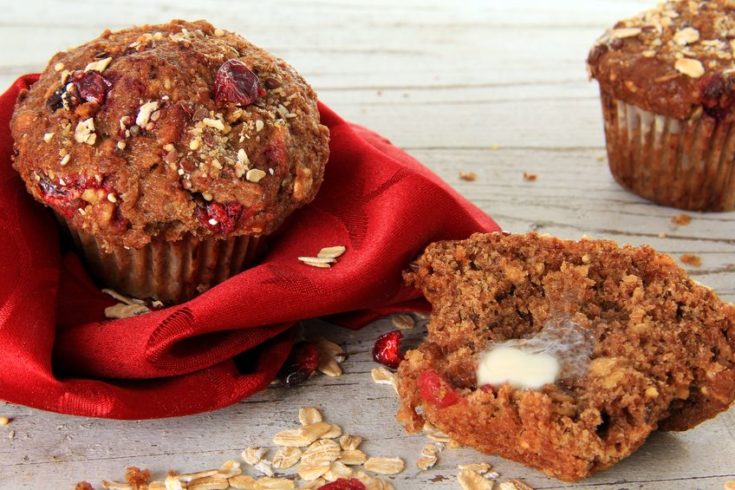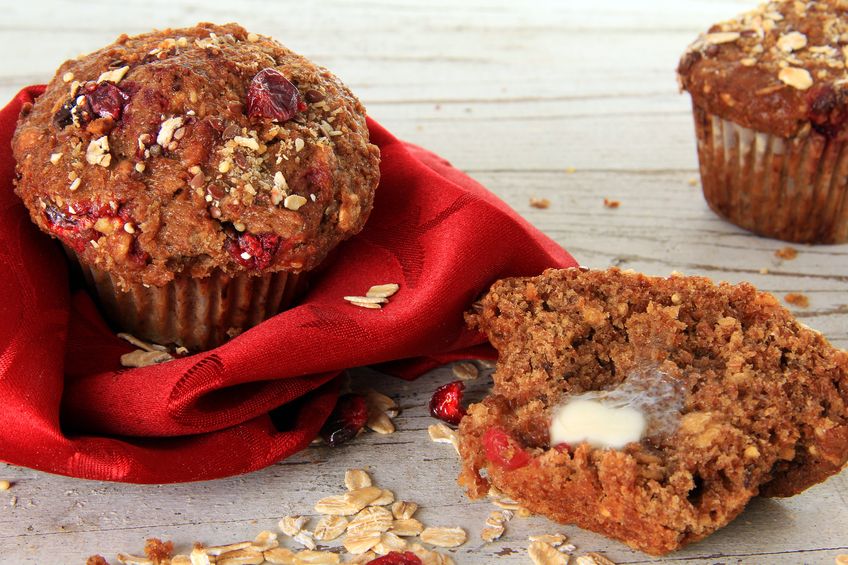 Yield:

Yields 12 Muffins
Cranberry Honey Pecan Bran Muffins
Healthy, hearty, and delicious!
Ingredients
2 cups flake bran cereal (*GF Option: use gluten free bran cereal)
1 cup milk (*Dairy Free Option: use soy, almond, or coconut milk)
1 egg
3 tablespoons melted butter (*Dairy Free Option: use coconut oil)
1/4 cup sugar
1 cup flour (*GF Option: use gluten free flour blend)
1/4 cup oats (*GF Option: use certified gluten free oats)
1 tablespoon baking powder (*GF Option: use gluten free baking powder)
1/2 teaspoon salt
(*GF Option: 1 teaspoon xanthan gum - unless gluten free flour blend contains it)
1/3 cup honey
3/4 c chopped pecans, divided
1 cup dried cranberries
Instructions
Grease muffin tin and place 1 teaspoon honey and 1 teaspoon pecans in each section.
In a mixing bowl, pour milk over cereal and let set for 3 - 4 minutes.
Stir in egg, butter, and sugar.
In a medium mixing bowl, combine flour, oats, baking powder, and salt, (and xanthan gum if making gluten-free)
Stir in the remaining pecans and cranberries.
Add bran mixture to dry ingredients, combine all.
Spoon into muffin tin.
Bake in a preheated 400 degrees F oven for 25 minutes, or until the center is set.
Let stand for 3 to 5 minutes, remove from pan.
Serve warm.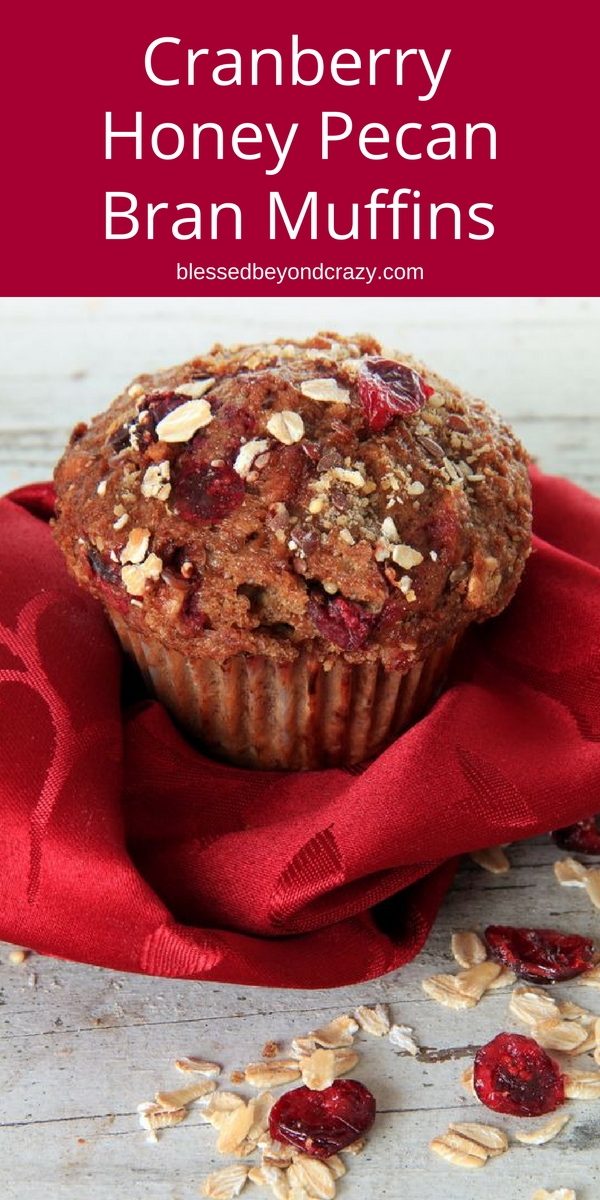 Holidays
Cranberry Honey Pecan Bran Muffins are especially satisfying during the holidays.
Additionally, these muffins make a lovely homemade gift. Fill a cute little wicker basket and add a darling gift tag for a final touch. Not only will the recipient enjoy yummy muffins, but they will also be flattered that you made them a homemade treat.
Pardon me while I snatch a muffin that seems to be calling my name!
Linda
Disclaimer: Manufacturers' formulations and policies may change at any time, therefore it's important to always read product labels yourself and contact the manufacturer with concerns. We have found that most companies are eager to help answer your questions.
More great recipes: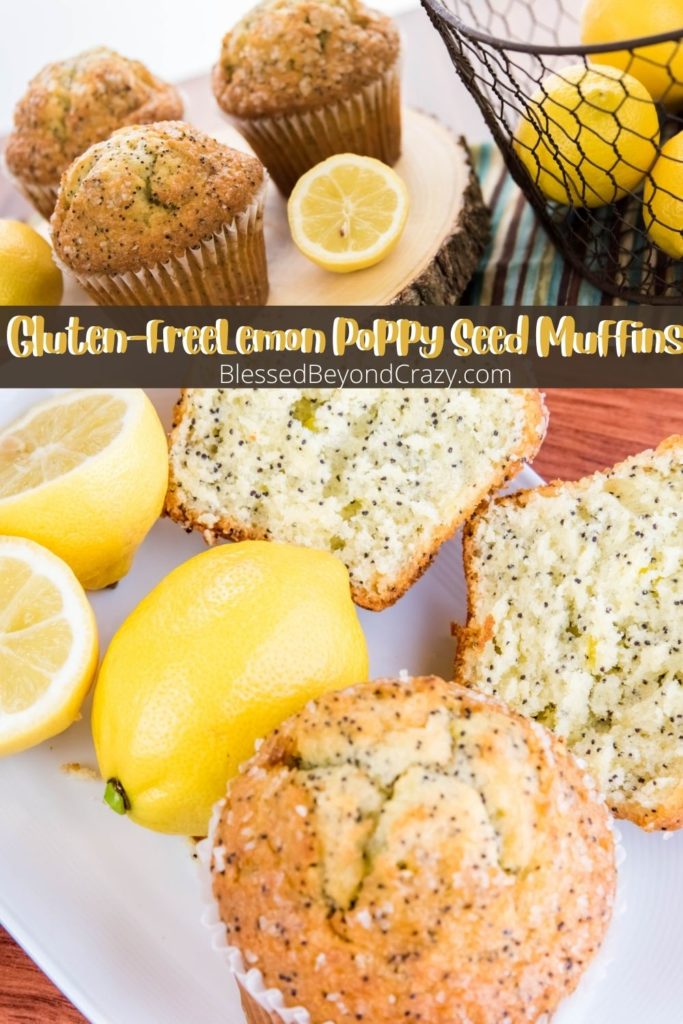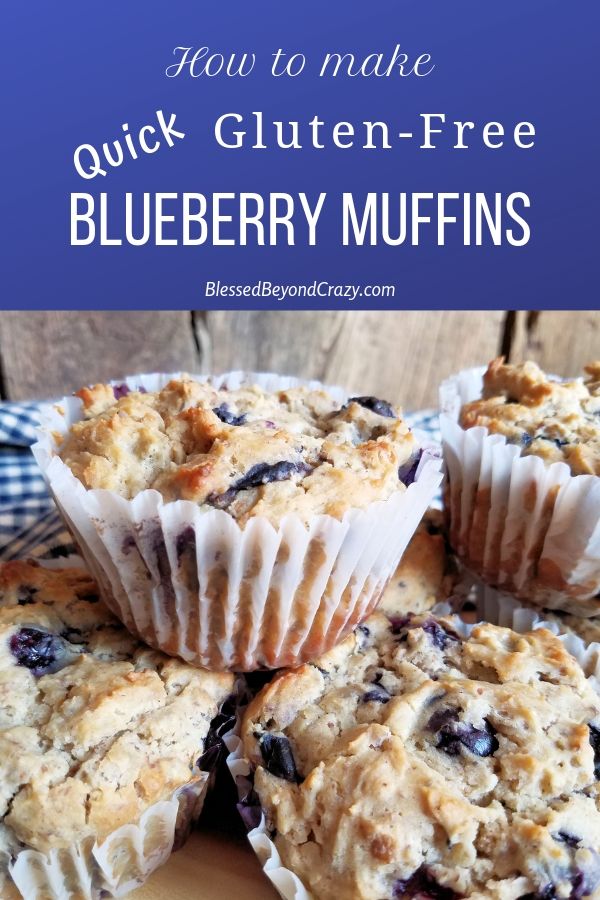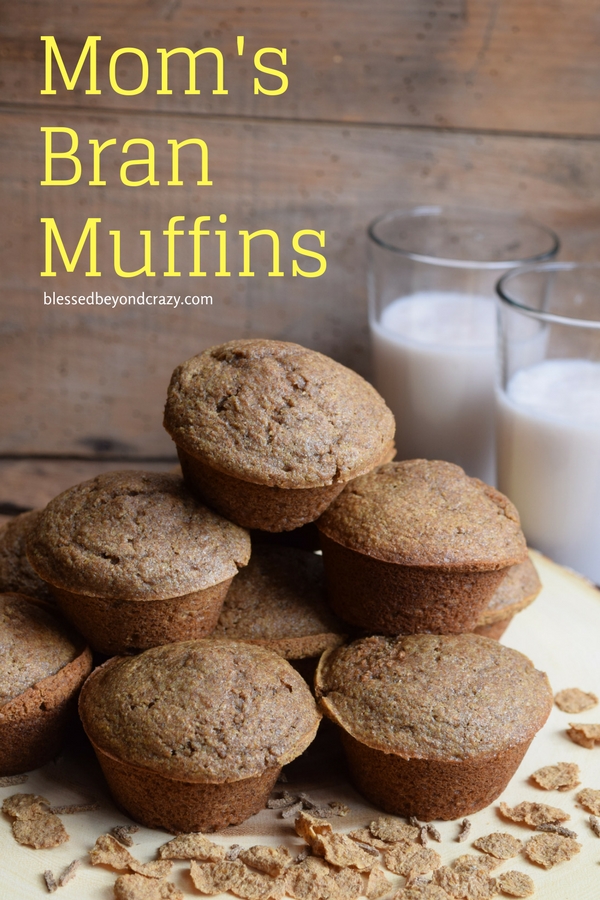 Sources:
Cranberries: Health Benefits, Facts, Research
Honey: Health Benefits and Uses in Medicine
Pecans nutrition facts
15 Amazing Benefits of Pecans for Skin, Hair, and Health
The Nutrition of All Bran Cereal