A few months ago I asked my lovely daughter in law, Becky if she would share her late grandmother Viola's recipe for Never Fail Pie Crust. As a result, Becky and her family graciously are allowing us that special privilege. Therefore, in today's post, we are sharing not one, but TWO incredible recipes!
Thus, we present: Viola's Never Fail Pie Crust and the Legend of Bob Andy Pie. (The following information has been provided by Becky & her family.)
NOTE: This recipe is best when using cold ingredients and pie dough is refrigerated until chilled.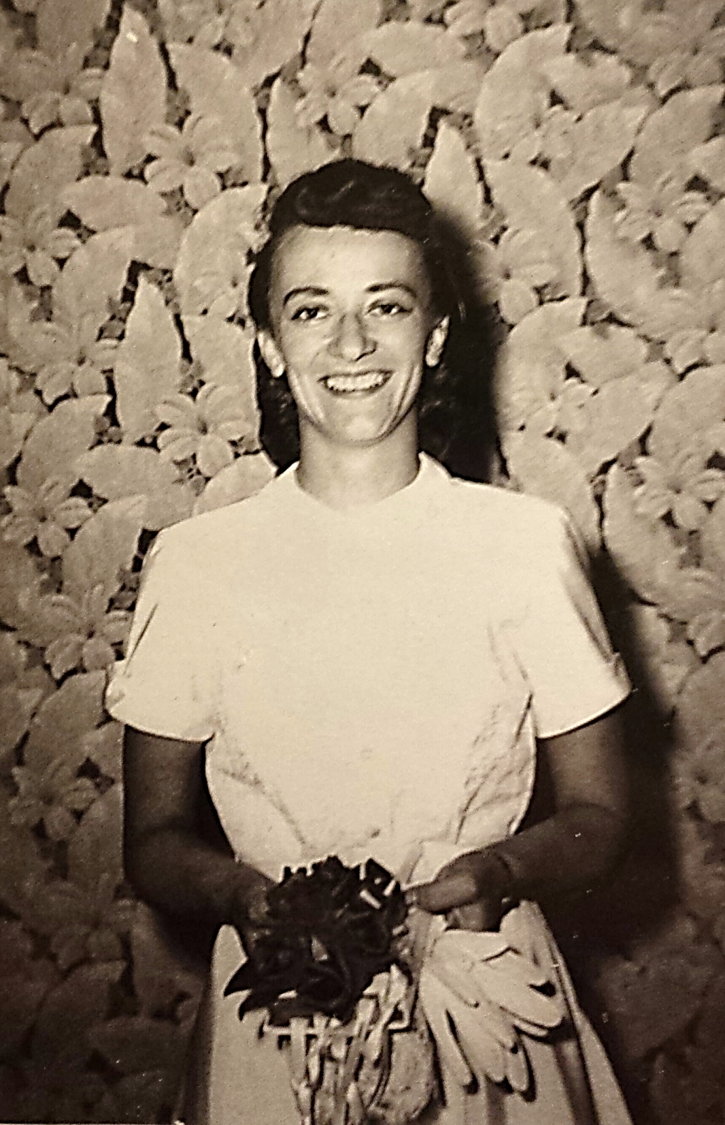 My grandma, Viola Ruth Miller, gave me the EASIEST, foolproof, delightfully flaky pie crust recipe of all time!
My grandmother Viola has some serious street cred with pie-making. She grew up Amish and later worked for nearly 5 years at a pie pantry shop. I know everyone says their pie crust is easy…but trust me, this is the real deal. It's not finicky if it's over handled.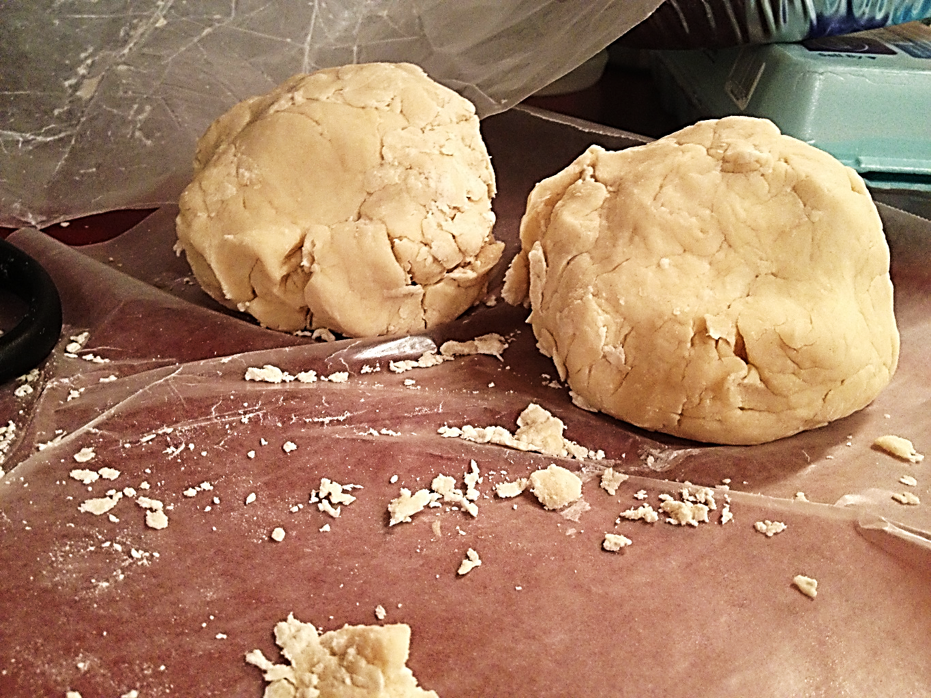 If you mess up when rolling it out, you can start over because this stuff is like play-dough. It also freezes great for whipping up dessert in a pinch. The recipe comes from a co-worker she made drapes with back in the day. God bless you, sweet drape maker.

However, this recipe wouldn't be complete without filling it with Bob Andy Pie. My grandma is famous for this dessert in her circle of friends and kinfolk. Growing up, she baked on Saturdays, and roughly twice a month her family enjoyed this unique cream pie custard—spiced with cinnamon and cloves.
Legend tells us this pie was named after an Amish farmer's two prize gelding workhorses. After a long day of working in the fields, he took a bite of this pie and said, "This is as good as Bob and Andy."
However, it's more than a good piece of pie to the Miller family. They equate the taste to memories, good times, and growing up. This particular recipe comes from Viola's mother in law. So it's no surprise that it's my grandpa's favorite dessert. He's been enjoying it since childhood.
"You bet your booties…HOT Bob Andy pie!" said my dad, Ken Miller, as he reminisced about coming home on a weekend, and scarfing down this straight-out-of-the-oven dish with his siblings.
"It's creamy, godly, and delicious," he added.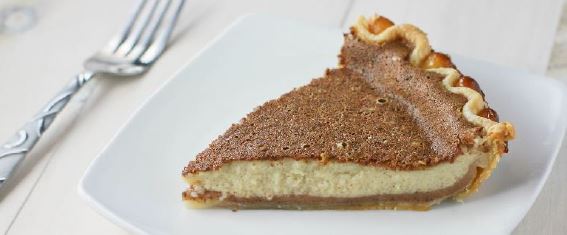 My Aunt Krista describes it as the epitome of a sweet decadent dessert.
"It's your basic, easy, home goodness you can make with stuff you have on hand," said Krista.
My Uncle Ron would encourage you to indulge with a glass of milk or coffee.
"I could eat a whole one myself, and not be one bit ashamed," said Ron. "There is birthday cake…but I always wanted birthday Bob Andy Pie!"
My grandma, Viola, had some classic lines. She liked to tell everyone to 'not make a fuss' over her for dinner, hosting, or fill in the blank. The truth is, she loved to turn around make a big deal with her generosity and hospitality for family, friends, and places she regularly volunteered. Do me a favor and make this a true blue Viola pie by making a 'big fuss' about the people in your life today! And of course…enjoy!
Written by: Becky (Miller) Speckhart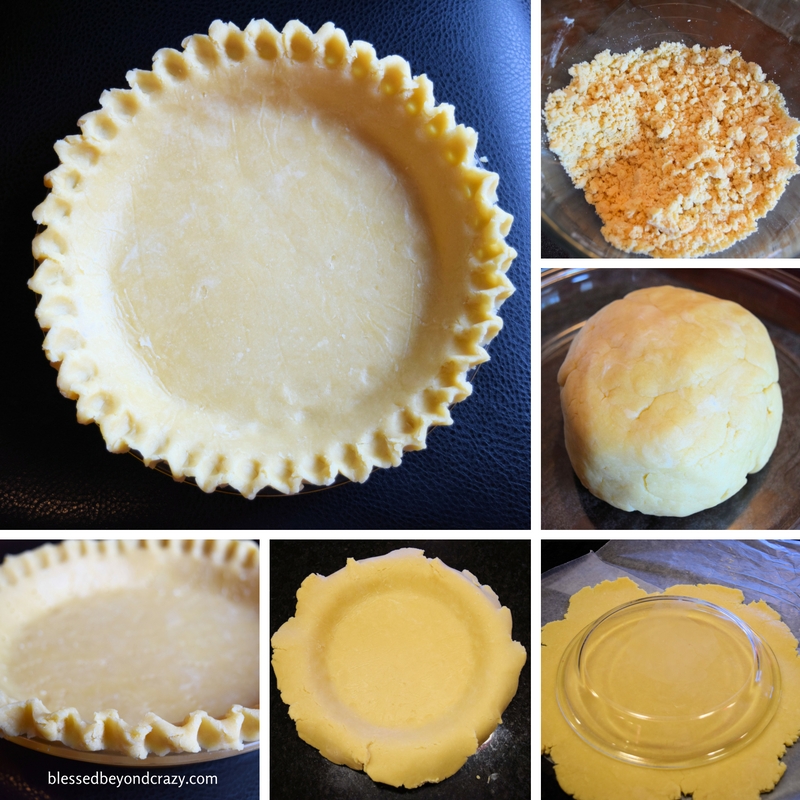 Last weekend I personally made Viola's Never Fail Pie Crust and Bob Andy Pie. First of all, I can honestly say that the recipes truly are just as wonderful as Becky has described. The pie crust came together easily, rolled out beautifully, plus it really did feel like play dough! Furthermore, the dough was super forgiving, which is good because I always seem to need that essential element!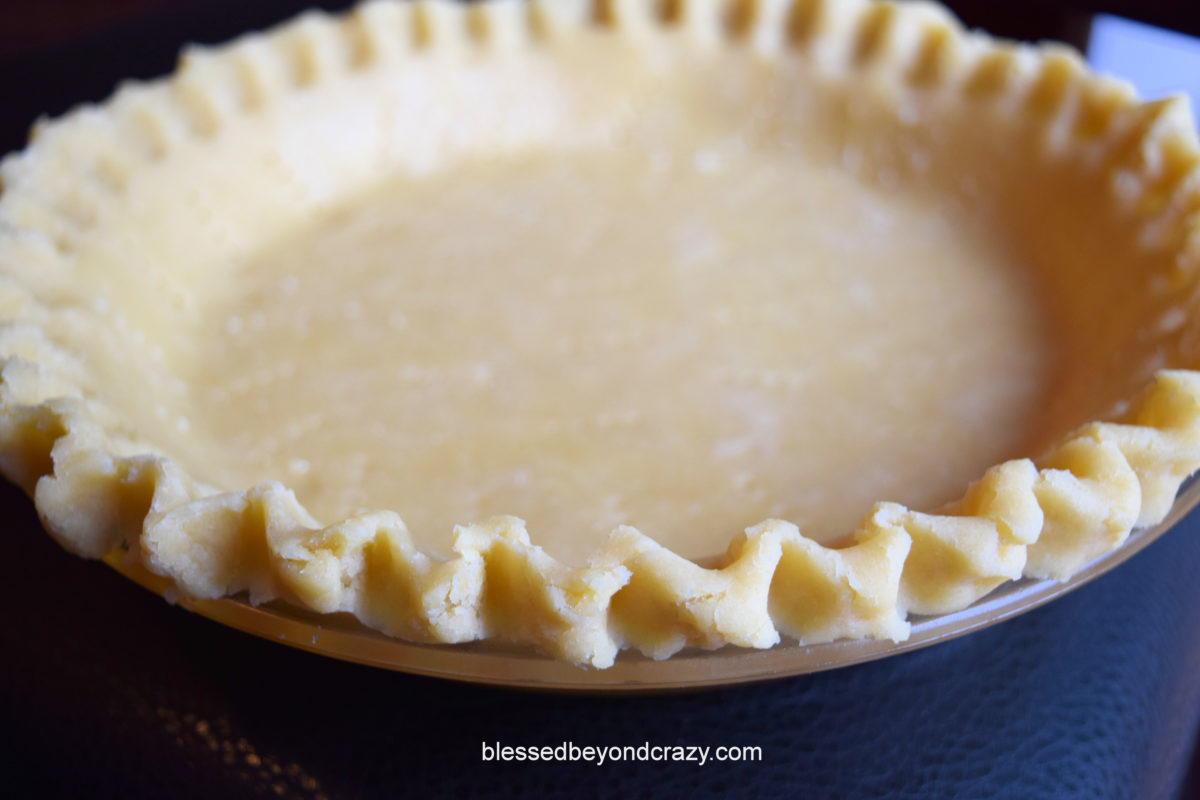 Viola's recipe for Never Fail Pie Crust is superb, yet uncomplicated!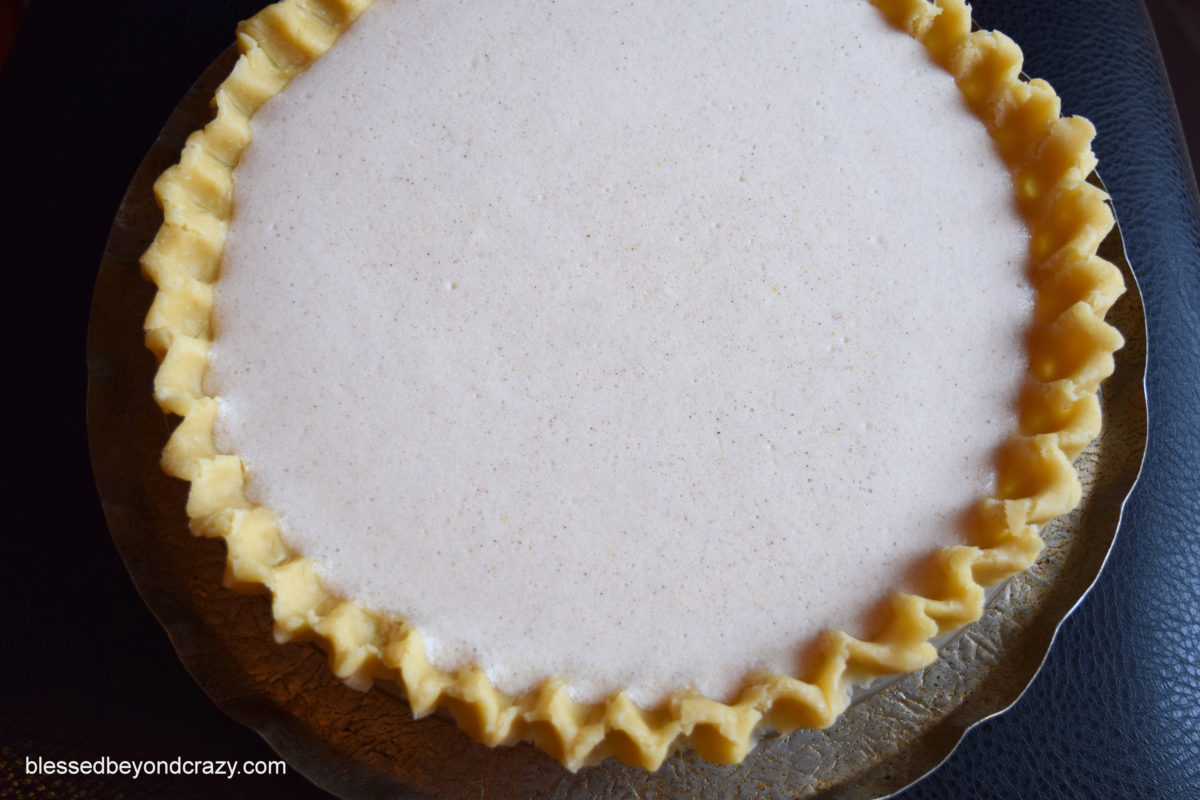 The same is true for Bob Andy Pie!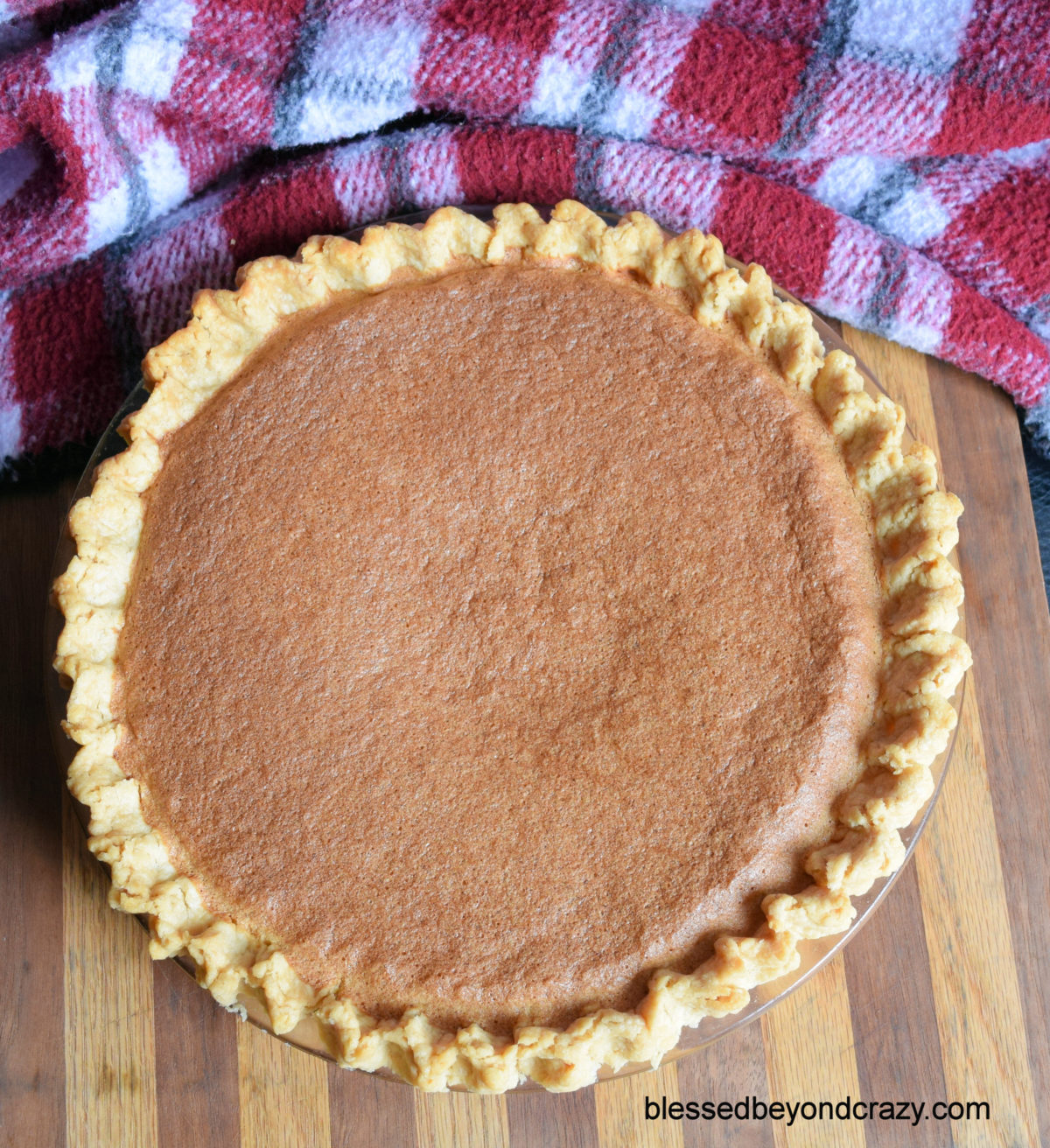 Since I made my pie crust rather thick, it consequently did take longer to bake. One hour to be exact. Therefore, one recipe of Viola's Never Fail Pie Crust will yield one top and bottom pie crust or two bottom crust.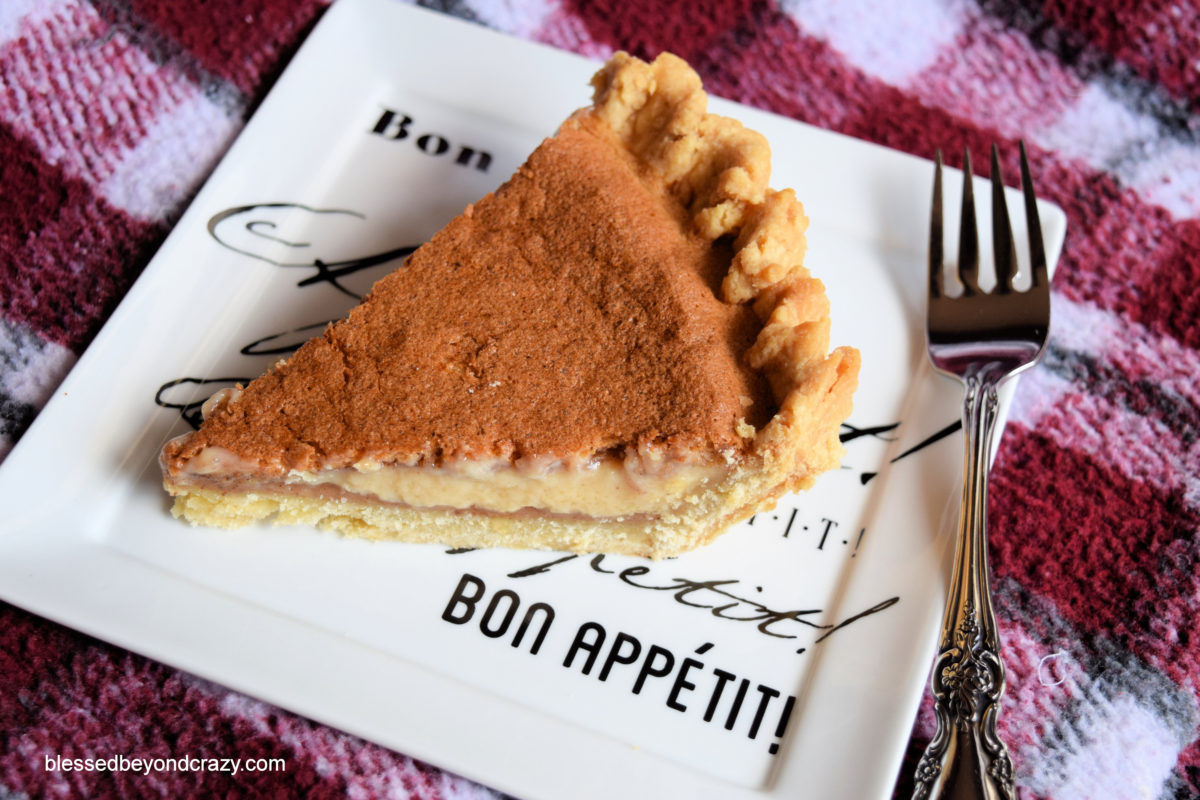 Slice of Bob Andy Pie!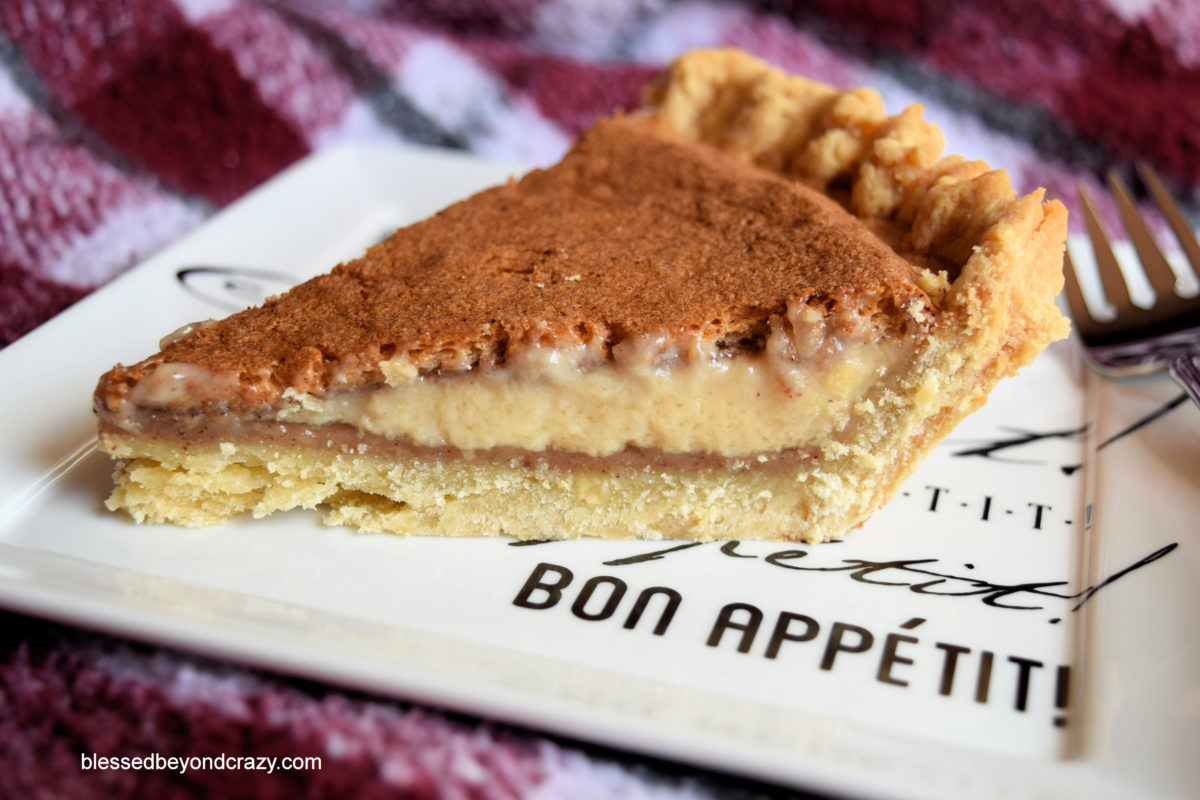 In conclusion, Viola's Never Fail Pie Dough recipe really does live up to its name! While there are many great pie dough recipes, this particular recipe is almost effortless to make. In addition, Bob Andy Pie is a creamy, decadent dessert and so it's perfect to serve to family and friends.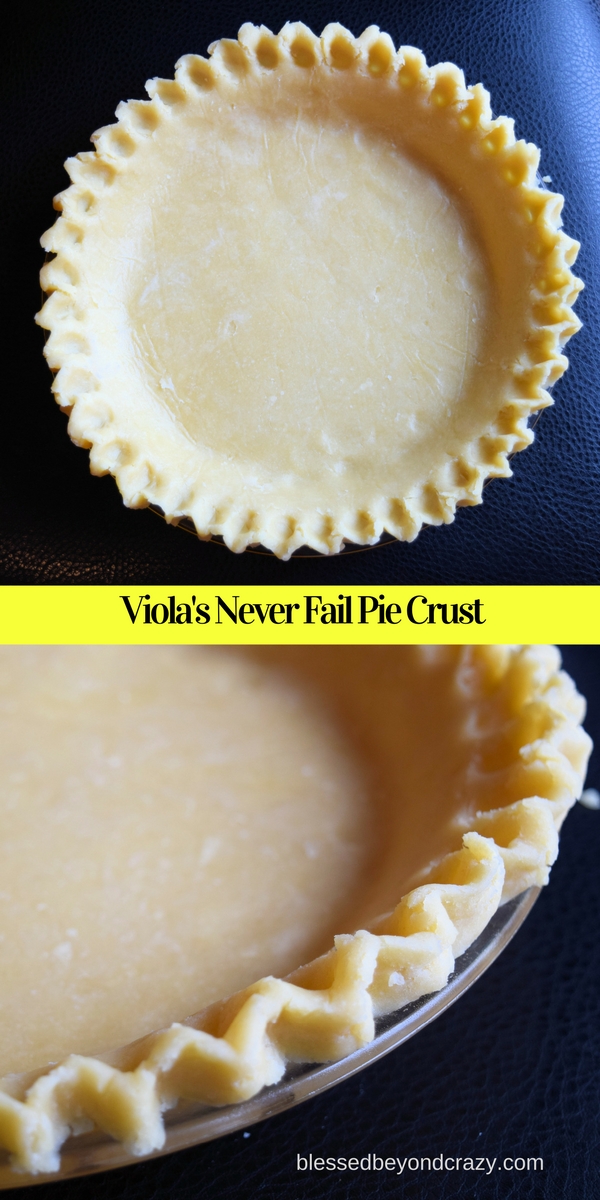 A good pie can turn an ordinary meal into an extraordinary feast so I suggest that you keep this recipe in a safe place. Why? Because you will probably be making it often! Also, remember that this pie crust freezes well and therefore it's a great "make-ahead" recipe.
Viola Miller's Never Fail Pie Crust and the Legend of Bob Andy Pie
---
20 minPrep Time
40 minCook Time
1 hrTotal Time
Ingredients
Viola Miller's Never Fail Pie Crust

3 C flour
1 1/4 cup of shortening
5 Tablespoon water
1 Tablespoon white vinegar (cider vinegar will work too)
1 egg, beaten
1 tsp salt

Bob Andy Pie

1 cup granulated sugar
1 cup brown sugar, packed
3 eggs, yolks separated from whites
1 1/2 Tablespoons margarine or butter, melted
1/2 teaspoon ground cloves
3 heaping Tablespoons flour
2 1/2 to 3 cups milk
1 teaspoon ground cinnamon
Instructions
Viola Miller's Never Fail Pie Crust

Cut shortening into flour & salt, blend until flour is moistened.
Combine egg, water, & vinegar, add all at one time to flour mixture.
Stir until all ingredients are well combined.
Roll out dough on a lightly floured working surface, or between two pieces of waxed paper.
Place upside down pie pan onto rolled out dough.
Flip dough and pie pan right side up, fit dough to pie pan.
Trim excess dough from sides.
Crimp edges.
Bake in preheated 350 degrees F oven for 30 to 35 minutes, or fill with pie filling and bake accordingly.
(Recipe makes top and bottom crust or two bottom crust)

Bob Andy Pie

In a medium mixing bowl, mix together sugar, flour, cinnamon, cloves.
Add melted butter, beaten egg yolks, and sweet milk. (May use one can Milnot evaporated milk and add enough whole milk to make a scant 3 cups.)
Beat egg whites, just until stiff peaks form (do not over beat)
Fold egg whites into milk mixture.
Pour into 2 unbaked pie shells, stirring constantly so spices do not settle.
Bake in a preheated 400 °F oven for 10 to 15 minutes.
Finish baking at 325 °F approximately 30 to 45 minutes, or until center is barely still "jiggly".
(May take longer to bake if you make crust on the thicker side and/or if you have a deep dish style of pie pan.)
Notes
This pie crust freezes well so you can make it ahead of time.
7.8.1.2
80
https://blessedbeyondcrazy.com/violas-never-fail-pie-crust-and-the-legend-of-bob-andy-pie/
www.blessedbeyondcrazy.com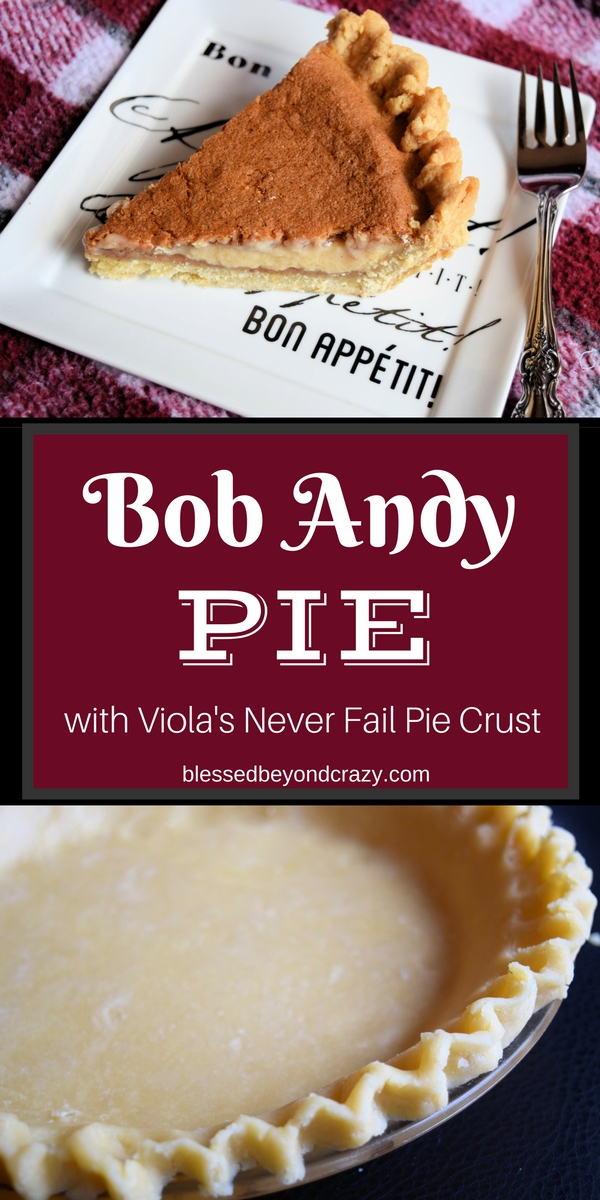 Finally, "Thank You" Becky, and family, for allowing us to share these incredible recipes! We hope we have honored your grandma Viola's legacy and paid her the tribute she deserves.
Linda
More great recipes: