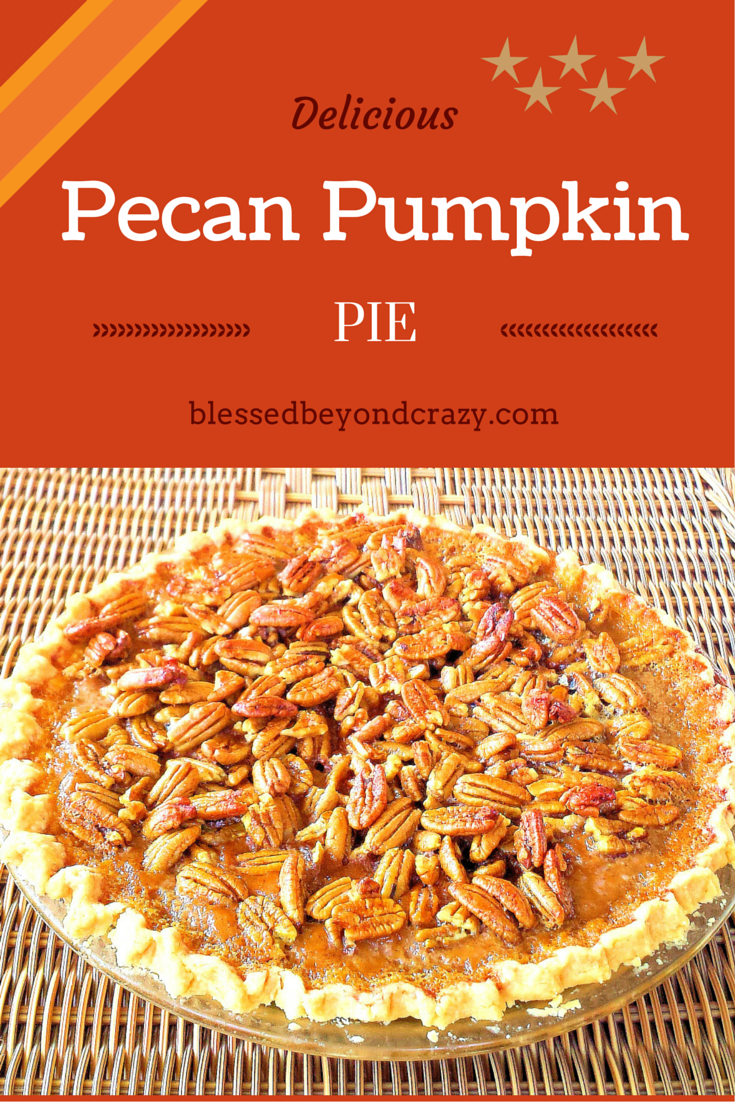 Pecan-Pumpkin Pie is a wonderful combination of flavors that will make your home smell just like fall.
Since fall is right around the corner I have started thinking about all things fall-related. Pumpkin pie is high on my favorite pies list and Sugar and Spice Pecans are high on the list of my favorite snacks. What could be better than combining two of my favorite things into one? "Well, Hello there Pecan-Pumpkin Pie. Where have you been all my life?" 

To help support our blogging activities, our site contains affiliate links. If you make a purchase from a link on our site, we may receive a small percentage of that sale, at no extra cost to you. Blessed Beyond Crazy is a participant in the Amazon Services LLC Associates Program, an affiliate advertising program designed to provide a means for sites to earn advertising fees by advertising and linking to amazon.com.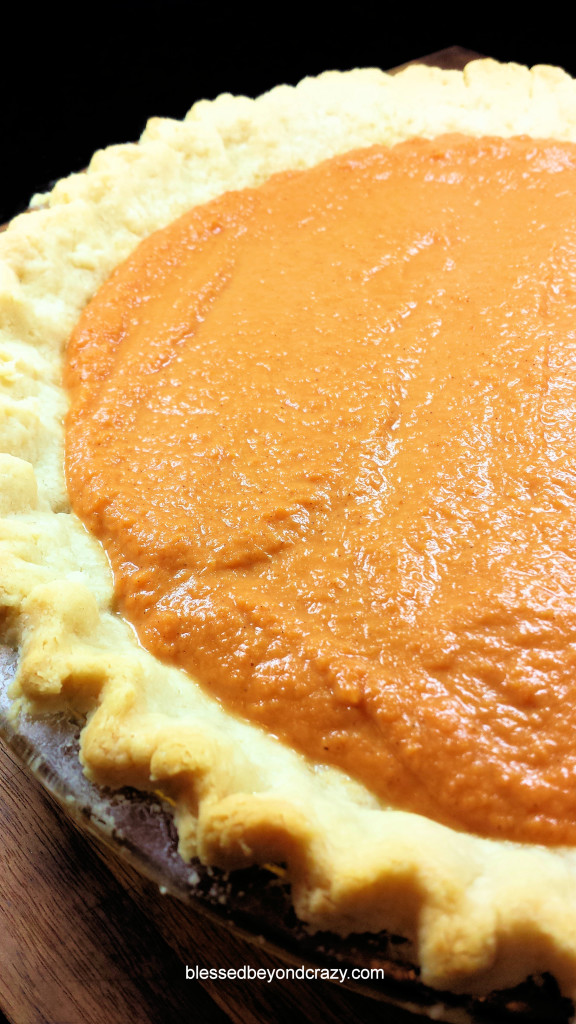 Pie Crust
If you are in a hurry, feel free to use a store-bought pie crust, however, homemade pie crust is pretty easy to make. Especially speedy homemade pie crust!
Another fabulous good old-fashioned pie crust recipe is one that my daughter-in-law, Becky, was kind enough to share with us. This recipe comes from her grandmother, Viola, who was raised Amish and who later worked in a pastry shop for 5 years. Therefore, you know it's good! You can find the recipe > HERE.
You can also make this recipe gluten-free by using a gluten-free pie crust mix. (Perfect for all of your gluten-free guests this Thanksgiving!)
As this pie baked my whole house smelled wonderful! I could hardly wait for it to cool off enough so that I could dive into it!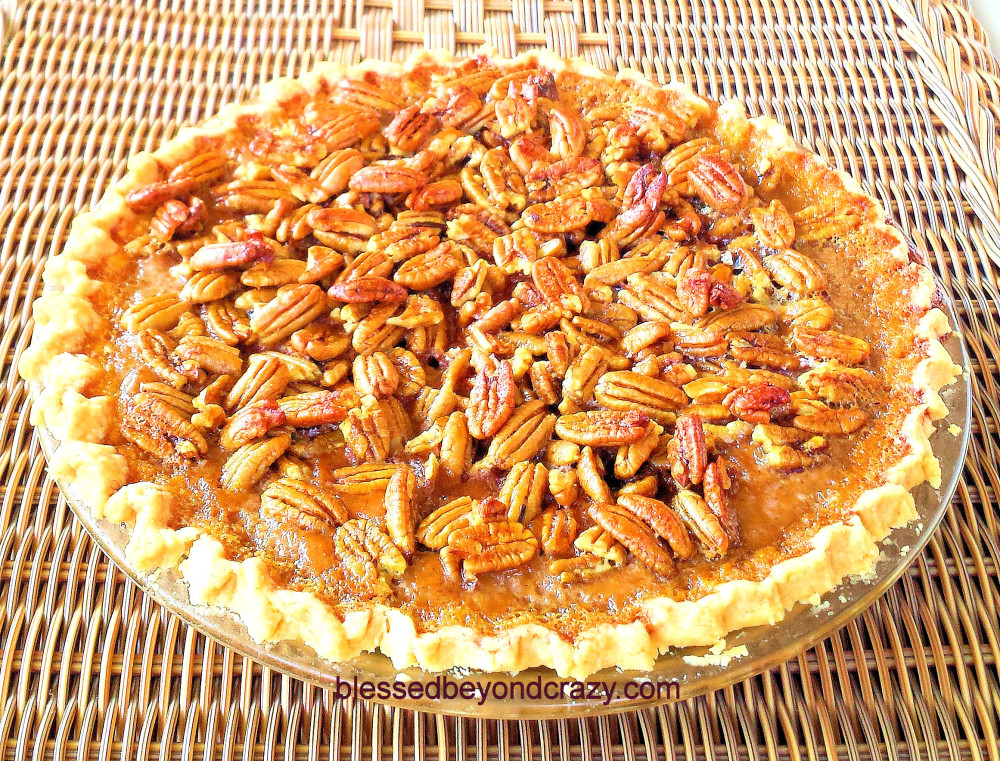 Since there is so much filling in this pie I highly recommend placing a baking pan (with sides) under it while it bakes. The pan will catch any filling that may bubble over and helps keep your oven clean.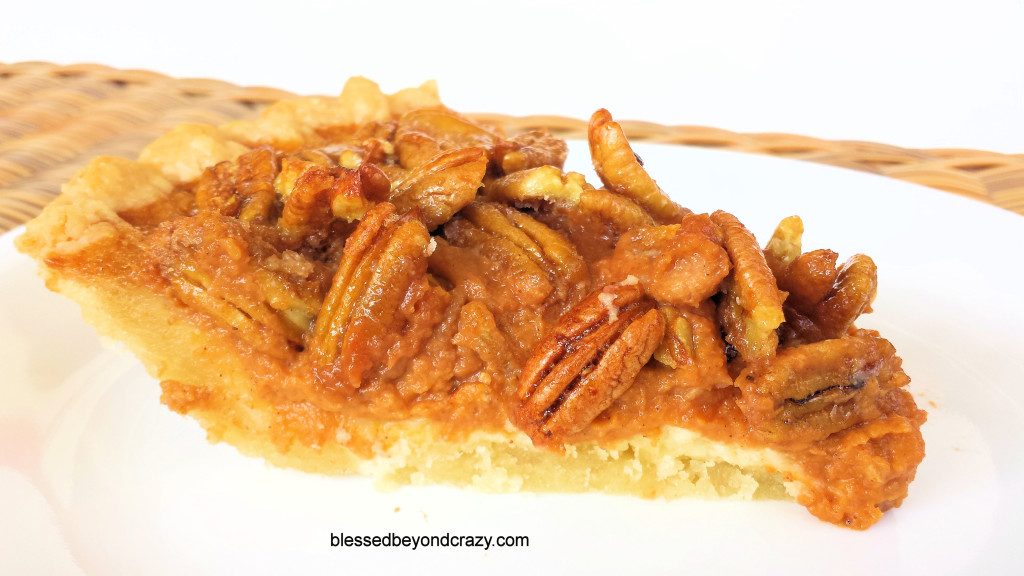 I really wish that I could give each of you a bite of this delicious pie. The combination of yummy pumpkin + pumpkin pie spices + pecans + brown sugar = amazing!
Top each slice with a large dollop of whipped cream or a scoop of vanilla bean or cinnamon ice cream. Oh heck… go ahead… pile them all on and have a slice with each!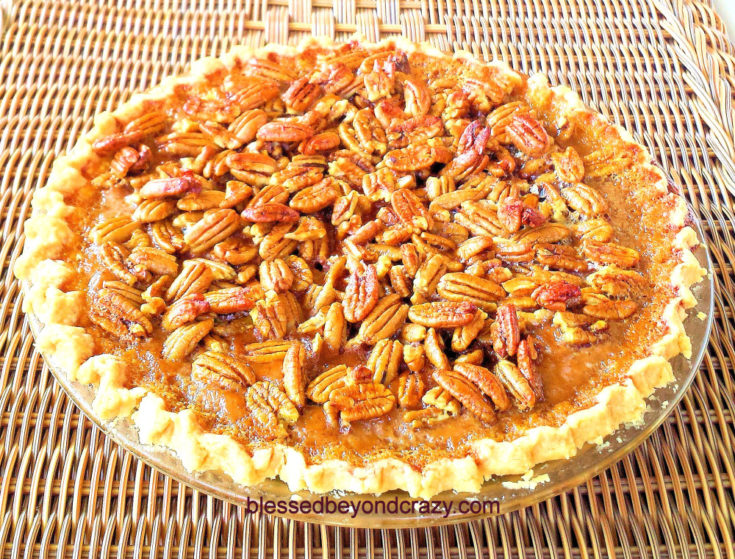 Yield:

Yields 6 - 8 Servings
Pecan Pumpkin Pie
Total Time:
1 hour
15 minutes
A delicious and wonderful dessert for Thanksgiving or any day of the year!
Ingredients
CRUST:
1 Ready-to-use pie crust or one homemade pie crust (GF Option: use a gluten-free pie crust)
FILLING:
1 cup canned pumpkin, (not pumpkin pie mix)
1 egg
1/2 cup half-and-half
1/2 cup granulated sugar
1 1/2 tsp pumpkin pie spice
TOPPING:
1/4 cup light corn syrup
2 eggs, beaten
1/2 tsp vanilla
1/4 cup brown sugar, packed
1 1/2 cups pecan, halves
2 tbsp butter
Instructions
Preheat oven to 350 degrees F. Place crust in a 9-inch glass pie plate.
In a medium mixing bowl, beat all pumpkin-filling ingredients together until blended. Pour filling into pie crust.
In another mixing bowl, beat all pecan filling ingredients (except pecans) together until blended. Stir in pecans. Spoon mixture over pumpkin layer.
Bake for 50 - 55 minutes, or until a knife inserted comes out clean.
Cool completely.
Serve with a dollop of whipped cream. Refrigerate leftovers.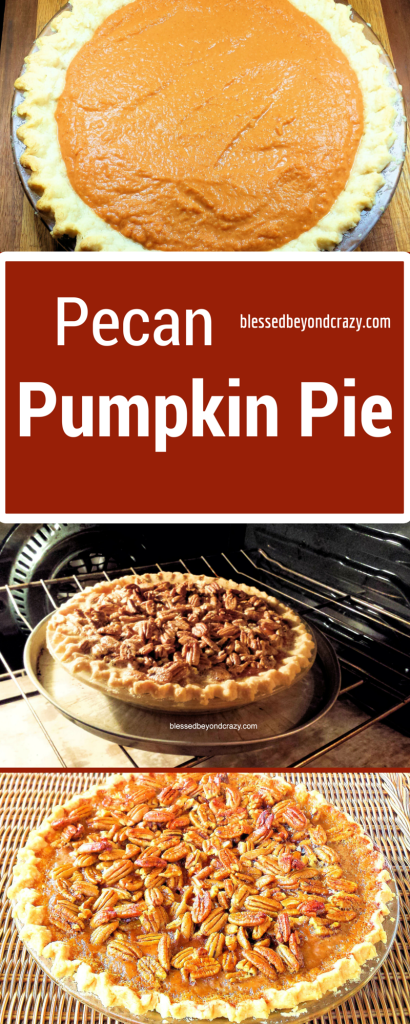 It's always fun to serve desserts during the holidays on dishware that's a little extra fancy.  
Do you have a favorite pie recipe?
Happy fall ya'll!
Linda
More great recipes: