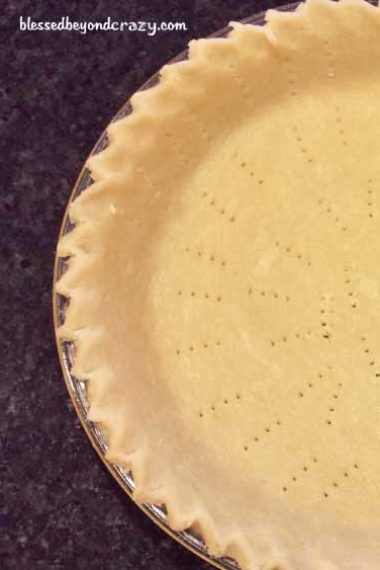 Speedy Homemade Pie Crust really does live up to its name and is a fabulous no-fail recipe. Not only is the recipe very forgiving, it only requires 4 ingredients. I promise it is one of the easiest pie crust recipes you can ever make.  
To help support our blogging activities, our site contains affiliate links. If you make a purchase from a link on our site, we may receive a small percentage of that sale, at no extra cost to you. Blessed Beyond Crazy is a participant in the Amazon Services LLC Associates Program, an affiliate advertising program designed to provide a means for sites to earn advertising fees by advertising and linking to amazon.com. As an Amazon Associate, I earn from qualifying purchases.
It's amazing how combining four simple ingredients can turn into a flaky, delicious homemade pie crust!
One recipe will make a bottom and top pie crust or two bottom crusts. Furthermore, the dough doesn't get tough if you happen to mess up when rolling it out. Simply form it back into a ball and roll it out again.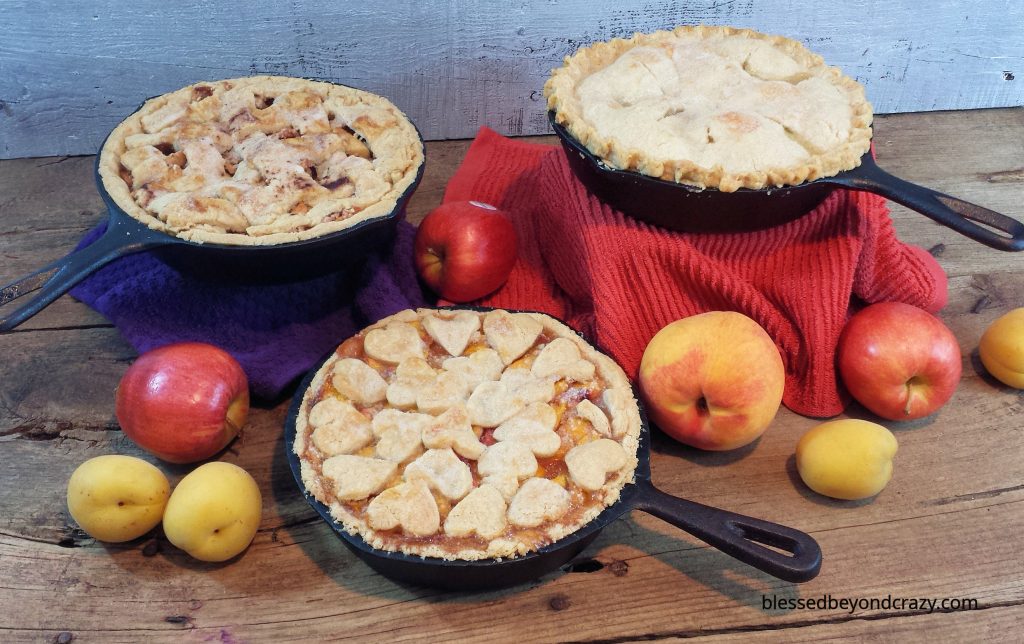 Some of our favorite rustic pies are apple, blackberry, pumpkin, cherry, apricot, blueberry, peach, and pecan pumpkin pie.



My mother and I have been making this recipe for years. We frequently make several crusts, use one and freeze the other. It's so nice being able to grab a crust out of the freezer, let it thaw, then finish making a pie.
Start by combining all of the ingredients.
Next, place the dough between two sheets of waxed paper and slightly flatten it with the palm of your hand.
Now, roll the dough out. Make sure to roll the dough out a little larger than your pie pan.
Peel off the top layer of waxed paper. Gently place an upside-down pie pan on top of the dough. Flip the pie pan over and carefully peel off the waxed paper.
Gently pat the dough into the pie pan and trim off the uneven edges with a table knife.
Finally, pinch the edges of the dough to form a nice pattern. If baking a single crust, gently make holes on the bottom and sides of the dough with a fork.
Bake at 350 degrees F for approximately 20 minutes; or until golden brown. Cool completely. Fill with your favorite ready-made pie filling or pudding and refrigerate.
Shown are pictures of a coconut cream pie that I made using this pie crust that I made for this blog post. To make the filling I used the recipe for Strawberry Vanilla Cream Parfaits.
Similar no-bake filling options include chocolate pudding, pistachio pudding, lemon and banana cream, ice cream, cream cheese, and frosty peanut butter.
For the topping use either store-bought whipped topping, or you can make a homemade egg white topping.
Egg White Topping:
Start by separating 4 egg yolks from the egg whites.

Beat the egg whites for one minute.

Slowly add 2 teaspoons of sugar and a pinch of cream of tartar.

Beat until stiff peaks form and place mixture on top of your pie.
With the back of a large spoon, randomly and quickly pat to form peaks.
Broil for just a couple of minutes to brown the top.
Add a final sprinkle of coconut.
Put your feet up, grab a cup of hot coffee and a slice of delicious pie!
What is your favorite pie recipe?
Linda
More great ideas: