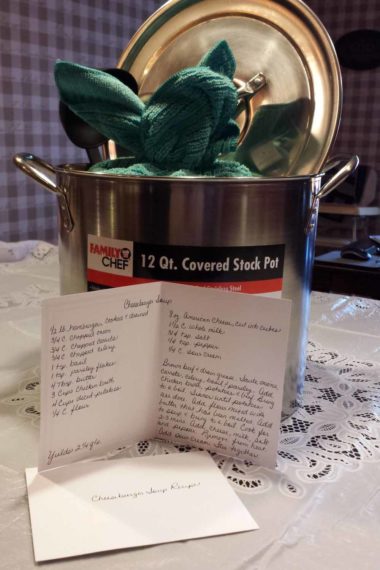 You do not need to spend a lot of money to create a truly awesome and practical gift. With just a little money and time you can create a Fun Soup Theme DIY Gift Idea.
To help support our blogging activities, our site contains affiliate links. If you make a purchase from a link on our site, we may receive a small percentage of that sale, at no extra cost to you. Blessed Beyond Crazy is a participant in the Amazon Services LLC Associates Program, an affiliate advertising program designed to provide a means for sites to earn advertising fees by advertising and linking to amazon.com. As an Amazon Associate, I earn from qualifying purchases.

GO SHOPPING!
First of all, since I wanted to create a Soup Theme DIY gift that was fun, unique, and practical, I put my "creative cap" on and went shopping. I purchased:

Wrap It Up!
Assembling the gift was the fun part! The beautiful white tablecloth I purchased for $5 was carefully taken out of its packaging and unfolded. (Love the lacy pattern in the center and around the edges.) No need to iron the tablecloth because I am actually using it as the wrapping paper.
Color Coordinate
I loved the idea of the different colored soup bowls and was fortunate to find towels that matched the different colors. Each soup bowl was carefully wrapped in a pretty towel, then the ends were drawn up and secured with a rubber band around the top.


The next step was to place a hot pad was placed at the very bottom of the stockpot.
I didn't want the bowls to break, therefore I placed three of the wrapped soup bowls on their sides and around the bottom of the stockpot.
Next, I placed the second hot pad on top of the soup bowls and place the remaining soup bowl on top of the hot pad. I also gently inserted the soup ladle, along with the stockpot lid.

For a little added personal touch, I added a handwritten recipe for Cheeseburger Soup. I also placed that at the top of the stockpot.
The final touch was to wrap the entire gift inside the white tablecloth with an added ribbon. I gathered the tablecloth at the top and secured it in place with rubber bands. You could use a smaller tablecloth and wrap a bow around the top instead.
Finally, you can make this a sports-themed gift by using sports-related items such as towels or bowls. You could also replace the stockpot with a crockpot!


There ya go! I had fun putting this all together and it was easy!
Do you have an idea for a creative DIY gift?
Linda
More great ideas: