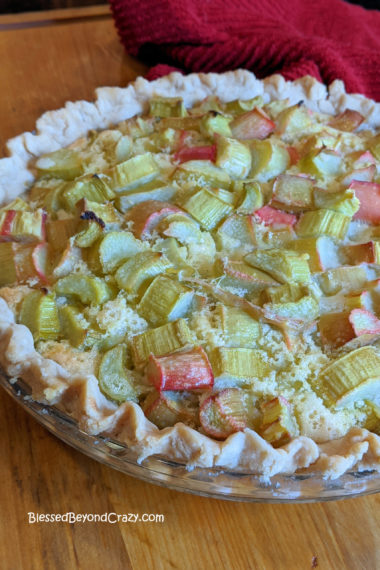 Homemade pies have a very special place in my heart. Probably because some of my favorite childhood memories were watching my mother make fresh, homemade pies. One of my favorites is mom's fresh Rhubarb Pie.

To help support our blogging activities, our site contains affiliate links. If you make a purchase from a link on our site, we may receive a small percentage of that sale, at no extra cost to you. Blessed Beyond Crazy is a participant in the Amazon Services LLC Associates Program, an affiliate advertising program designed to provide a means for sites to earn advertising fees by advertising and linking to amazon.com.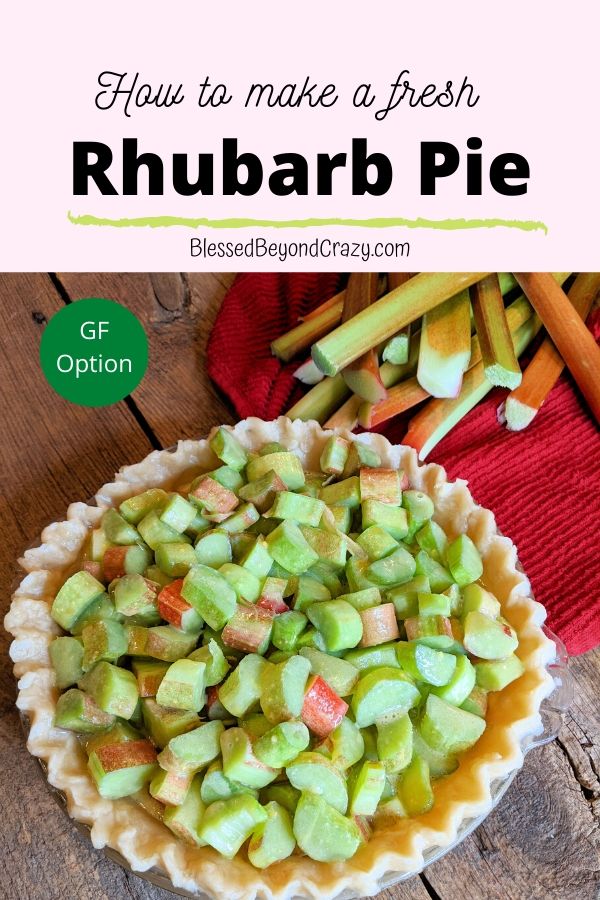 My mom is also famous for her fresh apple pie, cherry pie, peach pie, and pumpkin pie!
Every spring Mom cut stalks of fresh rhubarb to make delicious homemade rhubarb pie. To this day she still has rhubarb growing in her garden.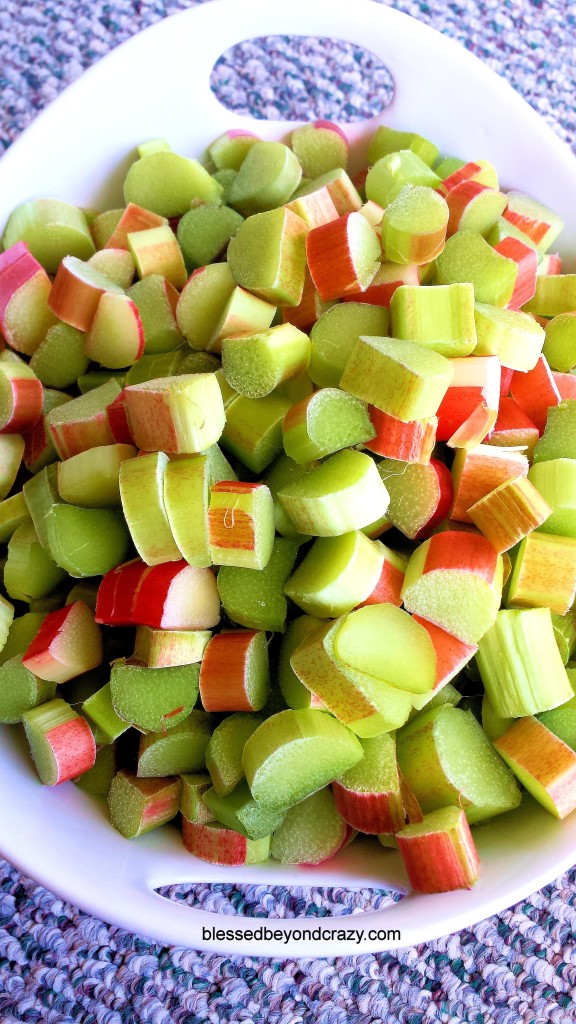 Naturally, Rhubarb Pie begins with fresh rhubarb. After the stalks have been washed, cut the rhubarb into bite-size chunks.
Homemade Crust
You can use either a store-bought pie crust or make your own homemade crust. Probably two of the easiest no-fail pie crust recipes are Speedy Homemade Pie Crust recipe and Viola's Never Fail Pie Crust. Both are simple, yet great recipes. Furthermore, these pie crusts freeze well.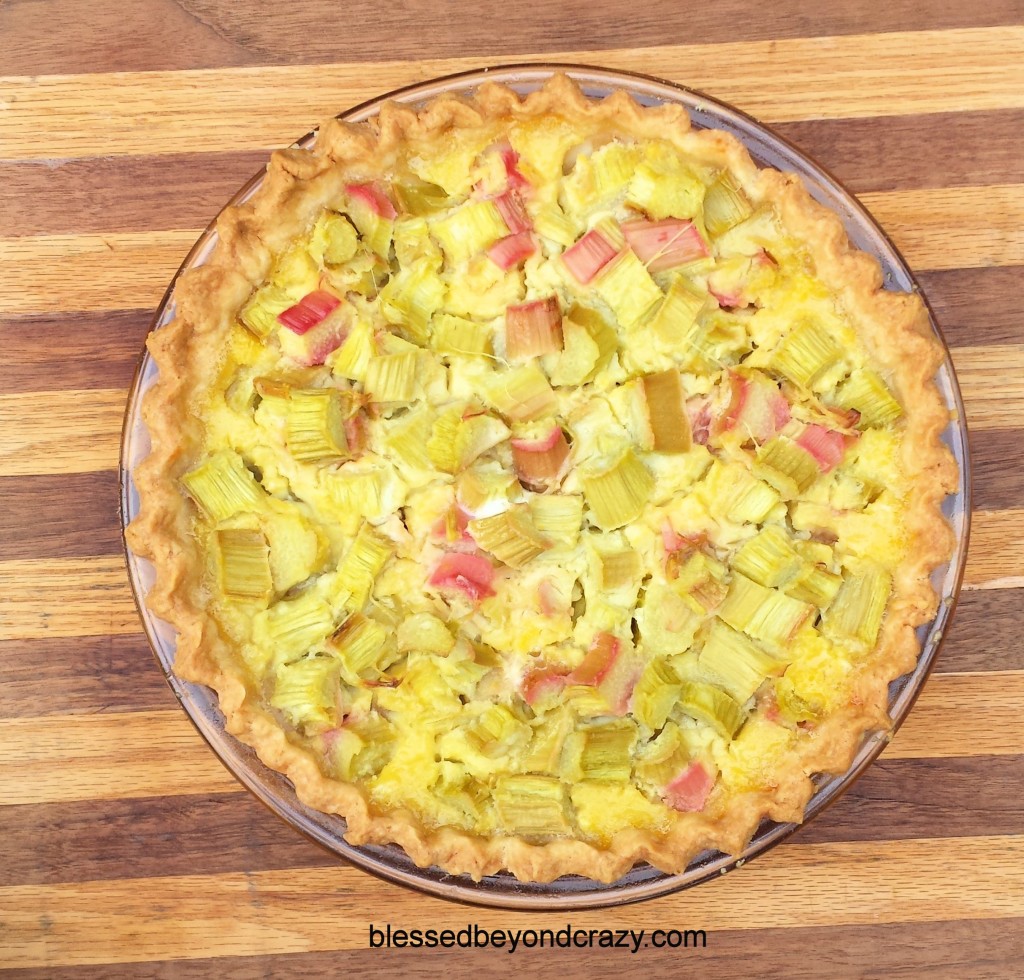 How about making a delicious pie for a yummy, homemade DIY gift? The recipient will be thrilled!!!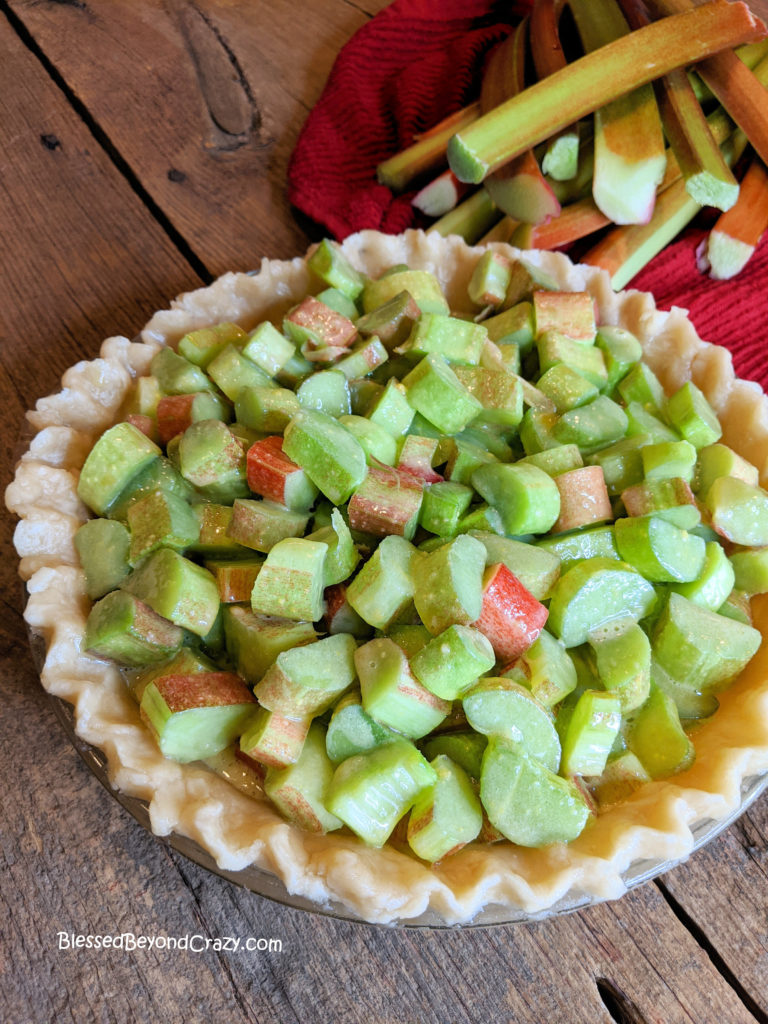 The rhubarb is smothered with a combination of sugar, flour, and eggs. This mixture helps thicken and sweeten the pie.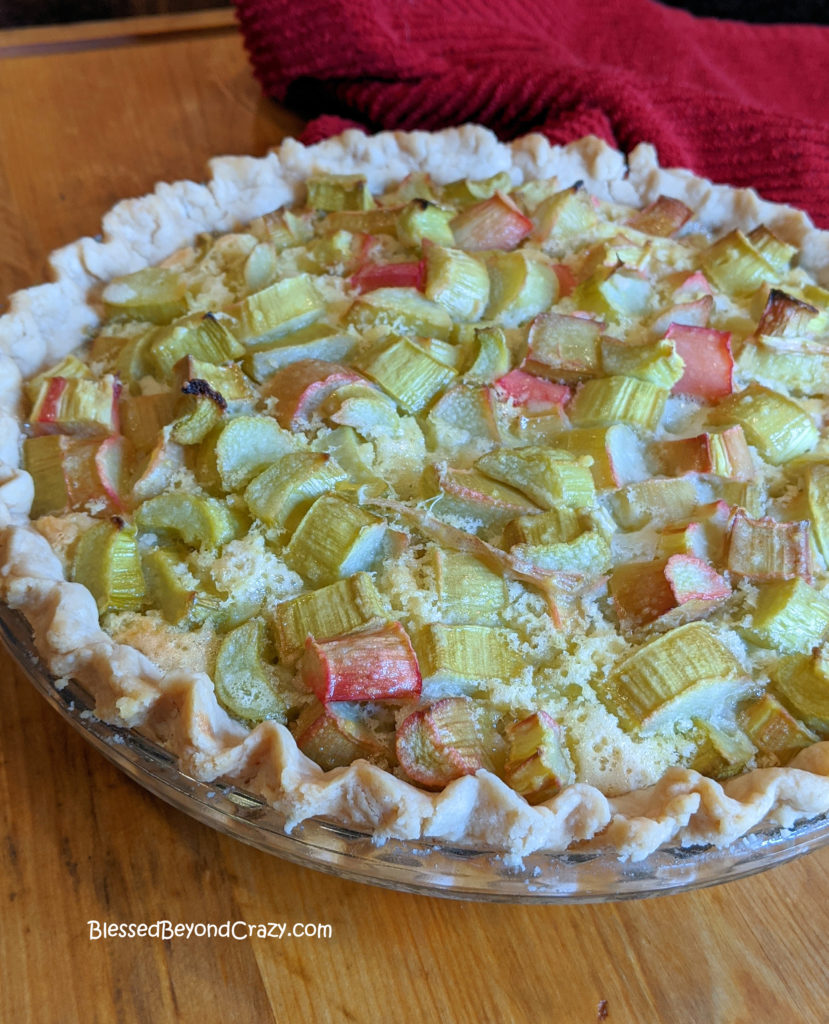 Bake the rhubarb pie in a preheated 375 degrees F oven for approximately one hour; or until the crust is golden brown. The center should be set and the rhubarb should be tender when poked with a fork.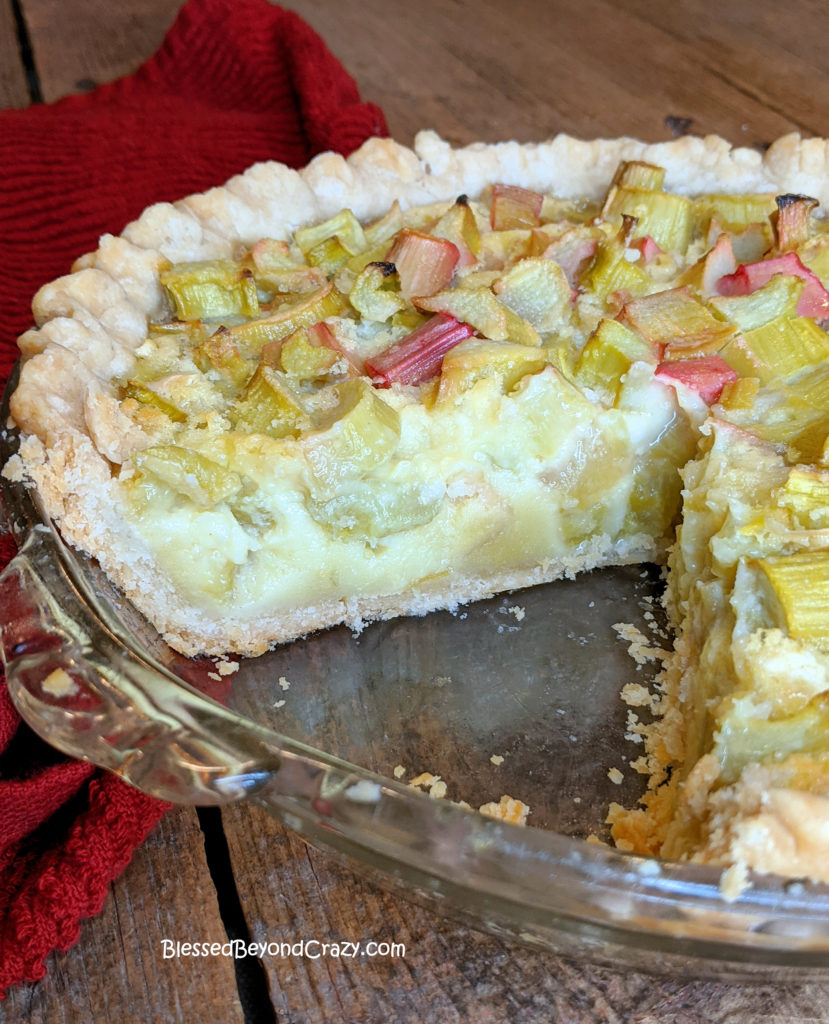 One pie serves 6 to 8 people.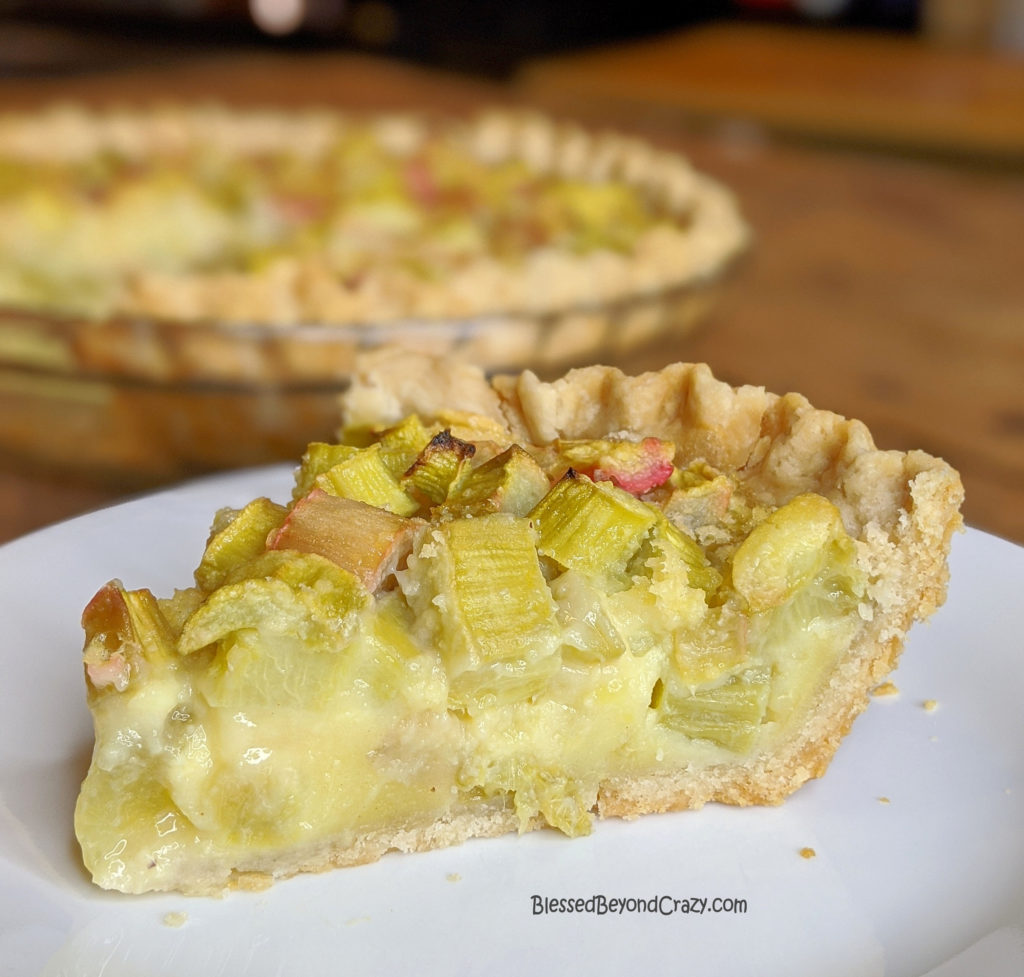 Don't you just want to grab a fork and dive right in? Fyi… this pie is delicious all by itself, however, feel free to add a dollop of whipped topping or a generous scoop of vanilla bean ice cream on the side!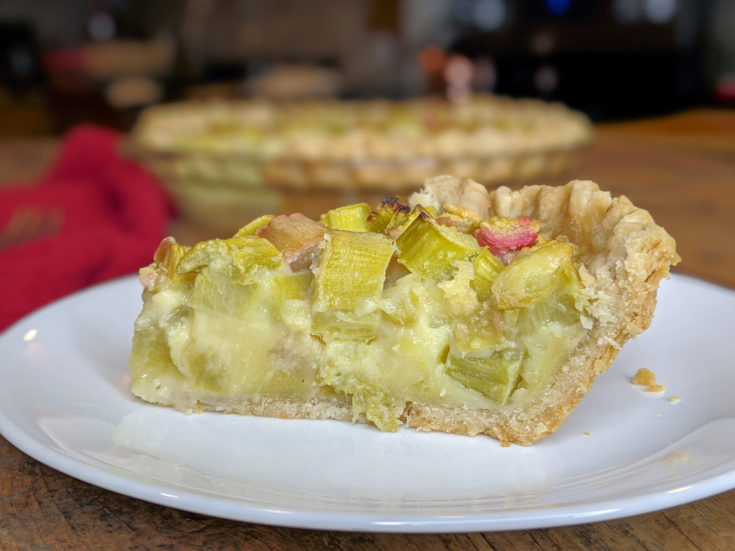 Yield:

Yields 6 - 8 Servings
Rhubarb Pie
Total Time:
1 hour
20 minutes
Ingredients
4 cups fresh rhubarb, chopped
2 eggs, slightly beaten
4 tbsp all-purpose flour (GF Option: use gluten-free flour blend and 1/2 teaspoon xanthan gum)
1 1/4 cup granulated sugar
1 store-bought or homemade pie crust (GF Option: use gluten-free pie crust)
Instructions
Wash and cut rhubarb stalks into bite-size chunks.
In a small mixing bowl combine eggs, flour, and sugar.
Pour mixture over chopped rhubarb; stir until rhubarb chunks are coated. Pour rhubarb into the pie crust.
Bake in a preheated 375-degree F oven for 1 hour, or until the center is set.
Cool. Serve.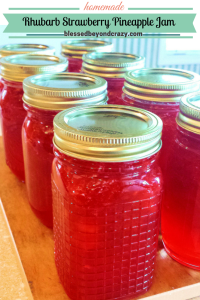 Rhubarb is delicious in many recipes. Along with rhubarb pie, another family favorite recipe that we make every year is Homemade Rhubarb Strawberry Pineapple Jam. This stuff is so good that every year my kids fight over who gets the last jar!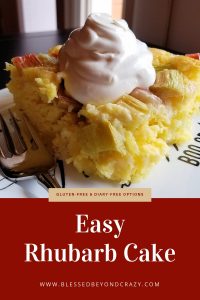 Remember that you can also use rhubarb to make a delicious Rhubarb Cake!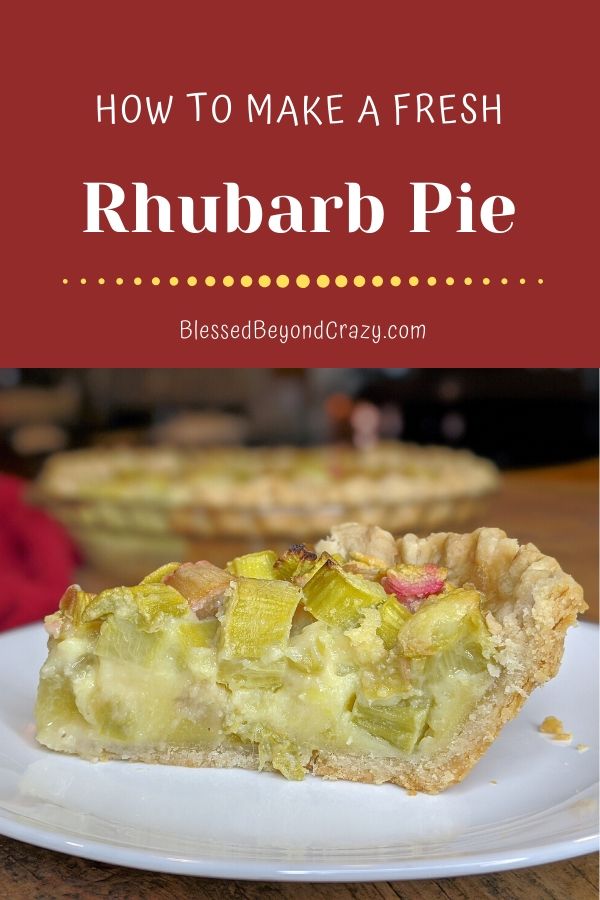 What is your favorite rhubarb recipe?
Linda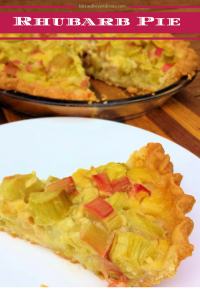 More great recipes: