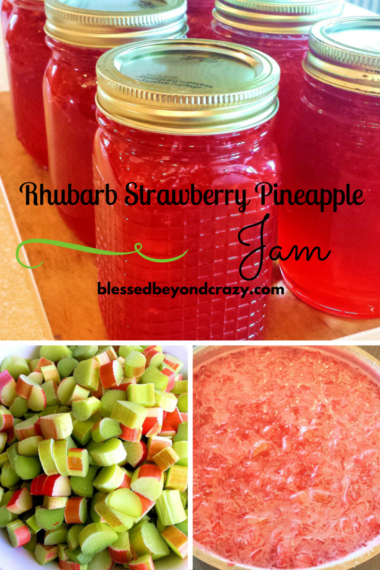 The other day I reminisced as I gathered rhubarb to make a batch of delicious Homemade Rhubarb Strawberry Pineapple Jam. As you know by now, my Mother has always been an avid gardener. Ever since I was a little girl she has grown just about every vegetable you can think of in her gardens. Yes, I did say gardens!

To help support our blogging activities, our site contains affiliate links. If you make a purchase from a link on our site, we may receive a small percentage of that sale, at no extra cost to you. Blessed Beyond Crazy is a participant in the Amazon Services LLC Associates Program, an affiliate advertising program designed to provide a means for sites to earn advertising fees by advertising and linking to amazon.com. As an Amazon Associate, I earn from qualifying purchases.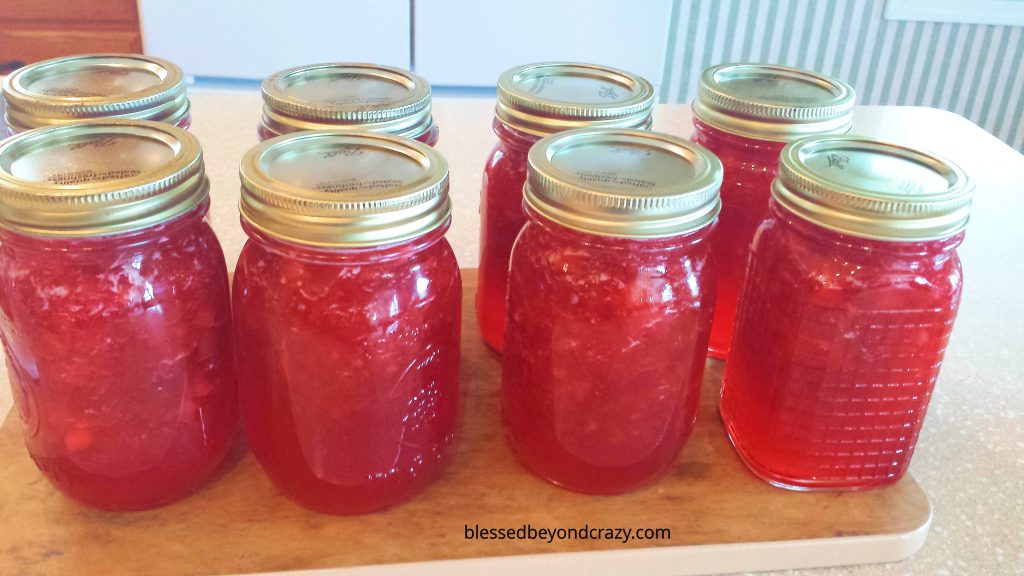 Delightful Condiment
My mother loves gardening and every year she planted in three separate garden plots. Dad always tilled the gardens every spring while Mom strategically planned what vegetables would be planted where and when.
Now, at the age of 86, both she and my Dad still plant a garden every spring. However, through the years they have cut back to one small garden.
This year they recruited their great-grandson to help plant sweet corn. He loved helping them! Maybe he will have his own garden plot someday.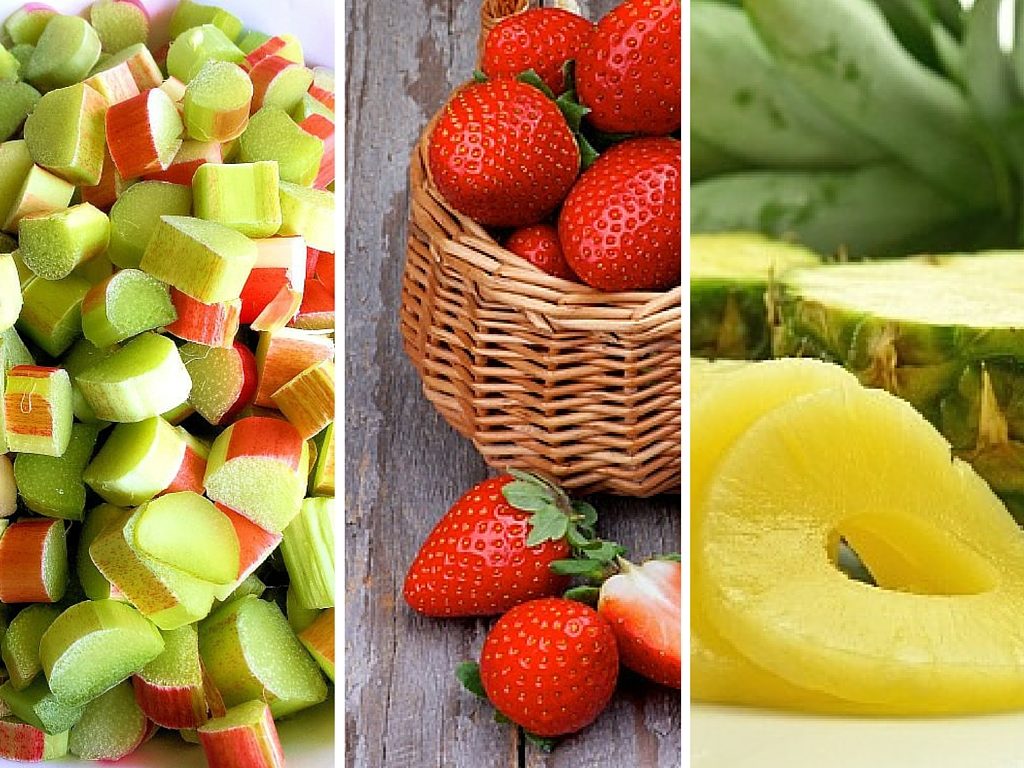 Rhubarb + Strawberries + Pineapple
One of the vegetables Mom always has an abundance of in her garden is rhubarb. Rhubarb is a perennial plant (the kind that grows from year to year) which forms large fleshy leaves and produces stalks similar to celery.
According to the Michigan State University – Rhubarb is an ancient plant traced back to China in 2700 BC. It was used for medical purposes as a laxative, to reduce fever and cleanse the body.
Rhubarb can be eaten raw, but because of its tart flavor, it is more often cooked and sweetened with sugar. It is called the "pie plant" because one of its most popular uses is as pie filling. The leaves of rhubarb should never be eaten because the leaves and roots contain a toxic poison called oxalic acid.
HARVESTING RHUBARB
Harvesting rhubarb is actually fun. There are two ways to harvest rhubarb. One way is to use a sharp knife to cut off the stalks. The second way is to gently pull and twist the stalk until the stalk breaks off from the plant.
Try to pick stalks that are at least 10" or longer. The deeper the red color of the stalks, the more flavorful. The larger stalks are not as tender and stringy as the medium-sized stalks.
To ensure that the plant has enough energy stored up to make it through the winter, never harvest all the stalks off your rhubarb plant. After cutting the stalks from the plant, cut the leaves from the stalk and throw them away. NOTE: Remember that the leaves of the rhubarb plant are poisonous and should never be eaten.
Harvesting rhubarb generally begins in April and May and is available through early summer.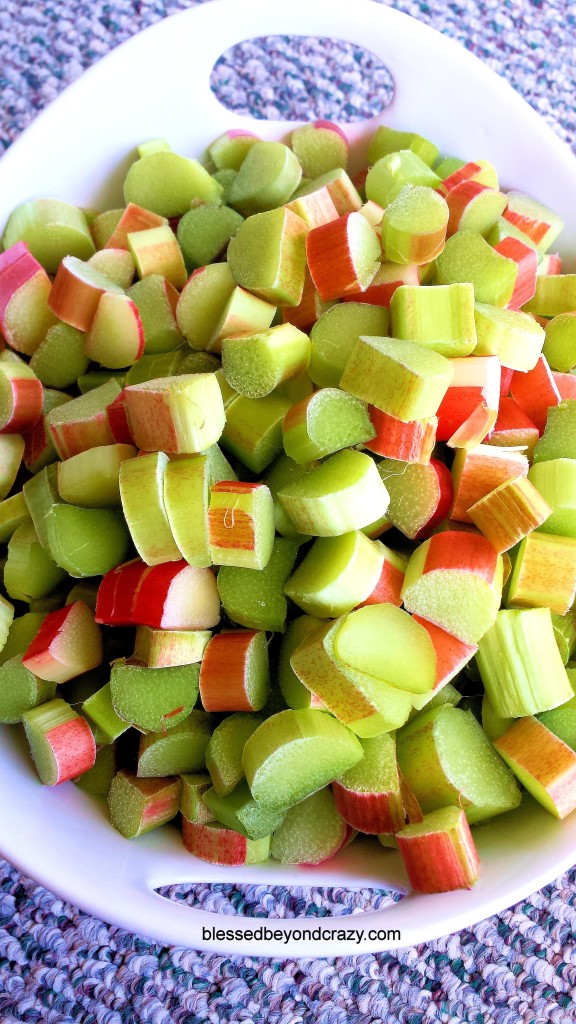 Fresh Rhubarb
When cooking fresh rhubarb, remove any brown or scaly spots, trim ends, and wash thoroughly. Also, do not use aluminum, iron, or copper pans because the high acidity will react with the metal. This causes the rhubarb to turn a brownish color and also discolors the pan.
Before storing rhubarb, remove the leaves from the stalks. Refrigerate unwashed stalks, tightly wrapped in plastic for up to three weeks.
Did you know that rhubarb is low in calories, composed of 95 percent water, contains potassium and a small amount of vitamin C? It also contains two grams of fiber per cup.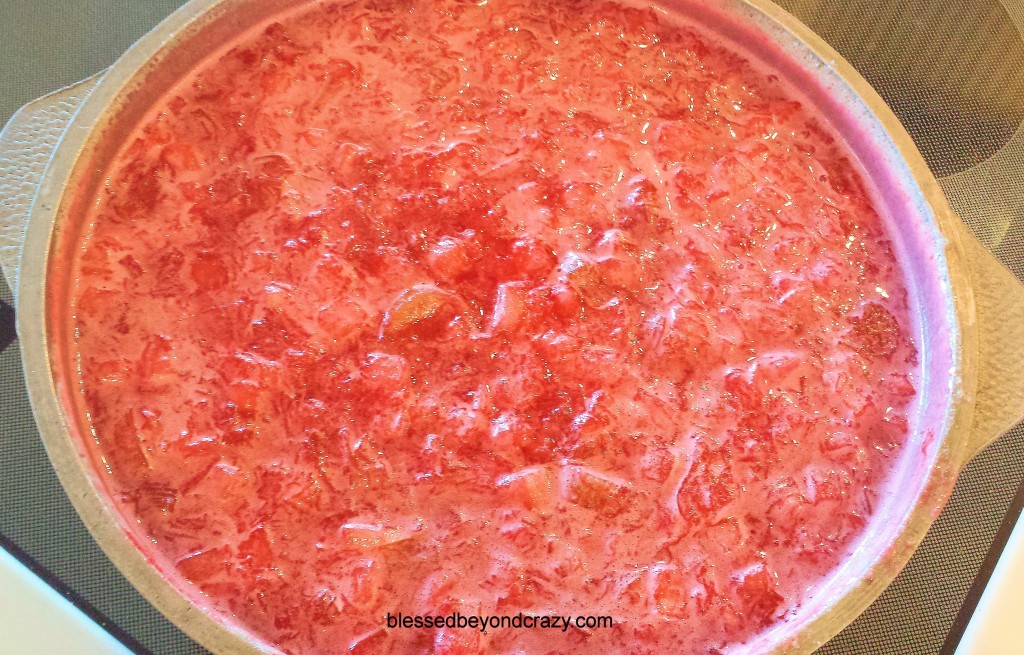 A mixture of cooked rhubarb, pineapple, and strawberry jello right before placing it in the mason jars.
My Mother has been making this delicious jam recipe for as long as I can remember. All of my adult children love it!
A jar of Homemade Rhubarb Strawberry Pineapple Jam also makes a great DIY gift. Perfect as a hostess or housewarming gift, teacher appreciation gift, birthday gift, etc… Simply tie a cute ribbon around the top of the jar, add a loaf of fresh bread, place it all into a basket with a nice note. Now off ya go!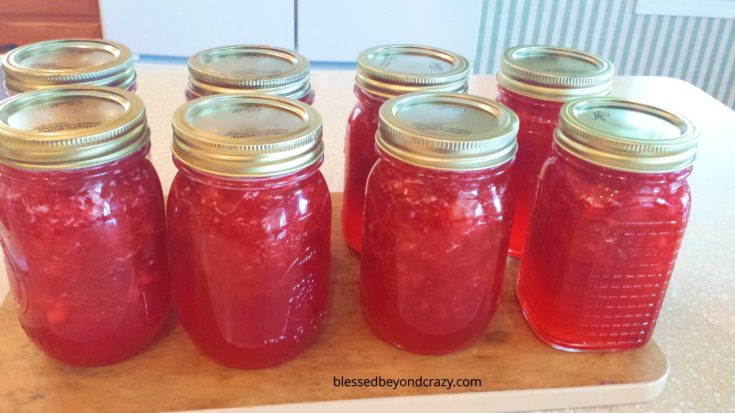 Yield:

Yields 8 Quarts
Homemade Rhubarb Strawberry Pineapple Jam
This is a delicious and easy jam recipe.
Ingredients
1 - 20 ounce can crushed pineapple
10 cups rhubarb, fresh
10 cups granulated sugar
4 - 3 ounce packages strawberry Jello (*use gluten free gelatin)
2 cups water
Instructions
In a saucepan, combine fresh rhubarb, sugar, and water. Bring mixture to a low boil and boil for 10 minutes.
Add (drained) crushed pineapple and strawberry Jello to the mixture. Return to heat and cook on a low boil for another 5 minutes. Remove from heat and immediately pour into hot, sterilized canning jars.
Place canning lids and rings on jars and allow jars to cool to room temperature.
Store in refrigerator or freezer until ready to serve.
Notes
I once used dye-free gelatin from Aldi's and although the jam tasted exactly the same, it was not the pretty red color like when we used the Jello brand. If you are thinking about actually canning the jam, make sure that both your glass jars and the canning lids are hot when filling them. Screw the canning rings on until snug. The jars of jam will be "sealed" when you hear a "pop" sound and can see an indentation in the center of the lid. If a lid doesn't seal, simply store it in the refrigerator or freezer. It will be fine and will keep well for months. (We always store our supply of jam in the freezer and take one out whenever we are ready to serve it.)
An opened jar of Homemade Rhubarb Strawberry Pineapple Jam will keep for weeks unless you are like my family and devour it within a matter of days!
NOTE: Store jars of Homemade Rhubarb Strawberry Pineapple Jam in the freezer until needed.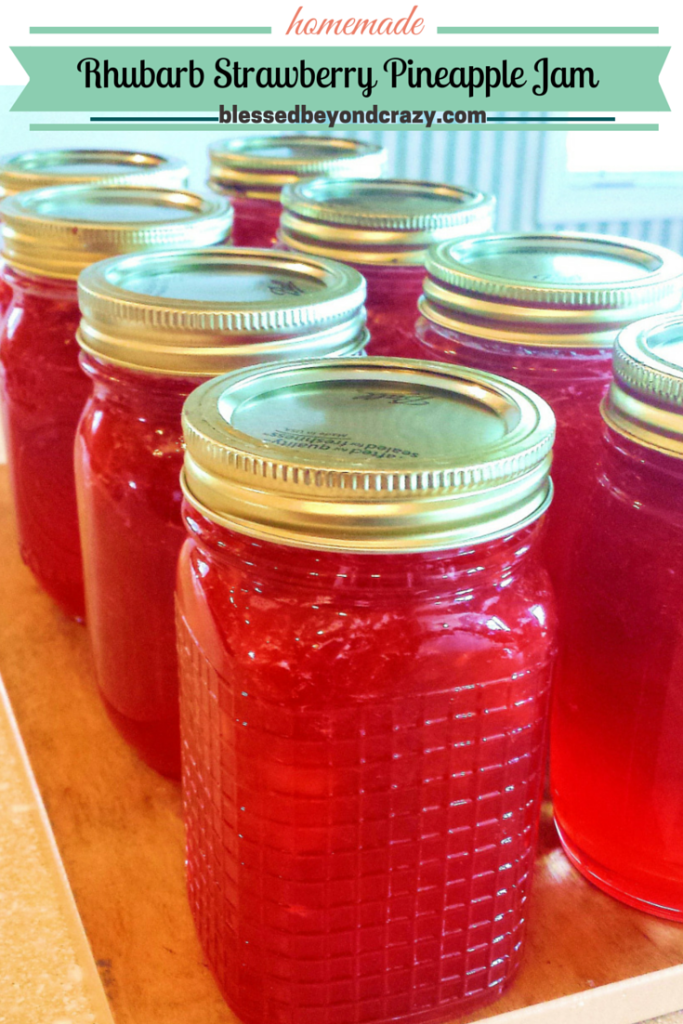 I hope that you enjoy this recipe as much as my family does. It really is an easy recipe. It just takes a little time but it's totally worth it!
Enjoy!
Linda
Sources:
Michigan State University Extension
Gardening Know How
The Rhubarb Compendium
Wikipedia
More great ideas: