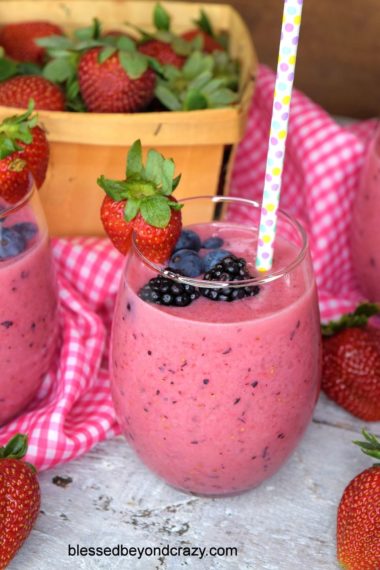 Strawberry Smoothies are delightfully refreshing and overflowing with sweet berry goodness!
Personally, I think strawberries are wonderful creations. Besides their outstanding flavor, these tiny morsels of juicy lusciousness are exceptional in all kinds of recipes. For example, Strawberry Smoothies are just one way to use these pretty red berries.

To help support our blogging activities, our site contains affiliate links. If you make a purchase from a link on our site, we may receive a small percentage of that sale, at no extra cost to you. Blessed Beyond Crazy is a participant in the Amazon Services LLC Associates Program, an affiliate advertising program designed to provide a means for sites to earn advertising fees by advertising and linking to amazon.com. As an Amazon Associate, I earn from qualifying purchases.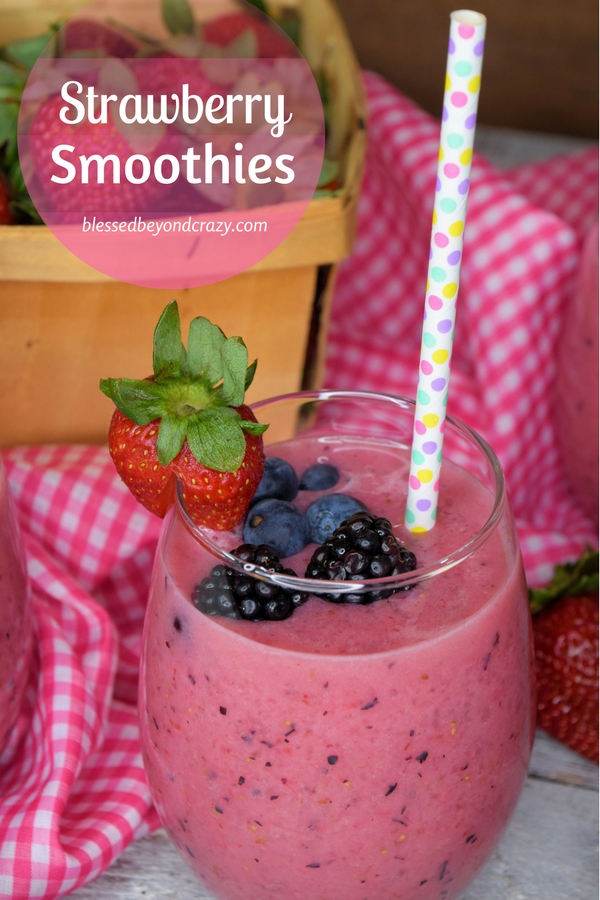 For as long as I can remember, fresh garden strawberries have been a part of my life. That's probably one reason I love them so much.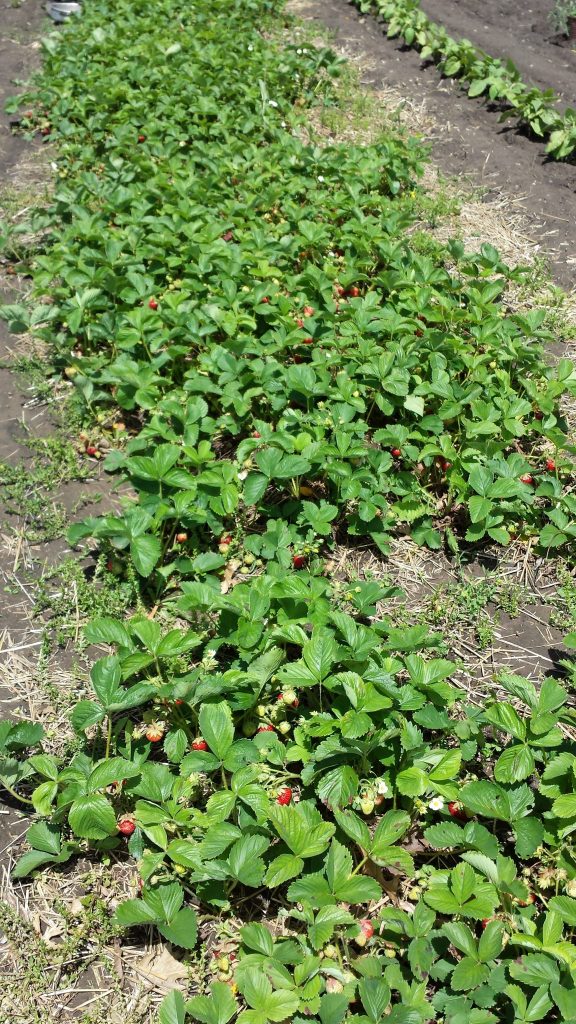 In the picture above, you can see the row of organic strawberries grown in my parents' garden. In our neck-of-the-woods, the strawberry season starts in May and lasts through June. Although picking fresh strawberries can be tedious (and hard on your back) the end reward is so worth it! Our two favorite varieties of strawberry plants are Surecrop (Junebearer) Strawberries and Dunlap Strawberries.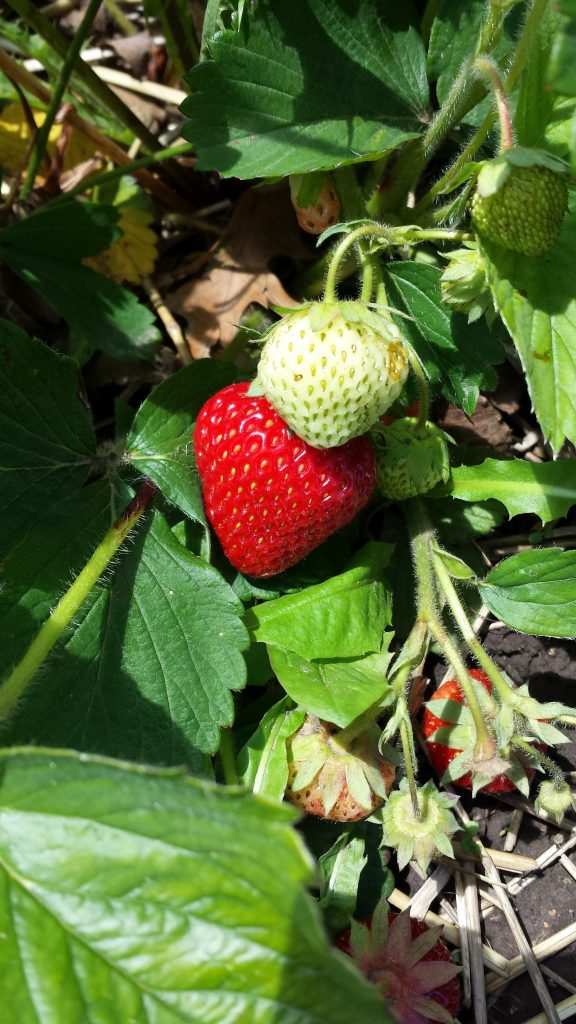 Surecrop Strawberry plants are one of the most popular varieties because they are hardy, high yielding, have excellent flavor, and are dependable. The plants grow well in almost any soil type, including poor soils, and stand up to drought and disease. Each plant averages approximately 3 pints of large berries.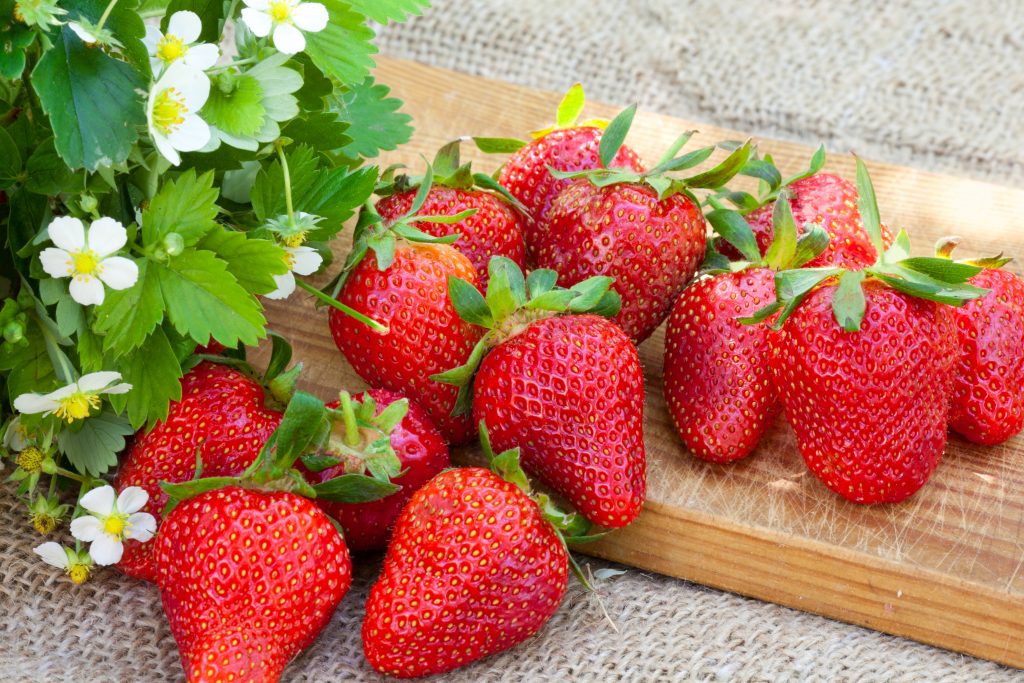 Dunlap Strawberries plants are also vigorous plants and are self-pollinating and disease resistant. The berries are medium to large in size and sweet.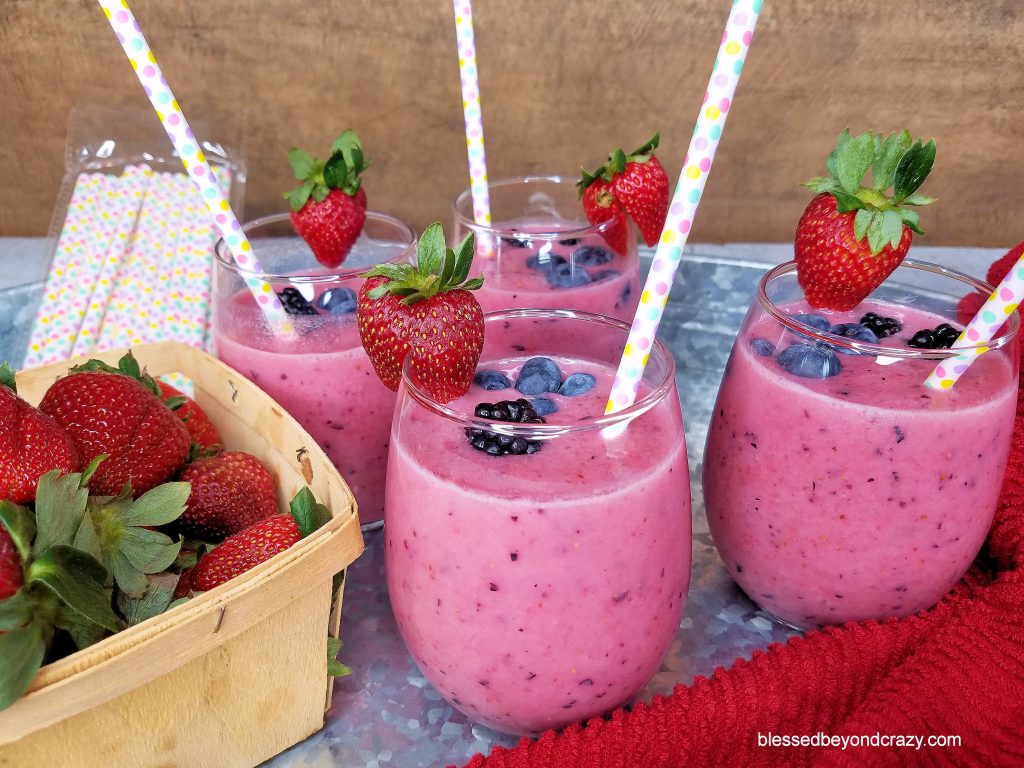 Strawberries are fantastic in a wide variety of dessert recipes such as: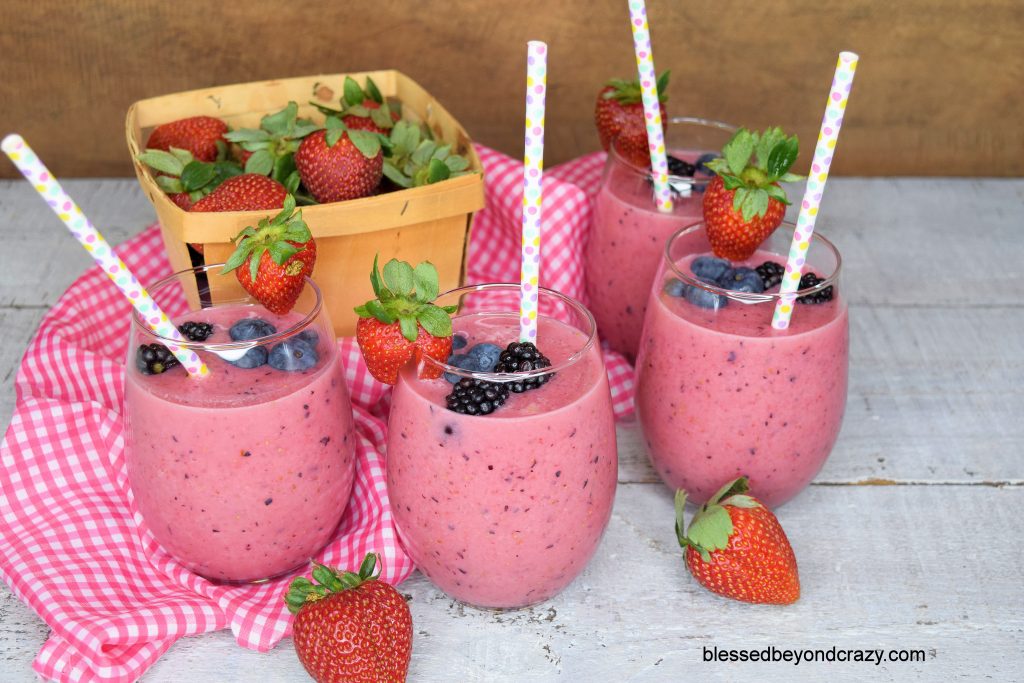 Along with being super tasty in desserts, strawberries are also fantastic in other recipes such as Strawberry Spinach Salad, All-Natural Colon Cleanse Slushy, and 7 Healthy Overnight Breakfast Parfaits.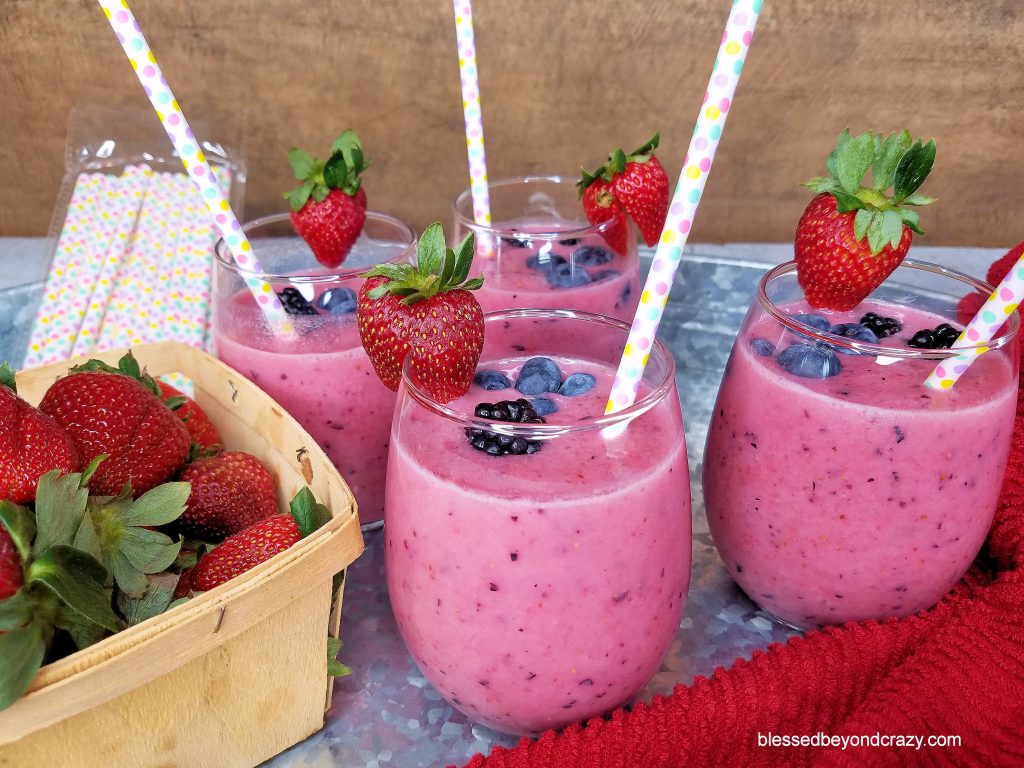 Strawberry Smoothies are deliciously refreshing and wonderful served any time of the day or any day of the week. They also make a great after-school snack for the kiddos.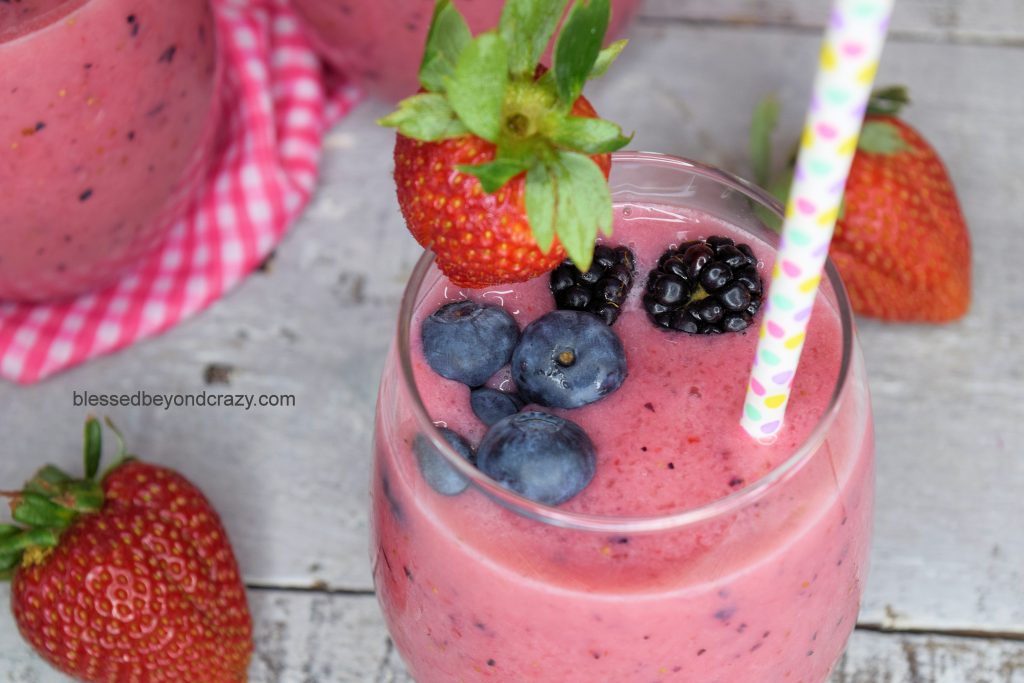 Just look at all of that luscious yumminess!!!
Strawberry Smoothies
---
Linda Wiseman
Yields 4 servings
Quick, easy to make and deliciously refreshing smoothies.
10 minPrep Time
10 minTotal Time
Ingredients
1 cup milk (or non-dairy milk such as coconut, almond, cashew or soy milk)
1/2 cup berry flavored yogurt (I use non-dairy raspberry or blueberry coconut yogurt)
1/2 teaspoon vanilla extract
2 cups fresh or frozen strawberries
1/4 cup fresh or frozen blueberries
1/4 cup fresh or frozen blackberries
1/2 cup canned unsweetened pineapple, crushed
2 Tablespoons honey
4 cups ice cubes
Fresh fruit for garnish
Instructions
In a blender, combine milk, yogurt, vanilla, strawberries, blueberries, blackberries, pineapple and honey; cover and process until smooth.
Add ice and blend until slushy; stir if necessary.
Pour into chilled glasses; serve immediately.
Garnish with fresh berries.
Notes
Feel free to add additional fruits, ground flax, chia meal, and/or nuts.
7.8.1.2
239
https://blessedbeyondcrazy.com/strawberry-smoothies/
www.blessedbeyondcrazy.com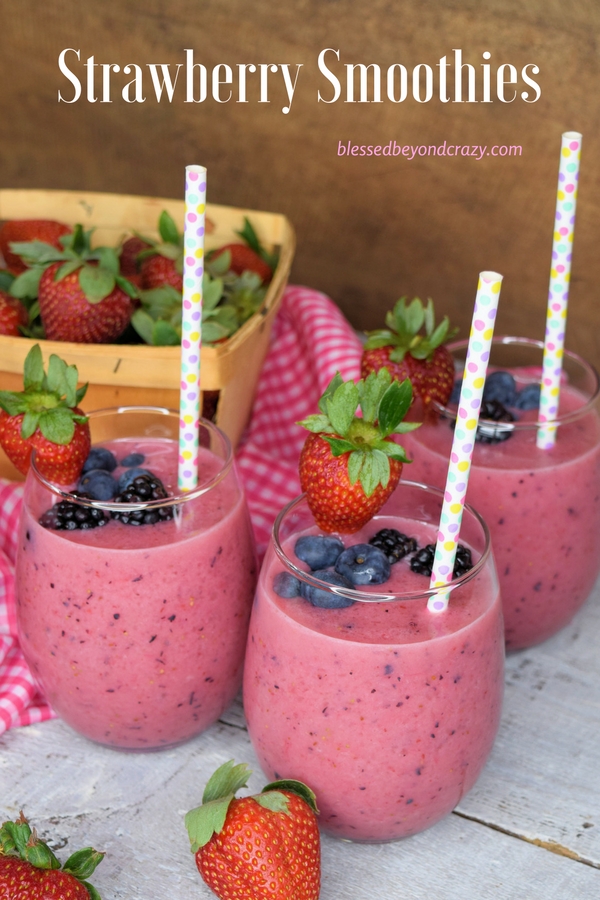 What's your favorite smoothie recipe?
Enjoy!
Linda
More great recipes: