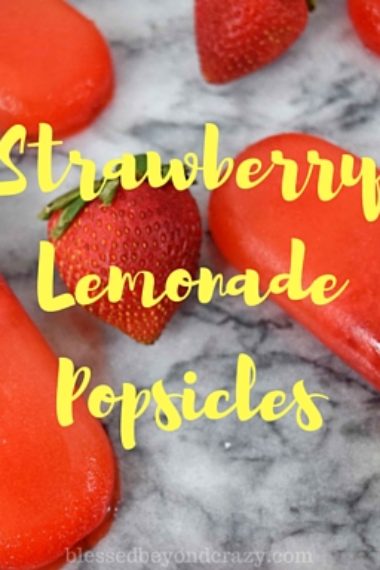 Strawberry Lemonade Popsicles are simple to make and super refreshing.

My daughter had a birthday recently and she received some Popsicle molds as a gift. Of course, as soon as she opened them she wanted to make some popsicles RIGHT NOW! I felt really tired and did not have the energy to make a fancy time-consuming recipe. I'm not sure how I was able to come up with such a simple yet delicious popsicle recipe while feeling exhausted but I nailed it!
To help support our blogging activities, our site contains affiliate links. If you make a purchase from a link on our site, we may receive a small percentage of that sale, at no extra cost to you. Blessed Beyond Crazy is a participant in the Amazon Services LLC Associates Program, an affiliate advertising program designed to provide a means for sites to earn advertising fees by advertising and linking to amazon.com. As an Amazon Associate, I earn from qualifying purchases.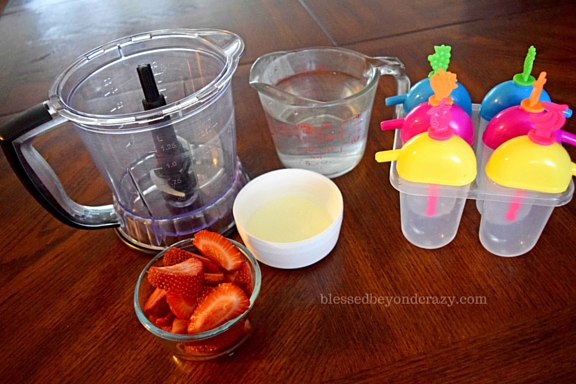 About the Ingredients:
I grabbed a carton of strawberries out of the fridge, some lemonade mix, some water, and my blender. I pulsed the strawberries, 2 Tablespoons of lemonade mix, and the water until the strawberries were chunky then poured them into the popsicle molds. They got popped into the freezer for a few hours and we were enjoying refreshing Strawberry Lemonade Popsicles that evening!
I was completely exhausted that day (as every day) so I used instant lemonade mix. You could, of course, make homemade lemonade from fresh lemons and sweeten it to taste for a healthier version. Use your favorite lemonade.
I had fresh strawberries but frozen would also work.

About the Equipment:
So obviously we are making popsicles which will require some type of popsicle mold.
I have a Ninja Master Prep Blender which I love! (In fact, it broke last year but the company sent us a brand new one because it comes with a warranty! We experienced great customer service!)
Throwing everything into a blender and giving it a few pulses makes this recipe extremely fast and easy–like less than 2 minutes from start to finish! It doesn't get any better than that! However, if you want you could just dice the strawberries with a knife and have some larger chunks of strawberries in your popsicles.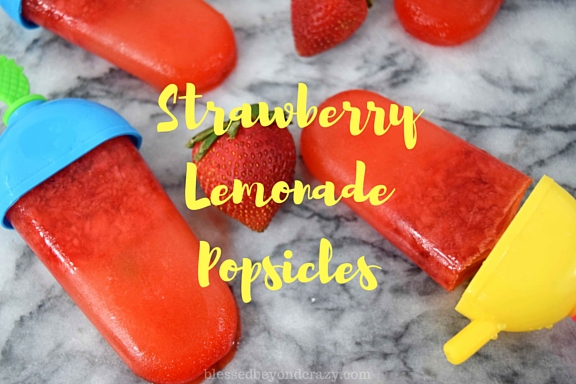 Yield:

Yields 6 - 8
Strawberry Lemonade Popsicles
Delicious. Easy. Refreshing. Naturally Gluten-Free.
Ingredients
8-12 fresh or frozen strawberries
2 Tablespoons lemonade mix
2 cups water
Instructions
Place all ingredients in a blender and pulse until strawberries are finely diced.
Pour into Popsicle molds.
Freeze until frozen solid (approximately 5 hours).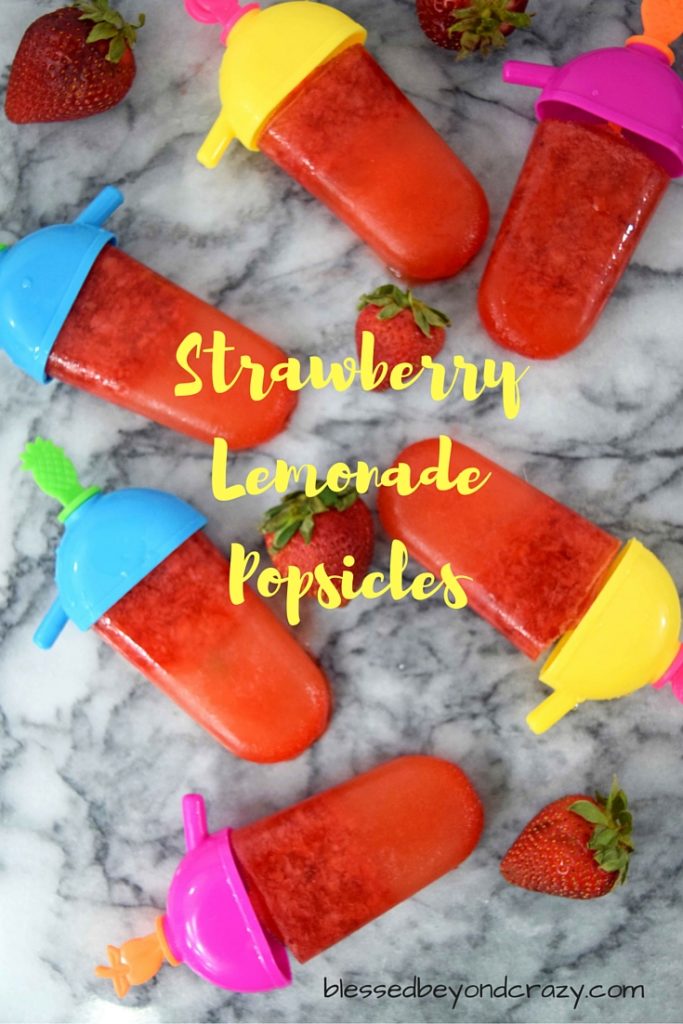 What's your easy go-to dessert?
Anna
Disclaimer: Manufacturers formulations and policies may change at any time, therefore it's important to always read product labels yourself and contact the manufacturer with concerns. We have found that most companies are eager to help answer your questions.