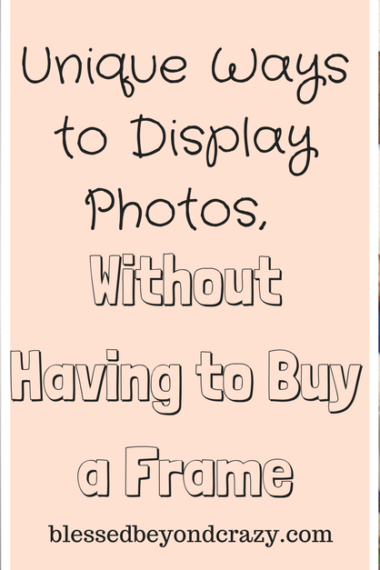 Use your imagination to create Unique Ways to Display Photos Without Having to Buy a Frame!
I love displaying photographs all over my home. I love to be reminded of sweet memories and see my children captured at different ages. With four kids and eleven years of marriage, I have a LOT of photos I like to display.
When it comes to how to display our photos there is the classic frame and collage of frames, but that isn't exactly unique. Also, frames can take up a lot of wall space–limiting the number of photos I can display at one time.
Here are a few of my favorite ways to display pictures besides the traditional picture frame.
To help support our blogging activities, our site contains affiliate links. If you make a purchase from a link on our site, we may receive a small percentage of that sale, at no extra cost to you. Blessed Beyond Crazy is a participant in the Amazon Services LLC Associates Program, an affiliate advertising program designed to provide a means for sites to earn advertising fees by advertising and linking to amazon.com.
Clothesline
There are so many different ways to display photos using the clothesline method. Let me clarify that you don't have to actually use a clothesline–it just looks like one.
Use a pretty twine or string to hang horizontally, vertically, or randomly strung about. You can put nails in the wall and wrap the string around the nails in your preferred direction, or you can have the string going across an oversized empty picture frame. Hang your pictures from the string using mini clothespins or mini binder clips.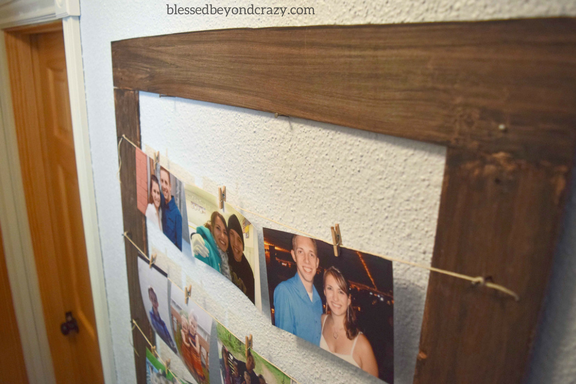 In the above picture, I made a simple frame in the size I needed for my wall space by simply nailing a few boards together and staining them. I then put nails along the border of the frame to tie my twine around.
Another idea is to hang an antique clothes hanger from a nail on the wall and then clip pictures to the clothes hanger using mini clothespins. This would be especially cute to decorate a laundry room.
You could also use Christmas lights to string across a wall and hang pictures from the lights.
Window or Door
Find an old window or door with glass panes. Hang it on the wall and display photos on or behind the glass. My husband made this for me a few years ago as a Christmas present. The old window had a broken frame so he made a sign with our name on it to fill the space.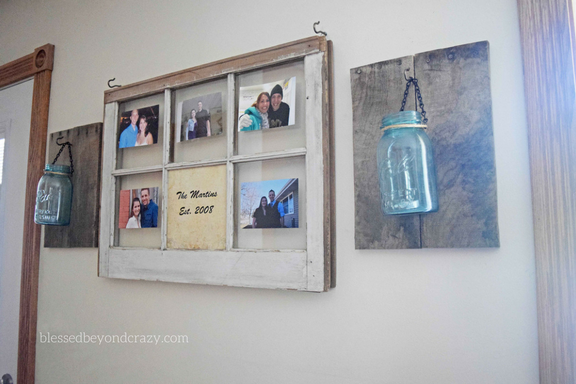 Clipboards
Hang clipboards on your walls and then clip photographs to the board. This would make it super easy and fast to swap out pictures. This is also a great way to display a child's artwork. Have a bunch of clipboards cover a whole wall for a collage. Place a clipboard above a coat rack and clip that year's school photo to the board so each child has a place for their backpack, coat, shoes, etc. Clipboards even come in various sizes so you can get smaller boards for a standard 4 x 6 photograph.
This would also be an adorable way to display photos in your office.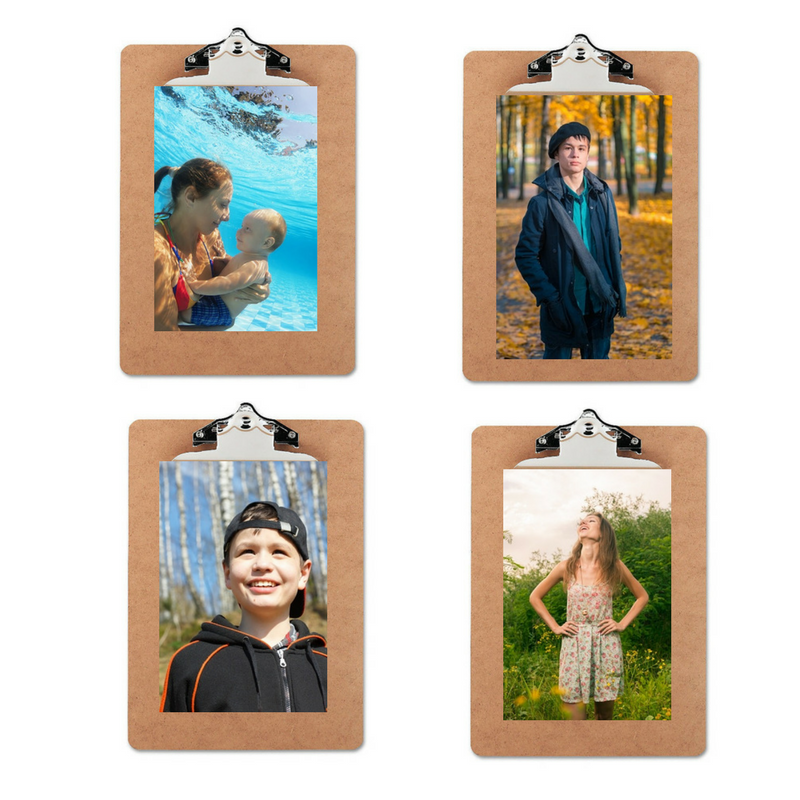 Shutters
Hanging a cool-looking shutter on the wall is another super easy and fast way to swap out photos while still displaying a lot of photographs!
You will need to put a board of some sort on the back of the shutter to prevent your photographs from sliding all the way out. But once the back is secured, simply slide your pictures into the shutter!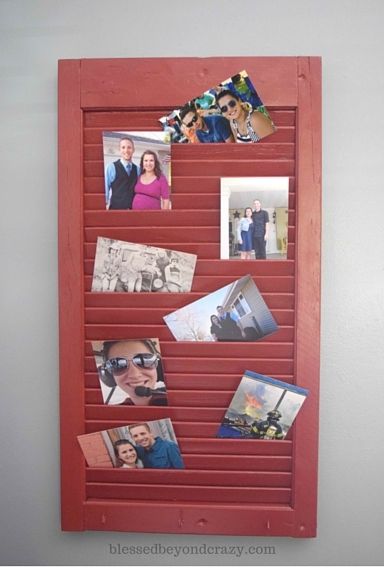 Curtain Rod
Hang a curtain rod across a wall space and then have pictures hanging from the curtain rod. You can use this for framed pictures or non-framed pictures. You could even incorporate this using the clotheslined method mentioned at the very beginning by having a ribbon hanging from the curtain rod and clipping pictures vertically.
While this would certainly look cute with any set of pictures, I personally think this would be a great idea to do in a child's room to display monthly baby pictures or yearly school pictures.
We use a curtain rod in our home to hang a framed collage of each child as a newborn baby.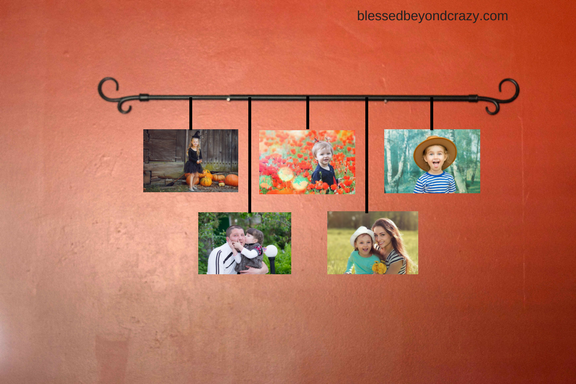 Showers
Parties are a fun way to display photographs. One creative way is by hanging an umbrella from the ceiling. Then have a string hanging off the umbrella and clip photos to the string of the bride and groom. Or if it's a baby shower clip baby photos of the mom and dad or the guests to the string. It could be a fun game to guess who the photo is and it also serves as a decoration.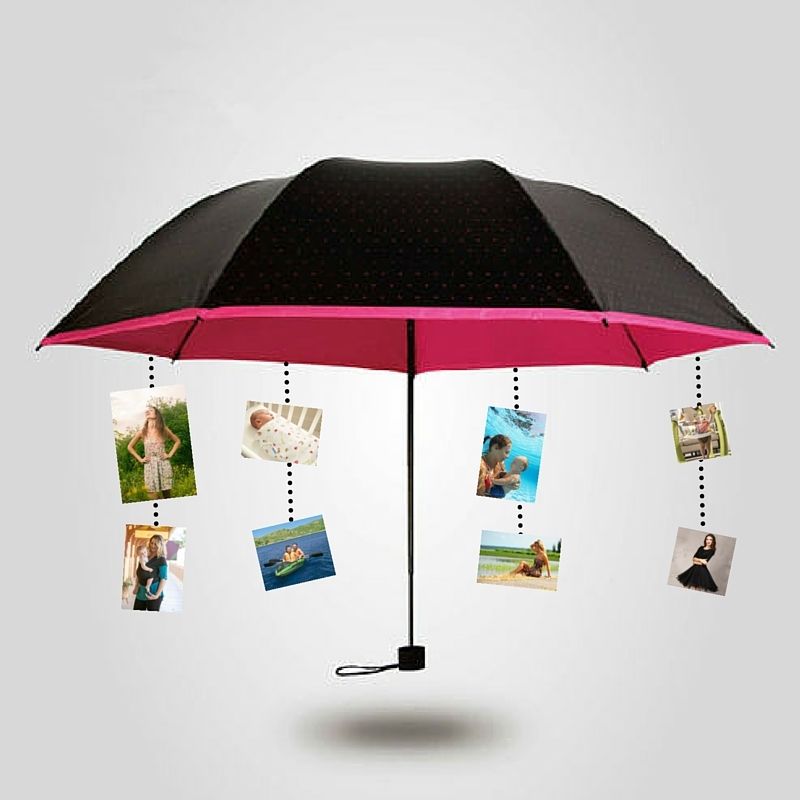 Have fun creating your very own unique, fun, and inspirational photo display!
Anna