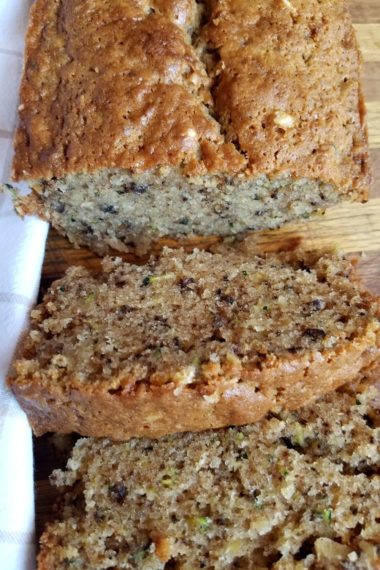 It seems there is certainly an abundance of fresh zucchini this time of year. And although there are many delicious recipes using this wonderful, nutritious vegetable, this particular Cream Cheese Zucchini Bread always ends up being a favorite!

To help support our blogging activities, our site contains affiliate links. If you make a purchase from a link on our site, we may receive a small percentage of that sale, at no extra cost to you. Blessed Beyond Crazy is a participant in the Amazon Services LLC Associates Program, an affiliate advertising program designed to provide a means for sites to earn advertising fees by advertising and linking to amazon.com.
Fresh Zucchini
Recently my Mother shared with me this recipe for Cream Cheese Zucchini Bread. Anyone who knows me well knows that I love cheesecake and all things cream cheese-related.
However, when Mom told me this was a good recipe, she wasn't kidding. Not only is this recipe easy to make it's also easily modified to be gluten-free. 🙂
The BEST!
Above all, this bread has quickly become my all-time favorite zucchini bread recipe. EVER!!!
To clarify, I've made this recipe three times in the last two weeks! My family and I just can't seem to get enough of it. Nope! I'm not exaggerating when I tell you that we can practically inhale an entire loaf! That's how scrumptious this zucchini bread is.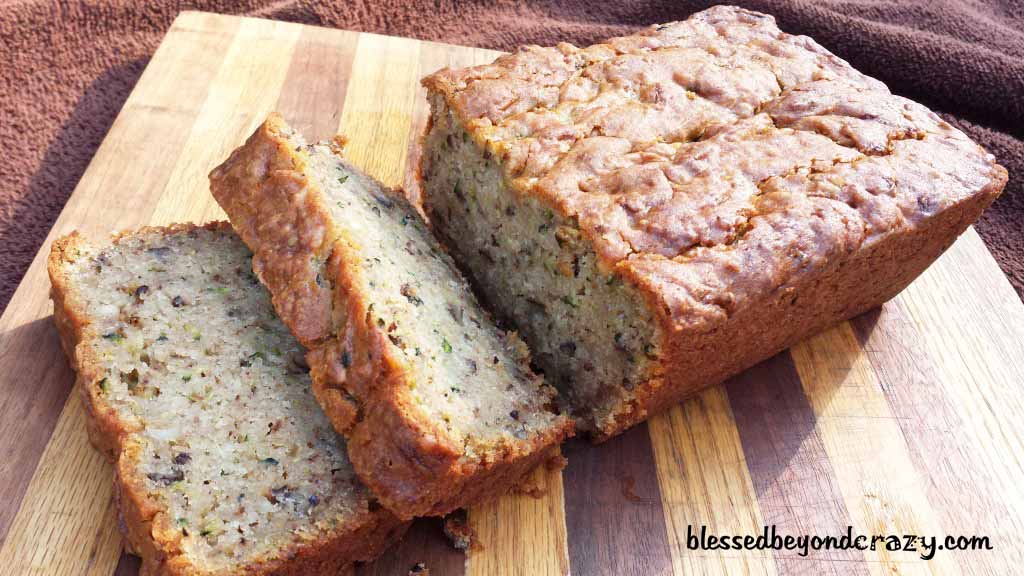 Loaded with Flavor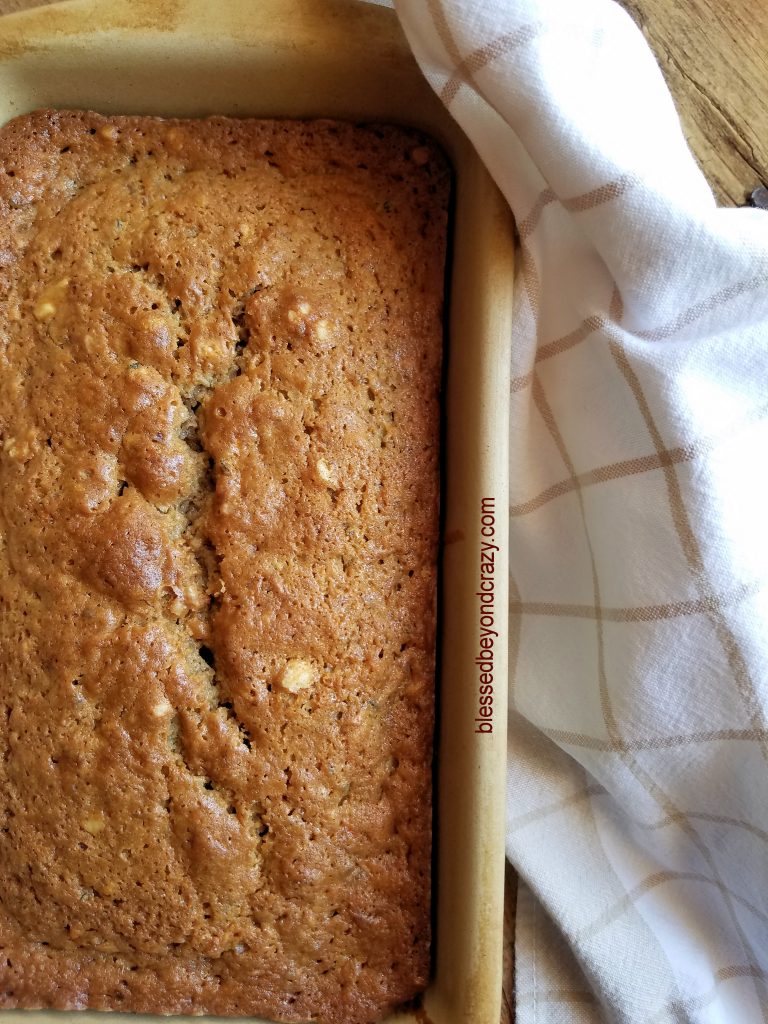 Wow!!! The combination of zucchini and cream cheese help make the bread moist and the balance of chopped nuts and spices adds additional flavors and texture. In other words, every bite is simply fabulous.



TWO Loaves!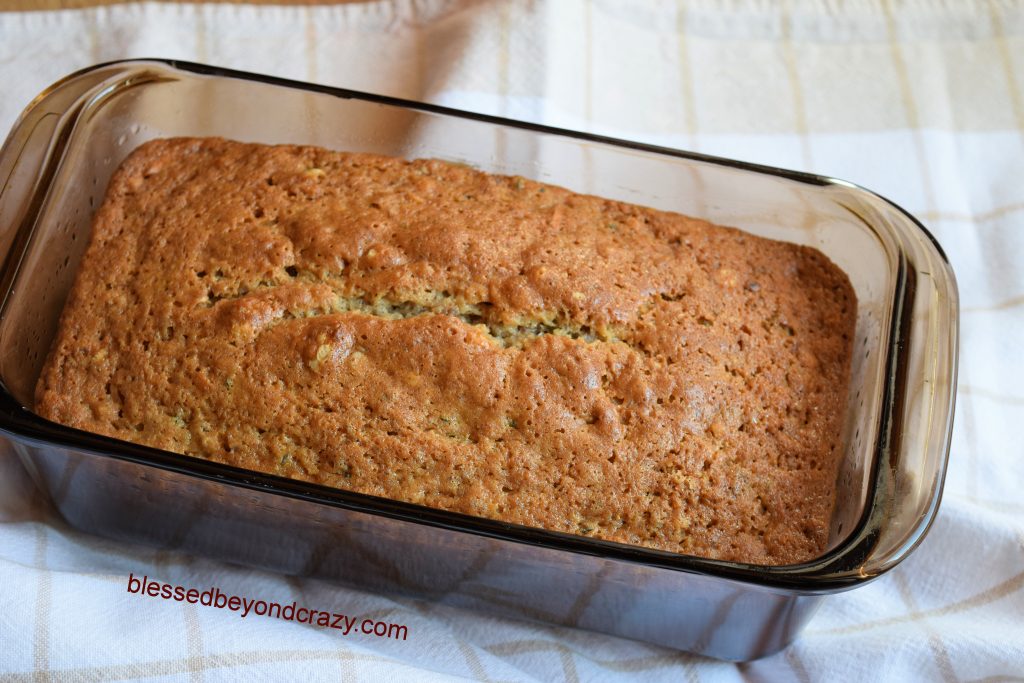 Since one recipe yields two (9 x 5-inch) loaves I typically eat one loaf and freeze the second loaf for later. It's really nice having an extra loaf on hand, especially whenever my grandkids spend the night. That is to say, my darling grandbabies cheer whenever I serve Cream Cheese Zucchini Bread!



Homemade Gift Idea!
A loaf of this bread also makes a nice little homemade gift. Just wrap it in cellophane, place a cute bow around it, and give it away. But don't stop there! Rather than make two large loaves, divide the batter into smaller loaf pans, and it the pan and all away! (Think teacher appreciate, welcome to the neighborhood, or as a birthday gift.)



Kids LOVE it!
Finally, because kids really do love this bread I find that it's a sneaky way to get your kids to eat their vegetables and add extra nutrition to their diets.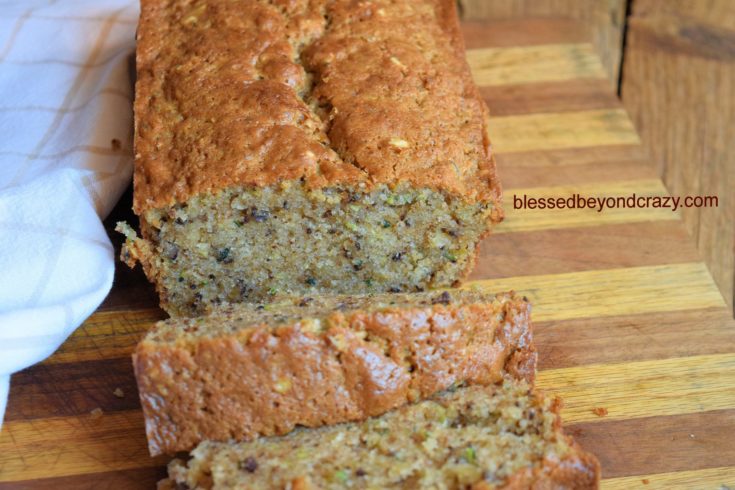 Yield:

Yields 2 (9"x5") Loaves
Cream Cheese Zucchini Bread (Gluten Free Option)
Total Time:
1 hour
15 minutes
This a deliciously moist and flavorful zucchini bread recipe that can easily be modified to be gluten-free.
Ingredients
3 eggs
2 cups granulated sugar
1 tsp vanilla extract (GF Option: use gluten-free vanilla)
1 cup vegetable oil
8 oz cream cheese, softened (GF Option: use gluten-free brand)
2 cups grated zucchini
2 cups walnuts or pecans, chopped
1 tsp baking powder (*gluten-free version: use gluten-free baking powder)
1 tsp baking soda
1 tsp ground cinnamon
1/2 tsp ground nutmeg
1 tsp salt
2 cups all-purpose flour (GF Option: use gluten-free flour blend + 1 teaspoon xantham gum unless gluten-free flour already contains it)
*GF version only: add 2 heaping tablespoons ground flax
Instructions
Preheat oven to 350 degrees F.
In a mixing bowl, cream together eggs, sugar, vanilla, and oil. Stir in softened cream cheese; mix well.
Fold in grated zucchini and nuts. In another mixing bowl, combine baking powder, baking soda, cinnamon, nutmeg, salt, and flour, (+ flax and xantham gum for gluten-free version).
Mix dry ingredients with the cream cheese mixture.
Equally, divide the mixture between two greased 9"x5" loaf pans.
Bake at 350 degrees F. for 60 to 65 minutes, or until center is set.
Remove from oven; cool for 20 minutes. Carefully run a table knife around the edges before removing from the pan.
Slice. Serve warm with butter.
Notes
This zucchini bread freezes well for up to 2 months.
Normally, I eat one loaf and freeze the other loaf for use later or give it away as a delicious homemade gift.
[There are many ways to use zucchini in recipes besides making Cream Cheese Zucchini Bread such as Simple Pan-Fried Zucchini, Healthy Zucchini Muffins, Chocolate Zucchini Brownies, and Chocolate Espresso Zucchini Sheet Cake.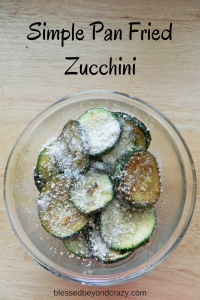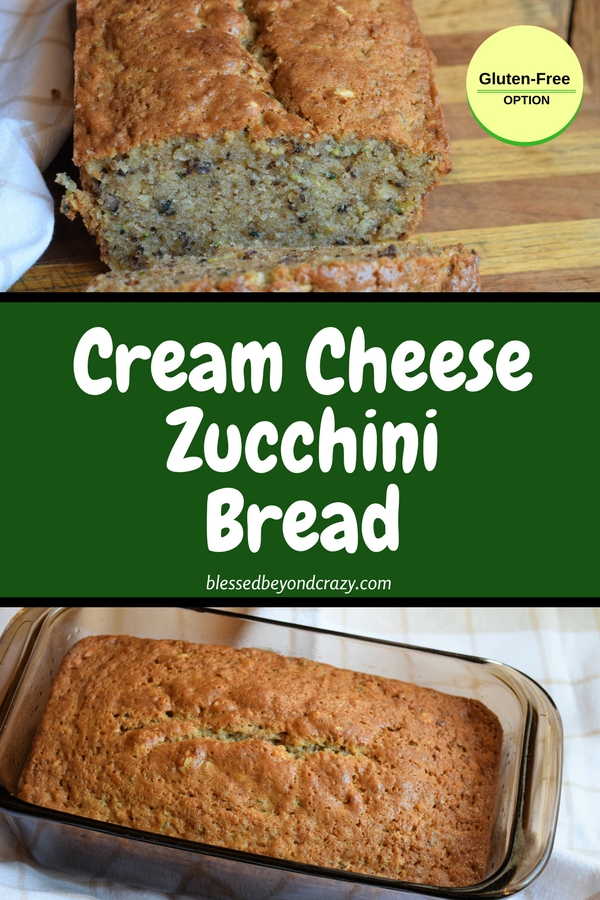 To sum it all up, I think once you try it, you'll also fall in love with this Cream Cheese Zucchini Bread.  
What is your favorite zucchini recipe?
Linda
More great recipes!