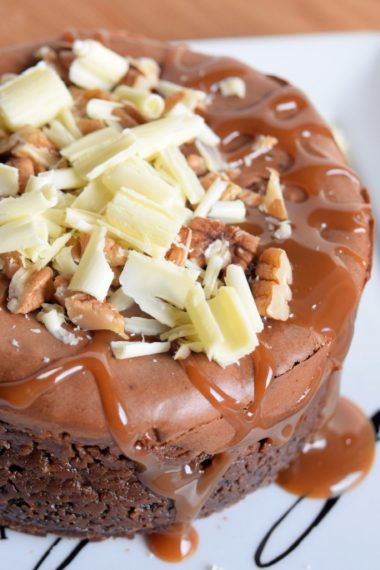 A few weeks ago while I was rummaging through my recipe box, I stumbled upon a recipe I'd tucked away years ago. I had completely forgotten about it. It was a recipe I thought I would make someday. Guess what? Today was the day that I made scrumptious Caramel Pecan Chocolate Cheesecake!!!! Wow! Am I glad I did!

To help support our blogging activities, our site contains affiliate links. If you make a purchase from a link on our site, we may receive a small percentage of that sale, at no extra cost to you. Blessed Beyond Crazy is a participant in the Amazon Services LLC Associates Program, an affiliate advertising program designed to provide a means for sites to earn advertising fees by advertising and linking to amazon.com.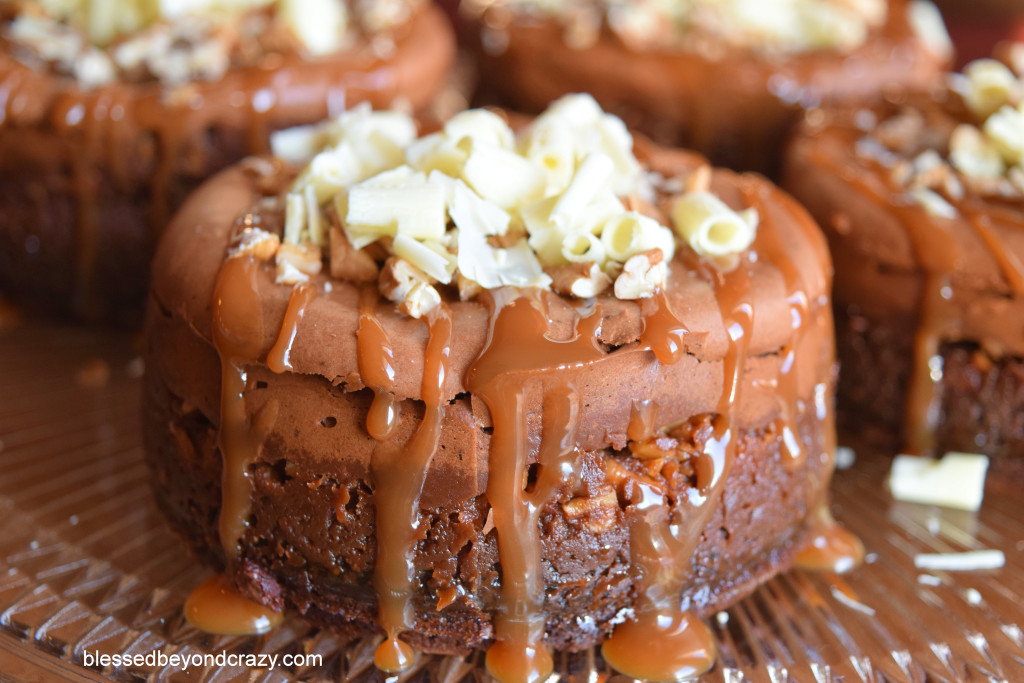 Decadent Cheesecake
Before we begin you should know that this decadent cheesecake can be created as either a single 9″ cheesecake or as individual mini cheesecakes. I decided to use six mini springform pans given to me as a gift.


You may also be interested to learn that this recipe can easily be modified to suit a gluten-free diet. (*See the notes in the recipe below).

Chocolate Fudge Brownie Bottom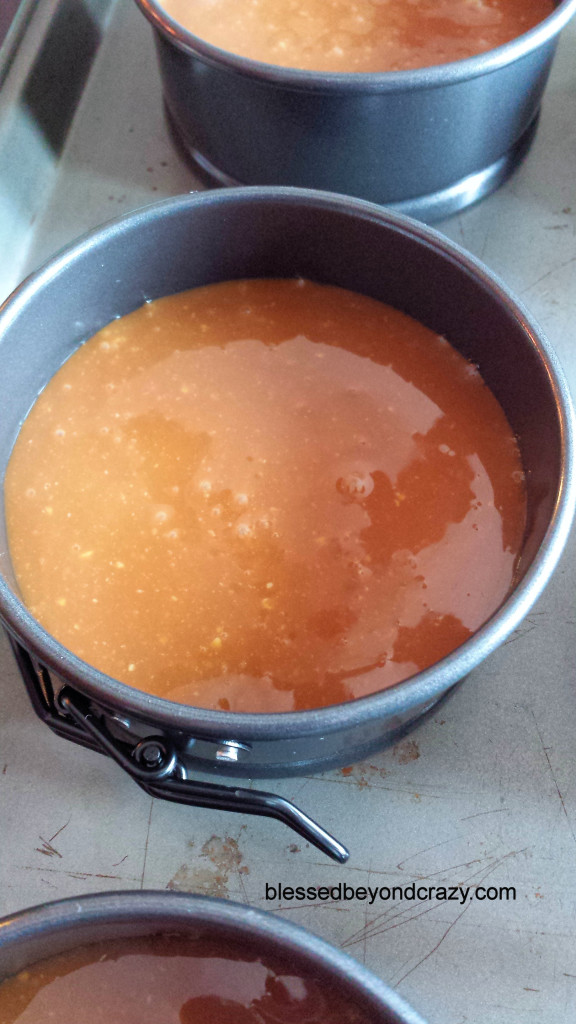 The first step to creating Caramel Pecan Chocolate Cheesecake is to make a bottom layer of chocolate fudge brownie. *GF – use a gluten-free brownie mix such as a Betty Crocker Gluten Free Brownie Mix.

Layer of Caramel
The next layer is a yummy layer of softened caramel.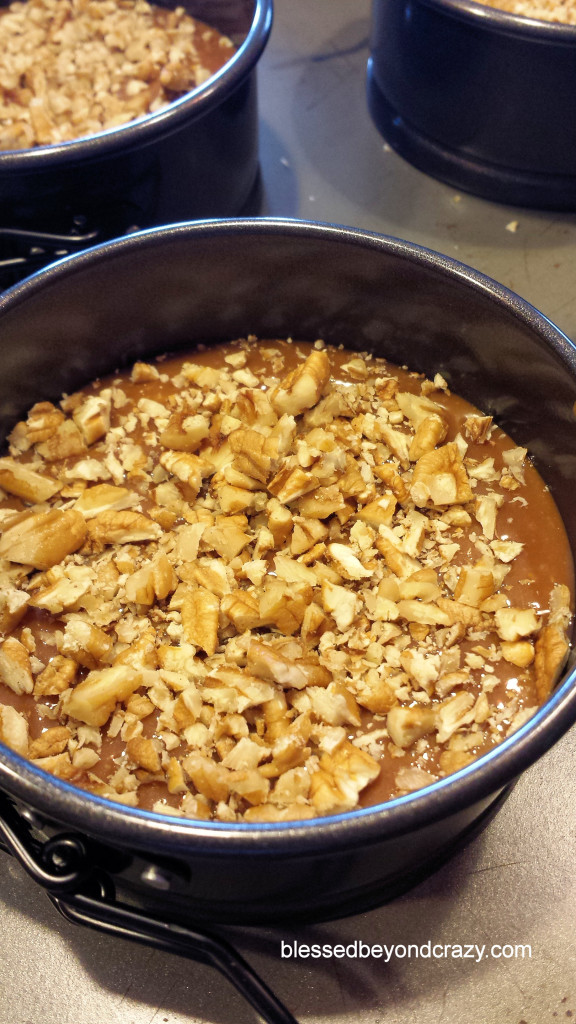 Pecans
Next, the layer of caramel is followed by a layer of chopped pecans. (I used organic pecans from my parent's farm.)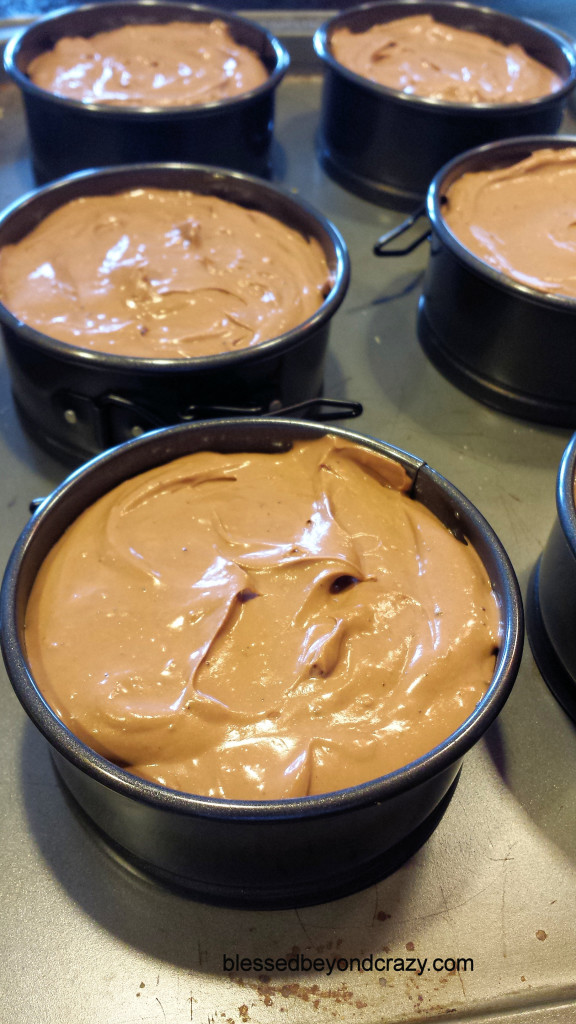 Cheesecake Mixture
The final layer is a delicious chocolate cheesecake mixture.
Are you drooling yet??? I am because I know how good these are!!!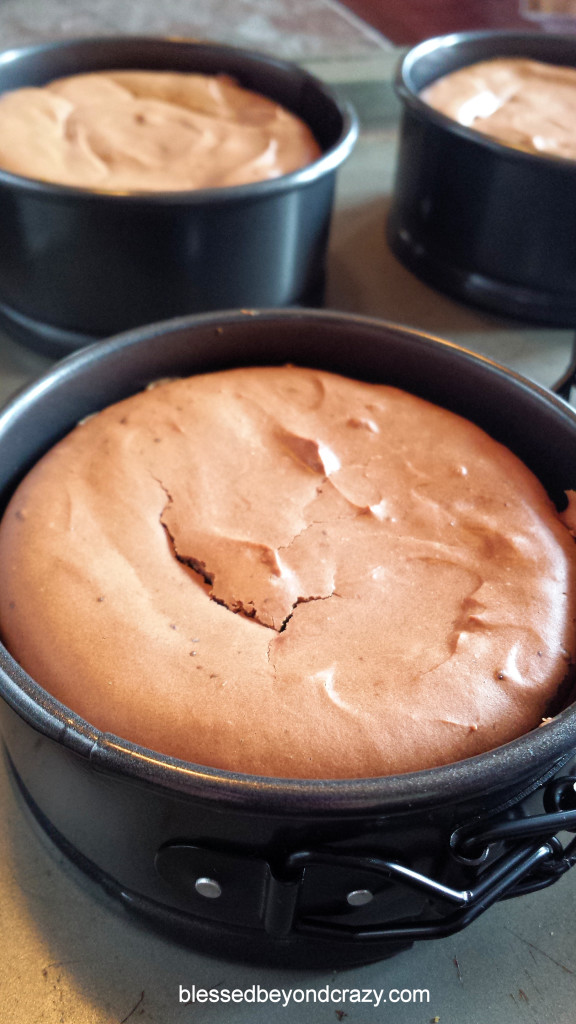 Bake & Cool
After baking, remove the Caramel Pecan Chocolate Cheesecakes from the oven and allow them to cool for about 10 minutes. Next, carefully run a table knife around the inside edges to loosen the cheesecake from the springform pan.
Allow the cheesecakes to cool completely, then chill in the refrigerator.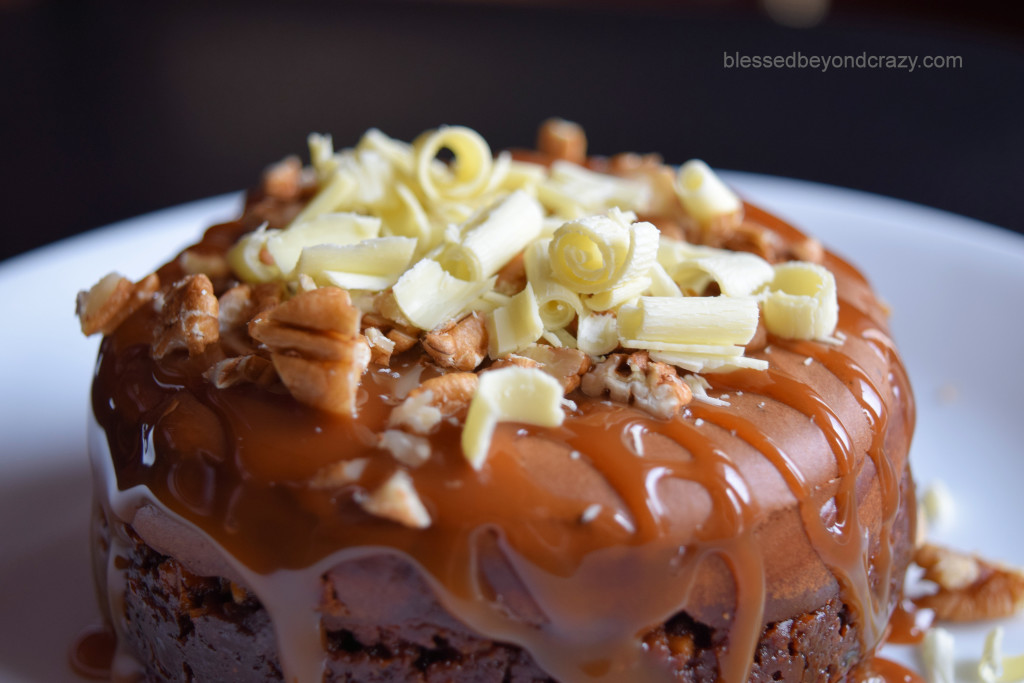 Topping
It didn't concern me that there were a few cracks in the tops of my cheesecakes because I usually garnish my cheesecakes anyway. I topped my Caramel Pecan Chocolate Cheesecakes with a drizzle of caramel topping, more chopped pecans and shaved white chocolate curls. Hmm. Hmm. HMMMMM!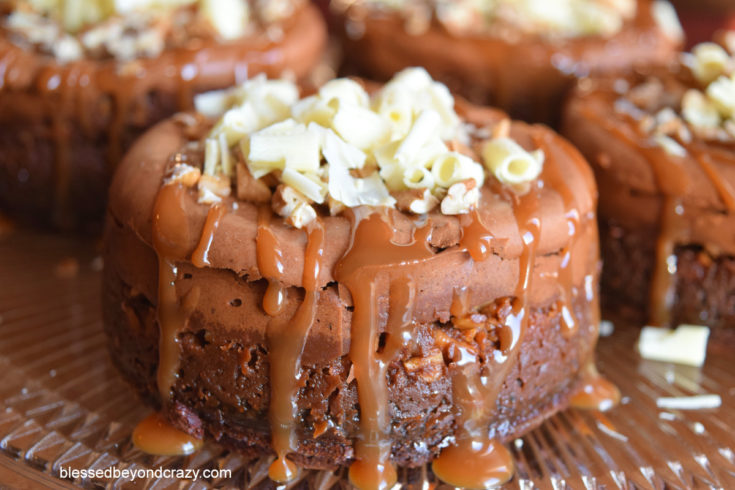 Yield:

Yields 6 Mini Cheesecakes
Caramel Pecan Chocolate Cheesecake
Total Time:
1 hour
20 minutes
Ingredients
1 package (19 ounce) Ghirardelli Triple Fudge Brownie Mix (*GF version: use a gluten free brownie mix)
1 package (11 ounce) Kraft Caramel Bits (*GF version: use gluten free caramels)
1/4 cup evaporated milk
1 1/4 cup coarsely chopped pecans
2 packages (8 ounces each) cream cheese, softened
1/2 cup granulated sugar
2 eggs
2 ounces Ghirardelli Semisweet Chocolate, melted
2 ounces Ghirardelli 100% Cacao Unsweetened Chocolate, melted
(*GF version: use gluten free semisweet and unsweetened chocolate baking bars)
Drizzle with caramel sauce (GF Version: use a gluten-free brand).
Chopped pecans
Ghirardelli White Chocolate curls
Instructions
Prepare brownie batter according to the package directions. Spread into a greased 9″ springform pan.
Bake at 350 degrees F for 20 minutes. Cool for 10 minutes on a wire rack.
Meanwhile, in a microwave-safe bowl, melt caramels with milk. Pour over brownie crust; sprinkle with pecans.
In a mixing bowl, combine the cream cheese and sugar; mix well. Add eggs, beating on low speed just until combined. Stir in melted chocolate. Pour over pecans.
Bake at 350 degrees F for 35- 40 minutes or until the center is almost set.
Cool on wire rack for 10 minutes. Run a knife around edge of pan to loosen; cool completely.
Chill overnight. remove sides of pan before serving.
Store leftovers in the refrigerator.
Notes
For mini cheesecakes - bake the brownie crust at 325 degrees for 20 minutes. Removed from oven, top with melted caramel, pecans, and cheesecake mixture. Return to oven and continue baking at 325 degrees for 60 minutes, or until centers are set. Cool for 10 minutes. Run a table knife around the edge to loosen; cool completely. Top with a caramel sauce, pecans, and chocolate curls. One recipe will make 6 mini cheesecakes – (size 4.75 x 6.25 x 4.25 -length, width, height).
*GF version – click to find gluten-free caramels. Wondering if Kraft Caramel Bits are gluten-free? Read HERE.
*GF version: Hershey's semisweet and unsweetened chocolate baking bars are listed on their website as being gluten-free. To read more click HERE.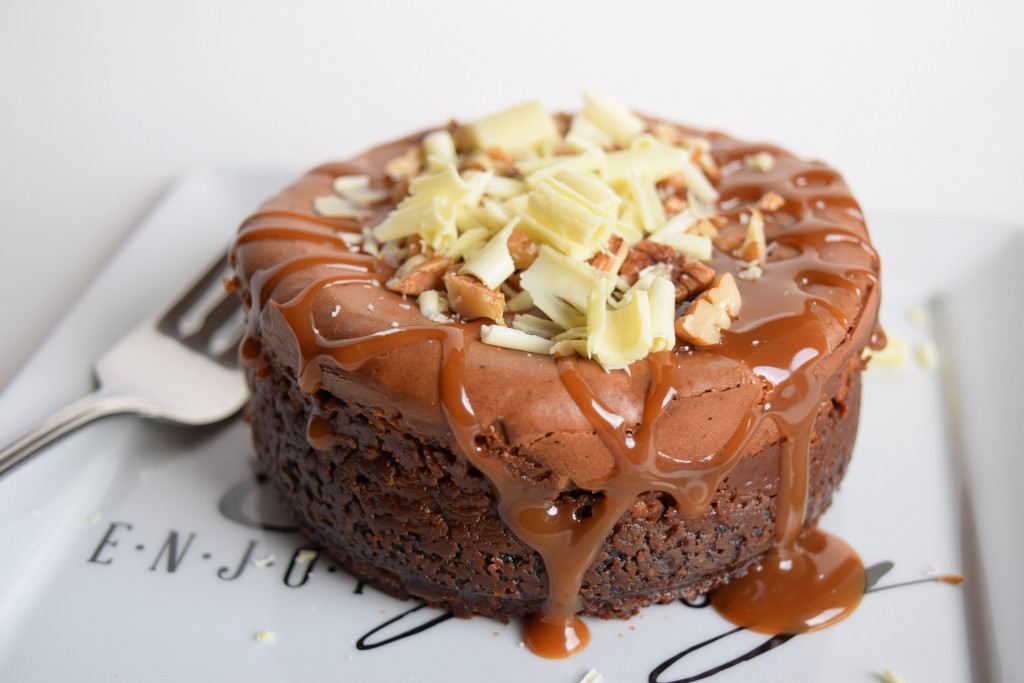 *GF version: Smucker's Simple Delight Caramel Topping is gluten-free, or try Coop's Salted Caramel Sauce (No GMO's, No Gluten, No Corn Syrup).
(*Made with cream from New Hampshire's Hatchland Farm, butter from Cabot, and- to keep it all from separating in the jar- an allergen-free, sunflower-based stabilizer imported from Spain.)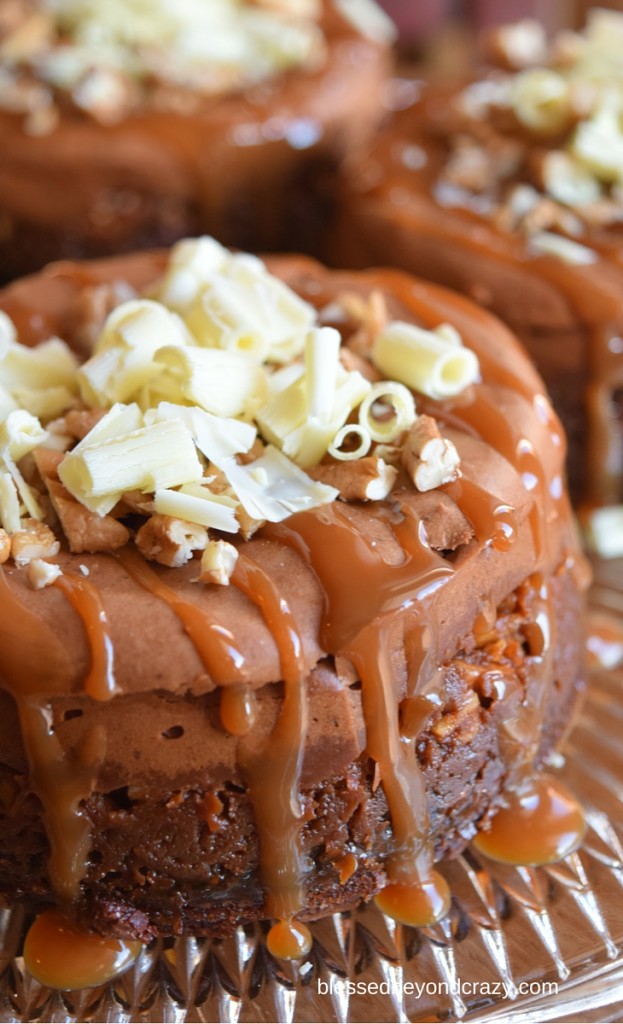 Caramel Pecan Chocolate Cheesecake is a fabulously, decadent dessert and one that's not sickeningly sweet. It's perfect for any holiday or special occasion or simply because you want a big slice of cheesecake!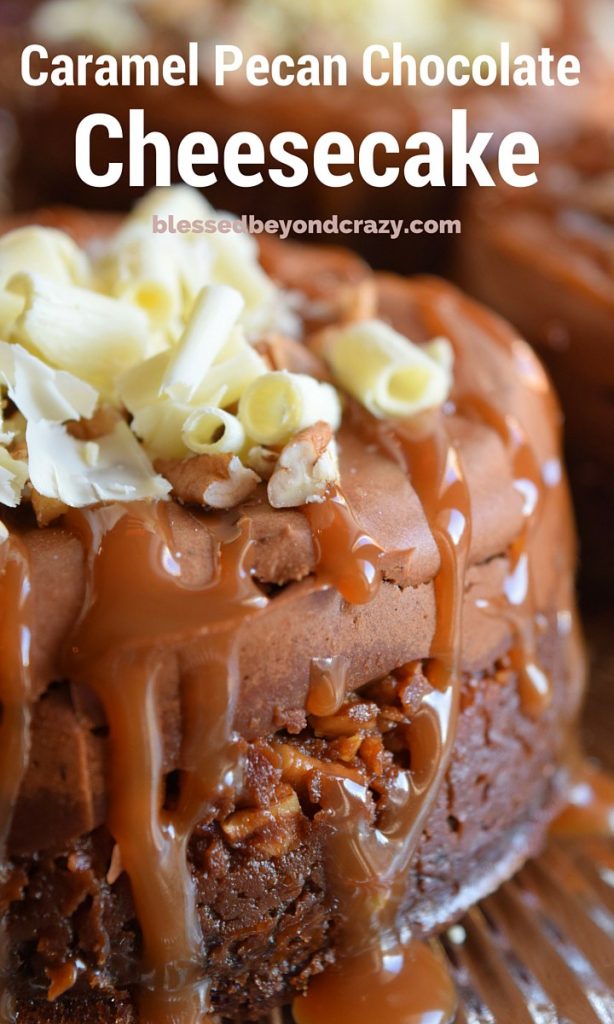 Options
Feel free to add different toppings such as:

I hope that you enjoy this Caramel Pecan Chocolate Cheesecake recipe as much as my family does.
Here's to happy taste buds!!!
Linda

Disclaimer: Manufacturer's gluten-free formulations and policies may change at any time, therefore it's important to always read product labels yourself and contact the manufacturer with concerns. We have found that most companies are eager to help answer your questions.
More great cheesecake recipes: