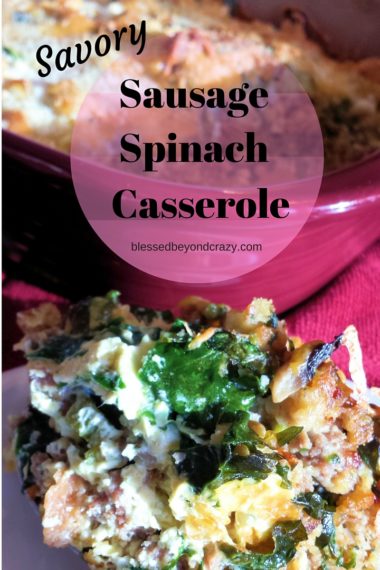 Personally, I like to have options and that's probably why I love this yummy Savory Sausage Spinach Casserole so much. Because it is so versatile, it can literally be served for any meal. For example, one evening last week I prepared it as part of my dinner. 

To help support our blogging activities, our site contains affiliate links. If you make a purchase from a link on our site, we may receive a small percentage of that sale, at no extra cost to you. Blessed Beyond Crazy is a participant in the Amazon Services LLC Associates Program, an affiliate advertising program designed to provide a means for sites to earn advertising fees by advertising and linking to amazon.com.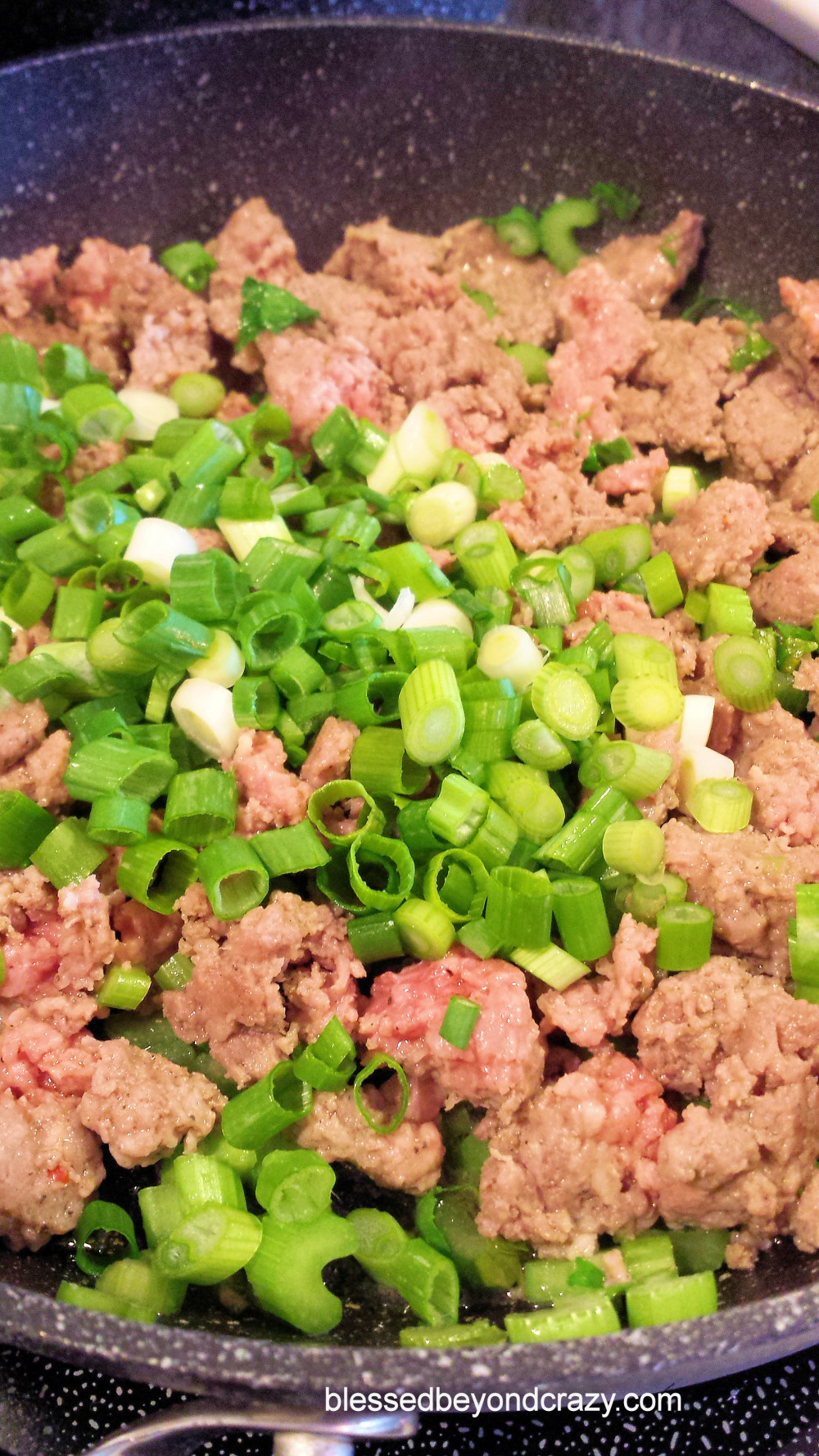 The first step is to prepare the seasoned dressing according to the packaging directions. While the dressing rested, I cook the seasoned ground sausage. When the meat is almost finished cooking, I added chopped celery, green onions, minced garlic, and fresh mushrooms.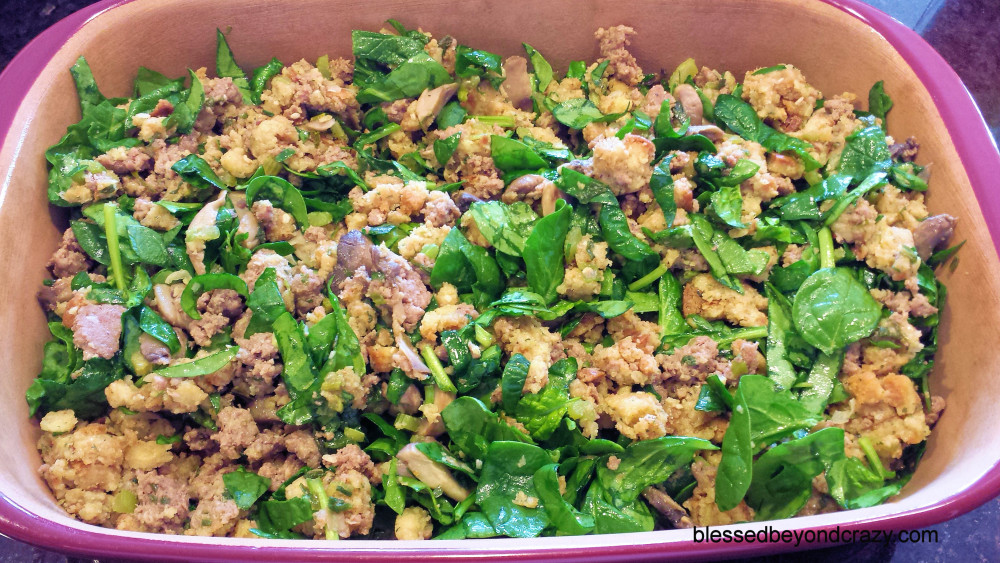 I lightly sprayed a 9″ x 13″ baking dish with cooking spray. After I drained and discarded the grease from the sausage mixture, I placed it into my baking dish and added chopped fresh spinach (this is a sneaky way to get your kids to eat their spinach!)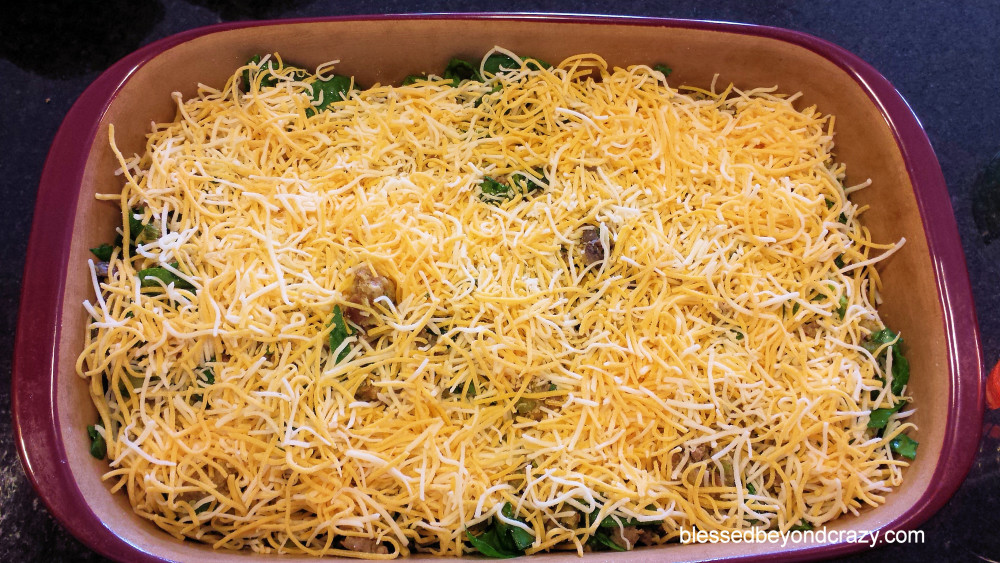 The final touch was adding a layer of shredded Monterey Jack cheese, then drizzling a mixture of eggs and cream, then topping with Parmesan cheese. I placed the casserole into a preheated 400 degrees F oven for about 30 minutes. The final step was to remove the casserole from the oven, add a sprinkle of Parmesan cheese and bake for another 5 minutes.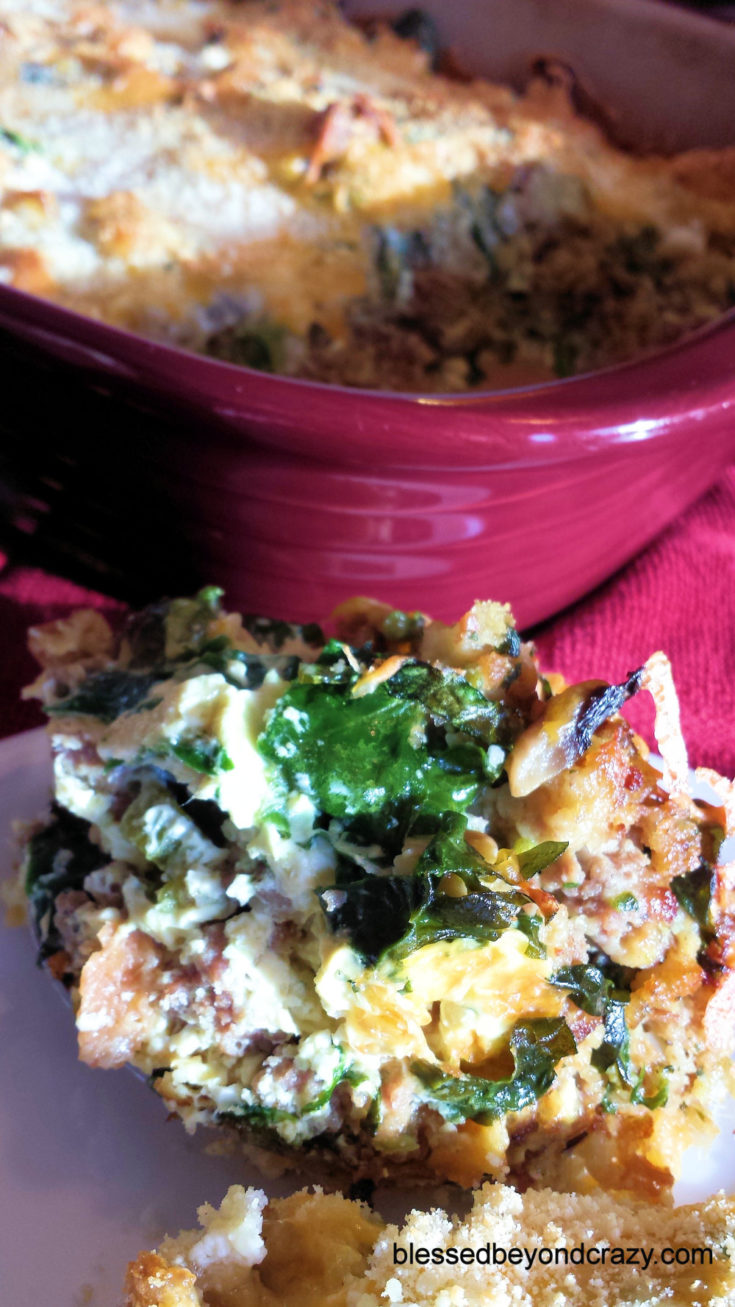 Yield:

Serves 12
Savory Sausage Spinach Casserole
Total Time:
1 hour
15 minutes
Ingredients
1 package (6 ounces) savory herb-flavored stuffing mix (GF Version: use gluten free stuffing mix)
1 pound bulk pork sausage (GF Version: use a gluten-free brand of sausage)
1/4 cup chopped green onions
1/2 cup chopped celery
1/2 cup chopped fresh mushrooms
1/2 teaspoon minced garlic
1 package (10 ounces) fresh spinach
1 1/2 cups (6 ounces) shredded Monterey Jack cheese
1 1/2 cups half-and-half cream
3 eggs
2 tablespoons grated Parmesan cheese
Instructions
Prepare stuffing according to package directions.
Meanwhile, crumble the sausage into a large skillet; add onions; cook over medium heat until the meat is no longer pink. Add garlic, and cook 1 minute longer. Drain excess grease.
In a large bowl, combine the stuffing, sausage mixture, and spinach. Pour mixture into a greased 13' x 9" baking dish; sprinkle with Monterey Jack cheese.
In a small bowl, combine cream and eggs; pour over sausage mixture.
Bake at 400 degrees F for 30 minutes or until a thermometer reads 160 degrees when inserted in the center of the casserole.
Sprinkle with Parmesan cheese; bake 5 minutes longer or until bubbly. Serve.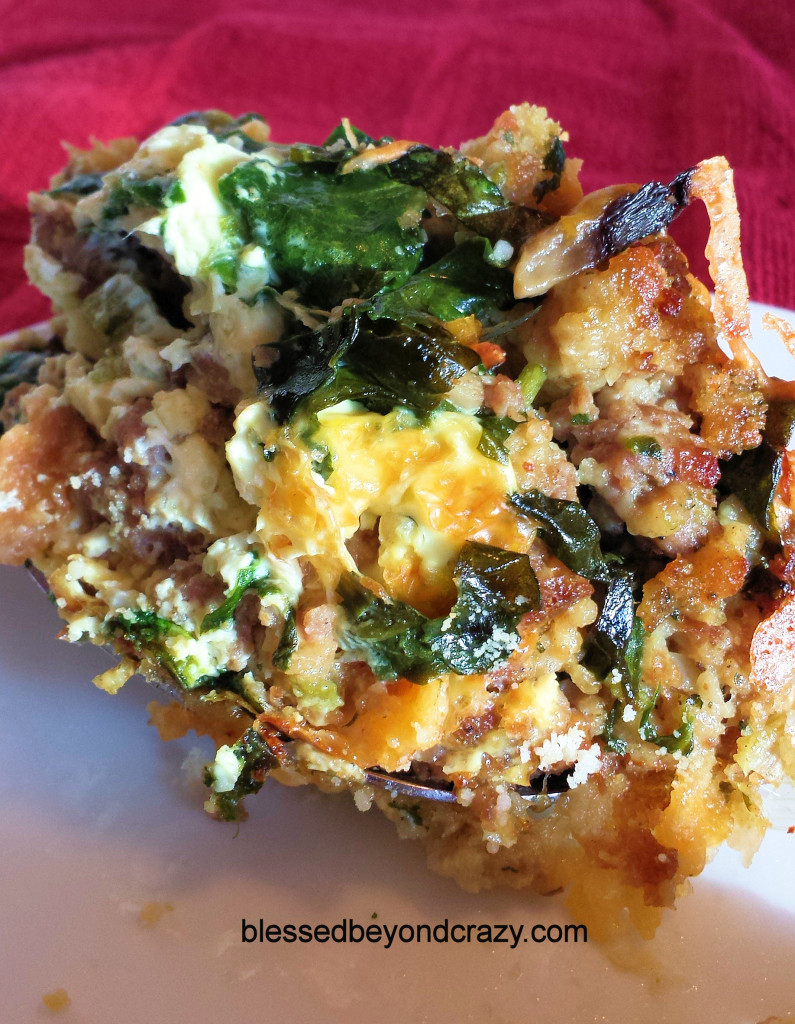 It seems like Anna and I are always modifying recipes to suit various dietary needs in our family. Consequently, we are never offended by others doing the same. 
I hope you and your family enjoy this wonderful recipe for savory sausage spinach casserole.
Linda
Disclaimer: Manufacturers' formulations and policies may change at any time. Therefore it's important to always read product labels yourself and contact the manufacturer with concerns. We have found that most companies are eager to help answer your questions.
More great recipes: