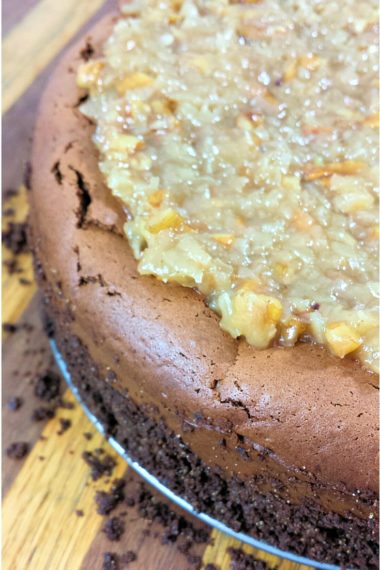 German Chocolate Cheesecake is a showstopper! With its luscious chocolate center and ooey-gooey coconut-pecan topping, it truly is a decadent dessert. 

To help support our blogging activities, our site contains affiliate links. If you make a purchase from a link on our site, we may receive a small percentage of that sale, at no extra cost to you. Blessed Beyond Crazy is a participant in the Amazon Services LLC Associates Program. This is an affiliate advertising program designed to provide a means for sites to earn advertising fees by advertising and linking to amazon.com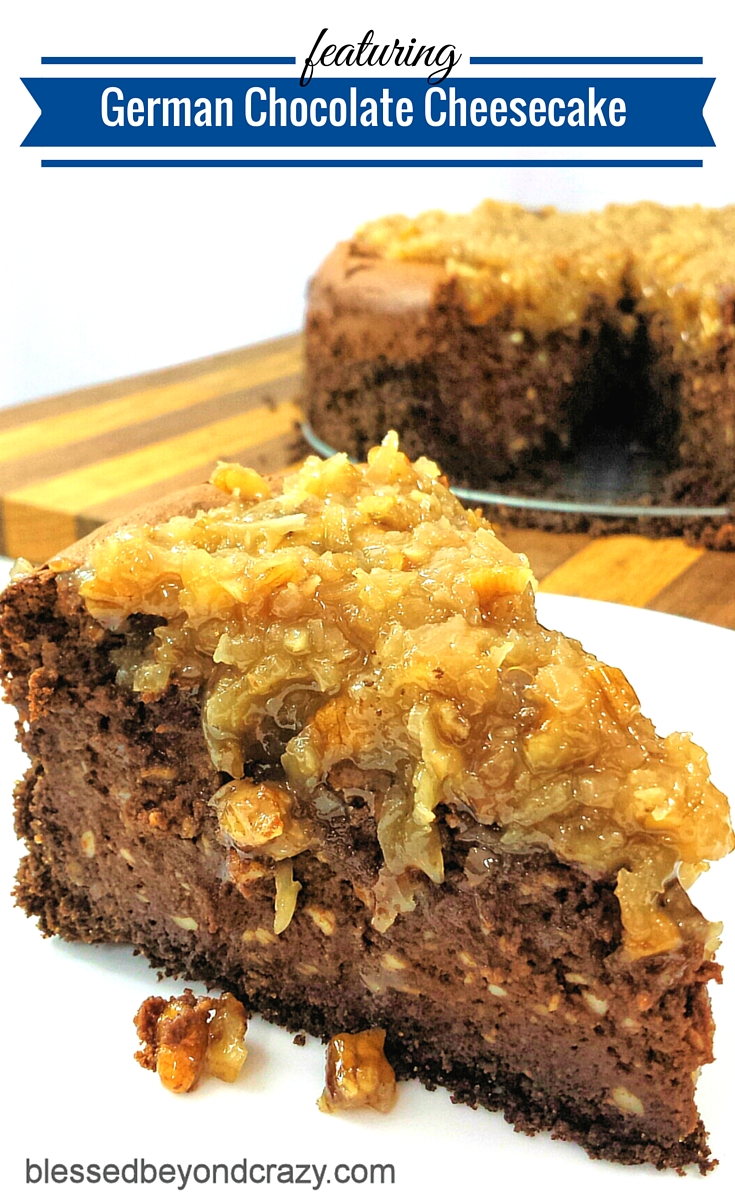 German Chocolate Cheesecake is perfect for anyone who loves the flavors of a German chocolate cake. It's just the right blend of chocolate, coconut, and pecans.
The first step is to make a graham cracker crust.
The second step is to make a luscious chocolate cream cheese filling.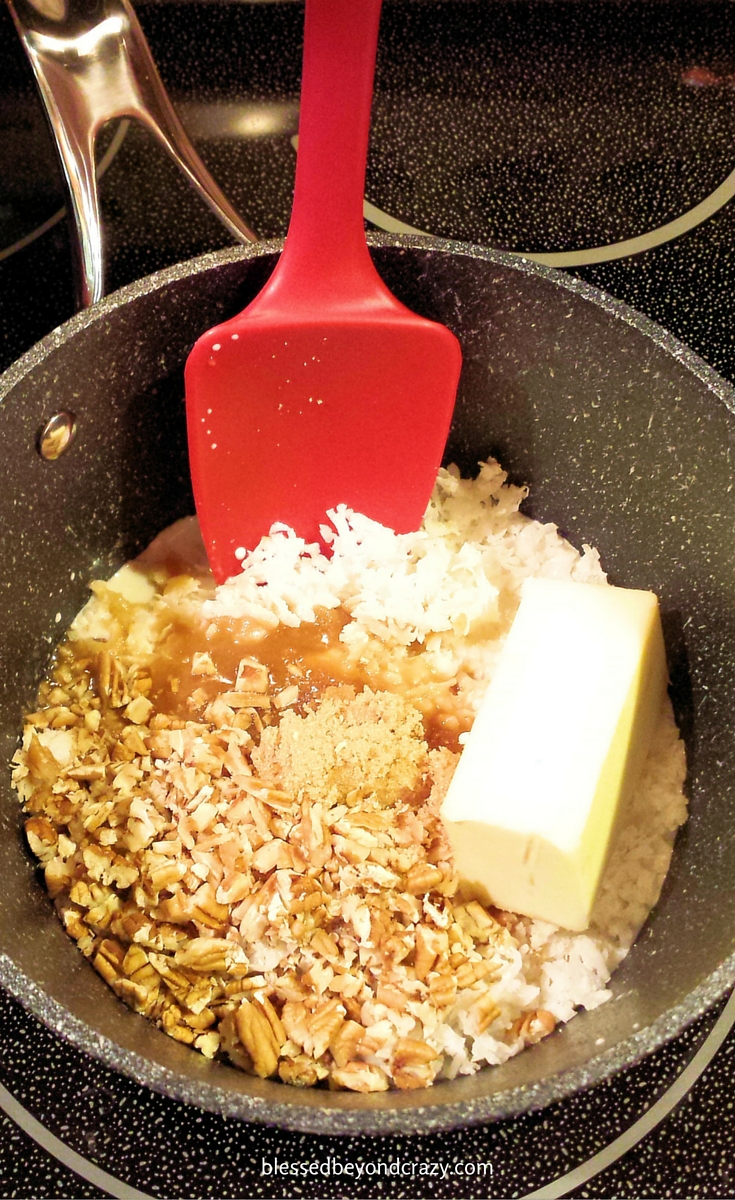 Finally, the topping is made on the stove-top. It's a yummy combination of butter, coconut, pecans, brown sugar, and half-and-half.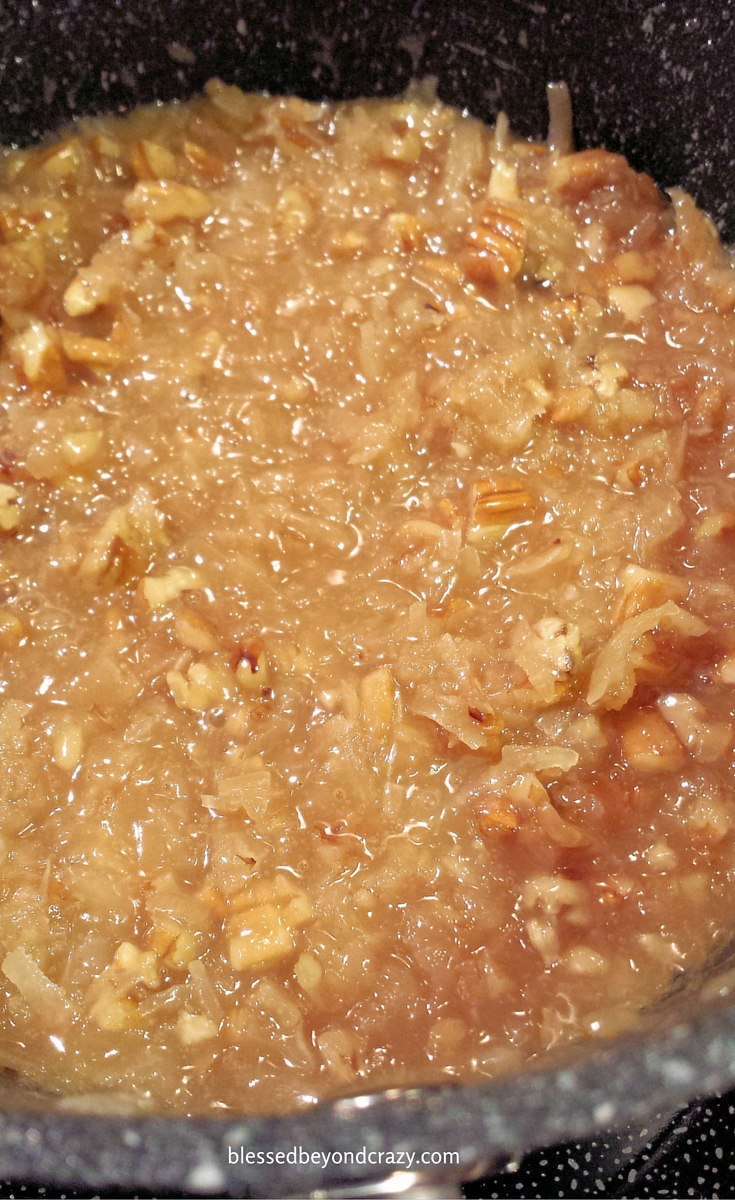 This coconut-pecan mixture slowly starts to thicken as it cooks. Yummy!
You could certainly enjoy this chocolaty cheesecake without the addition of the topping, however, the topping is what turns this cheesecake into something extra special.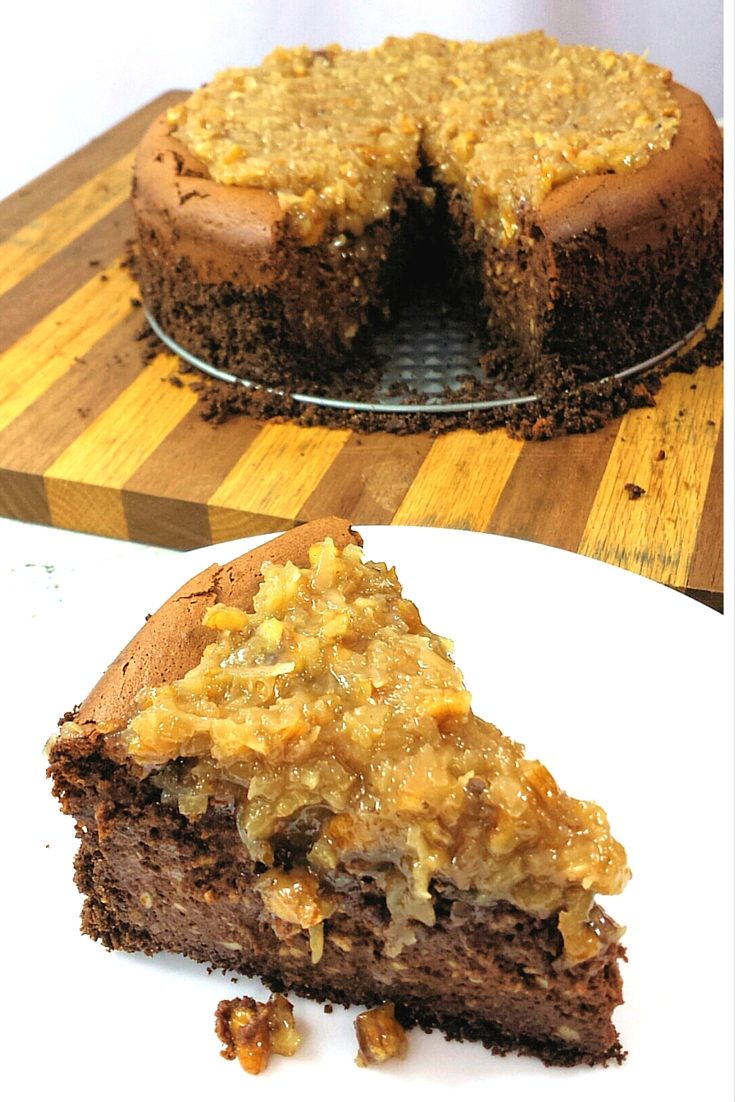 Yield:

Serves 8 - 10
German Chocolate Cheesecake
Total Time:
1 hour
20 minutes
Ingredients
CRUST:
1 1/2 cups chocolate graham cracker crumbs
2 tablespoons brown sugar
1/4 cup butter, melted
FILLING:
2 packages (8 ounces, each) cream cheese, softened
1 cup (6 ounces) semisweet chocolate chips, melted and cooled
2/3 cup packed brown sugar
2 tablespoons baking cocoa
5 eggs, lightly beaten
1 teaspoon almond extract
1 teaspoon vanilla extract
TOPPING:
3/4 cup flaked coconut
3/4 cup chopped walnuts
1/3 cup packed brown sugar
1/3 cup half-and-half cream
5 tablespoons butter
Instructions
CRUST:
In a small bowl, combine graham cracker crumbs and brown sugar; stir in butter.
Press onto the bottom and 1 inch up the sides of a springform pan, and place the pan on a baking sheet.
Bake in a preheated 350 degrees F oven for 10 minutes, remove from the oven, and cool.
FILLING:
In a large bowl, beat cream cheese until smooth.
Beat in the chocolate, brown sugar and cocoa.
Add eggs; beat on low speed just until combined. Stir in extracts. Pour into crust.
Bake in a preheated 350 degrees F oven for 50 - 55 minutes or until center is just set and top appears dull.
Remove from oven, cool on a wire rack for 10 minutes.
Carefully run a knife around edge of pan to loosen.
Cool 1 hour longer.
Refrigerate for 4 hours or overnight.
TOPPING:
In a large saucepan, combine topping ingredients.
Bring to a boil over medium heat; cook and stir for 3 minutes.
Cool.
Spread topping over cheesecake.
Serve.
Refrigerate leftovers.
This cheesecake is made using a 9-inch springform pan. Depending on how small you cut the slices, this particular recipe serves eight to ten people.


Need a tasty DIY gift? For those who love cheesecake + the flavors of German chocolate cake, look no further! Simply purchase several mini springform pans and divide the recipe between mini pans.
When finished, you can give the entire thing (springform pan and all) or just the cheesecake as a gift. Wrap it up in a cellophane gift bag and a curly ribbon or place it in a gift box.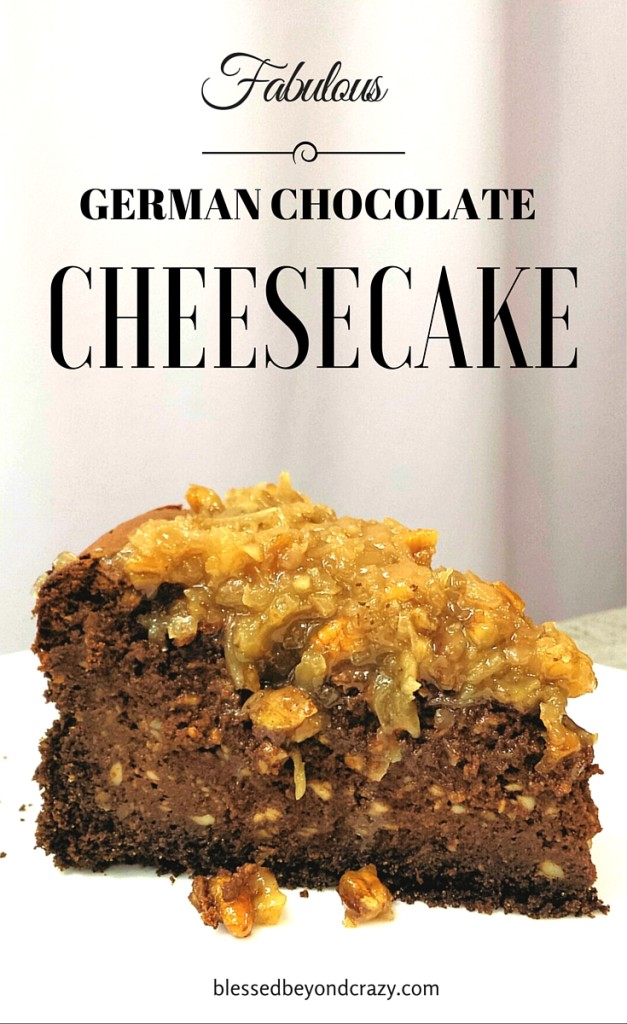 Enjoy!
Linda
More great ideas: