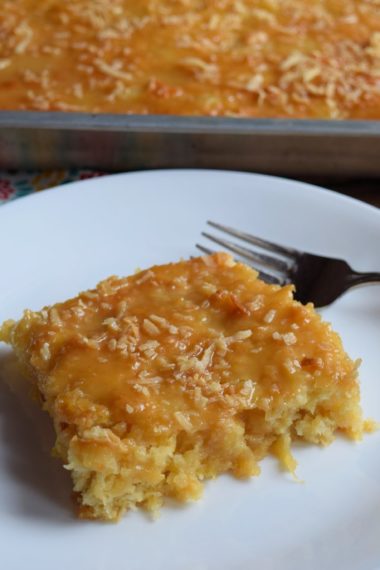 Once upon a time…a pineapple fell in love with a coconut. At first, they simply flirted, but of course, flirting naturally led to dating. Then one day, the two decided to marry. What a great union, and with a few extra ingredients, this lovely combination of pineapple and coconut can turn into a delightfully enticing Pineapple Coconut Sheet Cake!

To help support our blogging activities, our site contains affiliate links. If you make a purchase from a link on our site, we may receive a small percentage of that sale, at no extra cost to you. Blessed Beyond Crazy is a participant in the Amazon Services LLC Associates Program, an affiliate advertising program designed to provide a means for sites to earn advertising fees by advertising and linking to amazon.com.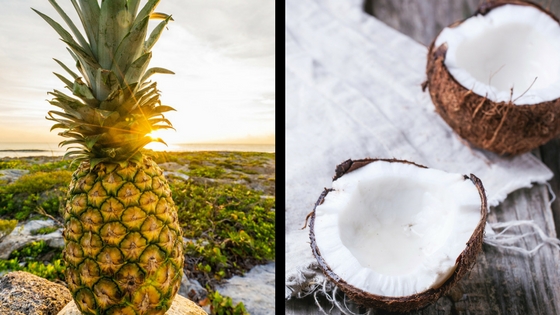 It seems that my family has always loved a recipe that includes both pineapple and coconut. Take for instance Anna's Sunshine Cake. I mean, really… it's so good that I have a hard time finding words to adequately describe it, although you really shouldn't take my word for it. Nope, I suggest you make your very own Sunshine Cake and see what you think. 🙂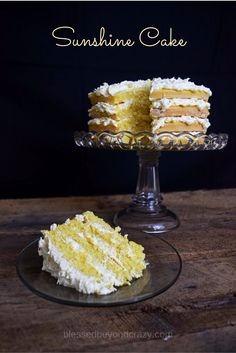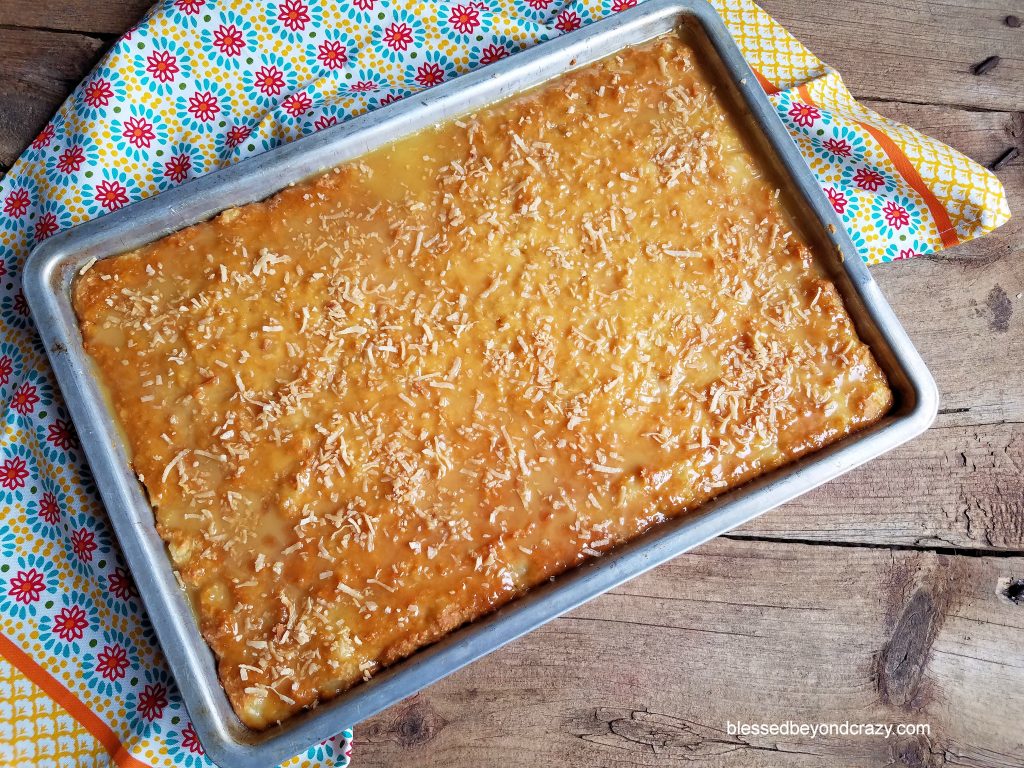 Pineapple Coconut Sheet Cake is one of those classic yet easy recipes you'll want to tuck away in your recipe box because you'll want to make it over and over again. Since it easily serves 20 – 24 people, it's a superb dessert for carry-ins, family reunions, pool parties, Easter Sunday, or, just because. 🙂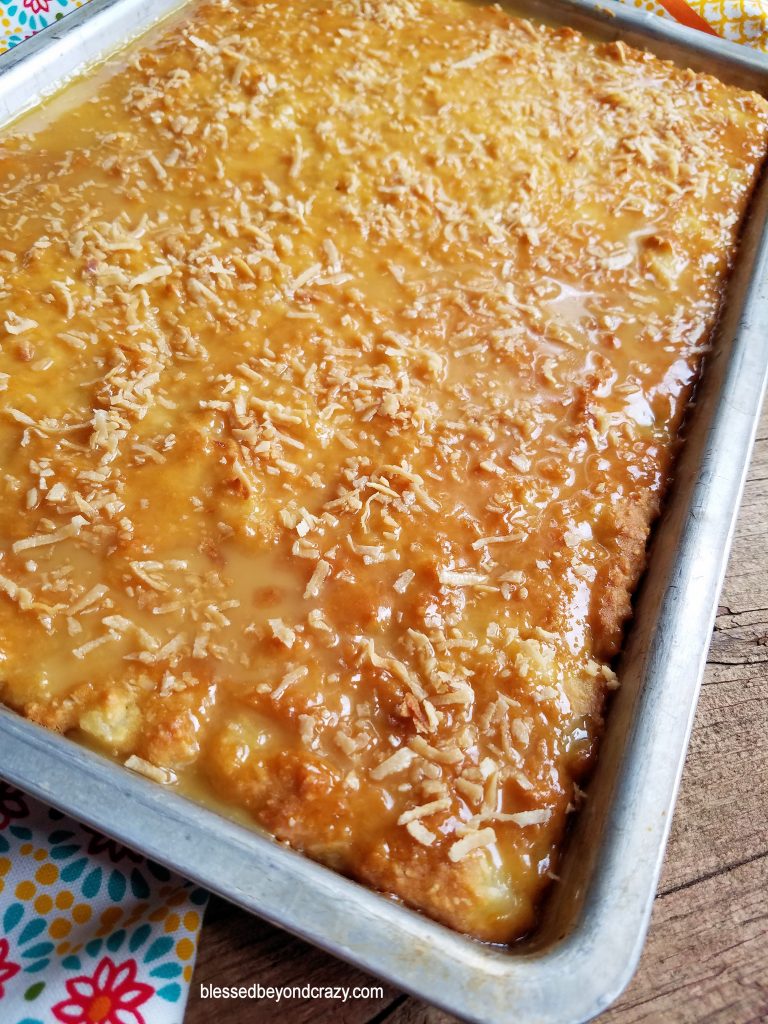 Another great thing about this recipe is that it can easily be modified to be gluten-free. As a matter of fact, the pictures within this post are a gluten-free Pineapple Coconut Sheet Cake. The really cool thing is, you'd never know it was gluten-free!!!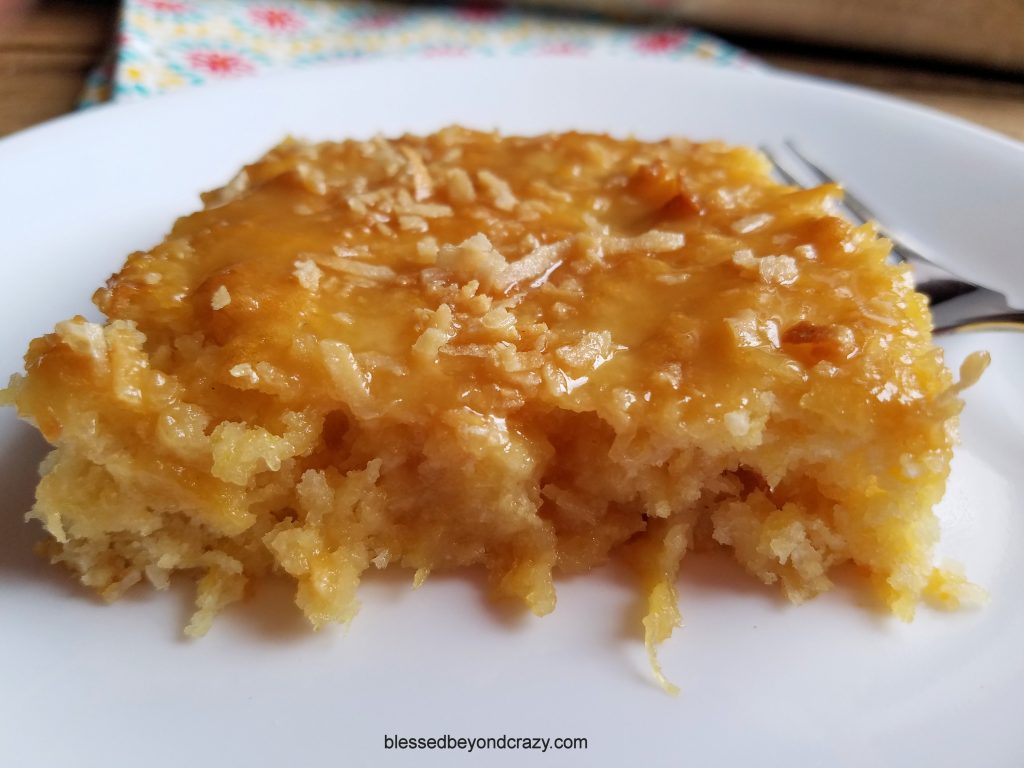 Just look at all of that delicious yumminess! Pineapple + coconut in every single bite!
Notes:
The cake may be slightly taller when using all-purpose flour instead of a gluten-free flour blend.
I recommend using all-natural, nonsulphured coconut. (How to toast coconut click > HERE)
I think it would be possible to use fresh, uncanned pineapple, however, because you do need both the pineapple and juice, I'm not sure what the exact amounts would be.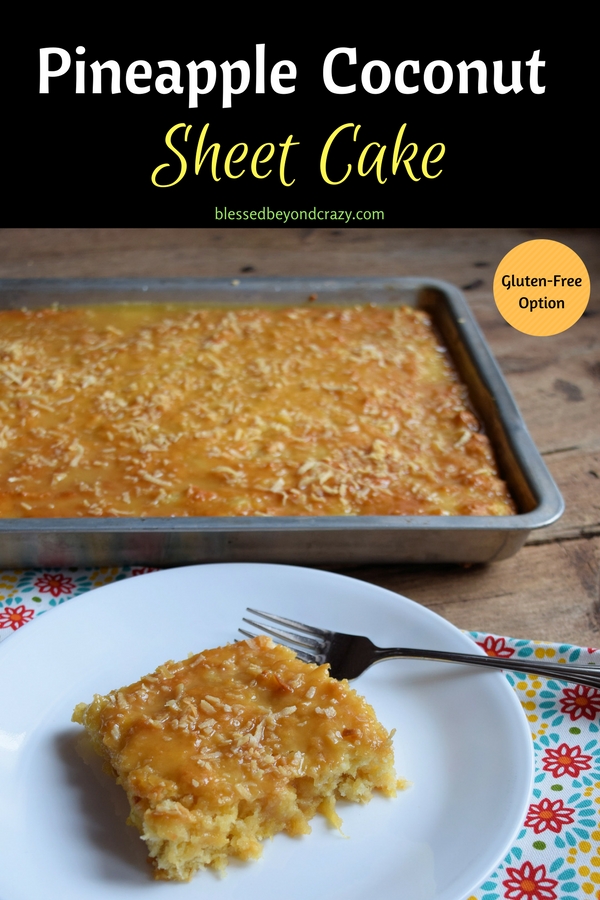 Pineapple Coconut Sheet Cake
---
Yields Approx. 20 - 24 servings
15 minPrep Time
30 minCook Time
45 minTotal Time
Ingredients
Cake

2 cups sifted flour (GF Option: use gluten-free flour blend + 2 teaspoons xanthan gum unless flour already contains it)
2 teaspoons baking soda
1/2 teaspoon salt
1 1/2 cup sugar
2 eggs
1 (20 ounce) can crushed pineapple
1 cups unsweetened shredded coconut (all-natural, unsulphured)

Glaze

1/2 cup (1 stick) butter
3/4 cup packed brown sugar
1 (12 ounce) can evaporated milk

Topping

1/2 cup toasted coconut
Instructions
CAKE:
Combine flour, baking soda, salt and sugar. Beat in eggs, 1 at a time.
Fold in pineapple (juice and all) and coconut; pour into ungreased jelly roll pan.
Bake at 350 degrees F for 30 - 35 minutes.
GLAZE:
Place butter, brown sugar and evaporated milk in a medium saucepan; bring to a boil. Boil for 15 minutes; pour over hot cake.
TOPPING:
Sprinkle top of cake with toasted coconut.
Cool to room temperature.
Cut into squares and serve.
Notes
A classic and simple sheet cake recipe that's loaded with exceptional flavors.
7.8.1.2
235
https://blessedbeyondcrazy.com/pineapple-coconut-sheet-cake/
www.blessedbeyondcrazy.com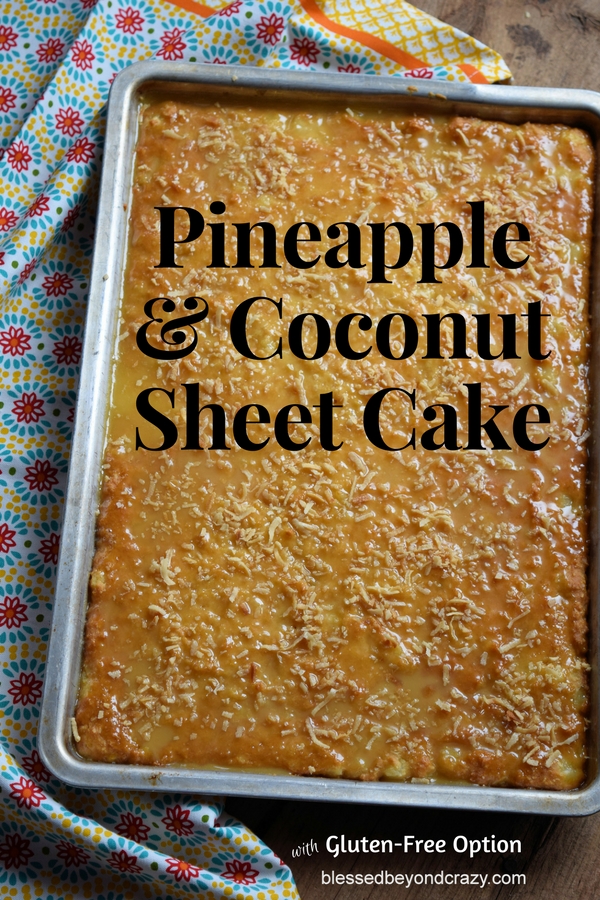 Who wants a slice?
Enjoy!
Linda
More great ideas: