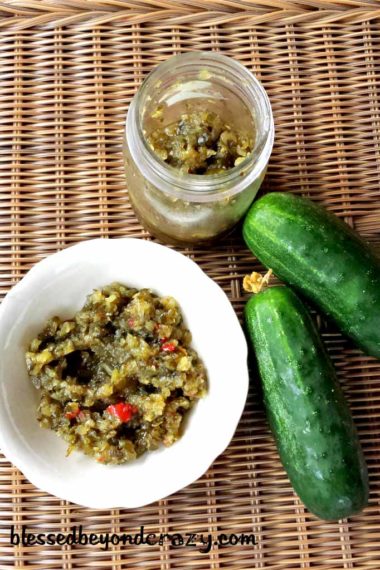 Homemade Sweet Pickle Relish is a delicious condiment that is preservative-free, gluten-free, and made from all-natural ingredients! If you like pickle relish then you are gonna LOVE the combination of flavors in this particular recipe!  This will take your taste buds to a whole new level and you'll be saying, "Oh yeah… now that's what I'm talking about!"

To help support our blogging activities, our site contains affiliate links. If you make a purchase from a link on our site, we may receive a small percentage of that sale, at no extra cost to you. Blessed Beyond Crazy is a participant in the Amazon Services LLC Associates Program, an affiliate advertising program designed to provide a means for sites to earn advertising fees by advertising and linking to amazon.com. As an Amazon Associate, I earn from qualifying purchases.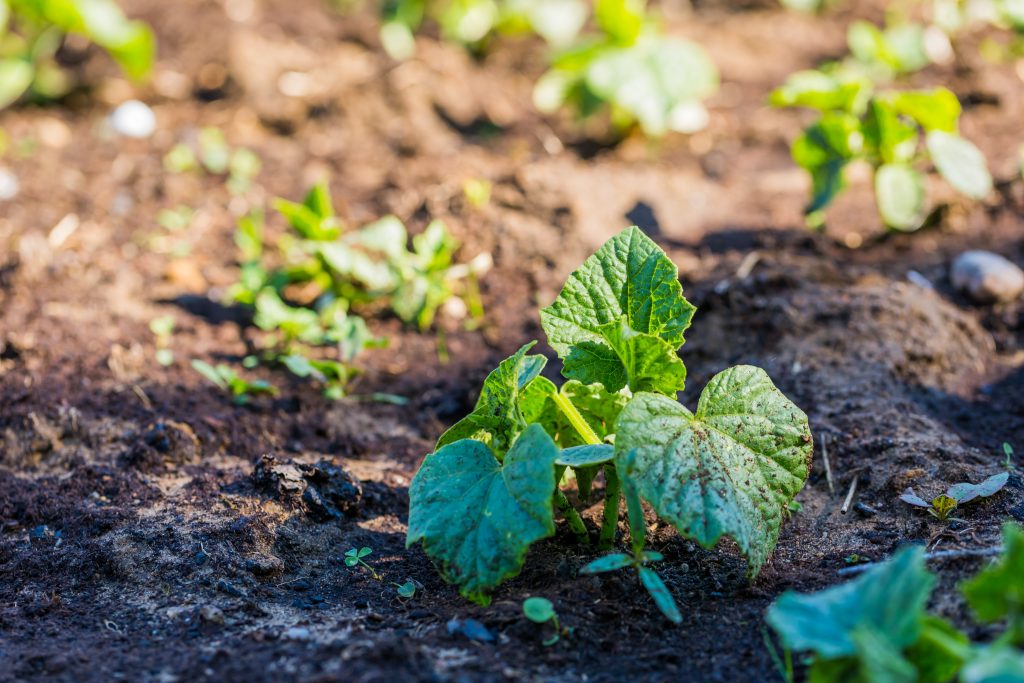 Homegrown Pickles
Before we make this recipe we need to make a trip to the garden. See that nice green plant that is growing? That is a pickle plant that my Mom planted in her garden and it sprouted from a variety of seeds called Sweet Success Cucumber Seeds.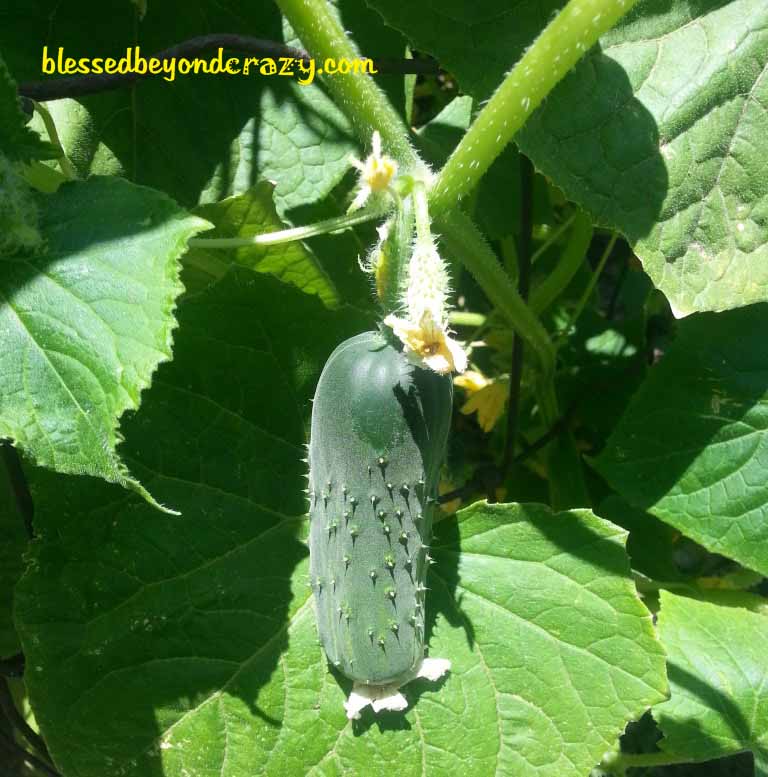 Pickles vs Cucumbers
Once the pickles are mature enough we carefully pick them off the plant. If left on the plant longer, the pickles grow bigger and bigger until they eventually go from the pickle stage and into the cucumber stage.
Homemade Relish
To make Homemade Sweet Pickle Relish you will need the following:
1 1/2 quart pickles
1 green or red bell pepper
1 onion, large
1/2 teaspoon celery seed
1 1/4 cup sugar
1/8 teaspoon turmeric
1 cup apple cider vinegar – Mom and I use Bragg Apple Cider Vinegar.
We start by collecting fresh, organic pickles, then wash and dry them with a soft towel. Next, using a food grinder we grind the pickles, pepper, and onion together, then add spices to make this flavorful, colorful recipe.
This delicious sweet pickle relish is the perfect condiment for hot dogs, brats, hamburgers, or even in a homemade tarter sauce! Oh, did I mention that this recipe is naturally gluten-free? 
Homemade Sweet Pickle Relish
---
Unknown
25 minPrep Time
25 minTotal Time
Ingredients
1 1/2 qt pickles
1 green or red bell pepper
1 onion, large
1/2 tsp celery seed
1 1/4 cup sugar
1/8 tsp turmeric
1 cup apple cider vinegar (We use Bragg's Apple Cider Vinegar)
Instructions
Grind pickles, pepper and onion together. Add celery seed, sugar, turmeric and vinegar; mix well.
Store in glass jars.
Refrigerate.
7.8.1.2
122
https://blessedbeyondcrazy.com/homemade-sweet-pickle-relish/
www.blessedbeyondcrazy.com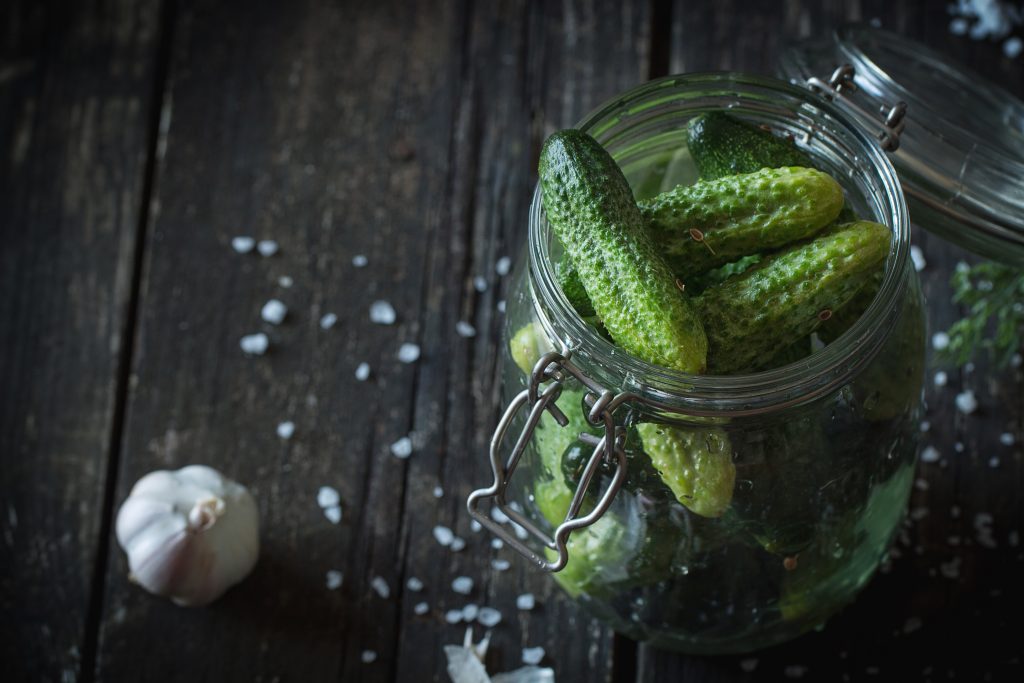 Canned Pickles
My mother also makes fabulous canned pickles, but I'll leave that for another post.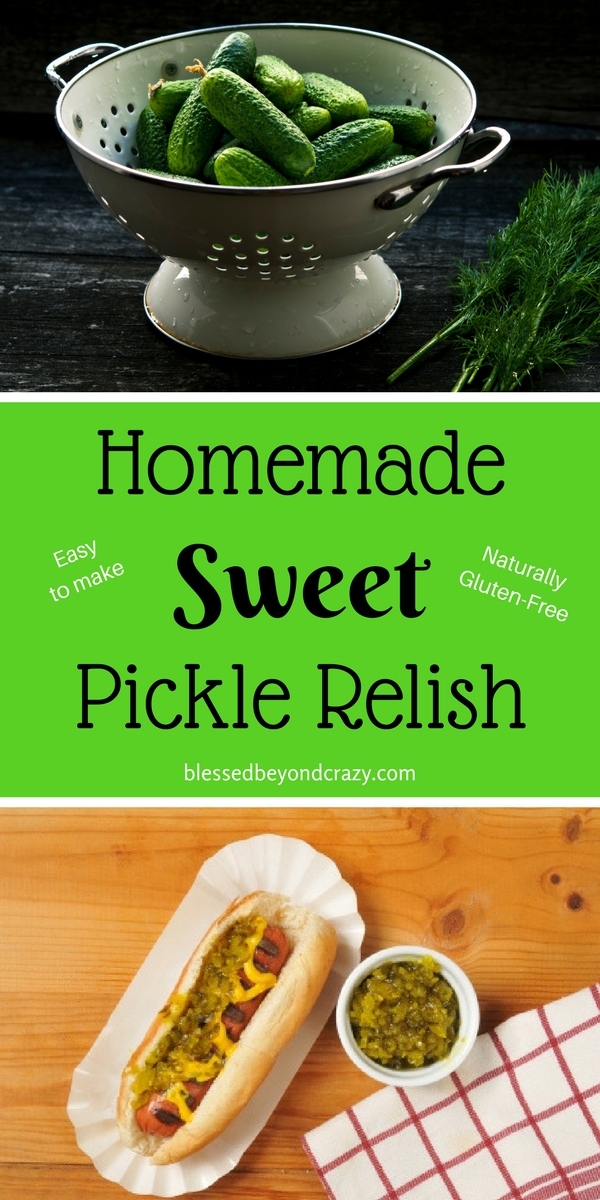 Pardon me while I go light our grill… I need to go grill myself a hot dog now and top it with a big dollop of Homemade Sweet Pickle Relish!
Enjoy!
Linda
More great ideas: