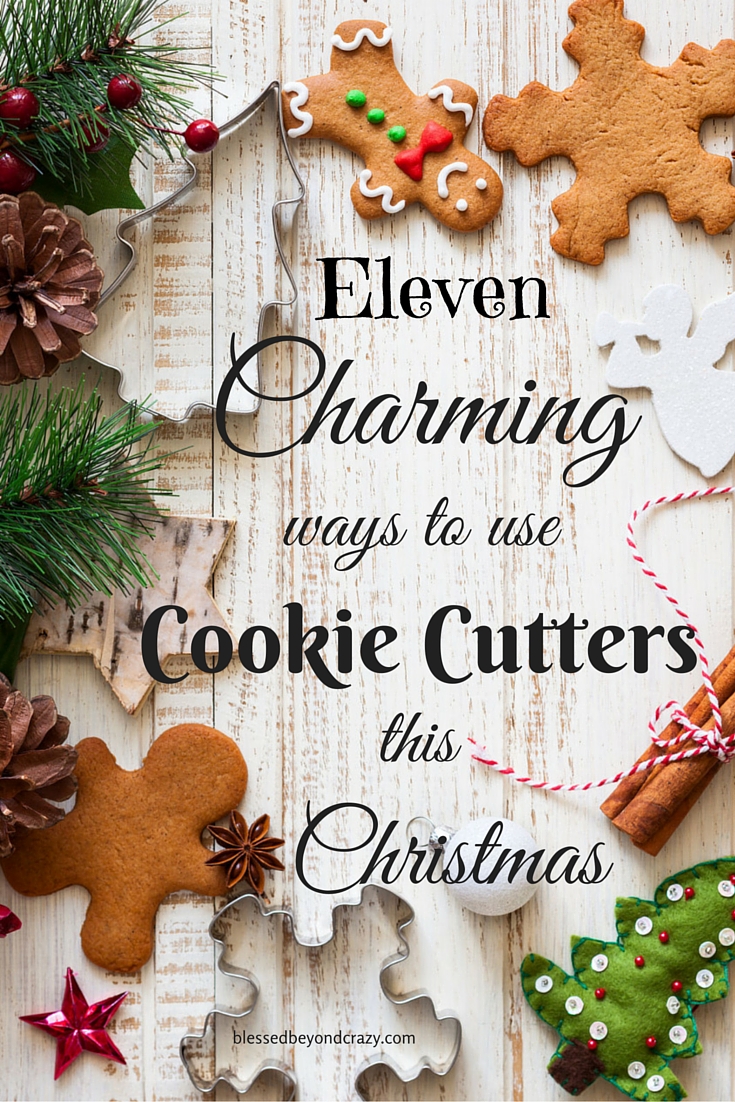 We don't know about you, but Anna and I love taking a simple, everyday object and using it for an extraordinary purpose. That's what today's post is all about. Allow us to demonstrate Eleven Charming Ways To Use Cookie Cutters This Christmas!
To help support our blogging activities, our site contains affiliate links. If you make a purchase from a link on our site, we may receive a small percentage of that sale, at no extra cost to you. Blessed Beyond Crazy is a participant in the Amazon Services LLC Associates Program, an affiliate advertising program designed to provide a means for sites to earn advertising fees by advertising and linking to amazon.com.
Napkin Rings
First, use Christmas cookie cutters as charming napkin rings. How cute and how easy is this?
Cute Mug Cookies
Secondly, make darling mini butter cookies that hang on the edge of your cup with over the edge cookie cutters. Find a great butter cookie recipe here.
Candies
Make homemade candies using Christmas metal cookie cutters. Find a quick and easy cinnamon candy recipe here.
Marshmallows
Use snowflake cookie cutters to cut out snowflake-shaped homemade marshmallows to add to your hot chocolate.
Check out several delicious hot chocolate recipes here.
Check out an easy homemade marshmallow tutorial and recipe here.
DIY Gift
Make a batch of mini sugar cookies, place them in a mason jar, add a note and/or the recipe and give as an edible homemade DIY gift. You could also attach a few mini cookie cutters to the jar with a piece of twine as an extra cute touch. Find a great sugar cookie recipe here.
Decorations
With a thin ribbon, tie three different sizes of cookie cutters together and hang them on your Christmas tree, on a fireplace mantel, or hang in a window.
Another idea is to make a DIY Gift Basket and fill it with baking supplies and a set of cookie cutters. Or, tie them onto a Christmas gift with ribbon in place of a bow.
Ornaments
Make snowflake cookie ornaments for your Christmas tree. Find an easy Christmas cookie ornament recipe here.
Edible Christmas Trees
Make adorable and totally edible Christmas tree centerpieces using a cookie cutter set. Find a delicious gingerbread cookie recipe here.

Pie Art
Top a pie by using mini cookie cutters to cut fun shapes out of the pie crust. Find a quick and easy 3 ingredient pie crust recipe here.
Homemade Soap
Make homemade coffee soap then cut out shapes using round cookie cutters,
wrap several up and give as a wonderful homemade DIY gift. Find a great homemade coffee soap recipe here.
Kitchen Wreath
Finally, make a darling DIY wreath for your kitchen, or as a gift for someone who loves to bake. Tie or hot glue the cutters together forming a circle. Add a festive bow at the top and Ta-Da! A cute wreath that comes together in a matter of minutes. So festive and fun!
Merry Christmas!
Linda
For more fun ideas:
HERSHEY'S CHRISTMAS MICE CUPCAKES
HERSHEY'S No-Bake Christmas Reindeer Centerpiece