If you are looking for a Pumpkin Pie Smoothie that tastes exactly like a Pumpkin Pie, you just found it. In a matter of minutes, you can blend the scrumptious ingredients together. No need to heat up the oven and wait for a pie to bake to get your pumpkin fix!
To help support our blogging activities, our site contains affiliate links. If you make a purchase from a link on our site, we may receive a small percentage of that sale, at no extra cost to you. Blessed Beyond Crazy is a participant in the Amazon Services LLC Associates Program, an affiliate advertising program designed to provide a means for sites to earn advertising fees by advertising and linking to amazon.com.
This recipe came about when I had some leftover canned pumpkin puree and I didn't want it to go to waste. I set out to find a recipe that called for just a small amount of pumpkin and this is what I invented! This smoothie could not taste more like a pumpkin pie!
Not only this super easy and fast to make but it is also naturally gluten-free, paleo, sugar-free, dairy-free, and low carb! Yes, it's healthy, but you would never know! That's exactly how I like my desserts.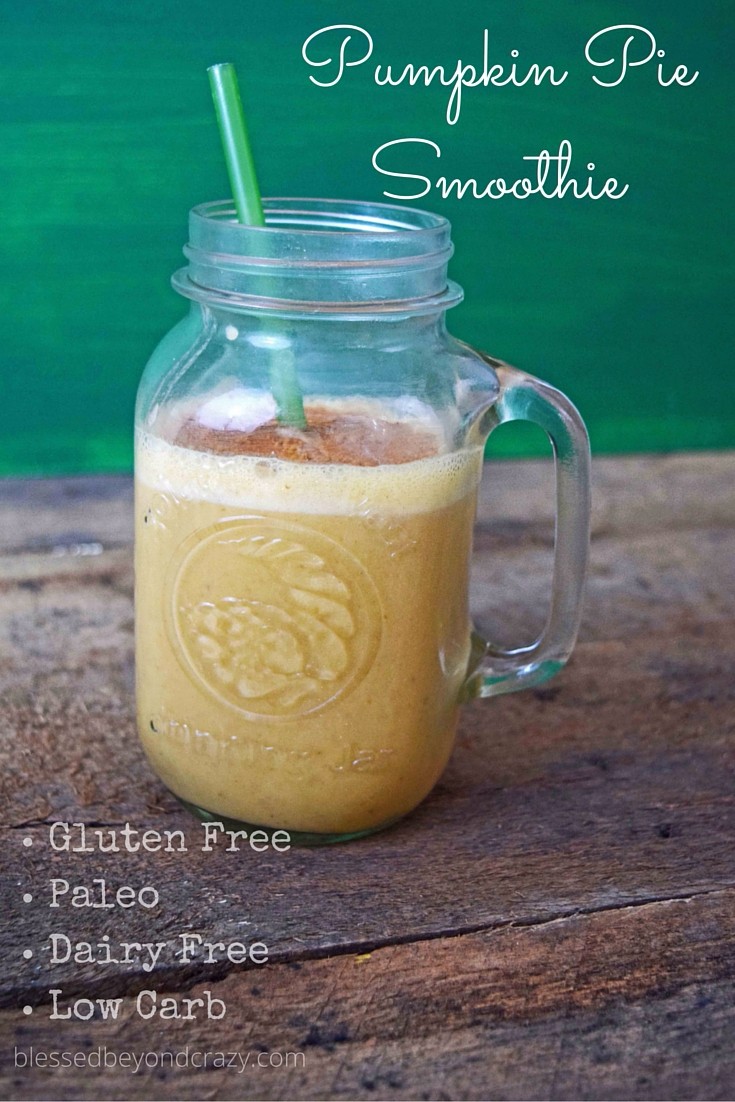 There are only four ingredients! It is easy to substitute ingredients for your dietary needs.
Everything is naturally gluten-free.

If you are paleo or dairy-free use almond milk or coconut milk.

If you are low carb you can use Splenda, Stevia, or other sweeteners of choice.

You can use Pumpkin pie spice or a combination of your favorite spices.
This recipe makes two servings. Since there is nothing that will melt in this smoothie you could make it ahead of time and store it in the fridge.
3 heaping tbsp Pumpkin puree
1/4 tsp ground Ginger
1/2 tsp Cinnamon
1/4 tsp Nutmeg
splash Vanilla
2 Cups Milk of choice
Put everything in the blender to combine.
www.blessedbeyondcrazy.com
Enjoy!
Anna
More great ideas: