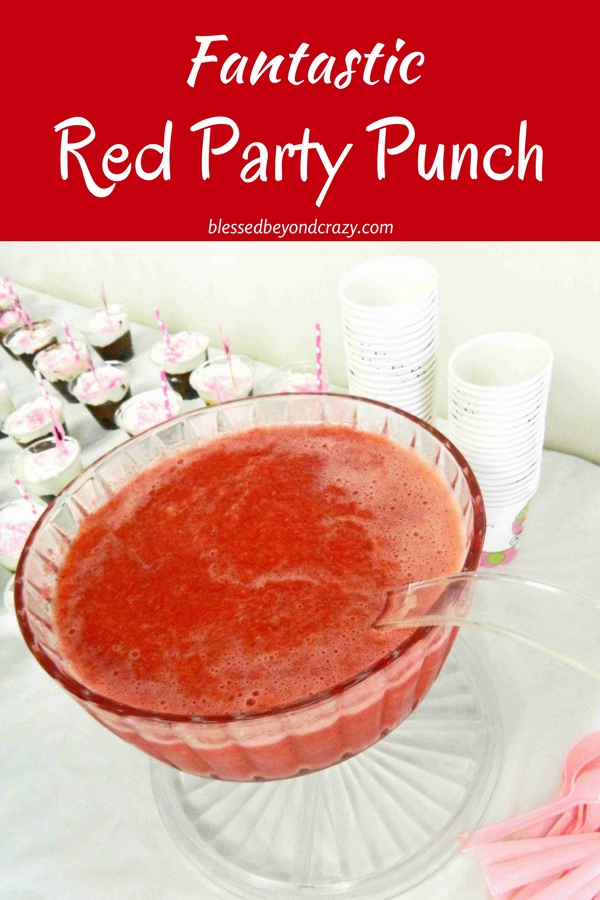 If you are looking for a great punch recipe I think you found just that. This Fantastic Red Party Punch is tasty and perfect to serve at any party! You'll definitely want to keep this recipe close at hand.

To help support our blogging activities, our site contains affiliate links. If you make a purchase from a link on our site, we may receive a small percentage of that sale, at no extra cost to you. Blessed Beyond Crazy is a participant in the Amazon Services LLC Associates Program. This affiliate advertising program is designed to provide a means for sites to earn advertising fees by advertising and linking to amazon.com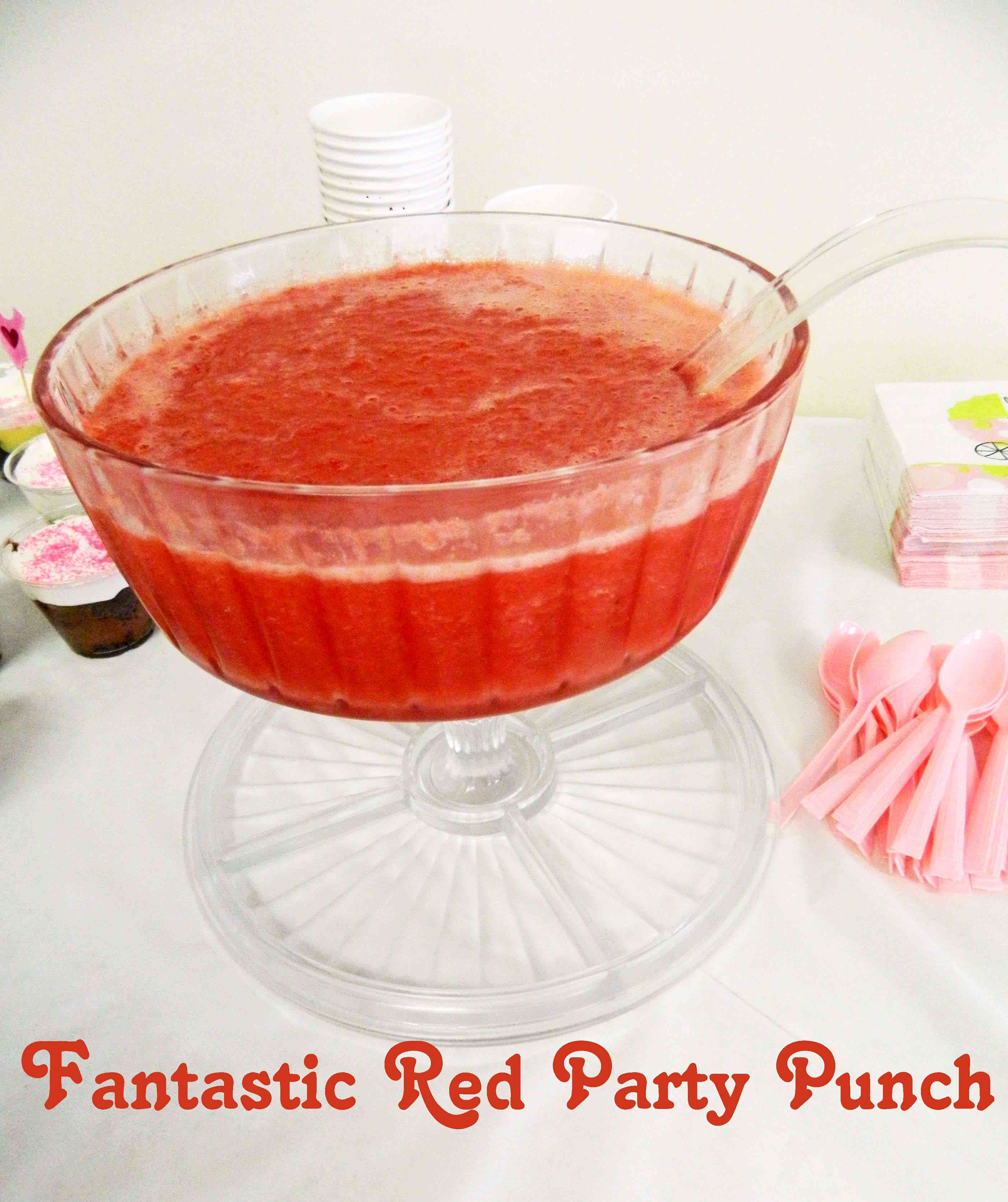 Baby Shower
My daughter was helping a few of her friends plan a baby shower so Anna asked me if I had a good punch recipe. Since I didn't have a recipe I reached out to my mother. Another winner! Mom had this recipe for Fantastic Red Party Punch in her recipe book.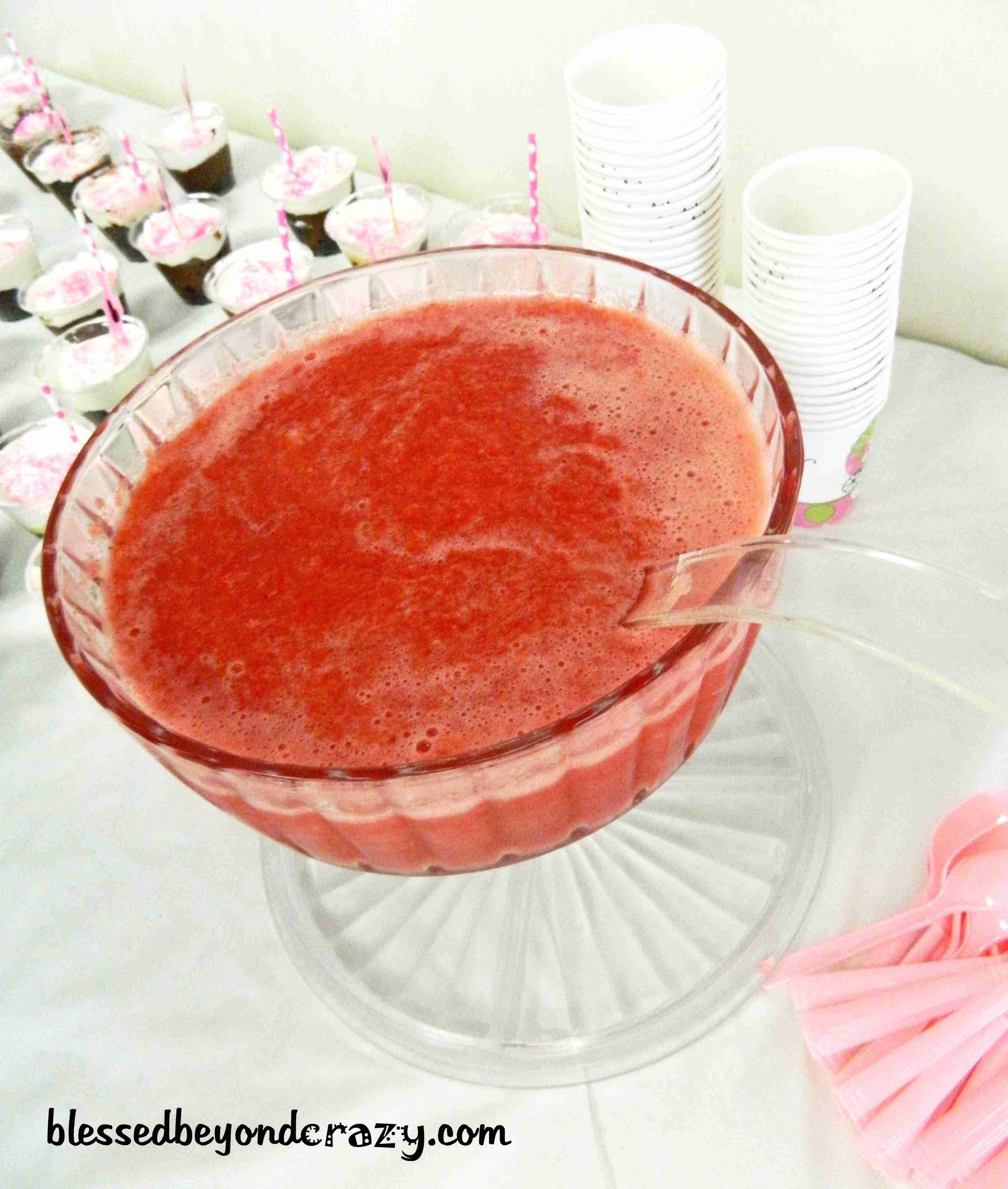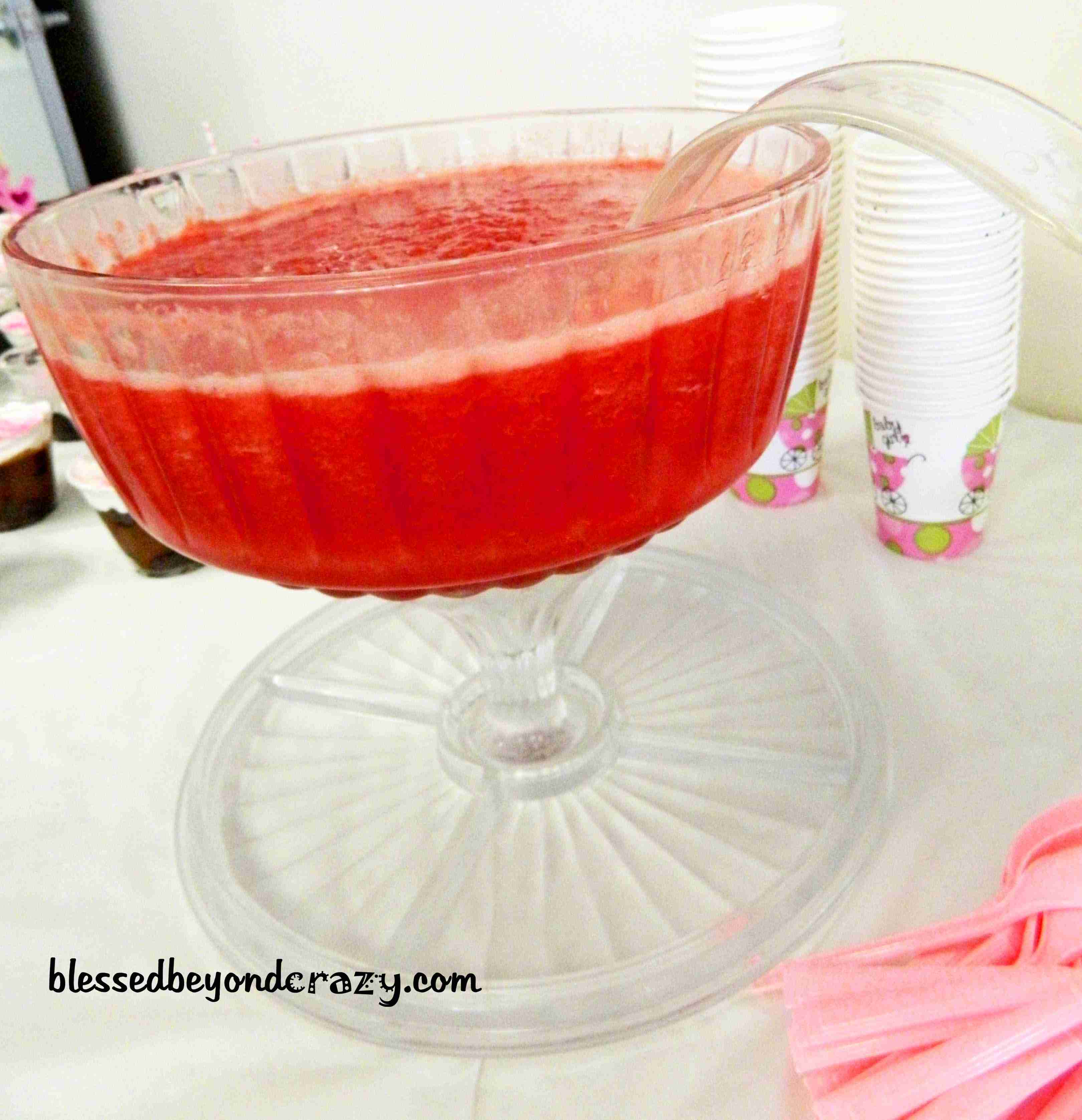 At first, you may be surprised because a few simple ingredients are all that's needed to make this wonderful beverage. However, due to their simplicity, you probably already have all of the ingredients on hand: bananas, strawberries, cherry Kool-Aid, sugar, orange juice, lemonade, and ginger ale. 



Fantastic Red Party Punch has a beautiful red hue to it so it's perfect for Valentine's Day, Mother's Day, an anniversary or bridal shower, and more. Furthermore, it's the perfect slushy consistency and it's super easy to make. 
I stirred up the punch on a Friday evening and placed it in my freezer for 24 hours. The next morning I removed the punch from the freezer and placed it in the refrigerator. Fantastic Red Party Punch was ready when it was time for refreshments.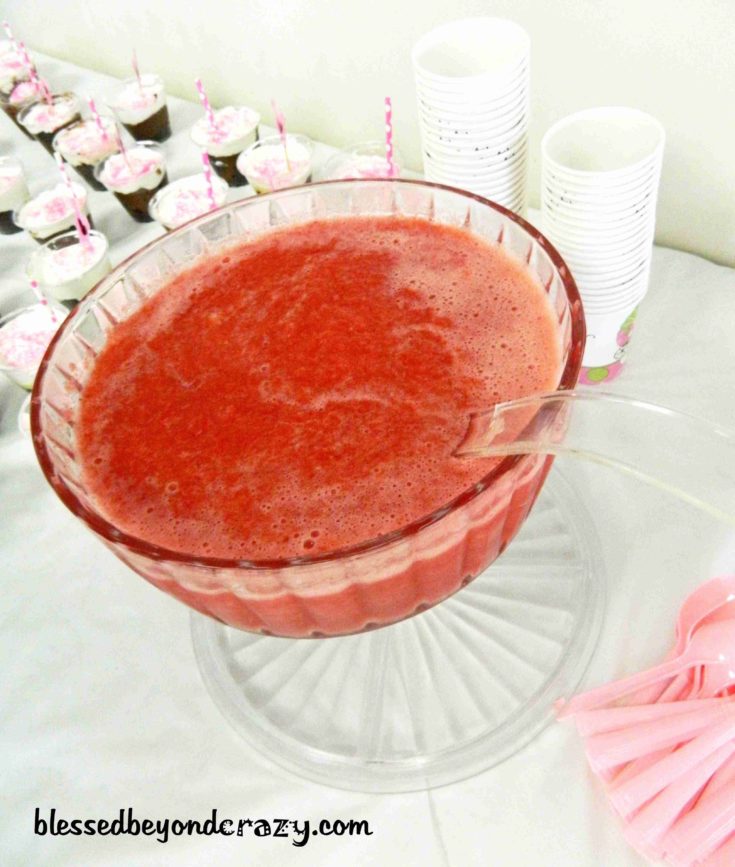 Fantastic Red Party Punch
This delicious punch is always a hit at receptions and parties.
Ingredients
3 ripe bananas
2 packages cherry Kool-Aid
11 oz strawberries, fresh or frozen
4 cups sugar
6 oz frozen orange juice
6 oz lemonade, frozen
2 liters ginger ale
4 qt water
Instructions
Heat water until it comes to a gentle boil.
Pour hot water into a large mixing bowl and add the Kool-Aid and sugar; stir until totally dissolved. Allow mixture to cool completely.
In a blender or food processor, blend bananas, strawberries, orange juice, and lemonade together. Add the fruit mixture to the Kool-Aid mixture; stir until well blended together.
Place punch into a 1-1/2 gallon freezer-safe plastic container and freeze until frozen solid. (Usually takes approximately 24 hours.)
Place the ginger ale in the refrigerator to allow it to chill.
When you are ready to serve, remove the Fantastic Red Party Punch from the freezer and allow it to thaw until it starts to turn slushy.
Thawing time may vary depending on your room temperature, or if you thaw it in your refrigerator. If the punch starts to thaw too quickly, simply place it back into the freezer for a little while.
Place some of the slushy punch into a pretty punch bowl (filling the bowl about 1/2 to 2/3 full). Add chilled ginger ale to the punch until the punch bowl is full.
Serve.
Notes
You can make this punch and freeze it two to three weeks in advance - remember not to add the ginger ale until right before serving. Optional: Freeze sliced strawberries in an ice cube tray with a little bit of ginger ale and add to the punch right before serving. If you would like to make this alcoholic, simply add vodka to taste.
Because Fantastic Red Party Punch was a HUGE hit, Anna and I overheard guests making comments like: "Wow, this punch is really good!" "This is wonderful!" "Can I have the recipe?"
Sure, you can!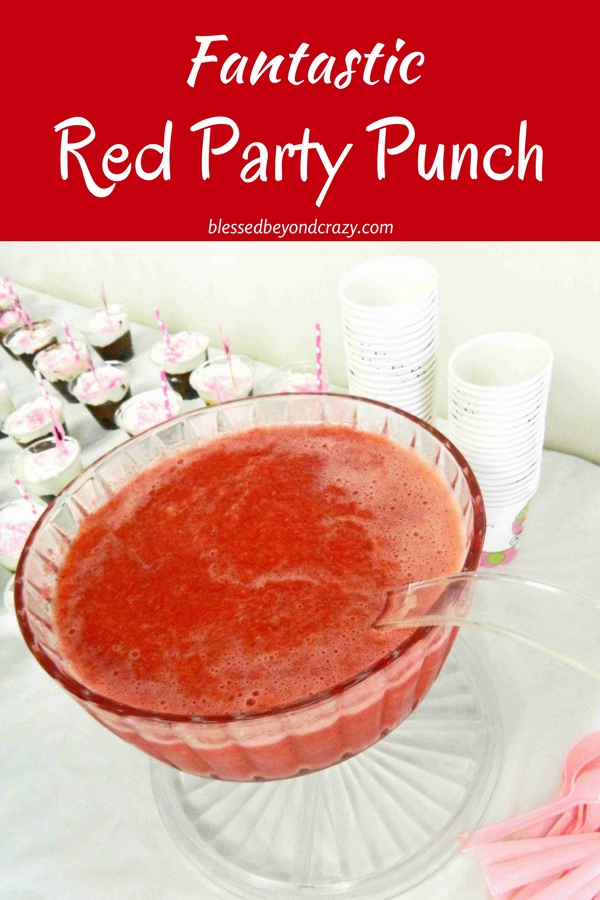 Enjoy!
Linda
More great ideas: