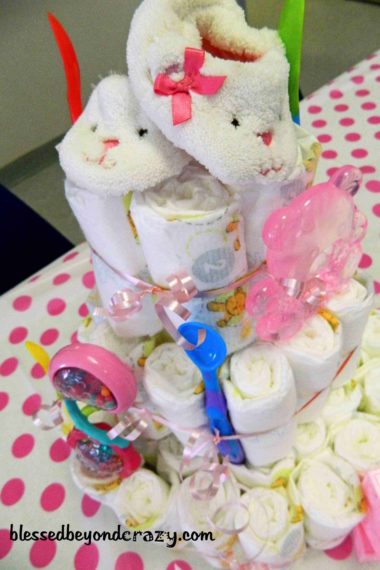 This past weekend I threw a baby shower for one of my best friends!
I don't know if you have ever thrown a baby shower, but they can be kinda stressful to plan. This is my friend's first baby and I wanted to make sure her shower was fun and adorable!
I've hosted/attended many showers, both bridal and baby, and it seems like most of the time people just don't get into the games. Once, I threw a bridal shower and we played a trivia-type game. Sadly, it ended up being a flop. I don't think anyone really thought that game was fun. People don't want to go to a shower and feel like they have to take a test or play a game that makes them feel stupid.
I didn't want to repeat the same mistake.
To help support our blogging activities, our site contains affiliate links. If you make a purchase from a link on our site, we may receive a small percentage of that sale, at no extra cost to you. Blessed Beyond Crazy is a participant in the Amazon Services LLC Associates Program, an affiliate advertising program designed to provide a means for sites to earn advertising fees by advertising and linking to amazon.com.
I started thinking about a game that my family usually ends up playing every holiday–we call it the 'name game'. It's a lot like charades. In the normal version, everyone writes down 3 names of famous people and the names go into a bowl. The group splits into two teams. But for the baby shower, I came up with a list of baby and pregnancy terms and put them into the bowl. The guests split into two teams. Here are the rules:
Baby and Pregnancy Charades
Round 1
In the first round, the players take turns acting and describing the word, (you can not say the actual word or any form of it), to get their teammates to guess the word.
Players are allowed to talk and act in order to get their teammates to guess correctly.
As soon as the team guesses correctly, the bowl gets passed to the next player on the same team, who pulls a slip of paper out and starts describing their word.
Each team gets one minute and then the next team gets a turn.
Go back and forth between teams, with one-minute intervals, until the bowl is empty.
Keep track of how many words each team guessed correctly.
Round 2
Put all the original slips of paper back into the bowl–Use the same words for this round!
Everything is exactly the same for this round except there is NO TALKING, only acting!
In round 1, encourage the players to really pay attention to what words are for both teams since the same words will be used in round 2. Team 1 could end up having some of the same words that team 2 had in the first round, and vice versa.
Let me tell you… round 2 is HILARIOUS! Especially with baby and pregnancy terms!! Everyone was laughing!
Just picture some of your friends or family members trying to act out words such as 'crowning', 'baby weight', or 'amniotic fluid'!
At the end of the game, whichever team had the most points wins, (duh!). I wasn't sure how many people would be at this shower so instead of getting an unknown number of prizes I let the winning team guess how many diapers were in the diaper cake. The person who guessed the closest won a prize -keep reading for more about this.
Here is the list of words that I used, please feel free to download and use this: Baby Shower Game
Just print this list off, cut the words out, and place it in a bowl. You can also change some of the words or come up with more of your own.
This game lasted about 15-20 minutes, which I thought was perfect. There were 20 people in this shower.
The prize for winning was pink fingernail polish. Obviously, if this was for a boy shower you could get blue or green polish. I dressed the polish up by adding ribbon and an index card that I stamped baby feet on. Super simple and I didn't have to wrap it up like a gift.
Now let me tell you about how simple it is to make a diaper cake!
DIY Diaper Cake
At my own baby shower, a friend made this absolutely adorable cake made out of diapers. I had never seen anything like it before and I thought it was genius. Well, that was before Pinterest and now it seems like every baby shower has one. I didn't want my friend to miss out, so I attempted one.
It was so simple and didn't take very long to make. Plus this has to be the most adorable way to receive diapers, and diapers are such a practical gift! 
You can make the cake as big or small as you want. As you can see, I made 3 layers.

Start with a diaper, facing down.
Roll at the fold.
Tape the diaper to itself to hold it together. Don't skimp on the tape, I ended having to re-tape a lot of the diapers.
To make the layers: form the diapers in the shape and size you want and tape them together.
For the smaller layers, I used rubber bands. It was a lot easier and held them together well. For the bottom layer, I used a rubber band on the inner part of the circle, then taped the rolled diapers to the outside of the smaller circle to make the overall circle larger.
The top layer had 7 diapers, the middle layer had 16, and the bottom had 39, for a total of 62 diapers. At the shower whoever guessed the closest number of diapers won a prize.
I didn't attach the layers to each other, I just sat them on top of each other and didn't have any problems with stability.
Next, I had some pink ribbon that I tied around each layer to hide the rubber bands and tape and to make it look pretty.
At this point, you can be done or you can embellish your cake however you want. I got a teething toy, rattle, baby spoons, bottle brush, blocks, and baby slippers to use as the cake topper.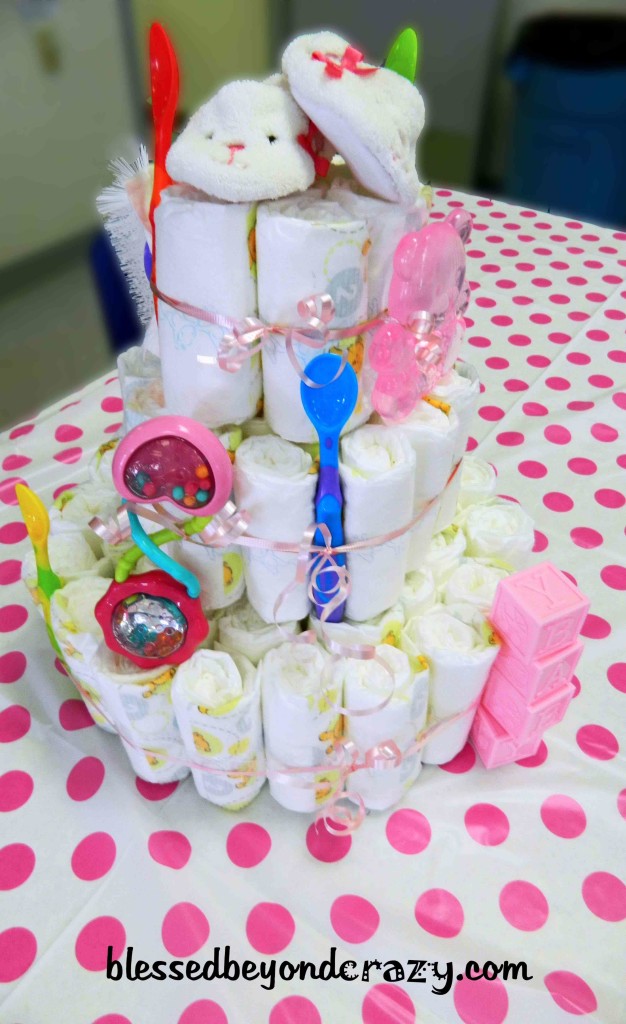 I used the ribbon to tie the teething toy and rattle it to the ribbon around the middle layer. I stuck the brush and the spoons in between the diapers, and just placed the slippers on top.
Anything baby-related that is small could easily be attached to this cake. Some other options for embellishments are baby washcloths, pacifiers, shoes, socks, hats, stuffed animals, etc.
I also believe that this cake can still be possible if you use cloth diapers.
Don't let this intimidate you! It really isn't hard!
If you are looking for ideas on what to serve at a baby shower (or any party) I highly recommend this Fantastic Red Party Punch. It was a HUGE hit at this shower!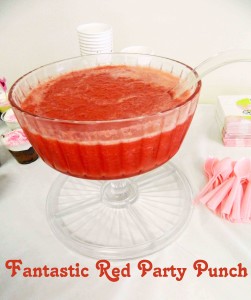 If you have other creative ways to give diapers, I would love to hear about it!
Anna
Find me on Facebook.