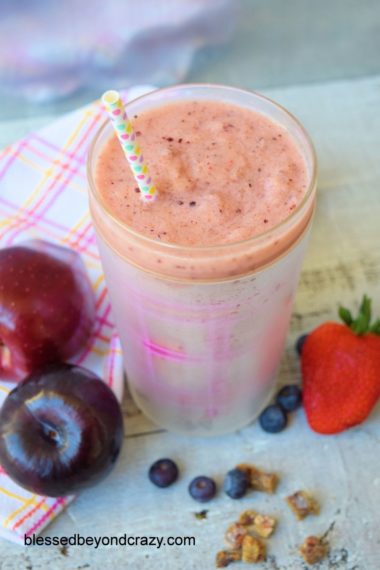 In today's post, let's talk about something rather personal. It's an issue that haunts many people on a relatively frequent basis. Let's talk about constipation. The struggle can be very real. That's why I wanted to share with you a secret weapon that I personally use whenever it's needed. It's an All-Natural Colon Cleanse Slushy! Not only is it effective, but it's also naturally gluten-free, paleo, vegan and vegetarian. Plus, it's absolutely delicious!  
To help support our blogging activities, our site contains affiliate links. If you make a purchase from a link on our site, we may receive a small percentage of that sale, at no extra cost to you. Blessed Beyond Crazy is a participant in the Amazon Services LLC Associates Program, an affiliate advertising program designed to provide a means for sites to earn advertising fees by advertising and linking to amazon.com.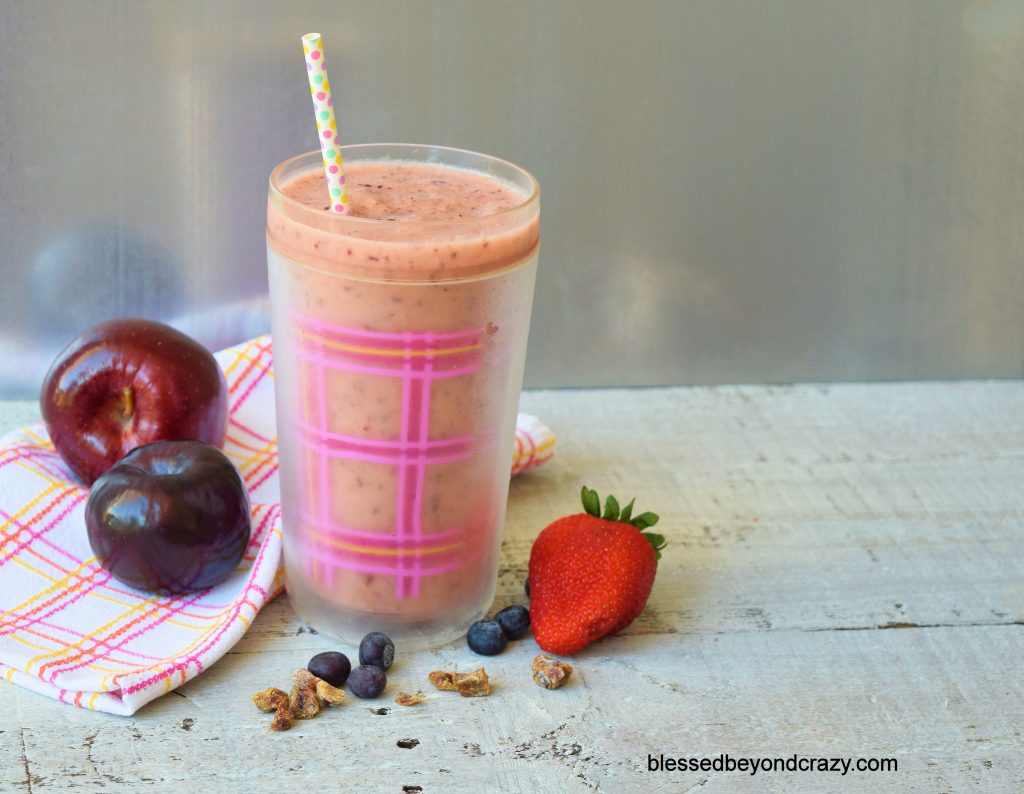 Most people suffer from occasional constipation. Oftentimes it hits when someone is traveling and can result from a dietary change, a lack of fiber, certain medications, not enough water intake, and/or very little exercise (just to name a few). No matter the cause, we all know that being constipated can cause physical discomfort such as abdominal bloating, headaches, sluggishness, and overall malaise.
Well, there's no need to suffer in silence any longer! Help is on the way!
First of all, because I am not a medical professional I cannot give you the exact science behind the ingredients and I cannot claim this slushy is medicinal. However, I can share with you a few snippets of what I do know, as well as tell you that drinking an All-Natural Colon Cleanse Slushy works for me! 🙂 Oh, did I mention… it's scrumptious!
So… grab your blender and let's whip up an All-Natural Colon Cleanse Slushy!
An All-Natural Colon Cleanse Slushy consists of six key ingredients. In addition to being all-natural, this recipe is naturally gluten-free, paleo, vegan, vegetarian, dairy-free, soy-free, dairy-free, and corn-free.
You've probably heard someone say, "An apple a day keeps the doctor away." So what's so impressive about apples? Well, check out the following articles on the amazing health benefits of eating apples:
Next up on the list – healthy plums. For this recipe, you can use either fresh plums (my first choice) or dried prunes. Either will work well, although the texture and taste of your slushy may vary slightly when using prunes. When using dried prunes in place of fresh plums, I suggest using preservative-free prunes such as:
Sunsweet D'Noir Prunes are simply preservative-free pitted California prunes and are exceptionally moist and work well in this slushy.
The third key ingredient is the mighty date. The addition of two or three Medjool dates adds sweetness and some pretty amazing health benefits such as:
TIP: If you soak chopped dates in just a small amount of water for a few minutes beforehand, they will blend much better in the slushy.

Flaxseed is fourth on the list. I prefer ground flax, although you can also use whole flax seeds. These tiny little gems have a wide array of health benefits such as:
The addition of a small amount of coconut milk helps combine all of the ingredients. Although coconuts are high in saturated fats, they're not entirely bad for you. Since much of the saturated fat content is lauric acid, coconut can actually help boost your "good" cholesterol and help reduce your risk of heart disease.
Here are a few other health benefits of coconut:
Berries are the final ingredient in an All-Natural Colon Cleanse Slushy. I personally like to add three to four large strawberries and just a few blueberries. However, you can also add a few raspberries, bananas, blackberries, pineapple, mango, kiwi, etc…
Health benefits of strawberries and blueberries:
One full recipe will yield approximately 6 cups depending on how much fruit and how much ice you use. I suggest dividing the mixture into three separate batches. Drink 2 cups and freeze the remaining mixture. When you need another slushy, simply thaw it out a bit and place the frozen mixture in your blender. Add a little more coconut milk and ice and you're good to go – (no pun intended! Lol)
All-Natural Colon Cleanse Slushy
---
Linda Wiseman
Yields 6 cups
A delicious all-natural slushy that aids in the relief of constipation.
15 minPrep Time
15 minTotal Time
Ingredients
1 medium size apple, cored but not skinned
1 large pitted fresh plum OR 3 - 4 dried preservative free prunes
1 - 2 Medjool pitted dates (Optional: chop & soak in a little water to soften)
2 heaping tablespoons ground flaxseed
1/2 cup unsweetened coconut milk (I use original)
4 - 6 strawberries, stemmed
Small handful of fresh blueberries
Approx. 2 cups ice cubes: increase or decrease the amount until desired consistency.
Instructions
Core apple, cut into segments and place in blender.
Add plums, dates, flaxseed, coconut milk and berries. Blend until well combined.
Add ice, blend until mixture is a slushy texture. Adjust the amount of ice according to desired consistency.
Serve.
Notes
I recommend drinking the slushy in the late afternoon or early evening hours. Be sure to have plenty of water throughout the day as well. Feel free to add other fresh fruit in place of, or along with, the strawberries and blueberries. Feel free to divide mixture, consume a few cups and freeze the rest. When needed, place frozen mixture into blender, add a few splashed of coconut milk and ice, blend well, serve.
7.8.1.2
179
https://blessedbeyondcrazy.com/all-natural-colon-cleanse-slushy/
www.blessedbeyondcrazy.com
My personal regimen:
I drink plenty of water throughout the day and have a salad for lunch. In the evening I eat an early dinner and then enjoy a generous portion of All-Natural Colon Cleanse Slushy sometime in the early evening hours. Upon rising the next morning I drink a cup or two of caffeinated tea and eat a normal breakfast (or you could drink coffee as well). Within 30 minutes I'm seeking out a bathroom and all is well. 🙂
Here's to a healthy and happy body!
Enjoy!
Linda
More great ideas: