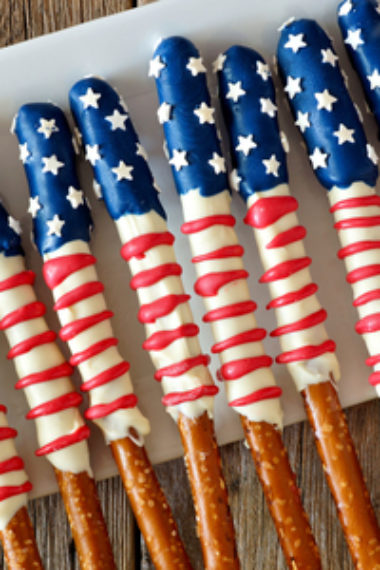 Summer is packed full of outdoor activities so who wants to spend a lot of time in the kitchen? Especially when getting ready for a 4th of July celebration! That's why these 10 Quick and Easy Patriotic Appetizers are perfect for an Independence Day party.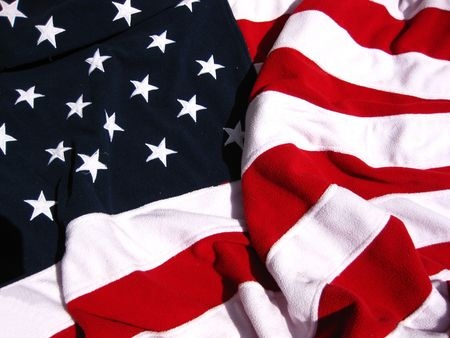 It seems that at any party, people love to graze and the 4th of July is no exception. That's what makes today's post so great. Each patriotic appetizer is quick and easy to assemble and there's no baking required. So let's get started, shall we?
To help support our blogging activities, our site contains affiliate links. If you make a purchase from a link on our site, we may receive a small percentage of that sale, at no extra cost to you. Blessed Beyond Crazy is a participant in the Amazon Services LLC Associates Program, an affiliate advertising program designed to provide a means for sites to earn advertising fees by advertising and linking to amazon.com
Bruschetta Sandwiches
The first recipe on the list of 10 Quick and Easy Patriotic Appetizers is tasty Bruschetta Sandwiches.
Ingredients:
bruschetta or crostini

ricotta

blueberries

strawberries

fresh mint
Generously slather ricotta on each slice of bruschetta or crostini and top with fresh blueberries and strawberries. Garnish with fresh mint leaves. Serve.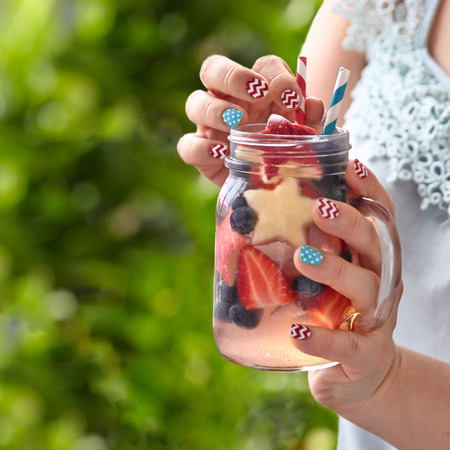 Patriotic Sangria (Non-Alcoholic and Alcoholic)
We can't serve finger foods without including a tasty beverage recipe, can we? That's why we are concocting a delicious Patriotic Sangria recipe next.
Ingredients for Non-Alcoholic:
A 64-ounce bottle of Welch's 100% White Grape and Peach Juice (chilled)

2-liter bottle of 7-Up or Sprite (chilled)

Red Delicious apples

blueberries

strawberries
Pour each bottle of chilled juice and soda into a large punch bowl. Cut apples in half. Using a star-shaped cookie cutter, cut apples into star shapes and add them to the pitcher along with blueberries and sliced strawberries. Stir, add ice. Serve.
Additional ingredients for an Alcoholic version:
1 – 2 bottles of white wine (use in place of soda)

1/2 cup triple sec (or to taste)

1/2 cup fruit-flavored vodka (or to taste)

3 tablespoons superfine sugar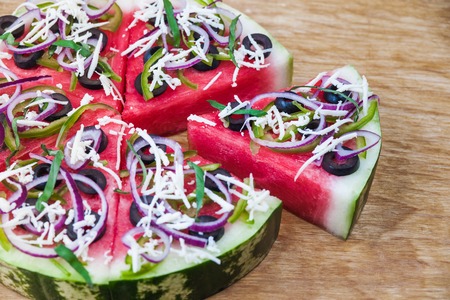 Watermelon Pizza
Watermelon is so refreshing and this appetizer couldn't be any simpler!
Ingredients:
large seedless watermelon (chilled)

1 green bell pepper

black olives

small red onion

desiccated coconut

fresh basil

Optional – feta cheese & fresh blueberries
Cut watermelon into thick round slices. Cut each round slice into wedges. Slice bell pepper, onion, and olives into thin strips, sprinkle on top of each watermelon slice. Garnish with coconut and fresh basil (optional toppings: feta cheese and blueberries). Serve.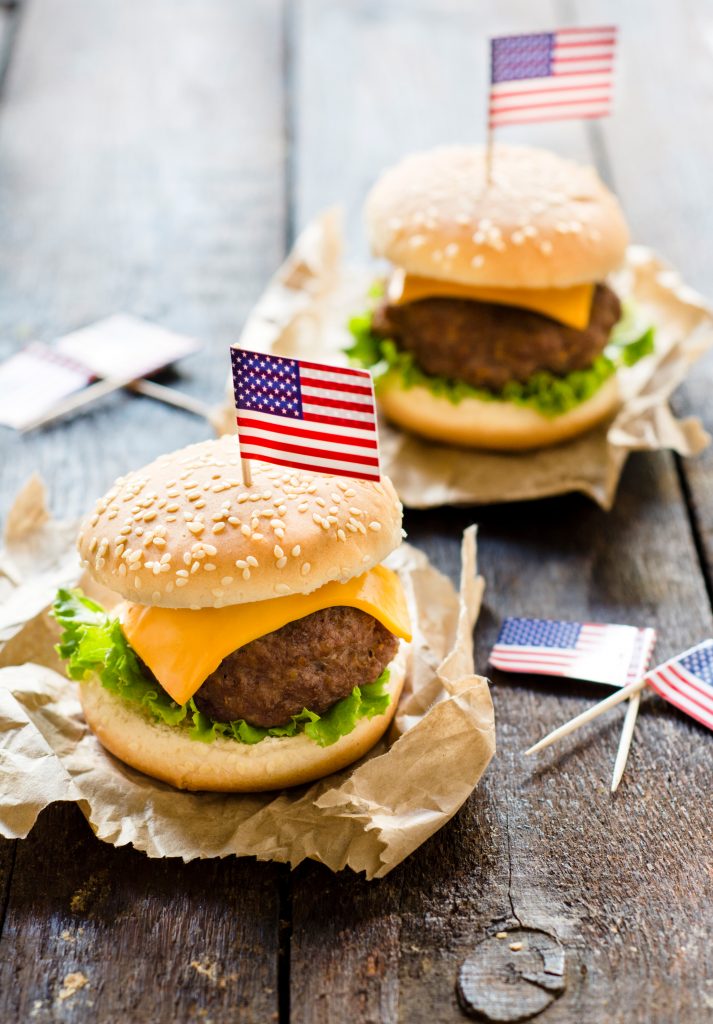 Mini Burgers
What would the 4th of July be without some type of burger? Rather than provide you the recipe for hamburgers I'm going to share a link to our blog post where you can find the Secret to the Best Hamburgers. Make the hamburgers according to the recipe in the post and make the patties small enough to fit into a mini bun.
You'll also need: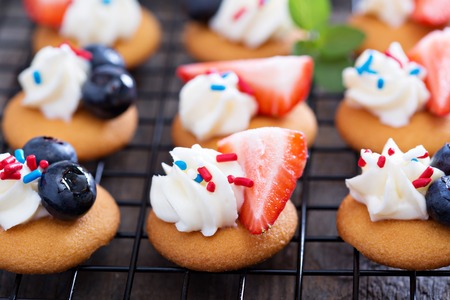 Red, White & Blue Berry Bites
Next on our list of 10 Quick and Easy Patriotic Appetizers are these adorable little Red, White, and Blue Berry Bites!
Ingredients:
Place a single layer of vanilla wafers onto a cooling rack. Cream together the cream cheese and powdered sugar, place the mixture into a piping bag with a star-shaped icing tip. Put one small dollop of cream cheese mixture on top of each vanilla wafer. Top with blueberries, slices of strawberries and sprinkles. Serve.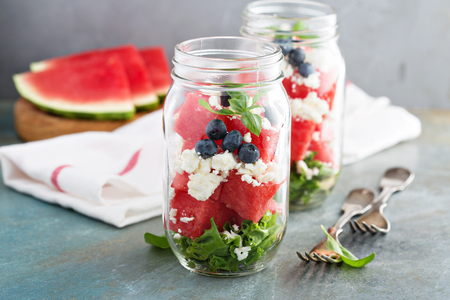 Watermelon Salad in a Jar
Grab your Mason jars and let's make scrumptious Watermelon Salad in a Jar!

Ingredients:
seedless watermelon (cubed)

blueberries

feta cheese

leaf lettuce

fresh mint
Place a layer of lettuce in the bottom of your jars. Add watermelon cubes and sprinkle with blueberries and feta. Garnish with mint. Serve.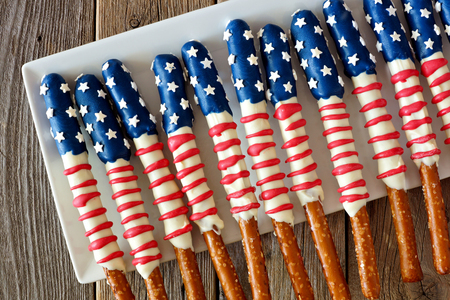 Patriotic Pretzels
These Patriotic Pretzels are as much fun to make as they are to eat!
Ingredients:
Melt the white candy melts according to the package directions. Dip each pretzel about 2/3 of the way down, set aside to dry. Melt the blue candy melts, dip the ends of each pretzel about 1/4 of the way down, and add white candy stars while the candy melt is still soft. Melt red candy melts, place into a baggie, and cut off the tip on one side, drizzle lines over the white section on each pretzel. Allow candy to melt to harden. Serve.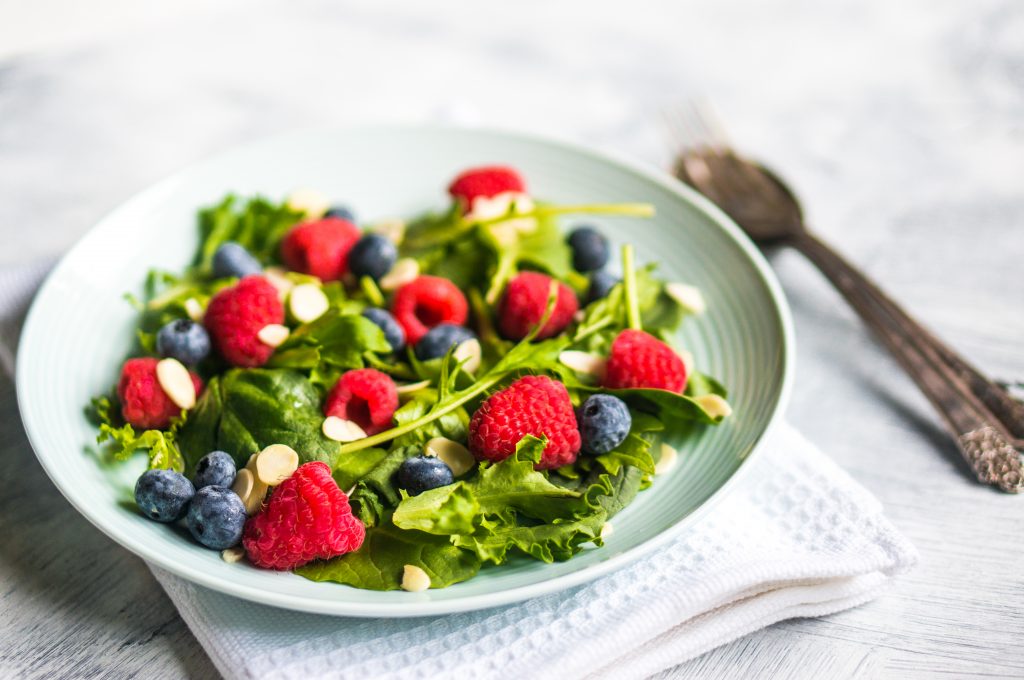 Red, White, and Blue Salad
This colorful Red, White, and Blue Salad is a wonderfully healthy appetizer.
Ingredients:
leaf lettuce

blueberries

raspberries

almond slices
Simply layer all of the ingredients and serve with your favorite salad dressing.
Fruity Chocolate Waffles
Fruity Chocolate Waffles are for those guests who enjoy an appetizer a little on the sweet side.
Ingredients:
Since food presentation is important I recommend serving this tasty appetizer in an attractive appetizer holder. Layer waffle segments and fruit. Garnish with fresh mint and a dusting of powdered sugar. Serve.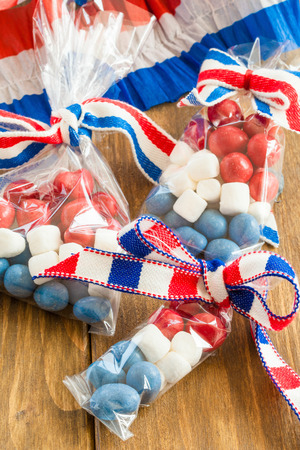 Patriotic Treats
The last on our list of 10 Quick and Easy Patriotic Appetizers are cute little packages of Patriotic Treats.
Ingredients:
Place blue peanut candies in the bottom of each baggie. Add a few marshmallows and top with red peanut candies. Tie a ribbon around the top of each bag.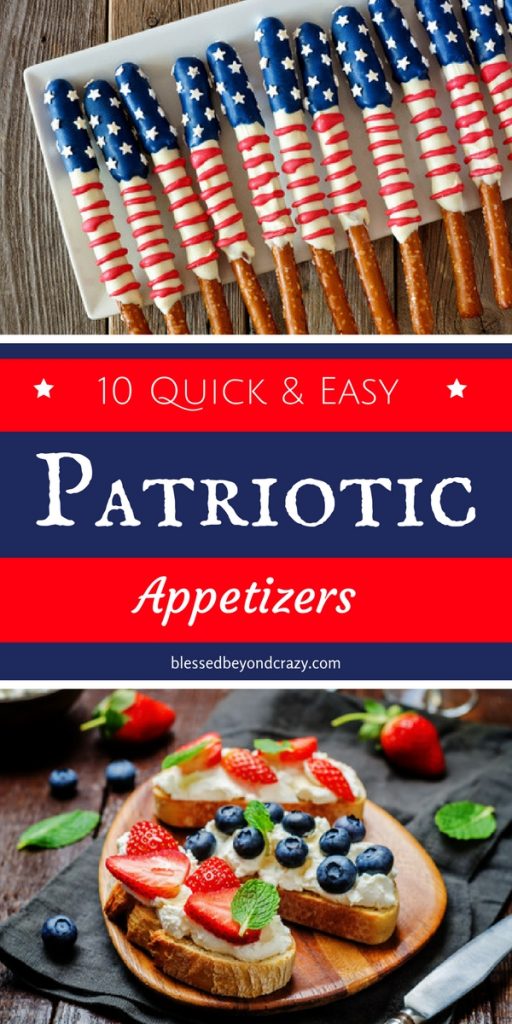 Happy birthday America!
Enjoy!
Linda
More great ideas: