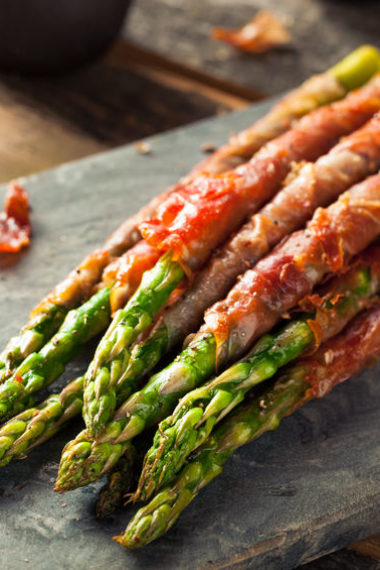 Growing up on a farm meant that we ate fresh asparagus from the garden every spring. Most of the time mom pan-fried the asparagus in melted butter with a light sprinkle of salt.  Over the past several years, I have also started making delicious prosciutto asparagus. This recipe has quickly become one of my favorite ways to enjoy this tasty vegetable. 

To help support our blogging activities, our site contains affiliate links. If you purchase from a link on our site, we may receive a small percentage of that sale, at no extra cost to you. Blessed Beyond Crazy is a participant in the Amazon Services LLC Associates Program, an affiliate advertising program designed to provide a means for sites to earn advertising fees by advertising and linking to amazon.com. As an Amazon Associate, I earn from qualifying purchases.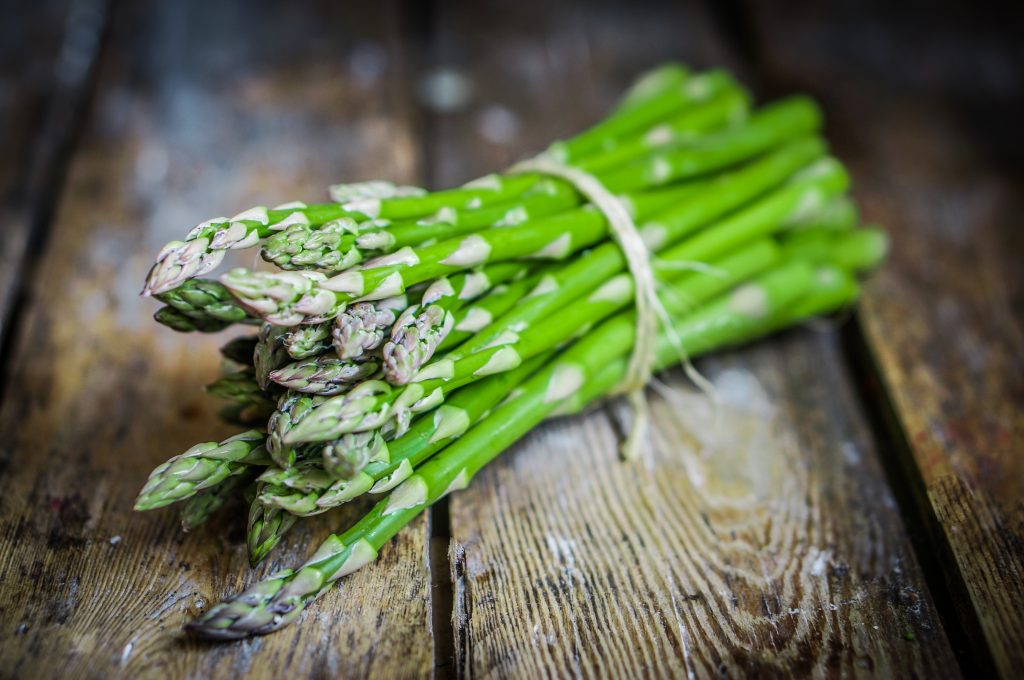 In case you didn't know, eating asparagus will make your pee smell (I thought I was dying before I realized that asparagus was the culprit!). However, despite this side effect, it has some amazing health benefits that make it worth it.
If you do a little research you'll find the following health benefits:
Good source of fiber, folate, Vitamins A, C, E, and

K,

and chromium.

It helps protect against certain forms of cancer such as bone, breast, colon, larynx, and lung cancers. Asparagus contains glutathione a detoxifying compound that helps break down carcinogens and other harmful free radicals.

Asparagus is also packed with antioxidants.

It has anti-aging properties and helps our brains fight cognitive decline.

It's a natural diuretic.

Is low in fat and calories (1 cup = 32 calories)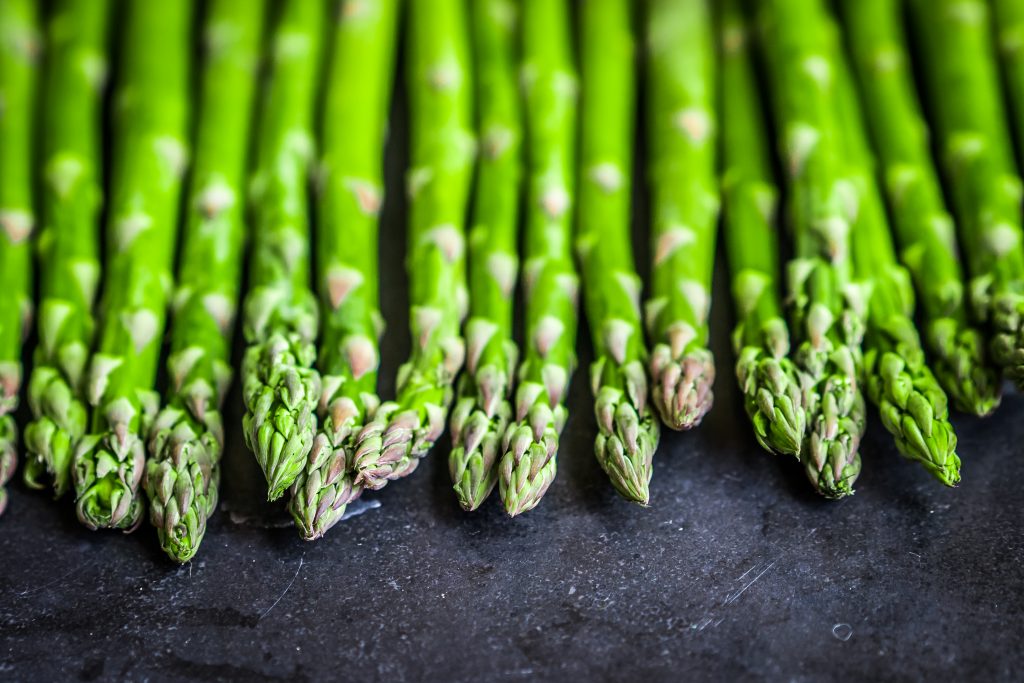 Prosciutto asparagus is great for kids because they can pick it up and eat it with their fingers. My grandchildren think it's fun to munch away on tasty asparagus spears with a touch of prosciutto.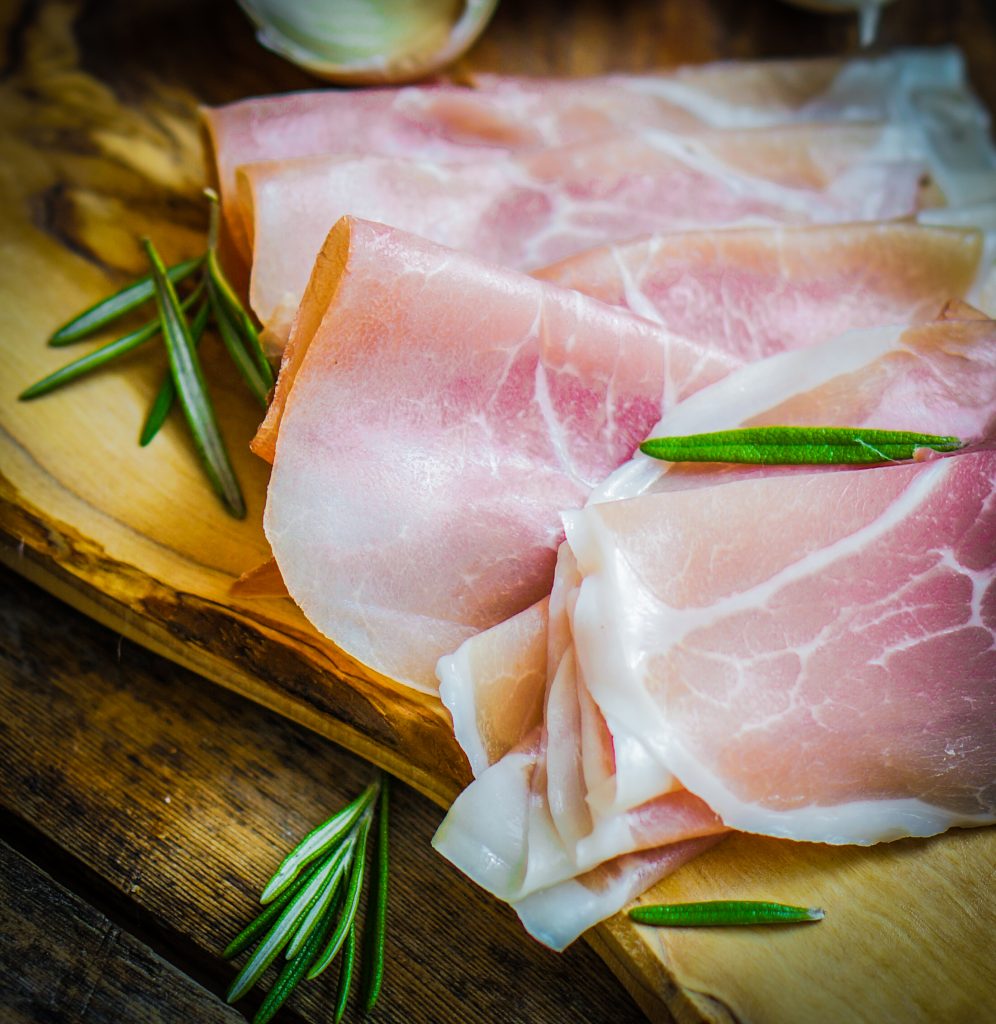 Prosciutto is a type of ham that's seasoned, salt-cured, and air-dried. It also has a bit of a sheen.
Since it is a slice of pretty salty meat, I normally do not add any additional salt to my prosciutto asparagus. Instead, I like to add a sprinkle of other seasonings such as garlic salt, lemon pepper, or black pepper.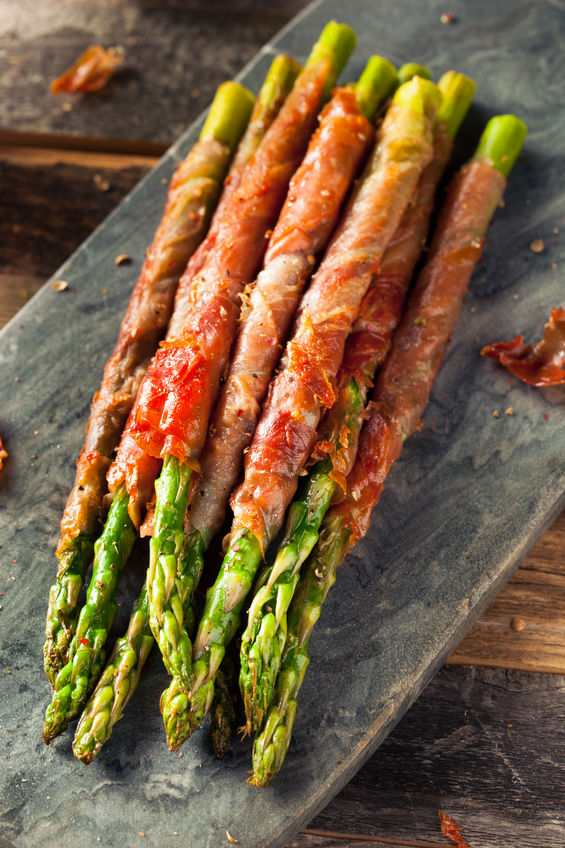 As you know, a great food presentation can help enhance the overall appeal of drinks, appetizers, desserts, and food in general. Using a slate serving tray is just one great way to display appetizers and treats of all kinds.
In addition, you can use soapstone chalk to write on the slate and label foods so your guests will know exactly what is being served. 
A delicious and extremely easy way to fix asparagus.
Ingredients
1 1/2 pounds fresh asparagus (try to use 3/4" and not pencil thin spears)
6 to 7 ounces Prosciutto
Garlic powder, lemon pepper or black pepper to taste
Olive oil
Optional: Parmesan cheese
Instructions
Preheat oven to 400 degrees F.
Rinse asparagus, pat dry and cut ends off of each spear.
Cut prosciutto in half, lengthwise.
Wrap a strip of prosciutto around a spear of asparagus, starting near the tip and working downward.
Place wrapped asparagus spears onto a parchment-lined baking sheet; leaving space between each spear.
Drizzle a small amount of olive oil over top of each spear.
Sprinkle with garlic powder, lemon pepper or black pepper.
Bake for approximately 10 minutes.
To make prosciutto crispy, broil for 1 - 2 minutes then turn and broil for another 1 - 2 minutes or until prosciutto appears crispy.
Serve immediately.
Optional: garnish with a sprinkle of Parmesan cheese.
Most prosciutto is naturally gluten-free, however, however always check the label. Another option is to contact the company and ask if their product is gluten-free.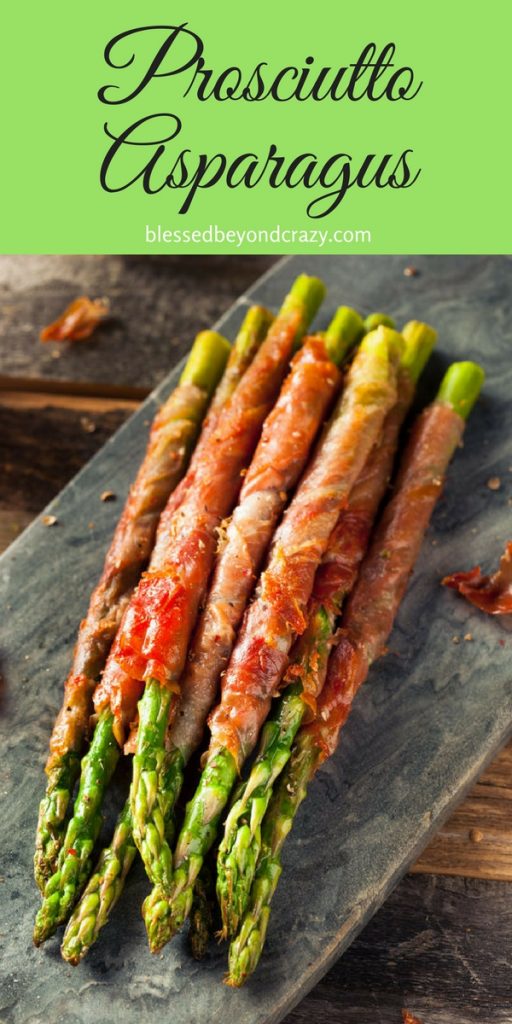 You can easily serve Prosciutto asparagus as an appetizer, or as a side dish. Either way, it's super yummy and a great way to get the kids to eat asparagus.
Enjoy!
Linda
More great ideas: