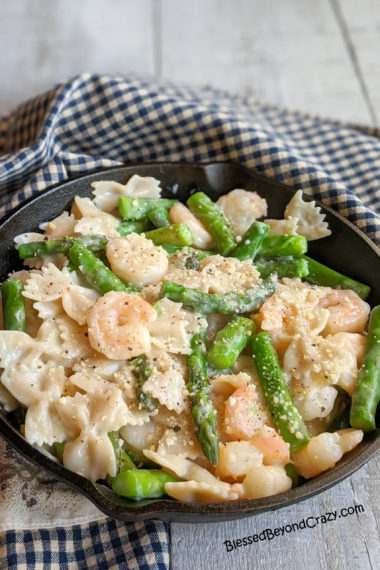 If you are looking for a quick and easy meal that's ready in just 30-minutes, Creamy Asparagus Shrimp Pasta Skillet certainly fits the bill. Not only is it gluten-free, but it's also satisfyingly scrumptious!
Let's take a look at a few of the key ingredients!

To help support our blogging activities, our site contains affiliate links. If you make a purchase from a link on our site, we may receive a small percentage of that sale, at no extra cost to you. Blessed Beyond Crazy is a participant in the Amazon Services LLC Associates Program, an affiliate advertising program designed to provide a means for sites to earn advertising fees by advertising and linking to amazon.com.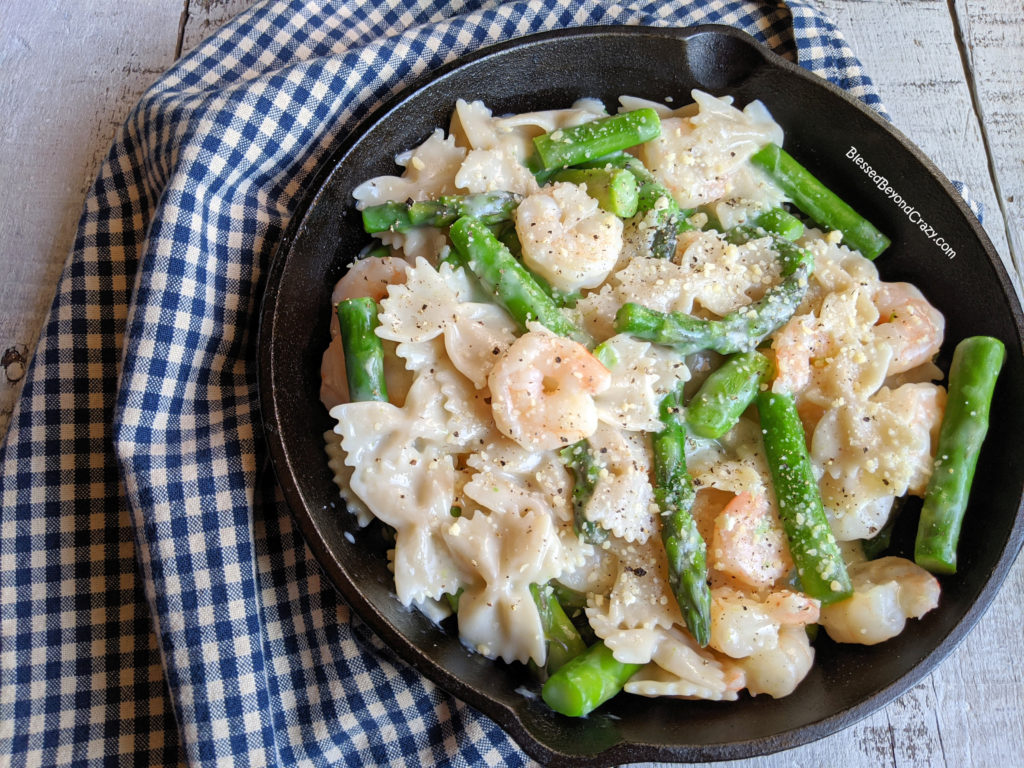 Cast-Iron Meals
It seems several of our favorite dishes here at Blessed Beyond Crazy are made using a cast-iron skillet. For example, Wake-Up Skillet Breakfast Hash, Low-Carb Spaghetti Squash Cajun Seafood Jambalaya, and Tamale Pie are just a few of our favorite skillet main meals.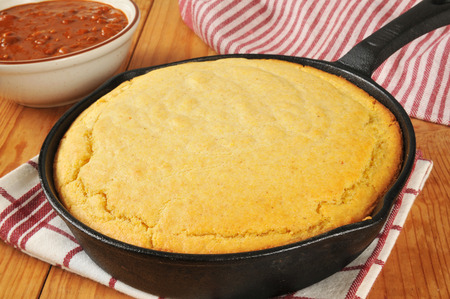 Cast-Iron Skillet Breads
We also enjoy Upside-Down Pecan Skillet Bread and Simple Golden Cornbread, which are also made in cast-iron skillets.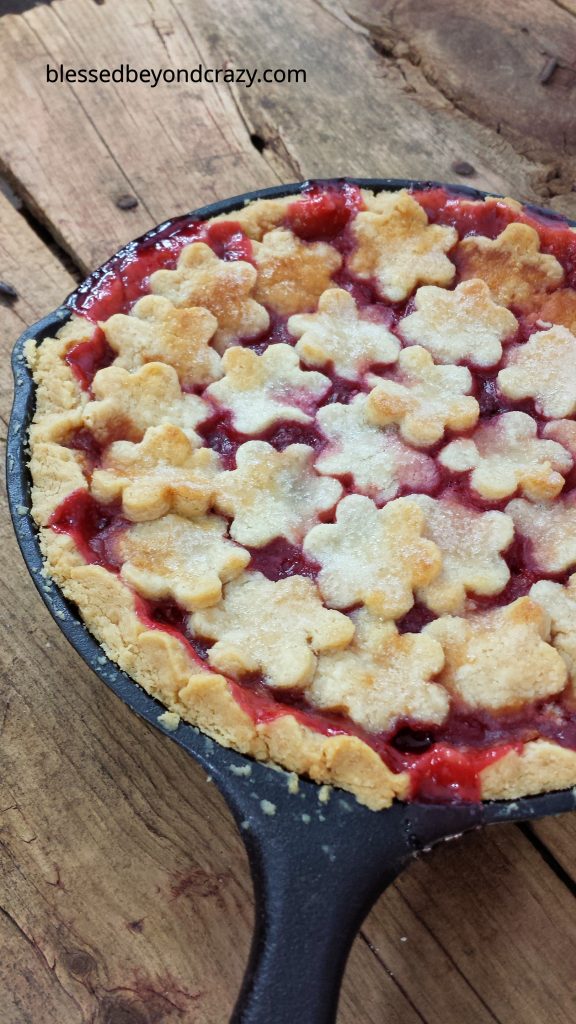 Cast-Iron Desserts!
Oh, but wait! There's more! Dessert can also be made in a cast-iron skillet! Our Mini Cast Iron Skillet Fruit Pies are especially delightful!


Asparagus
Okay, moving on… Personally, I love fresh, tender asparagus. That's probably because my mom has grown asparagus in her garden for as long as I can remember.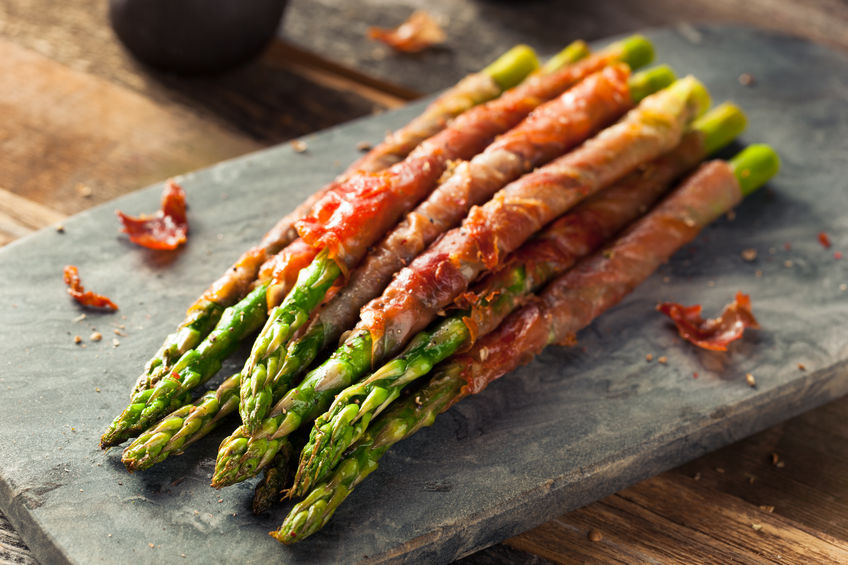 One of my favorite ways to fix asparagus is roasted Prosciutto Asparagus. However, asparagus is also delicious when it's grilled, steamed, or even eaten raw in salads.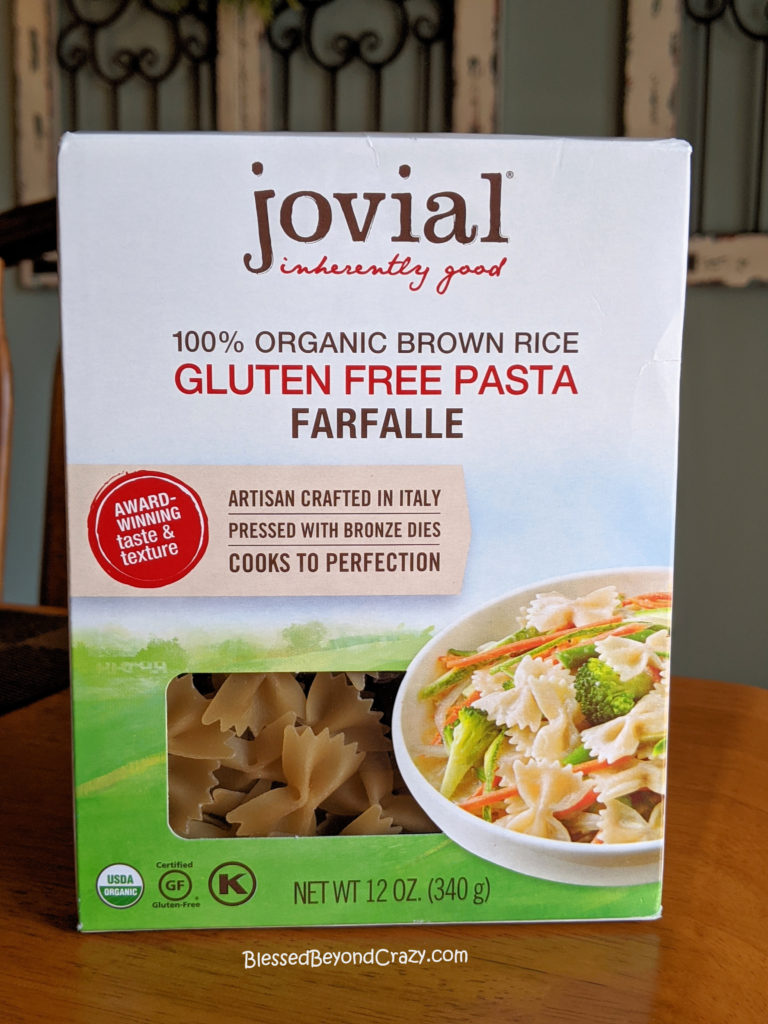 Gluten-Free Pasta
Through the years I have discovered that I really like Jovial gluten-free pasta. Just cook it according to the directions and it doesn't clump together, plus I love the flavor and texture.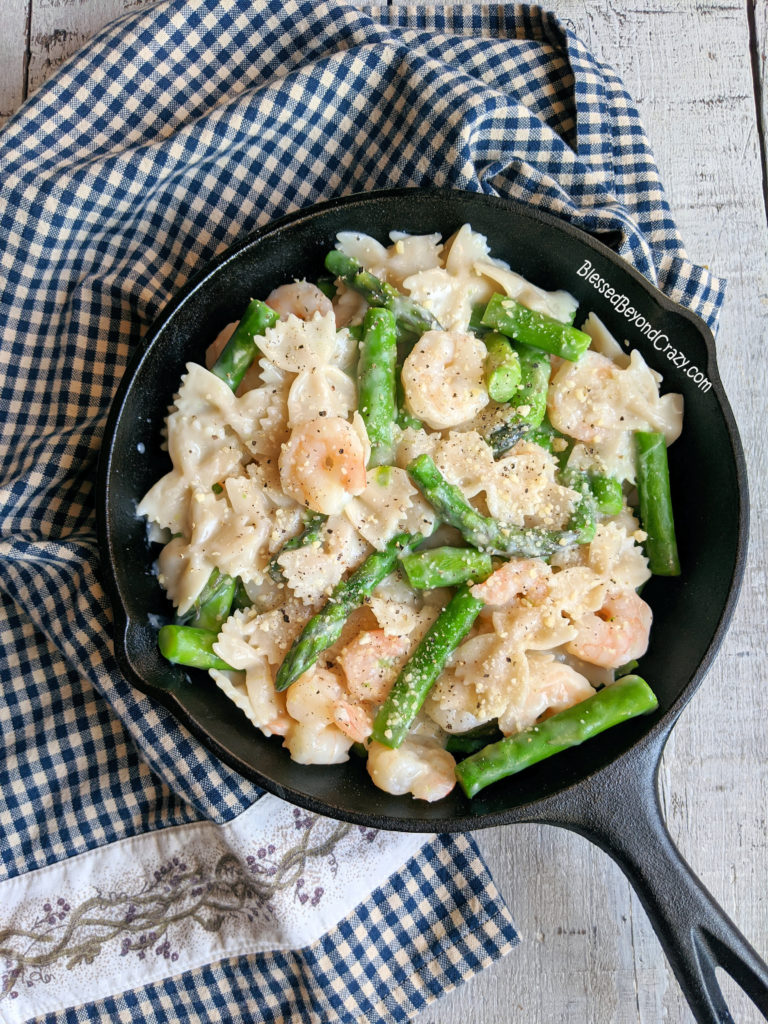 Seafood
My family also loves shrimp, well… seafood in general. But shrimp is probably at the top of the list. Especially grilled shrimp with garlic butter sauce! Yeah, baby! It's so good!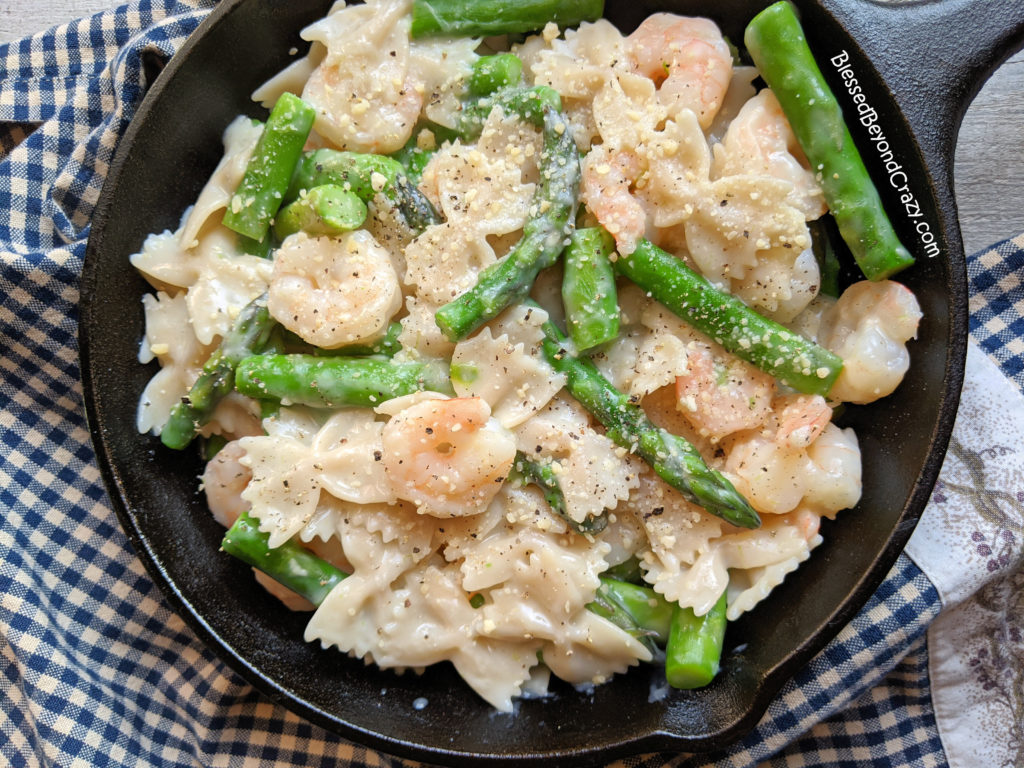 Change Things Up!
Besides being delicious just as is, many of the key ingredients in Creamy Asparagus Shrimp Pasta Skillet can easily be exchanged. For example, use salmon instead of shrimp and peas or broccoli in place of asparagus. To really make things interesting, double the sauce and add them all!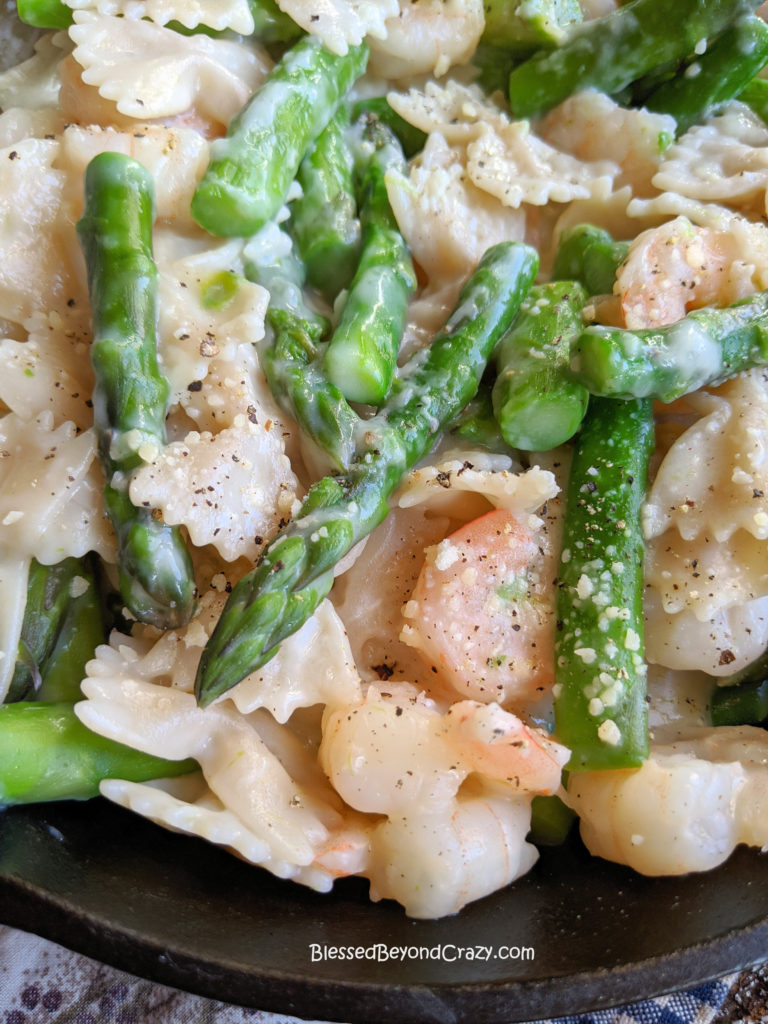 Don't you just want to grab a fork or spoon and dig in?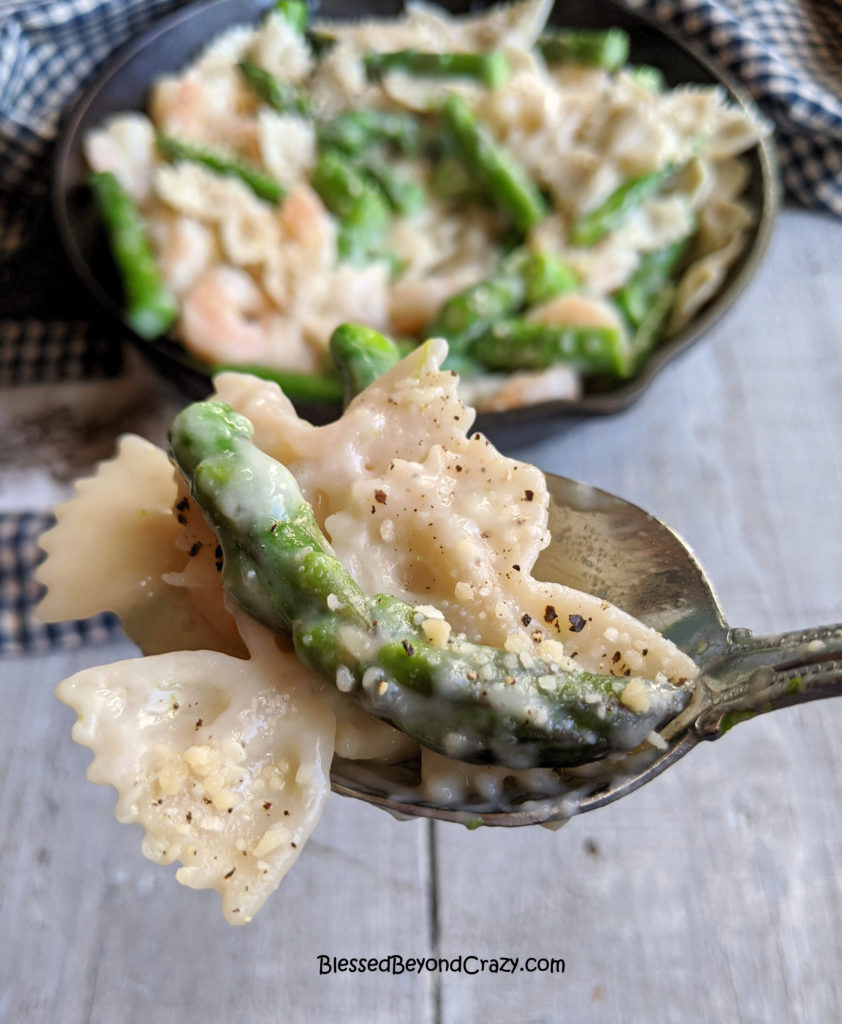 Deliciousness in Every. Single. Bite!
This meal comes together quickly and provides four of the main food groups: Meat/Seafood + Vegetable + Pasta/Carbs + Dairy + Fats/Oils. All you need is a little fruit on the side.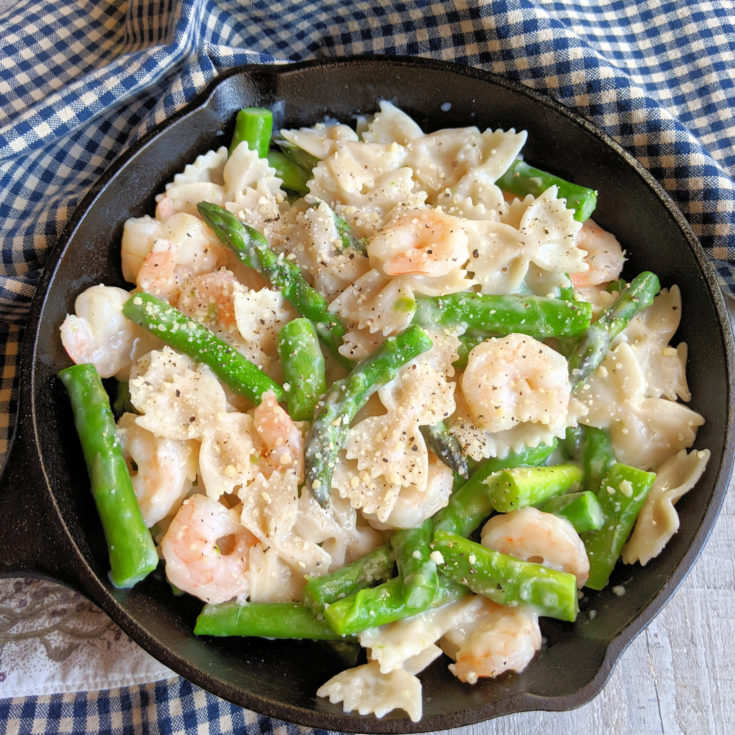 Yield:

4 Servings
Creamy Asparagus Shrimp Pasta Skillet (Gluten-Free)
A delicious and easy-to-make gluten-free pasta dish that your whole family will love.
Ingredients
1 (12-ounce) package shrimp, precooked
1 (12-ounce) package gluten-free bow tie pasta
2 Tablespoons butter (dairy-free option - use olive oil)
2 cloves garlic, minced
1/4 cup shallots, finely chopped
10 to 12 spears fresh asparagus, trimmed and cut into 2-inch pieces
1 teaspoon sea salt, or to taste
2 cups milk (or a dairy-free alternative such as coconut, almond, cashew, etc...)
1 Tablespoons cornstarch or arrowroot starch
1/4 cup water
1/2 cup grated Parmesan cheese (omit for dairy-free option)
Cracked black pepper for garnish
Instructions
Thaw shrimp if frozen; set aside.
Cook pasta according to packing directions; drain well, and set aside.
Melt butter in a skillet over medium-low heat. Add garlic, shallots, asparagus, and salt; cook asparagus approx. 2 minutes, or until asparagus is crisp-tender. Gradually stir in milk.
Place cornstarch (or arrowroot starch) in a cup. Whisk in 1/4 cup water to make a slurry. Gradually pour the slurry into a skillet, stirring constantly until sauce thickens.
Add shrimp, cooked pasta, and Parmesan cheese; cook until thoroughly heated. Add additional milk (if needed) to maintain a creamy consistency. Remove from heat.
Garnish with an additional sprinkle of Parmesan cheese and cracked black pepper.
Serve immediately.
Notes
Substitute shrimp with grilled or baked salmon.
Substitute asparagus with broccoli or peas.
Full Disclosure:
I am allergic to garlic and onions and therefore I must leave them out. This makes me sad because they really do add marvelous flavor.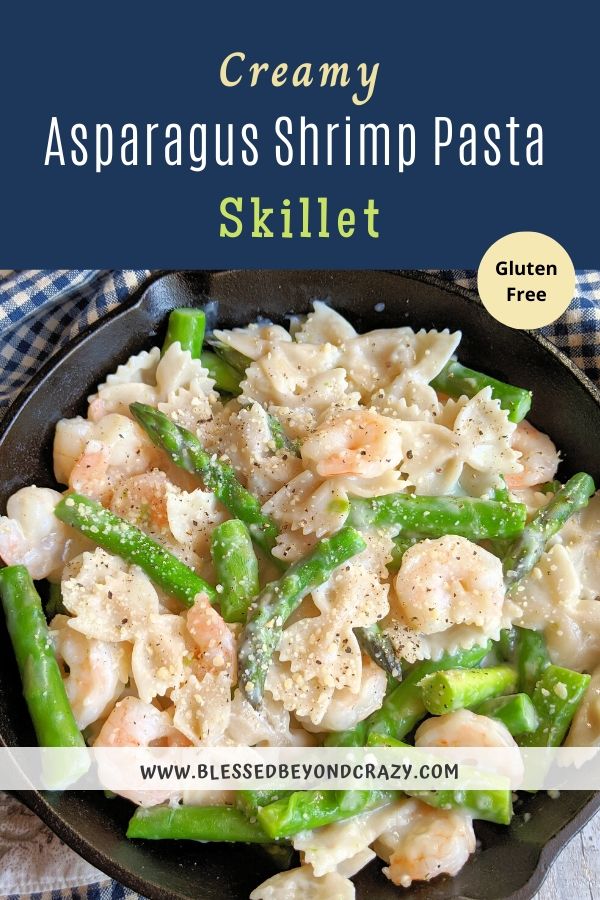 I hope that you enjoy Creamy Asparagus Shrimp Pasta Skillet as much and I do.
What is your favorite seafood and pasta dish?
Linda
More great ideas: