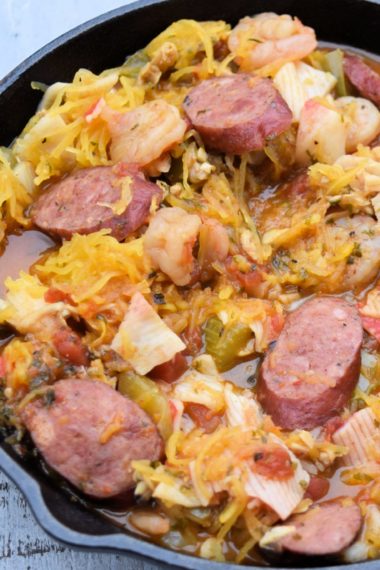 We need to talk. Why? Because I want to tell you about my new favorite obsession; spaghetti squash, AND… this tasty Low-Carb Spaghetti Squash Cajun Seafood Jambalaya! 
To help support our blogging activities, our site contains affiliate links. If you make a purchase from a link on our site, we may receive a small percentage of that sale, at no extra cost to you. Blessed Beyond Crazy is a participant in the Amazon Services LLC Associates Program, an affiliate advertising program designed to provide a means for sites to earn advertising fees by advertising and linking to amazon.com. As an Amazon Associate, I earn from qualifying purchases.
Recently, I have been on a mission to shed a few pounds and because spaghetti squash is low in carbs, it has quickly become a staple in my house. In addition, spaghetti squash is super versatile and easy to prepare. I enjoy a delicious meal made with spaghetti squash at least once, maybe twice a week.
First, I cut off the stem, cut the squash in half, and scoop out the seeds. Then I place approximately 1/2 inch of water into the bottom of a shallow baking dish. I sprinkle a little salt on the fleshy part of the squash and turn both halves upside down in the baking dish (see the picture above). Next, I microwave the squash on high for 20 – 25 minutes.
Now comes the fun part! Remove the squash from the microwave and flip the halves over. Using the prongs of a fork, gently "fluff" the squash (it should resemble spaghetti noodles like in the picture above). Sometimes for a quick and easy meal, I top the squash "noodles" with a tasty made from scratch spaghetti sauce or seasoned cooked shrimp with fresh parsley and a sprinkle of grated Parmesan cheese. YUMMY!
According to the USDA (United States Department of Agriculture), one cup of cooked, unsalted spaghetti squash = 6.46 grams of carbohydrates. You can research specific food items and their nutrients on the USDA website – HERE.
Okay, let's move on to this Spaghetti Squash Cajun Seafood Jambalaya. While the squash was cooking in the microwave, I heated a little olive oil in my 12″ cast iron skillet. When the oil was hot, I sauteed chopped onion, celery, green peppers, sliced mushrooms, and minced garlic.
The next step was to add diced tomatoes, chicken broth, Worcestershire sauce, salt and pepper, and a touch of Cajun seasoning.
Now it was time to add Andouille sausage and let it cook for approximately 10 minutes followed by adding shrimp, clams, and crabmeat to the mixture. I served the jambalaya over a bed of hot spaghetti squash noodles.
It seems like the cooking times of both the squash and jambalaya are very close. I always start cooking the squash at the same time as the jambalaya. However, simply leave the squash sit in the microwave if it's finished before the jambalaya is ready.
Maybe Andouille is too spicy for you, therefore, feel free to substitute with smoked sausage or leave it out altogether. Furthermore, feel free to add crawfish to the mix! This dish is tasty either way!
Do you love Louisana cuisine? If so, you will probably love making your own Low-Carb Spaghetti Squash Cajun Seafood Jambalaya!
Full disclosure – since I have food allergies to both garlic and onions I make a separate recipe just for me and also use less spicy ingredients. This is especially relevant because I want to encourage you to tweak this recipe to suit your own dietary needs.
Enjoy!
Linda
More great ideas: