First of all, I can't begin to tell you how much my family and I enjoy a good BBQ. Therefore I fire up the grill just as soon as the weather permits. Alas, today is not one of those days because it's SNOWING! No worries! That just makes today a good day to stay tucked indoors and make this tasty Baked BBQ Chicken!!!
To help support our blogging activities, our site contains affiliate links. If you make a purchase from a link on our site, we may receive a small percentage of that sale, at no extra cost to you. Blessed Beyond Crazy is a participant in the Amazon Services LLC Associates Program, an affiliate advertising program designed to provide a means for sites to earn advertising fees by advertising and linking to amazon.com.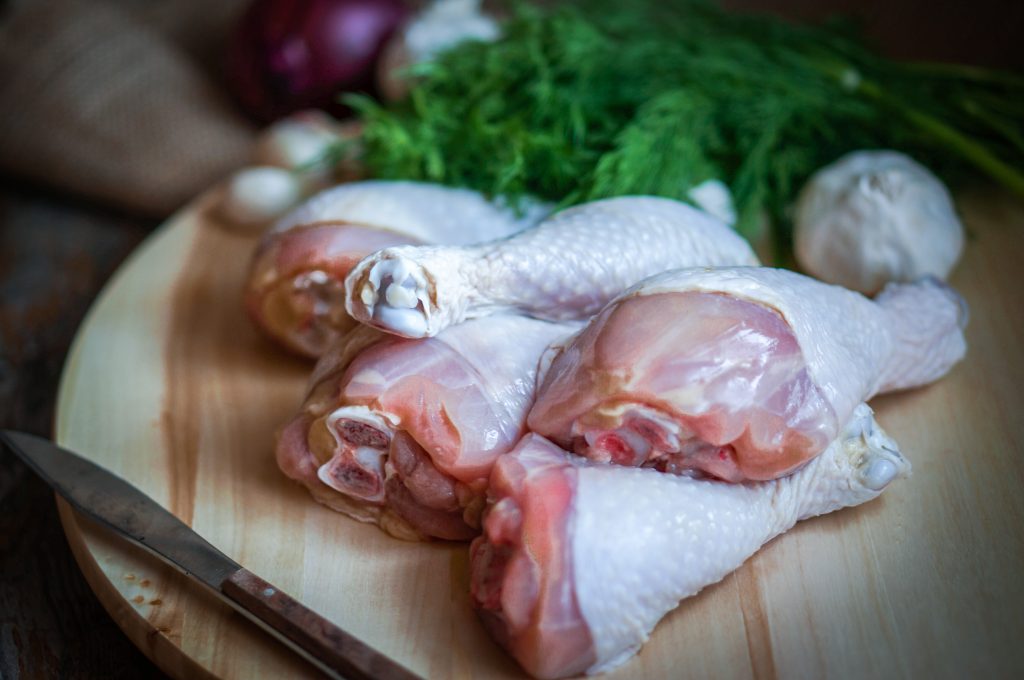 One of my favorite things to BBQ on the grill is chicken legs. Probably because they are easy to grill, perfect for our small grandchildren, and something they can eat with their hands. As a result, I seem to make this recipe a lot!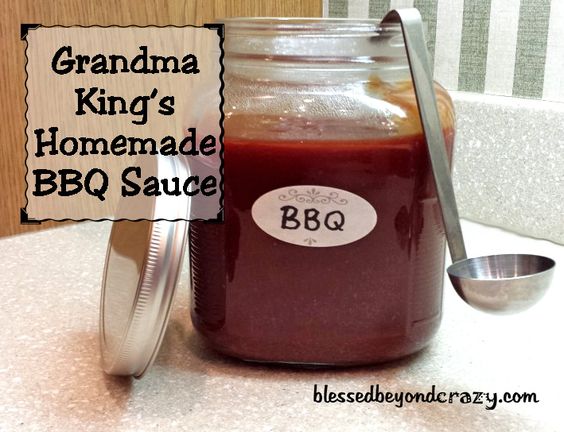 To make Baked BBQ Chicken I recommend using our homemade recipe for Grandma King's Homemade BBQ Sauce. This is my all-time favorite BBQ sauce because it's gluten-free, plus the recipe is easy to tweak to give it more or less sweetness and more or less kick.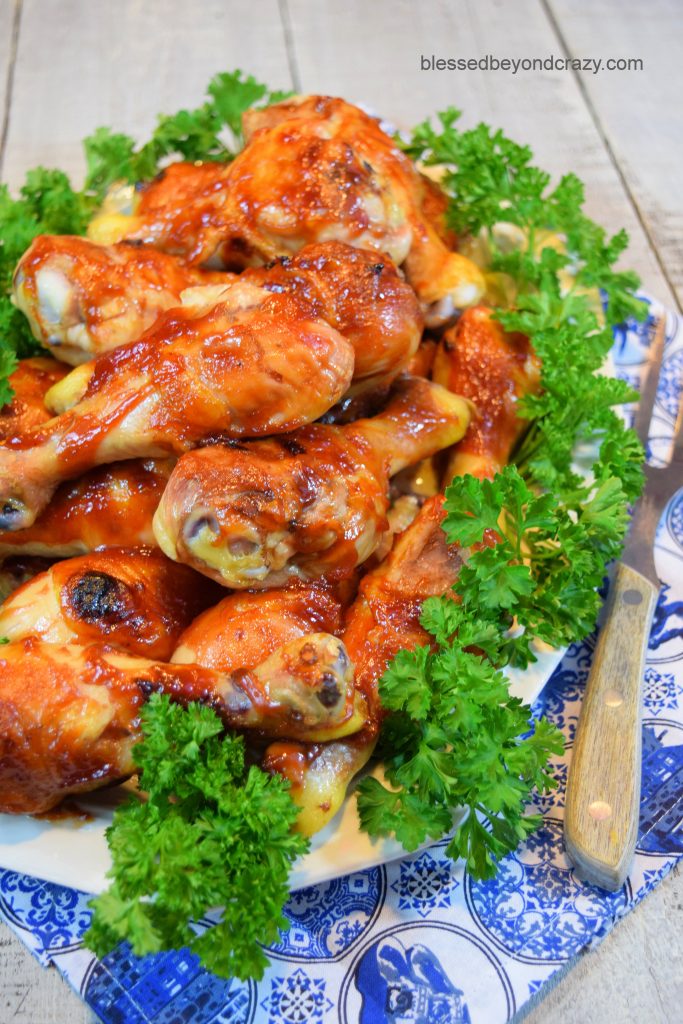 Another great tip I recommend is to line a 10″ x 15″ jelly roll pan with a Pyramid Pan because:
Allows air to circulate under food.

Leaves food juicy and evenly cooked.

Rolls up for easy storage.

Can be cut to the size you need and used as a non-skid base or trivet.

Withstands up to 428 degrees of heat.

Dishwasher safe and microwave safe.

Measures 16.25-inches x 11.5-inches.

Silicone is non-stick.

Is fat reducing because grease and drippings stay on the bottom of the baking mat so your food turns out light and crispy (especially breaded foods).
Because this baking technique works so well, feel free to use other cuts of chicken such as thighs, wings, or a breast. Just remember to adjust your baking time because various cuts of meat require different cooking times. Rather than guessing, I like to use a meat thermometer to make sure chicken is fully cooked to the recommended temperature of 165 degrees Fahrenheit. There's nothing worse than serving undercooked meat and consequently, it's not safe to eat either! So take extra precautions and always check.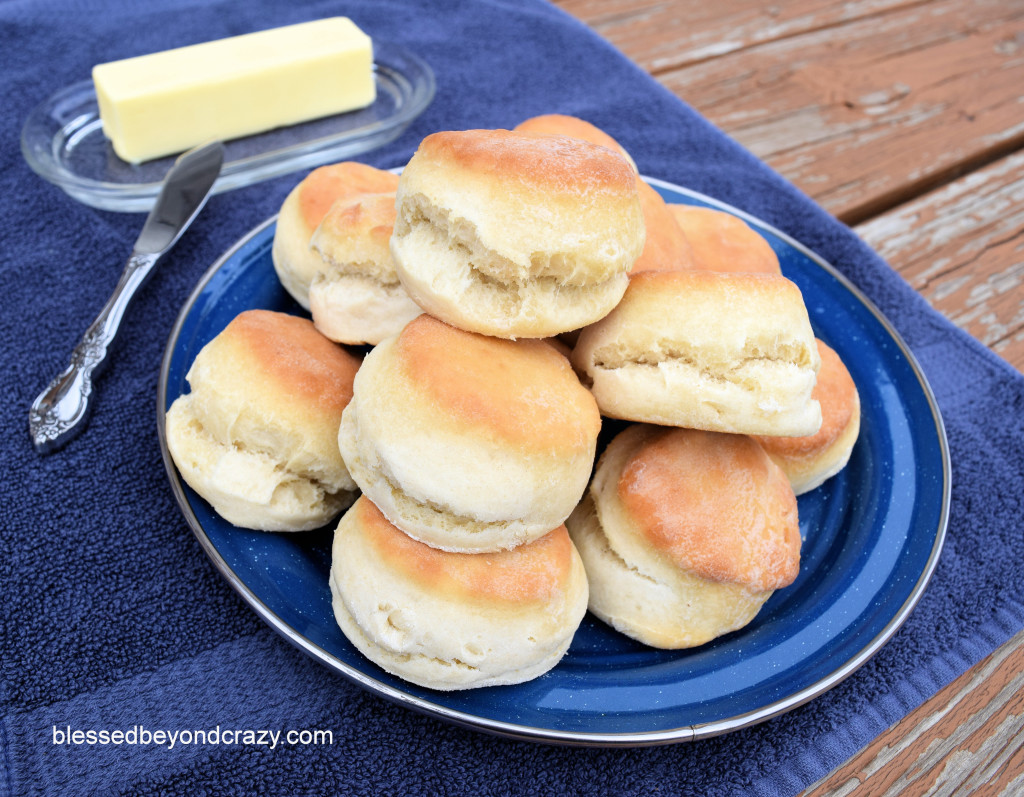 Personally, I like to serve Bake BBQ Chicken along with Strawberry Spinach Salad, fluffy baked potatoes, and green beans or Brussel Sprouts with Bacon. If I have time I will also make a batch of Cream Cheese Biscuits or Zucchini Muffins. Gosh, I'm getting hungry just talking about all of this wonderful food!
Baked BBQ Chicken
---
Linda Wiseman
Yields 16 chicken legs
Make delicious BBQ Chicken right in your oven.
10 minPrep Time
1 hr, 30 Cook Time
1 hr, 40 Total Time
Ingredients
16 fresh chicken legs (or other cuts of chicken)
1 teaspoon salt (or to taste)
1 to 2 cups Grandma King's Homemade BBQ Sauce (or your favorite brand)
Instructions
Preheat oven to 350 degrees F.
Place non-stick silicone baking mat inside a 10" x 15" baking pan (pyramid side up).
Place chicken onto mat, sprinkle with salt.
Bake 45 minutes, remove from oven and turn chicken over.
Bake 30 minutes, remove from oven and generously coat chicken with BBQ sauce.
Bake for another 15 minutes.
*Optional: broil for 1 - 2 minutes (be sure to watch so that it doesn't burn).
Place chicken onto a serving platter.
Serve hot, along with additional BBQ sauce if desired.
Notes
When using other cuts of chicken such as wings, thighs, and breast, you will need to adjust the baking time. Use a meat thermometer to make sure chicken reaches the recommended temperature of 165 degrees F before serving.
7.8.1.2
166
https://blessedbeyondcrazy.com/baked-bbq-chicken/
www.blessedbeyondcrazy.com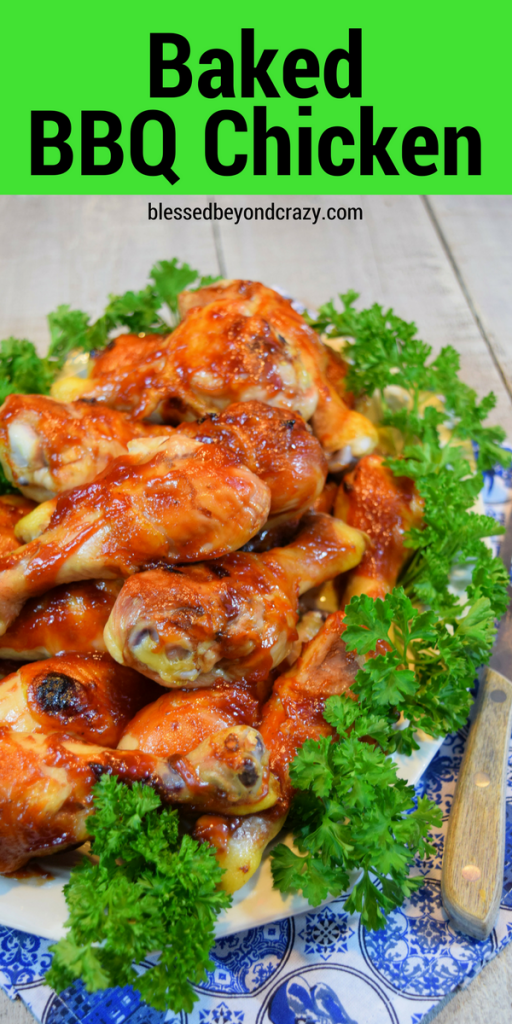 While there are many great chicken recipes floating around on Pinterest, this recipe for Baked BBQ Chicken is a personal favorite. Most of all, it's a great versatile recipe so feel free to add other spices and seasonings to the mix.
Happy eating!
Linda
More great ideas: