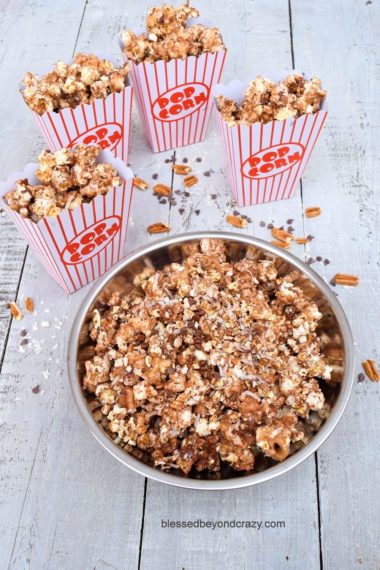 It seems that everyone in my family loves popcorn. Probably because it's a snack that can either be simple or dressed up a bit. Take for instance this yummy recipe for SkinnyPop German Chocolate Caramel Popcorn! Talk about heavenly! Oh, baby! If you are a fan of German chocolate cake then you will love this easy, stove-top recipe (no baking required!). 

To help support our blogging activities, our site contains affiliate links. If you make a purchase from a link on our site, we may receive a small percentage of that sale, at no extra cost to you. Blessed Beyond Crazy is a participant in the Amazon Services LLC Associates Program. This affiliate advertising program is designed to provide a means for sites to earn advertising fees by advertising and linking to amazon.com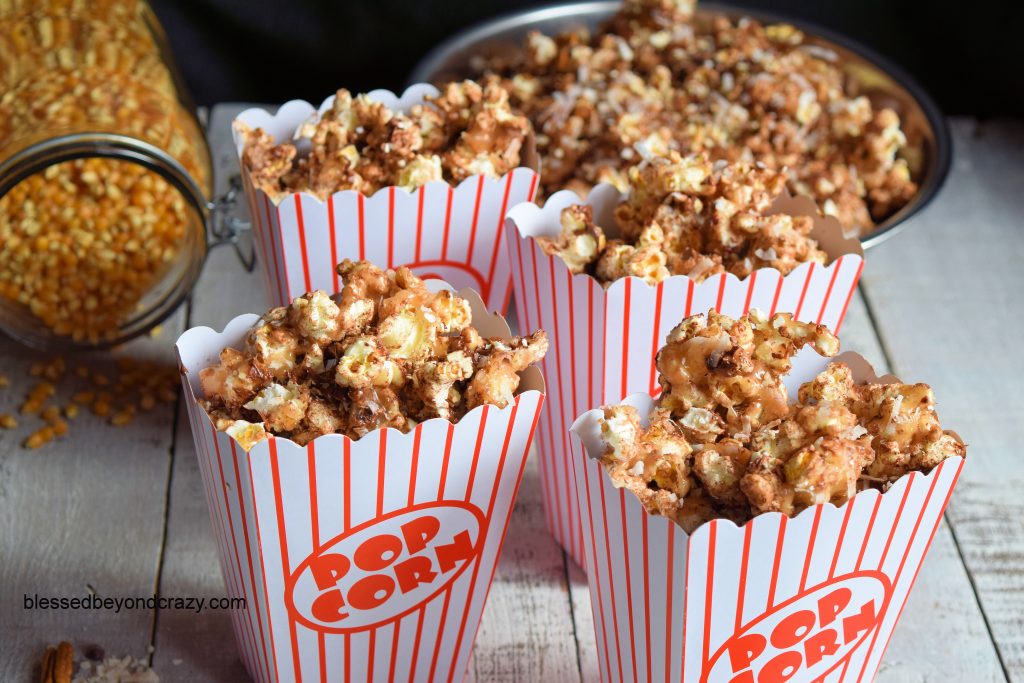 Before I go any further, I need to point out that this is NOT a sponsored post, nor did I receive any product or kickback from SkinnyPop. My family and I simply love SkinnyPop Popcorn and therefore I want to show you just how versatile their popcorn can be. Furthermore, their products have additional benefits such as:
No Artificial Ingredients

Non-GMO

Gluten-Free

Dairy-Free

Peanut-Free

Tree Nut Free

Preservative Free

No Artificial Flavors

Zero Trans Fat

A Good Source of Fiber
Pretty awesome, huh? For this particular blog post, I used a bag of SkinnyPop Dusted Dark Chocolate. This popcorn is delicious right out the bag and I had a hard time not chowing down on it before finishing this post! Consequently, be sure to check out all of their scrumptious flavors over at SkinnyPop Popcorn.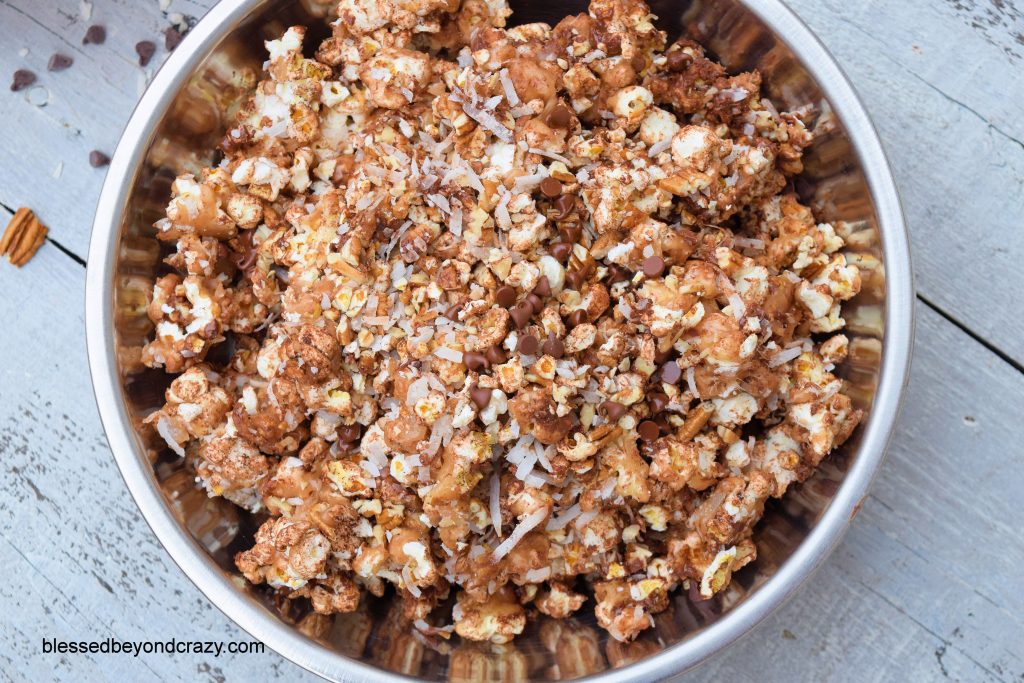 SkinnyPop German Chocolate Caramel Popcorn features a wonderful combination of chocolate + caramel + pecans + coconut flavors.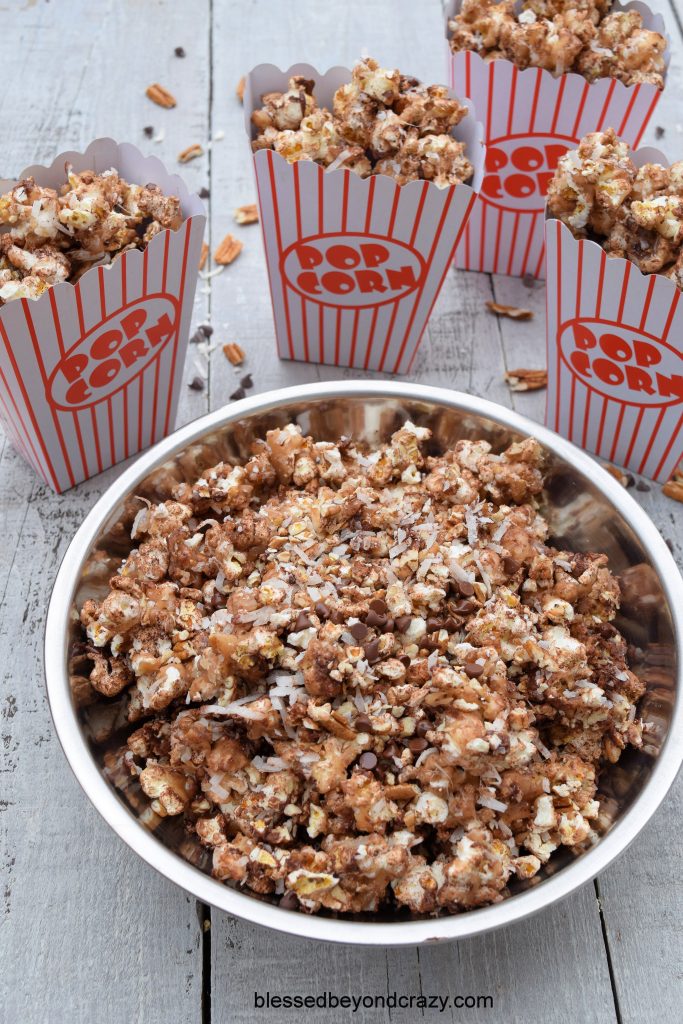 This fabulous snack is sure to be a hit with your family and friends any day of the week. However, it's also a great treat when served on game day, for a birthday party, sleepover, movie night, baby or bridal shower, wedding reception, Germanfest, the holidays, and so much more.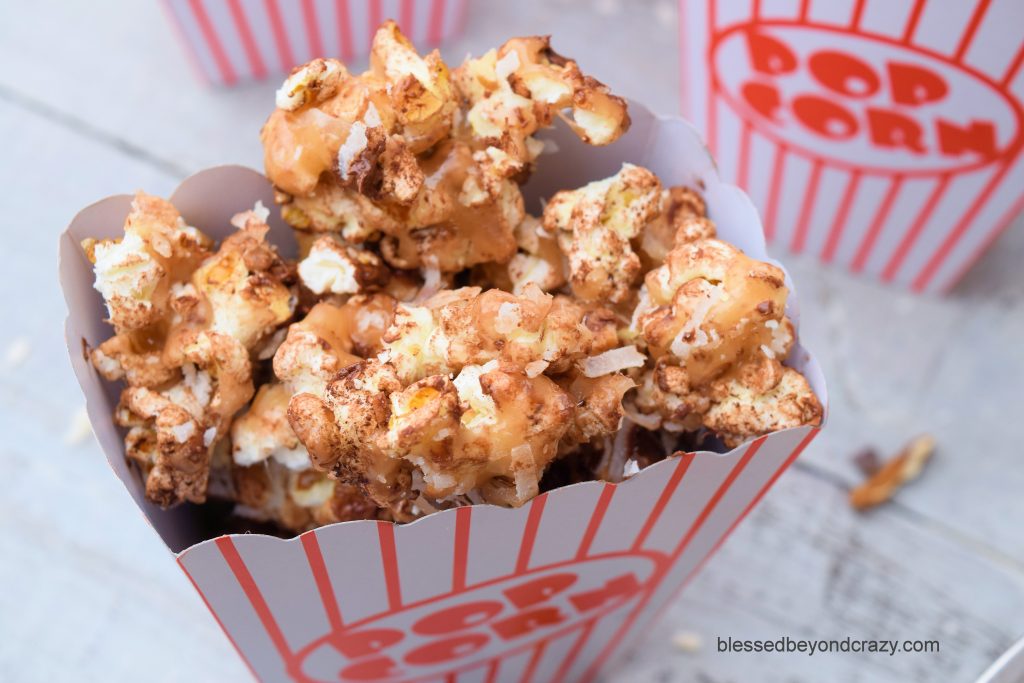 Here are a few key tips for making SkinnyPop German Chocolate Caramel Popcorn:
Place popcorn in a large metal or glass bowl. DO NOT USE PLASTIC! When you pour the caramel sauce over the popcorn the hot caramel may melt the plastic if it comes into contact with it.
You will need a long-handled wooden spoon or heat-resistant silicone spoon to stir and mix the hot caramel sauce and popcorn together.

Do not add extracts until after the sauce is finished. If you add them during the cooking process the flavors of the extracts will "cookout" of the sauce and it will not be as flavorful.

When adding the extracts to the hot caramel sauce the mixture will bubble and steam until it is fully blended in. Be careful not to stand directly over the pan during this process.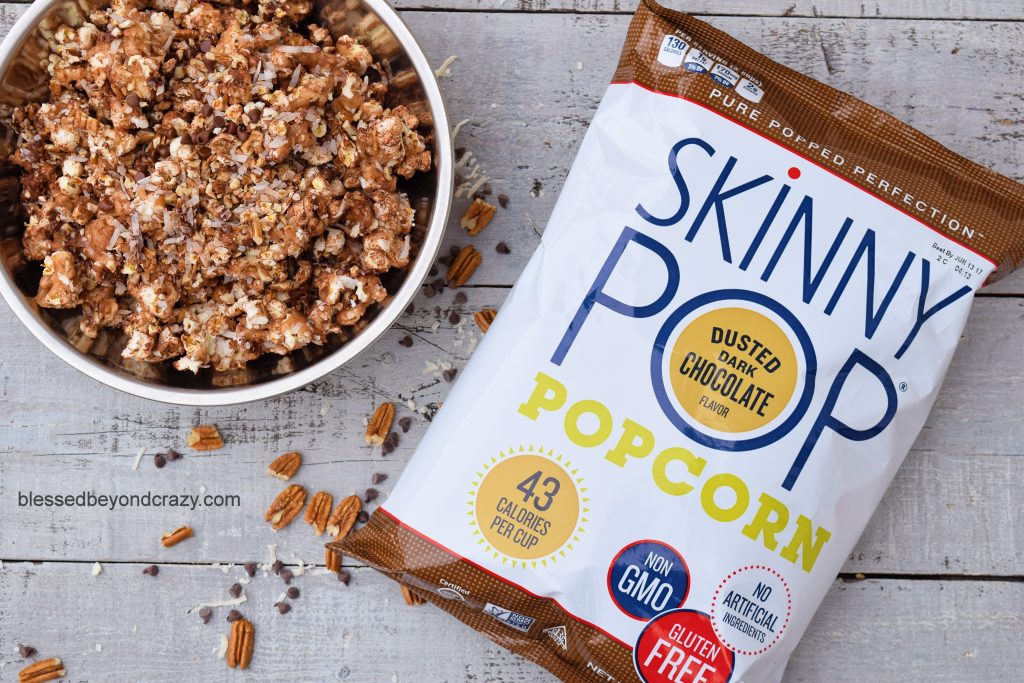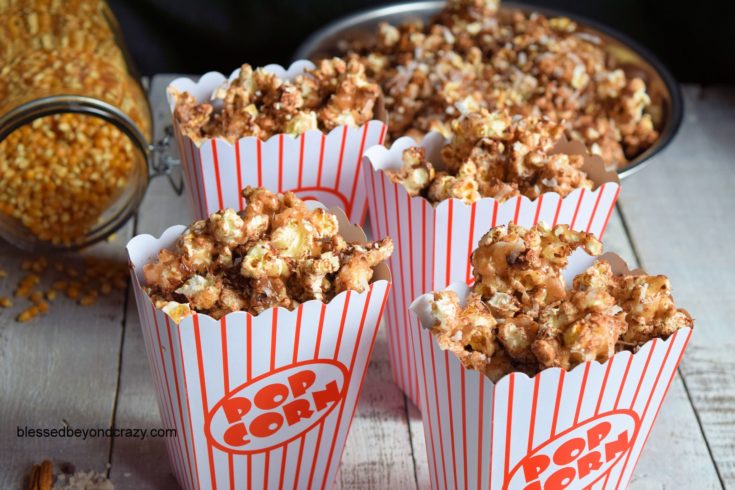 Yield:

1 gallon
SkinnyPop German Chocolate Caramel Popcorn
A yummy gluten-free popcorn snack whose flavors resemble a German chocolate cake.
Ingredients
1 bag (4.4 ounces) Dusted Dark Chocolate SkinnyPop Popcorn
1 stick (1/2 cup) salted butter
1/2 cup white corn syrup
1 1/3 cup granulated sugar
1 teaspoon chocolate extract (GF Option - use a gluten-free brand)
1 teaspoon coconut extract (GF Option - use a gluten-free brand)
1 cup mini dark chocolate chips (GF Option - use a gluten-free brand)
1 cup chopped pecans
1 cup shredded coconut (GF Option - use a non-sulfured, gluten-free brand)
Instructions
Pour popcorn into a large metal or glass mixing bowl. (Do not use plastic because it may melt if the hot caramel sauce comes into contact with it).
In a medium saucepan, combine butter, corn syrup, and sugar.
Heat over medium-low heat for approximately 20 minutes. The mixture will bubble and gradually turn from a yellow to a light tan to a medium caramel color. (Do not overcook or the caramel will taste scorched).
The sauce is ready when a candy thermometer reaches 300 degrees F.
If you do not have a candy thermometer you can check using the following method: Fill a glass with 1/2 cup room temperature water. Drizzle about 1/2 tsp. of sauce into the water. If after a few seconds the glob turns hard, your sauce is ready. If the glob stays soft or sticky the sauce needs to cook for another couple minutes; then repeat the test.
Remove pan from heat, add chocolate and coconut extracts. Be careful when adding the extracts because the mixture will bubble and steam until fully blended.
Working quickly, pour half the caramel sauce over popcorn (use caution because sauce is hot); stir.
Pour remaining sauce over popcorn, sprinkle chocolate chips, pecans and coconut on top; stir well.
Allow mixture to cool completely, break into bite-size chunks.
Store in air-tight container until ready to serve.
Notes
Popcorn will keep well up to 1 week if kept in an air-tight container. Cooking times may vary depending on if you are using a gas stove vs an electric range. For less caramel coverage, use two (4.4 ounce) bags of SkinnyPop popcorn instead of one bag.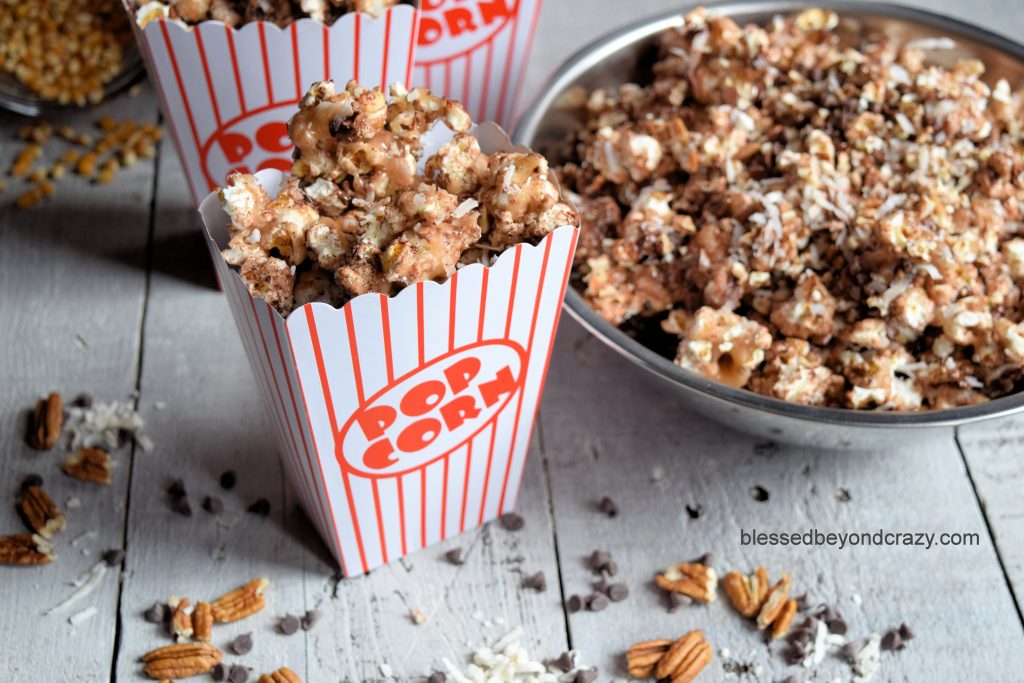 I recommend using quality chocolate extract and coconut extract when making this recipe.
Personally, my favorite extracts are the Nielsen-Massey extracts because they are concentrated, pure gluten-free extracts that are full of rich flavor. They really are fabulous.

In conclusion, I think you'll love this recipe. In addition, consider making a batch of SkinnyPop German Chocolate Caramel Popcorn and giving some away as a tasty homemade DIY gift. Therefore, I recommend loading up on a lot of SkinnyPop Popcorn!!!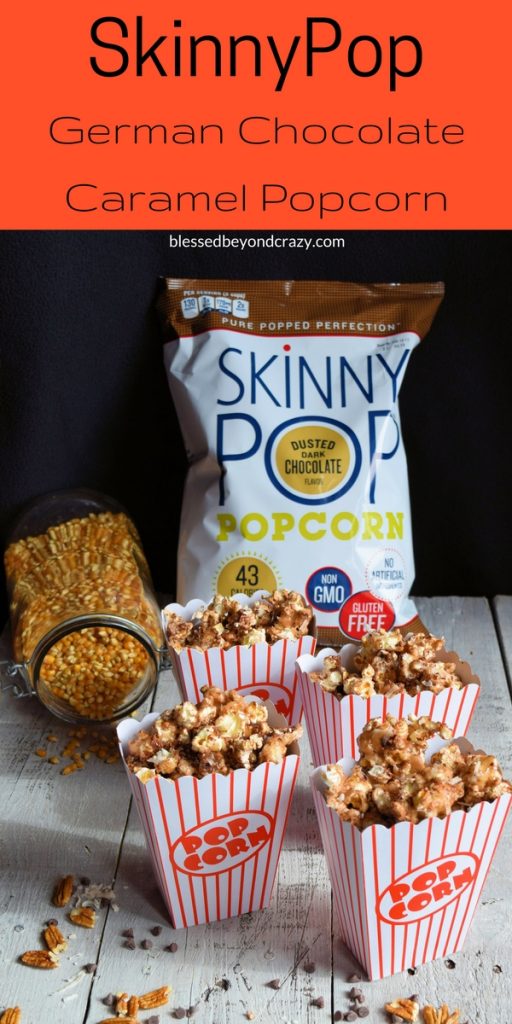 Happy munching!!!
Linda
More great ideas: