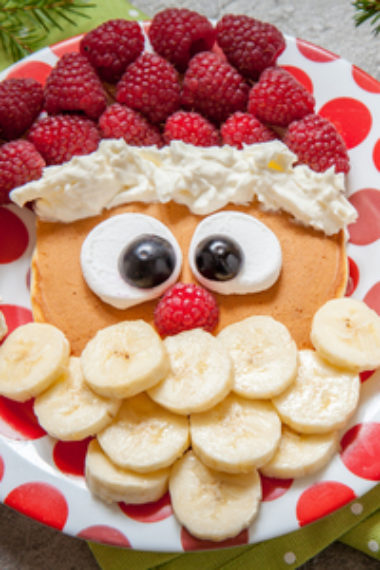 Christmas is always an exciting time of year, especially for young children. It seems like every day they ask the same exact question, "How many more days until Christmas?" So, let's help the little ones countdown the days with 12 Cute Christmas Breakfast Ideas for Kids!
**Blessed Beyond Crazy is honored to have this post featured on the Rachael Ray website. You can see the video HERE!
To help support our blogging activities, our site contains affiliate links. If you make a purchase from a link on our site, we may receive a small percentage of that sale, at no extra cost to you. Blessed Beyond Crazy is a participant in the Amazon Services LLC Associates Program, an affiliate advertising program designed to provide a means for sites to earn advertising fees by advertising and linking to amazon.com.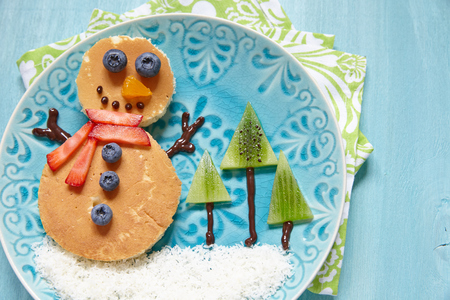 Day 12 – Snowman Pancakes
Christmas just wouldn't be the same without a darling snowman or two! To make the snowman's body, simply make one pancake larger than the other. Make eyes and buttons with fresh blueberries, a scarf from a sliced strawberry, a mouth with mini chocolate chips or dots of melted chocolate, and a nose with an orange segment. Christmas trees can be made using sliced kiwi and shredded coconut works great for snow. For the final touch, a bit of melted chocolate creates the snowman's arms and tree trunks.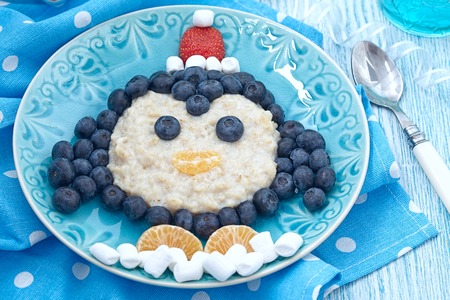 Day 11 – Penguin Oatmeal
Every child seems to love adorable penguins so today is a great day to make penguin oatmeal! Make your favorite flavor of oatmeal (try to make it a little more on the thicker side). Allow the oatmeal to cool just a bit before placing some into the center of a plate (the use of blue dinnerware really helps the presentation). Surround the oatmeal with fresh blueberries, adding extra on the side for penguin wings. Garnish with orange slices for a mouth and feet and a hat made from a strawberry and mini marshmallows (also used for snow).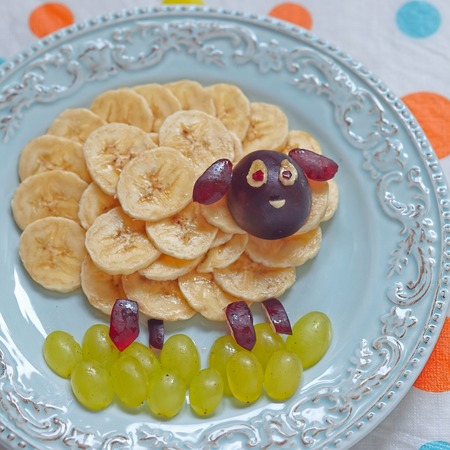 Day 10 – Silly Sheep
Sheep are found in nearly every nativity scene so today is a great day to make silly sheep! All you need are banana slices and a few cut grapes. Kids will love being able to eat this breakfast entirely with their fingers and there's no cooking required!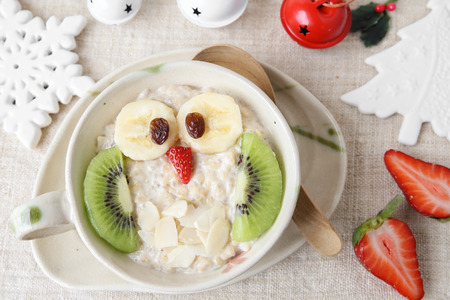 Day 9 – Hoot Owl Porridge
Your child's favorite porridge comes in handy when making a funny hoot owl breakfast. Place cooked porridge into a coffee mug. Garnish using sliced kiwi for wings, banana slices and a couple of raisins for eyes, a slice of strawberry for a bird's beak. Slivered almonds or shave coconut serve as feathers.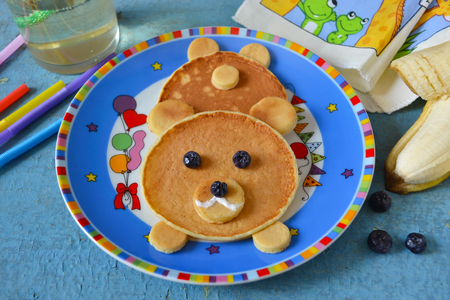 Day 8 – Brown Bear Pancakes
Brown bears come out of hibernation for this adorable breakfast! Simply make two regular-size pancakes for the bear's head and body, and eight tiny pancakes that serve as feet, ears, nose, and a tail. Blueberries work well for eyes and a button nose and a touch of frosting creates a bridge between the nose and mouth. Kids will have a Grrrrrrrreat time enjoying their brown bear breakfast!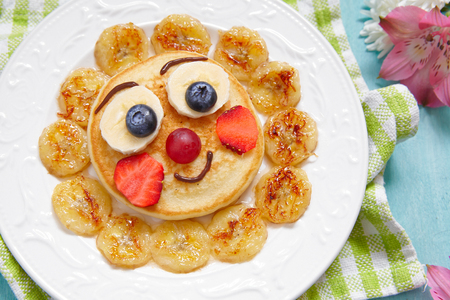 Day 7 – Sunshine Breakfast
Sunshine ushers in yet another new day and brings us one day closer to Christmas. This sunshine breakfast begins with one pancake, surrounded by caramelized banana slices. A sunny face is made with two more banana slices topped with two fresh blueberries. Slices of strawberries create blushing cheeks and a grape works great for a nose. A touch of melted chocolate is used to make a mouth and eyebrows.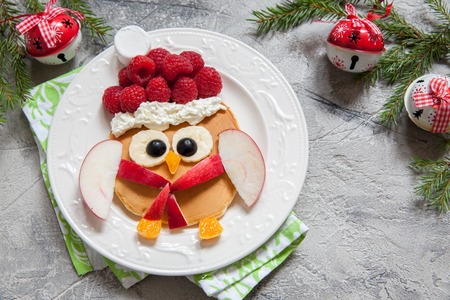 Day 6 – Bouncy Birdie
A bouncy birdie breakfast is also included on this list of Christmas breakfast ideas. A pancake creates the birdie's body while fresh raspberries and whipped topping create a hat. Banana slices and two chocolate M&M's or a small purple grape cut in half work well for eyes and cut apple slices make birdie wings and a scarf. The nose and feet are created using orange segments.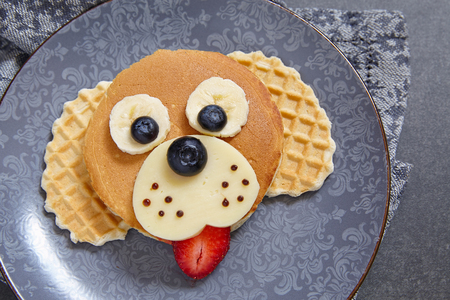 Day 5 – Christmas Puppy
Your child will instantly fall in love with this adorable Christmas puppy
breakfast made with a pancake for a face and waffles for ears. A shaped slice of cheese creates part of his face and a sliced strawberry works well as a tongue. Two banana slices and fresh blueberries create his eyes and nose while melted chocolate dots his whiskers.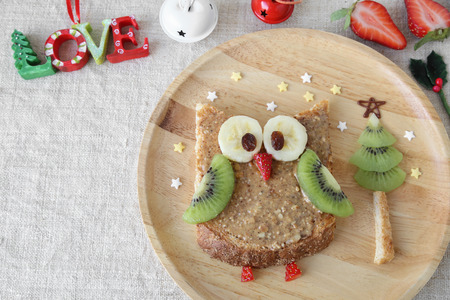 Day 4 – Toasty Owl
Toasty owl breakfast begins with (you guessed it), toast! Shape the toast, then slather it with your child's favorite spread. Garnish with slices of kiwi for wings and Christmas trees, bananas and raisins for eyes, and strawberries slices for an owl beak and feet. Bread crust serves as a tree trunk and melted chocolate creates a star while candy sprinkles adorn the sky.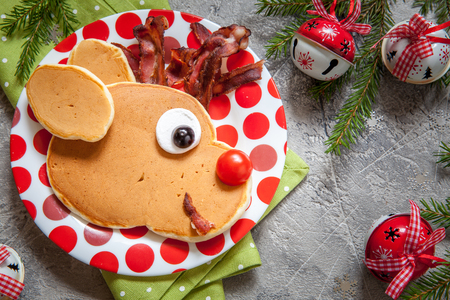 Day 3 – Rudolph the Red Nose Reindeer Pancakes
Start today by making the kids a Rudolph the Red Nose Reindeer pancake breakfast! Shape pancakes to resemble a face and ears, add strips of cooked bacon for antlers and mouth, and a cherry tomato for a red nose. Create an eye by flattening a marshmallow and add a purple grape in the center.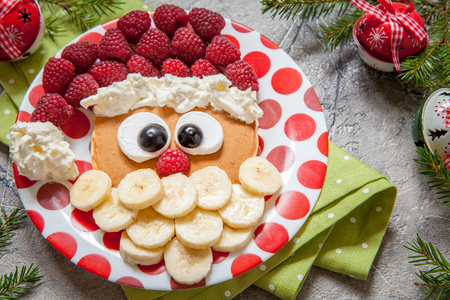 Day 2 – Santa Pancakes
Yay! Today is the day that Santa loads his sleigh with toys! That makes today the perfect day for a Santa breakfast! Create Santa's face by using a pancake, sliced bananas for his beard, and whipped cream and raspberries for a hat and nose. A large marshmallow and a purple grape cut in half create Santa's eyes.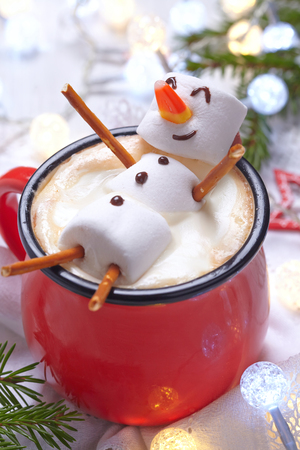 Christmas Day – Snowman Hot Chocolate
Most children are way-aa-yy-yy too excited to eat breakfast on Christmas morning. Therefore, when things finally slow down, recreate their favorite countdown to Christmas breakfast along with a steamy mug full of hot chocolate with a lounging marshmallow snowman! This cute little guy is made with regular size marshmallows, a few pretzel sticks, a touch of melted chocolate, and a candy corn nose.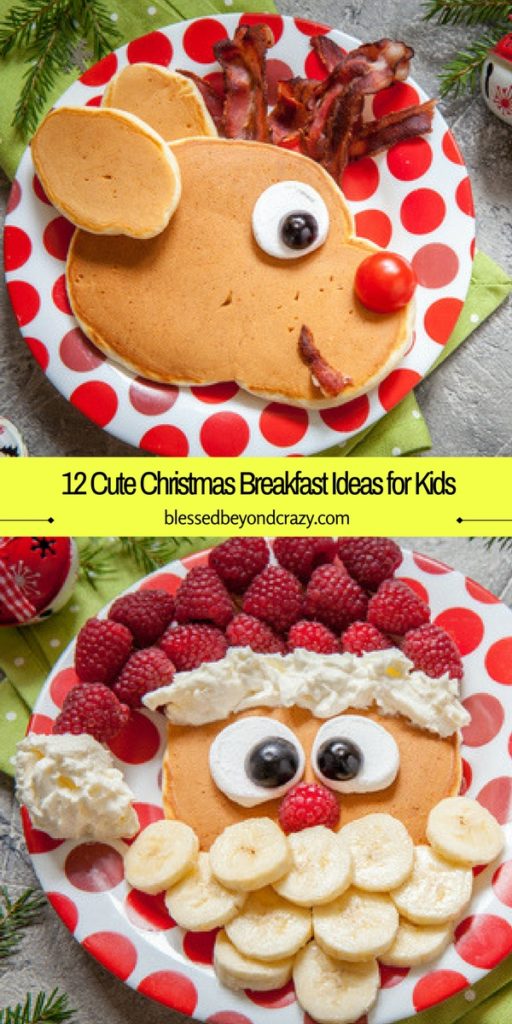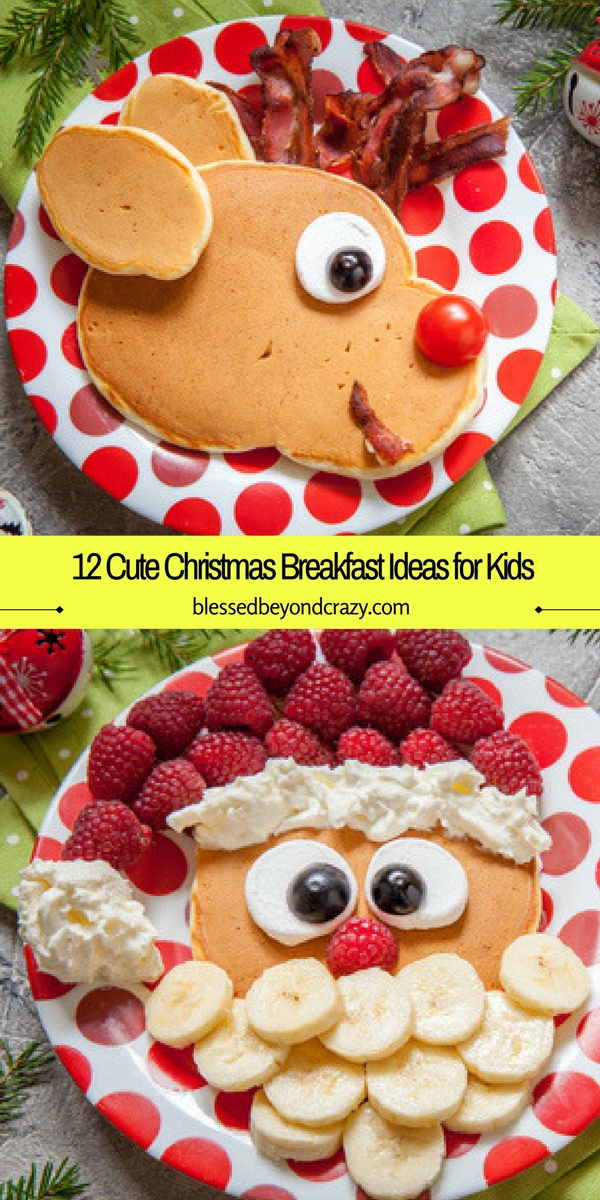 Here's to great memories and fun times making 12 Cute Christmas Breakfast Ideas for Kids!
Do you have any fun Christmas breakfast ideas?
Merry Christmas!!!
Linda
More great ideas: