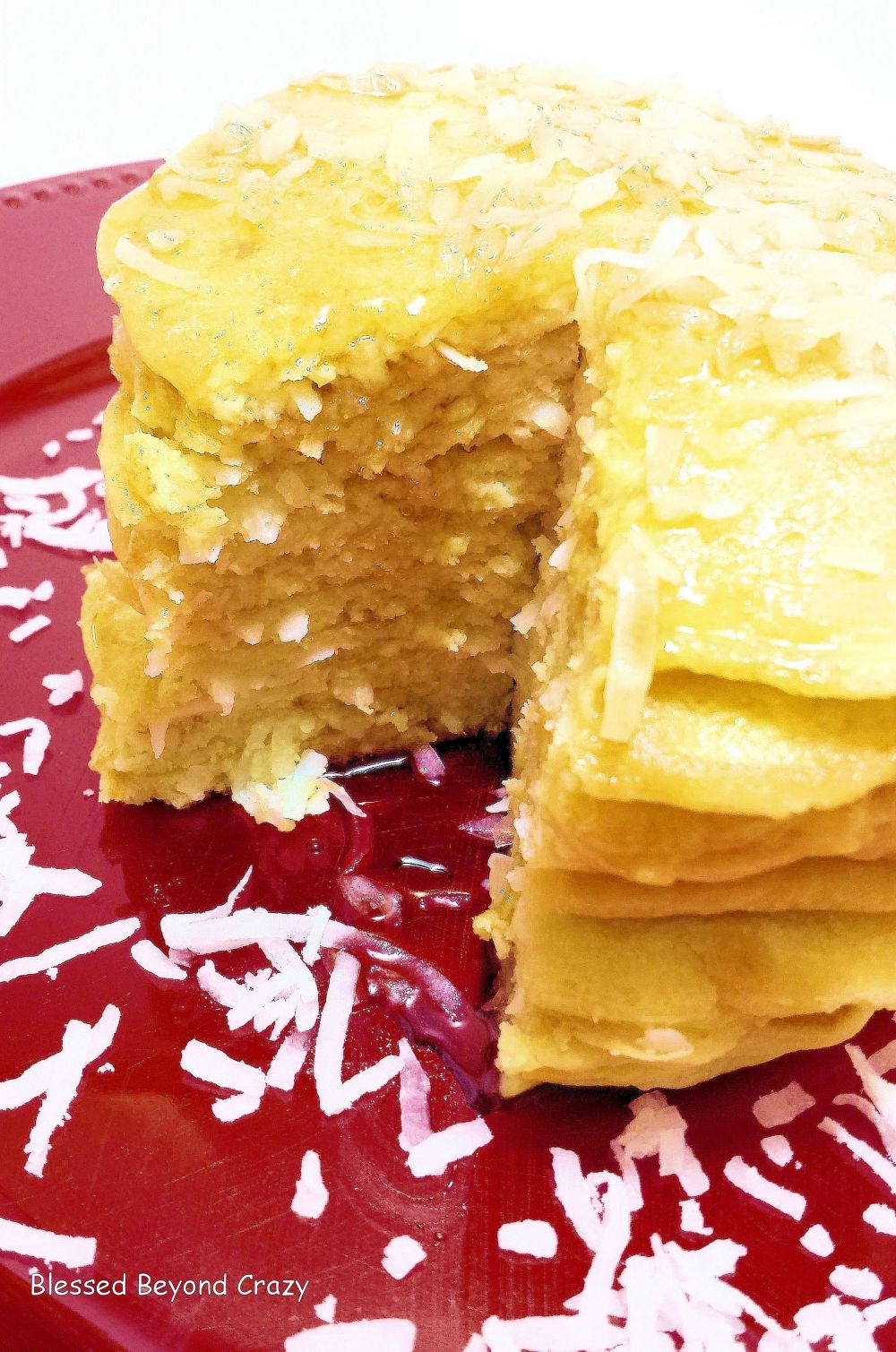 If you are a fan of coconut then you are going to absolutely love these delicious 
Crazy For Coconut Pancakes! 
This Crazy for Coconut Pancakes recipe is definitely a winner. If you are a true coconut fan, hang on to your hat because we are pretty darn confident you're going to go crazy for these pancakes!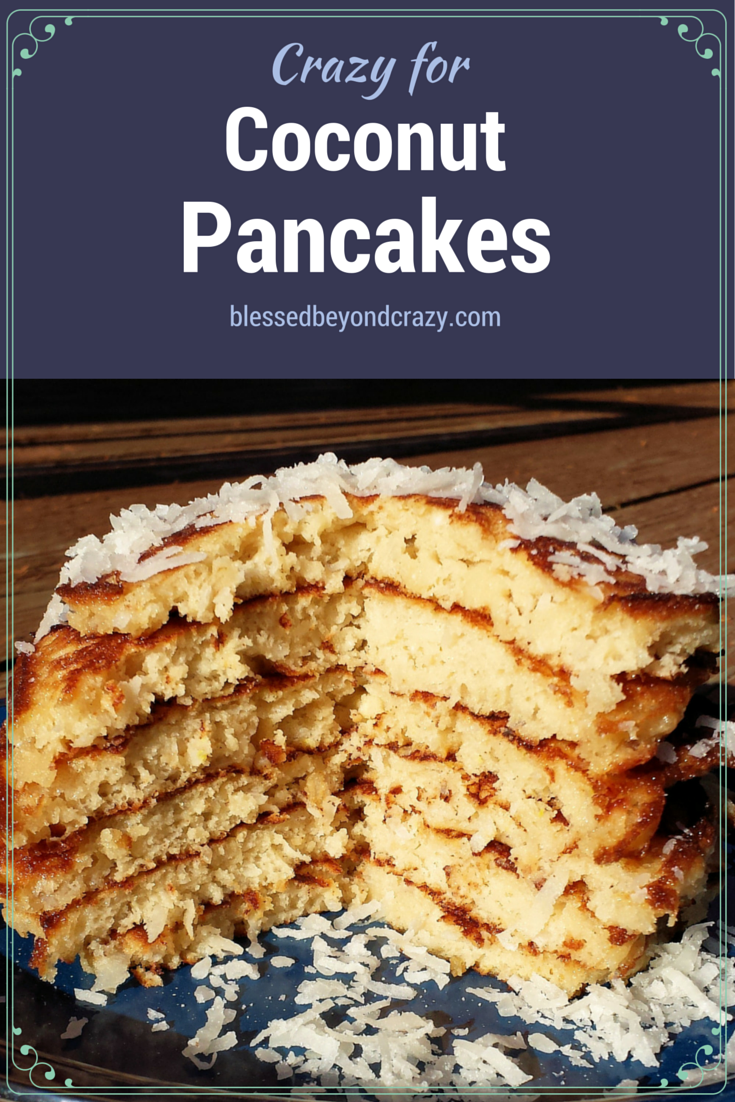 Because these coconut pancakes are so scrumptious, this recipe has quickly become the most requested breakfast in our home. (Shhh, don't tell anyone, but sometimes we have these coconut pancakes for dinner instead of breakfast).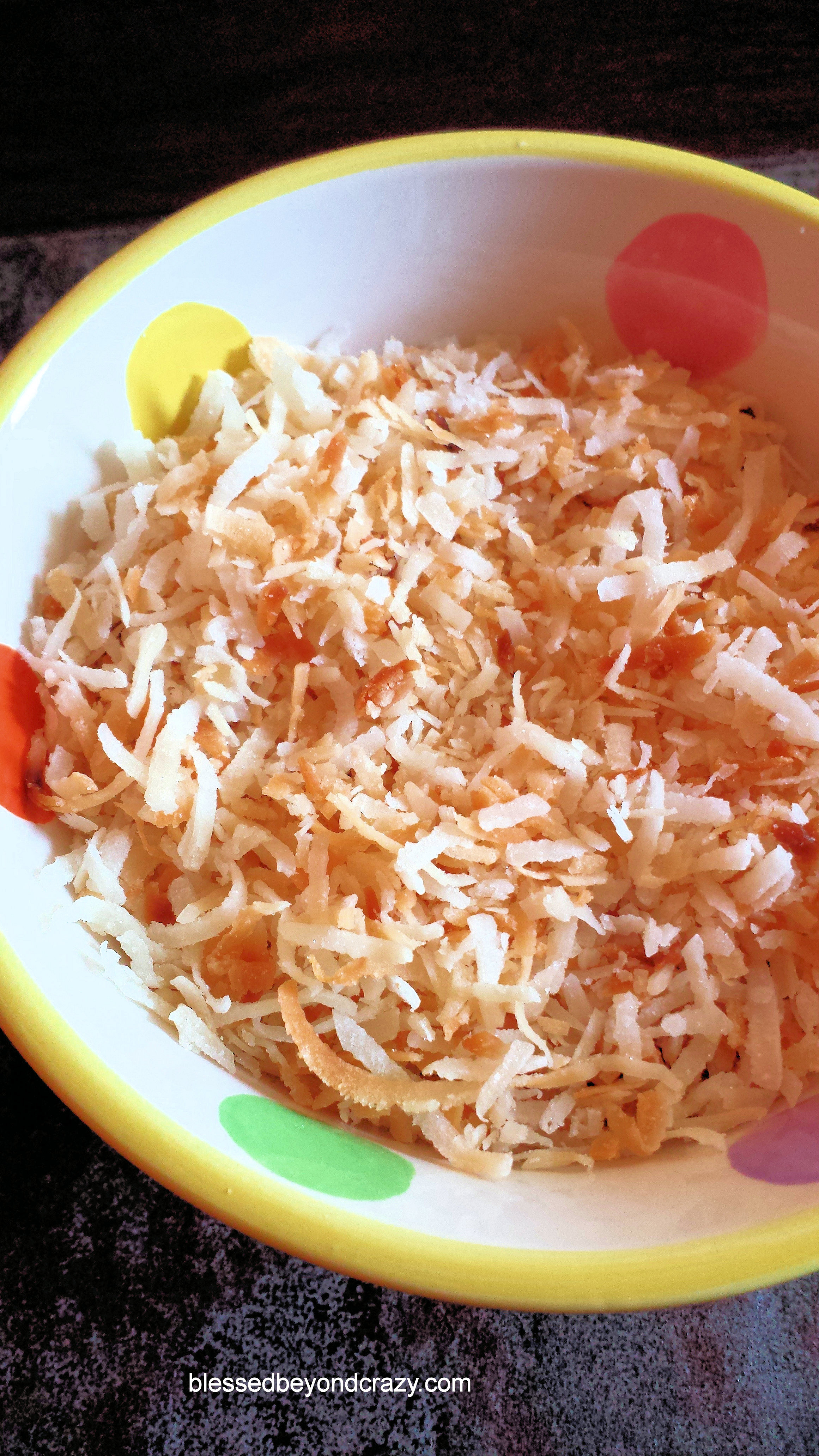 One day while I was exploring the aisles of my local grocery store I found cans of Native Forest Organic Premium Coconut Cream.
Instantly, every coconut recipe I could think of started running through my head. Finally, it dawned on me… I really wanted to make something original. Therefore, Crazy for Coconut Pancakes were born!
In addition, a box of King Arthur Flour Gluten-Free All-Purpose Baking Mix
was needed to make gluten free pancakes. Because I love this gluten free baking mix, I use it in many various recipes. 
 I made the pancakes both regular and gluten free and either recipe is fabulous so I've included both in this post.
First of all, I needed supplies which included:
Pancake Mix.

A package of Flaked Coconut (unsweetened or sweetened).

A tub Organic Coconut Oil (try popping popcorn in this! Pretty amazing!!!)

One bottle of Full Circle Organic 100% Maple Syrup, (I love this stuff! Heat a little up in a small container and drizzle over your pancakes. A little goes a long way and you can't beat the flavor).

A can of Organic Coconut Cream.

Unsweetened Coconut Milk.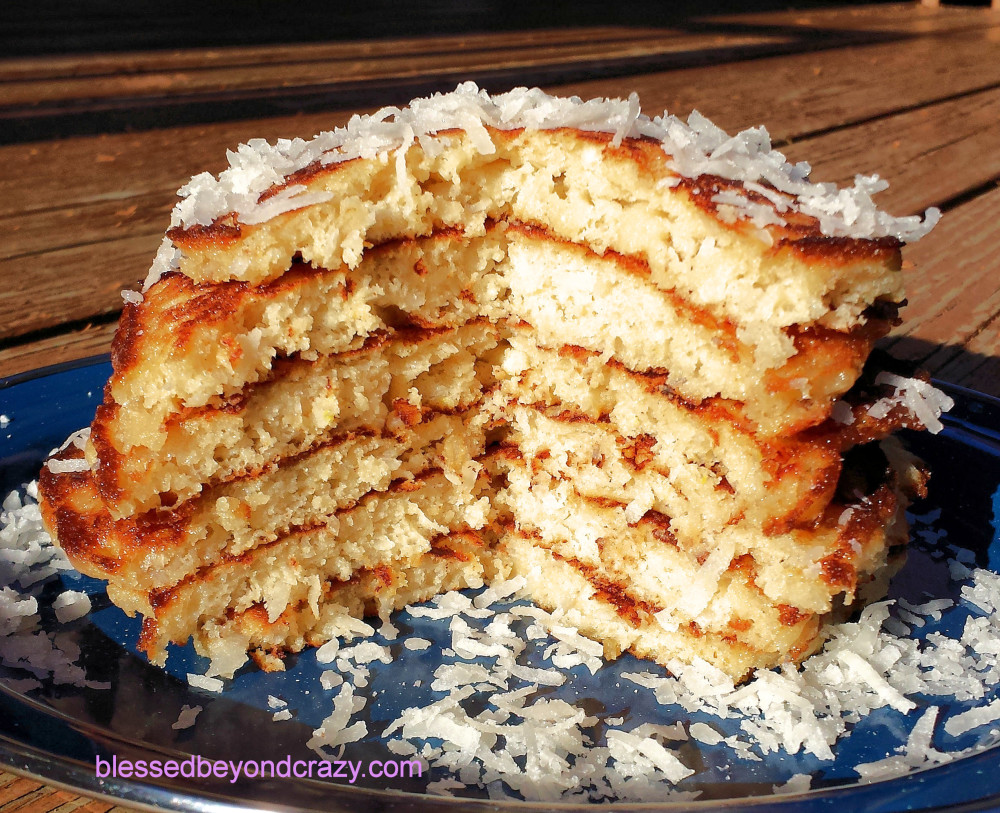 Notice the flakes of coconut peeking out between the layers of pancakes?
For the final touch, I drizzled the pancakes with my favorite syrup and an extra sprinkle of flaked coconut. Um Um, Good! 
Crazy For Coconut Pancakes (Gluten Free Option)
---
Ingredients
1 cup buttermilk complete pancake mix (GF Option: use gluten free pancake mix)
1/2 cup coconut milk
1/2 tsp vanilla
1/2 cup flake coconut, sweetened or unsweetened (GF Option: use gluten free coconut)
1 (5.4 fluid ounce) unsweetened organic premium coconut cream
Pure maple syrup
3 - 4 tablespoons extra virgin coconut oil (fry pancakes in this)
Instructions
In a mixing bowl, combine pancake mix, coconut milk, vanilla, coconut and coconut cream.
In a skillet, over medium heat, place 1 to 2 teaspoons coconut oil.
When oil is hot, spoon 2 to 3 tablespoons of pancake batter into skillet.
Cook for 2 to 3 minutes or until golden brown, flip and repeat.
Serve hot with maple syrup.
7.8.1.2
130
https://blessedbeyondcrazy.com/crazy-coconut-pancakes/
www.blessedbeyondcrazy.com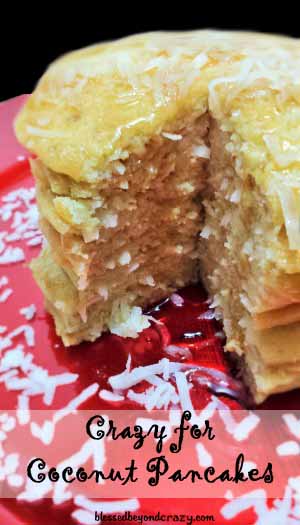 Nearly a year and a half ago (seems like just yesterday) when my daughter and I first created this blog, we did so with the idea that this would be a great way to help people. We know first hand that it can be overwhelming when starting on a gluten free or restricted diet. Therefore, we try to take everyday recipes and slightly modify them to become allergy-friendly and/or gluten-free. Furthermore, both Anna and I are constantly learning new tips/tricks and there are more and more new products on the market to make modifying recipes easier and truly delicious, (often times healthier too).
I hope that you enjoy these pancakes as much as we do.
Bon Appetit!
Linda
Disclaimer: Manufacturer's formulations and policies may change at any time, therefore it's important to always read product labels yourself and contact the manufacturer with concerns. We have found that most companies are eager to help answer your questions.
More great ideas: