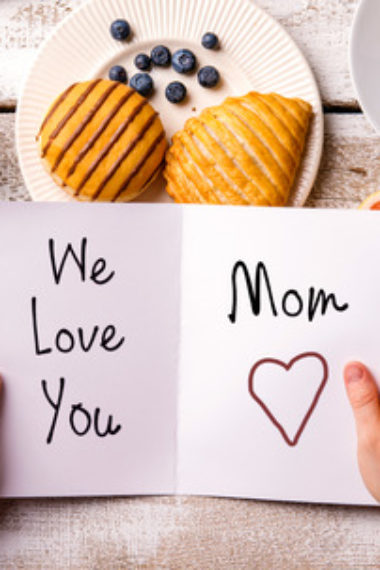 With just a little help and supervision by an adult or older sibling, children can surprise mom with a special Mother's Day breakfast on her special day. These 12 Easy Mother's Day Breakfast Ideas Kids Can Make can get the day off to a fabulous start!
To help support our blogging activities, our site contains affiliate links. If you make a purchase from a link on our site, we may receive a small percentage of that sale, at no extra cost to you. Blessed Beyond Crazy is a participant in the Amazon Services LLC Associates Program, an affiliate advertising program designed to provide a means for sites to earn advertising fees by advertising and linking to amazon.com.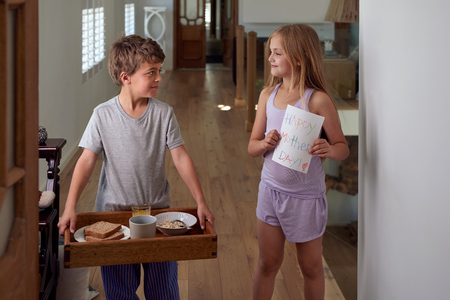 Imagine the joy on a child's face as they present mom with a tasty breakfast that they have personally prepared and/or assembled. An act of kindness such as this often results in children feeling a sense of accomplishment and pride. I believe it also teaches them to be thoughtful of others and give of themselves.
Mom will feel loved and the kids will feel a sense of self-worth and value and that's a winning combination in my book!
In order to help kids serve mom breakfast-in-bed, provide them with a lovely wooden serving tray (as seen in the picture above). Food for thought… a serving tray could also become part of her Mother's Day gift!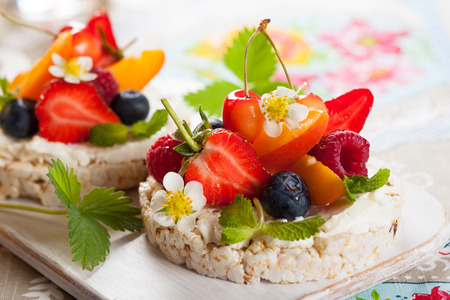 FRUITY RICE CAKES

(GF, Vegetarian & Vegan Options)
Since children love bright colors, this first tasty breakfast idea for Mother's Day is sure to be a hit! All that is required are rice cakes coated with spreadable flavored cream cheese, cottage cheese, or nut butter and topped with a variety of fresh fruit. The garnish is optional and consists of sprigs of fresh mint leaves and a couple of edible flowers.
This is a great gluten-free breakfast option! Fresh fruit is naturally gluten-free, as well as a large percentage of rice cakes and most spreadable flavored cream cheeses. (Always be sure to check labels or call the manufacturer if in doubt.)
For a vegan option, there is premade vegan cream cheese or homemade vegan cream cheese. There is also an option for homemade vegan cottage cheese. You can also use Mom's favorite nut butter.
If a vegetarian option is needed, look for a "suitable for vegetarians symbol" on packages of cream cheese.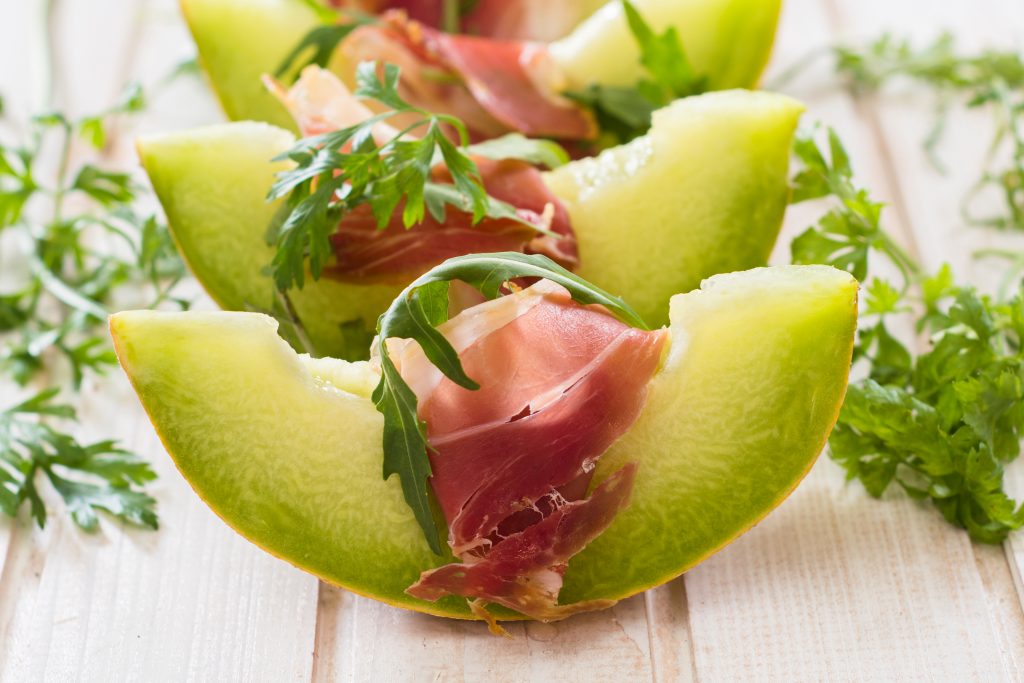 PROSCIUTTO HONEYDEW

(GF, Dairy-Free, Vegan & Paleo Options)
If mom likes melon, she'll love this breakfast! An adult will need to slice open either a honeydew or cantaloupe, scoop out the seeds, and cut the melon into wedges. The kids can then drape slices of prosciutto over each wedge of melon and garnish with sprigs of Italian parsley. Voila! Breakfast is served!
Most prosciutto is naturally gluten-free but always check labels.
For a vegan diet, mock prosciutto and be used in place of regular prosciutto.
In case you are wondering, quality prosciutto that is free of additives and sugar used during the curing process is considered paleo.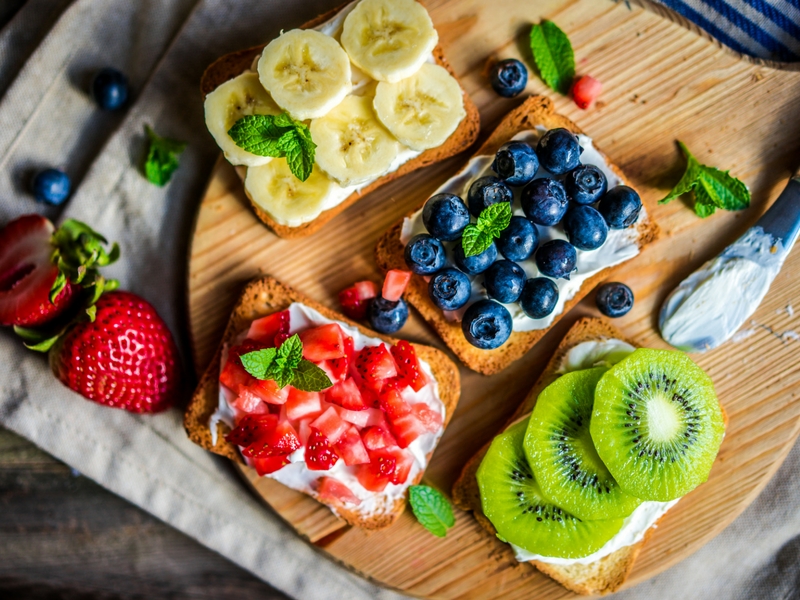 TASTY TOAST

(GF, Vegetarian & Vegan Options)
Vivid colors are present once again in this tasty breakfast which is similar to Fruity Rice Cakes. Toasted, thin slices of bread are slathered with cream cheese, topped with layers of fresh fruit, and garnished with sprigs of fresh mint leaves. (Refer to the vegetarian and vegan options mentioned above for the Fruity Rice Cakes.)
This breakfast served on a wooden cheese tray provides a lovely rustic presentation and can easily become part of mom's Mother's Day gift.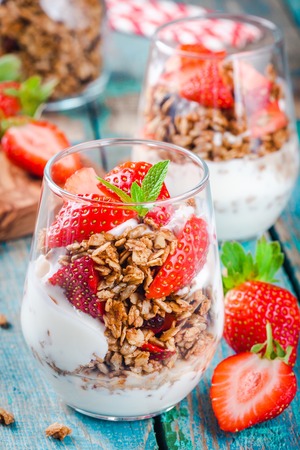 GRANOLA PARFAIT

(GF, Dairy-Free, Vegan, Vegetarian & Paleo Options)
A delicious granola parfait is yet another fabulous and easy Mother's Day breakfast idea that kids can make. They simply need to fill a parfait glass with layered granola, yogurt, and fresh strawberries or mom's favorite fruit.
GF option: use gluten-free yogurt and granola or make your own Old-Fashioned Homemade Gluten-Free Granola.
Use paleo granola and coconut yogurt for a paleo diet.
For vegan and vegetarian options: purchase or make homemade vegan granola and use vegan yogurt or a vegetarian brand such as Chobani.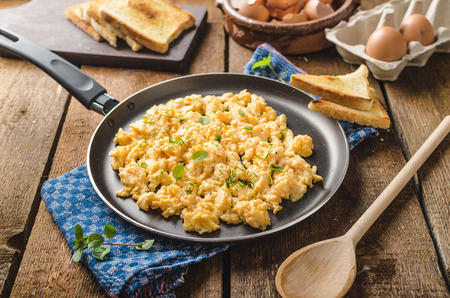 SCRAMBLED EGGS & TOAST

(GF, Paleo & Vegetarian Options)
Older children can quickly and easily make a batch of warm scrambled eggs for mom's special day. Simply crack open two or three eggs into a greased skillet and stir until fully cooked. Garnish with a few sprigs of fresh parsley or basil. Serve with a side of warm toast.
Eggs are allowed on gluten-free, paleo, and certain types of vegetarian diets. When making toast for these types of diets be sure to use either gluten-free bread, paleo bread, or vegetarian bread.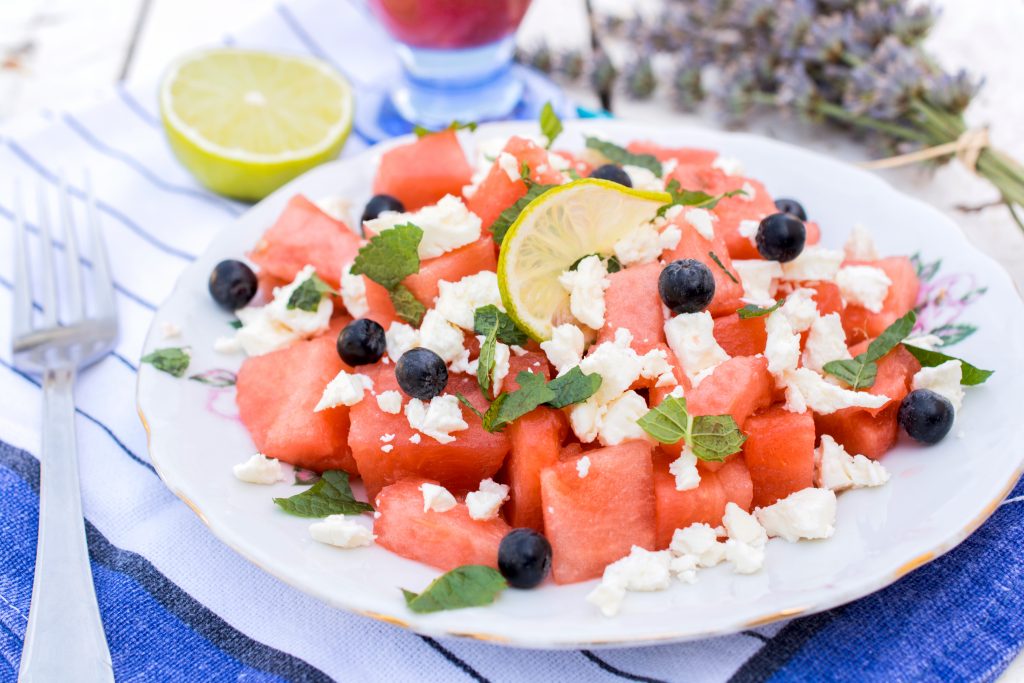 WATERMELON DELIGHT

(GF, Vegan & Paleo Options)
How about serving mom a lovely plate of flavorful watermelon for breakfast? With the help of an adult, children can cut or scoop bite-size chunks of watermelon onto a pretty plate. Next, add a handful of fresh blueberries and goat cheese. Garnish with sprigs of fresh mint or basil and a slice of lemon.
Goat cheese is allowed on gluten-free and paleo diets. For a list of vegan cheeses click here.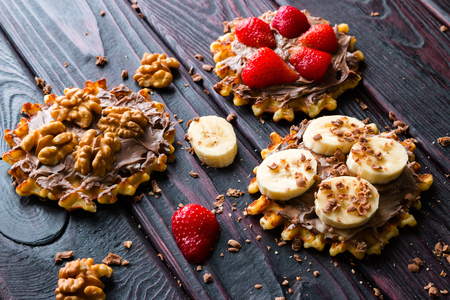 WAFFLE MINI BITES

(GF, Vegan, Vegetarian & Paleo Options)
Another breakfast listed on our 12 Easy Mother's Day Breakfast Ideas Kids Can Make are scrumptious waffle mini bites! Toasted mini waffles are smothered in chocolate nut butter, topped with fruit and nuts and garnished with chocolate shavings. Easy peasy!
GF option: use gluten-free waffles and gluten-free nut butter.
Paleo option: use paleo waffles, or any paleo nut butter.
Vegan & Vegetarian option: use vegan waffles and a premade or homemade vegan nut butter.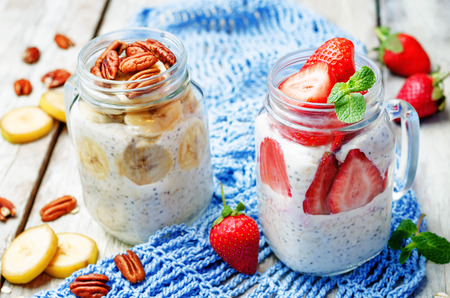 OVERNIGHT BREAKFAST PARFAITS

(GF, Vegan & Vegetarian Options)
This particular breakfast is assembled the night before and is super easy for kids to make. In a 16 ounce Mason jar combine 1 cup rolled oats, 2 – 3 teaspoons chia seeds, 1/2 of a ripe banana (pureed), a dash of salt, 1 tablespoon maple syrup or agave, and 1 cup milk or dairy-free milk substitute. Mix well, refrigerator overnight and garnish with fresh fruit, nuts, and sprigs of fresh mint leaves. Serve.
GF option: use gluten-free oats.
Vegan & Vegetarian options: use soy, almond, hemp, oat, coconut, rice, flax or quinoa milk.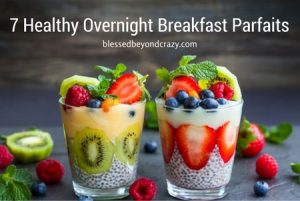 Check out these 7 Healthy Overnight Breakfast Parfaits
COCONUT PANCAKES

(GF, Vegan & Paleo Options)
What would breakfast be without pancakes??? With supervision, older children can easily whip up a batch of gluten-free Crazy for Coconut Pancakes for mom. Top the pancakes with fresh fruit and a sprinkle of powdered sugar as well as mom's favorite pure maple syrup. (Pure maple syrup is naturally gluten-free, vegan, vegetarian and paleo.)
You can also find recipes to make homemade vegan coconut pancakes.
Or, you may opt to make mom a stack of Green Low-Carb Protein Pancakes! Since these are made in a blender it would be super easy for kids to make the batter all by themselves!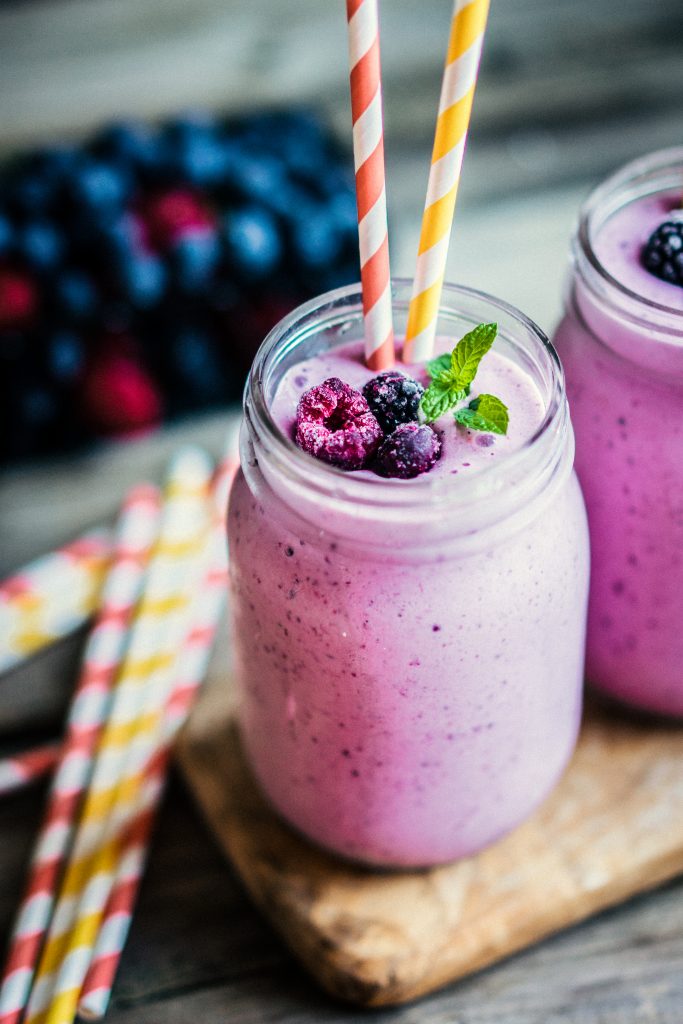 BERRY SMOOTHIE

(GF, Dairy-Free, Vegan, Vegetarian & Paleo Options)
Another super colorful addition to this list of Mother's Day breakfast ideas is a yummy berry smoothie. This delicious smoothie can quickly be created by older children by blending together 3/4 cup milk, 6 ounces blueberry, raspberry, or blackberry yogurt, 3/4 cup mixed berries, and 1/4 teaspoon sweetener of choice. Pour the smoothie into a wide-mouth glass or Mason jar and serve cold. Garnish with berries and a sprig of fresh mint.
Vegan & Vegetarian option: use soy, rice, flax, oat, macadamia nut, or coconut milk in place of dairy. Sweeteners include (but are not limited to) pure maple syrup, brown rice syrup, agave, xylitol, sucralose, stevia, and Lo Han Guo.
Paleo options: use coconut, soy, almond milk, and yogurt in place of dairy. Paleo sweeteners include (but not limited too) raw honey, chicory root fiber, raw unprocessed stevia, Jungle Sweet Blend (Stevia, Xylitol, Coconut Sugar), and Swerve Sweetener.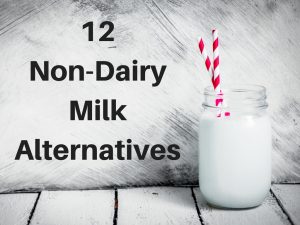 Check out this post called 12 Non-Dairy Milk Alternatives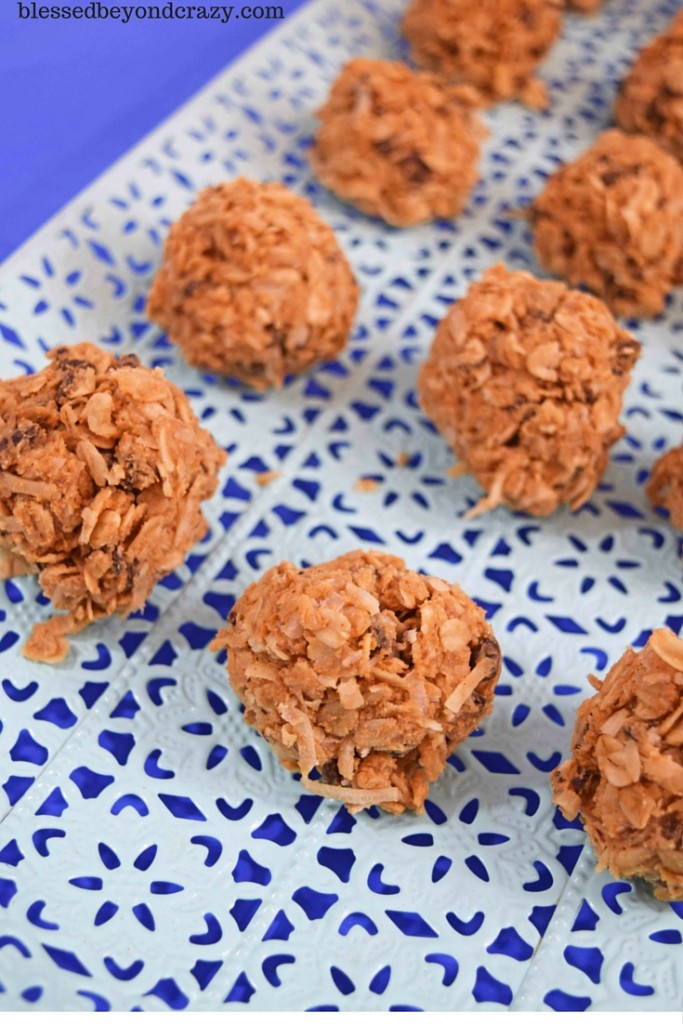 NO-BAKE PEANUT BUTTER PROTEIN BITES

(GF, Vegan, Vegetarian Options)
Children will have fun making these easy no-bake peanut butter protein bites. To make them, combine 1 cup old fashioned oatmeal, 1 cup shredded coconut. 1 cup peanut butter (or nut butter) and 1/2 cup mini chocolate chips. Put all the ingredients in a mixing bowl and mix until well combined. Shape into balls and serve.
GF option: use gluten-free oats and chocolate chips.
Vegan & Vegetarian options: use raw cacao nibs
Paleo option: use raw cacao nibs, nut butter (such as almond, cashew, hazelnut, macadamia, coconut, and sunflower butter).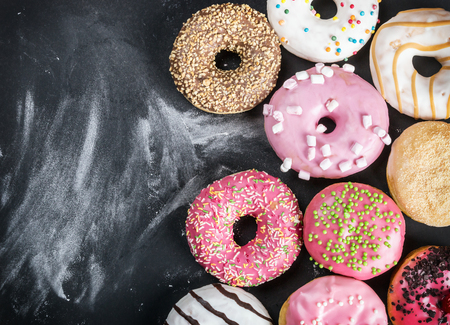 MINI DOUGHNUTS
The kids will also have fun dipping bakery or homemade doughnuts in a variety of colored icing and adding sprinkles, nuts, shredded coconut, mini marshmallows and candies, crushed cookies and more. Let mom pick out her favorites.
You gotta try this recipe for delicious homemade (GF, Vegan, and Paleo) Healthy Flourless Cinnamon Bun Breakfast Doughnuts!

What is your favorite breakfast in this list of 12 Easy Mother's Day Breakfast Ideas Kids Can Make?
Happy Mother's Day!
Linda
More great ideas: