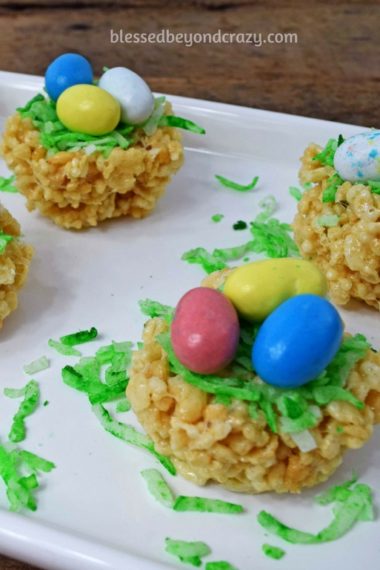 Rice Krispie Easter Egg Nests are super easy, adorable, fool-proof, and no-bake. Kids of all ages enjoy creating and eating them! Since this recipe is so easy, it would be the perfect recipe to have your kids or grandchildren help you make them. 
To help support our blogging activities, our site contains affiliate links. If you make a purchase from a link on our site, we may receive a small percentage of that sale, at no extra cost to you. Blessed Beyond Crazy is a participant in the Amazon Services LLC Associates Program, an affiliate advertising program designed to provide a means for sites to earn advertising fees by advertising and linking to amazon.com.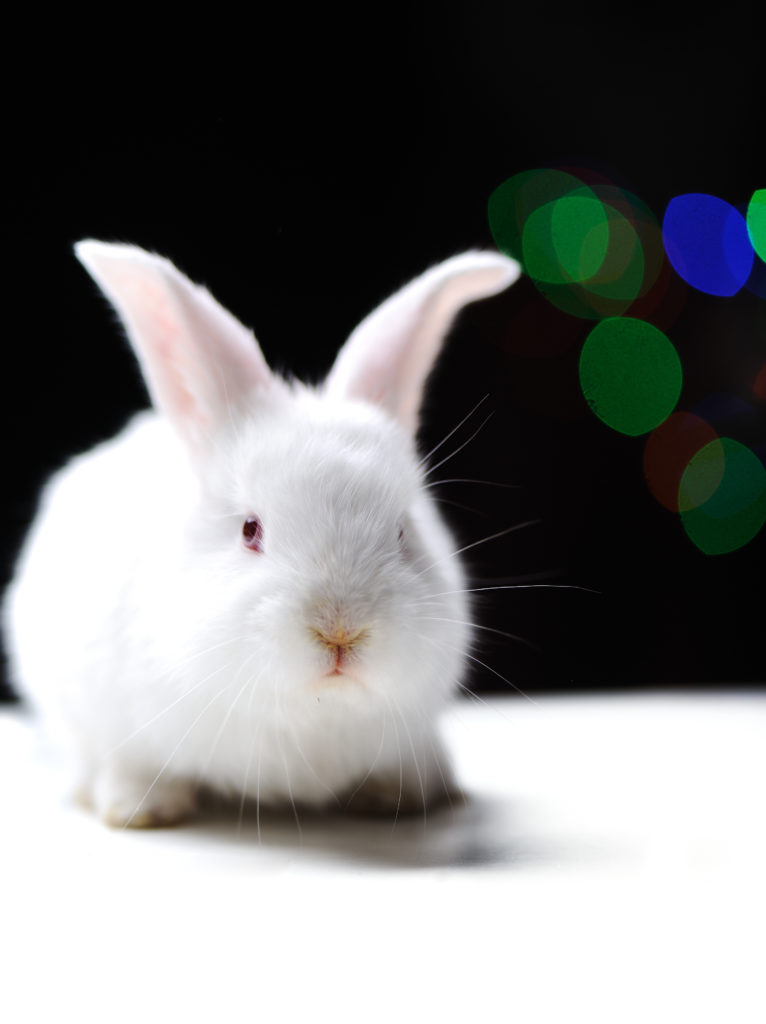 Springtime
Easter is early this year and this makes me happy because it makes winter seem shorter! I always feel like Easter is the beginning of Spring. Therefore, it's time to make No-Bake Rice Krispie Easter Egg Nests!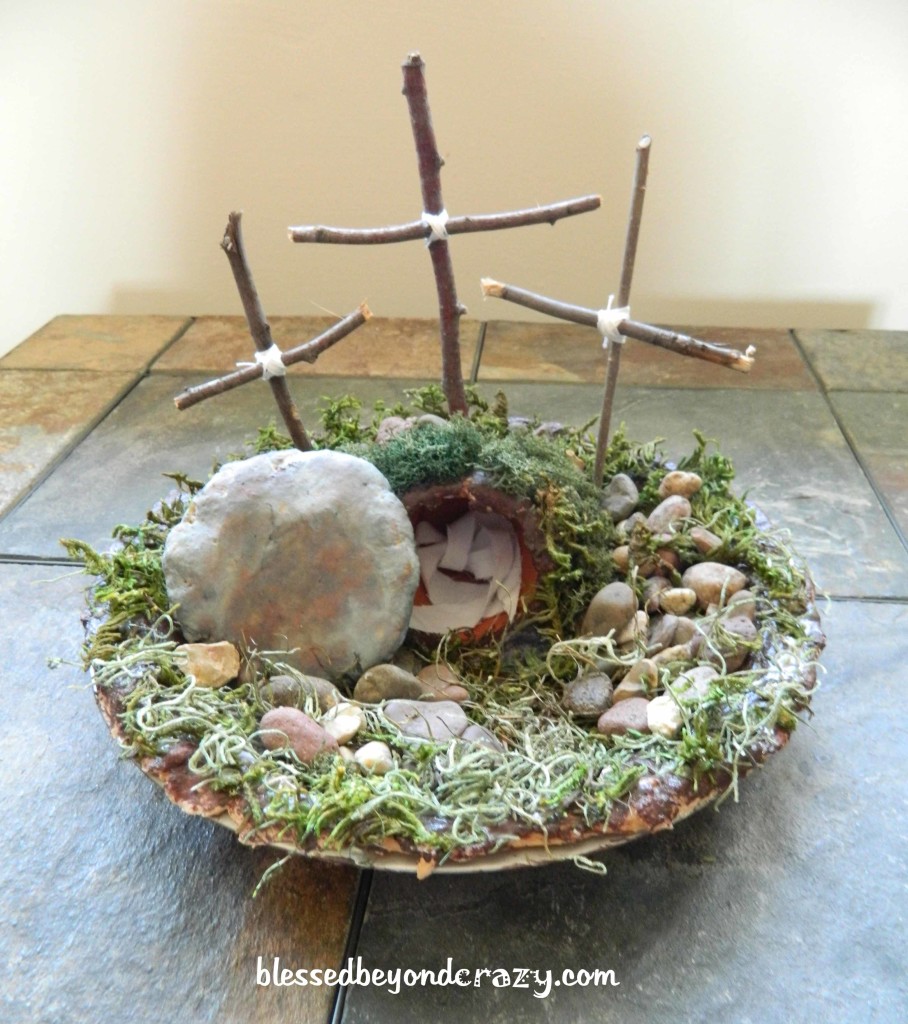 Family Quality Time
Easter is a great time to share quality time with family and friends. It's also the perfect time to do fun activities with the kids. Painting Easter eggs, making a DIY Resurrection Scene as well as creating yummy treats to eat.

Fun Desserts
A Cotton Candy Easter Trifle is yet another fabulous treat to share with your family and friends!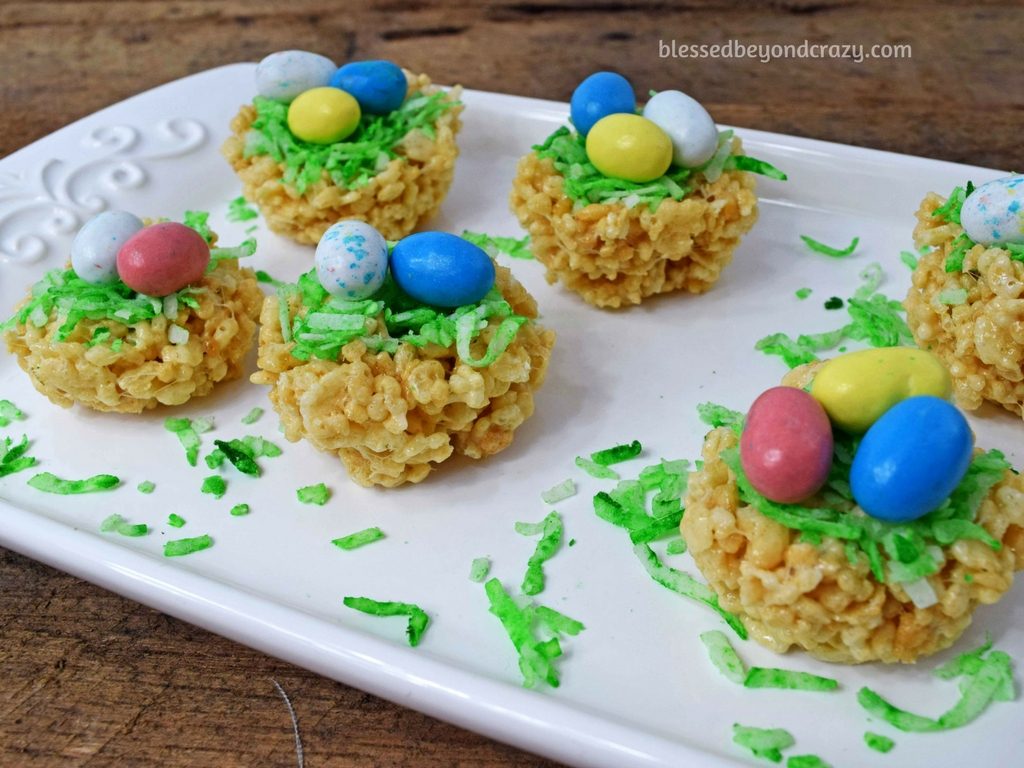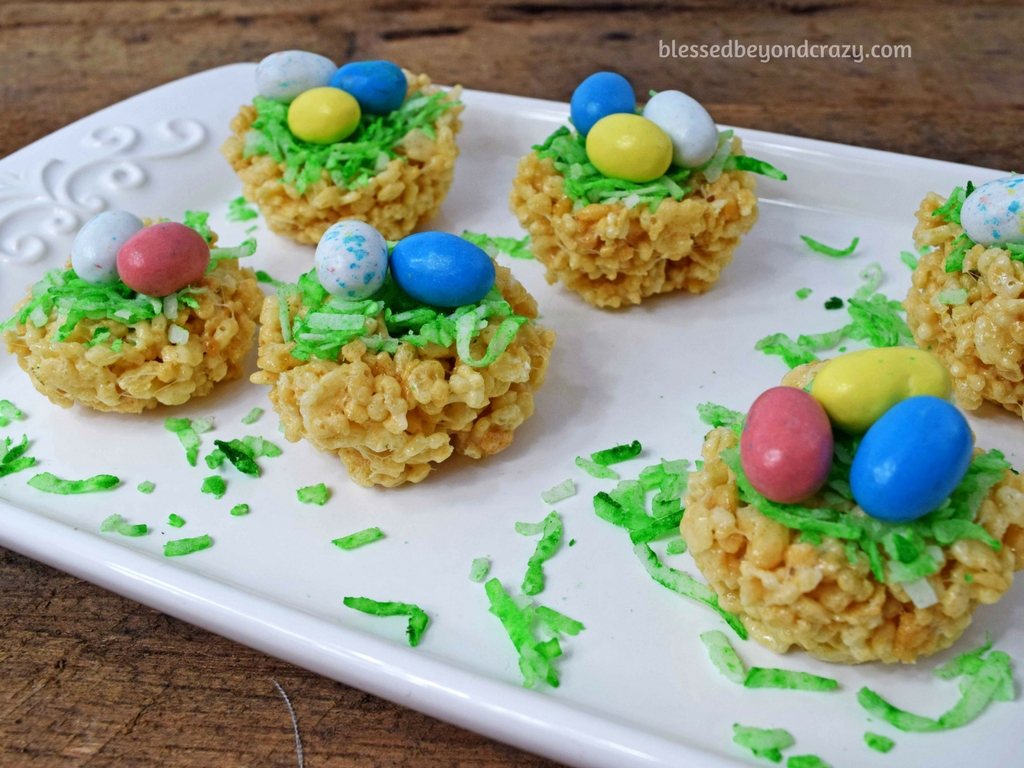 Edible DIY Gift Idea
No-Bake Rice Krispie Easter Egg Nests make a fun DIY gift! Individually wrap each Easter Egg Nests and place several in a cute basket or gift box.
First, start by making a regular batch of Rice Krispie treats.
In a large stockpot, melt 4 tablespoons of butter.
Add one bag of mini marshmallows and stir until all the marshmallows are melted.
Add 6 cups of Rice Krispie cereal and stir until well combined.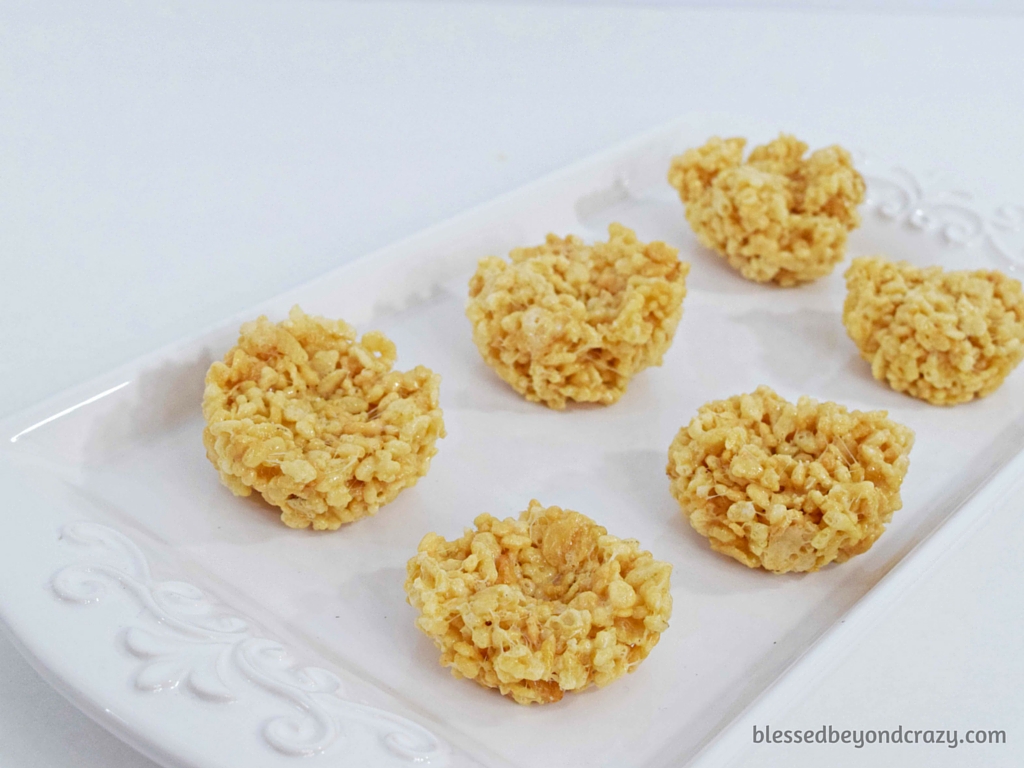 Shape into Nests!
Be sure to do this next part fast because the Rice Krispies set fast and will become difficult to shape. However, the melted marshmallow could still be quite hot. You might consider wearing gloves and not letting children help during this next part.
Add 1-2 spoonfuls of the Rice Krispie mixture to a silicone cupcake mold (paper cupcake liners would also work). Fill liners about halfway full.
Spread the Rice Krispies out to completely cover the bottom of the cupcake liner. Make a small dent in the center to make them nest-shaped.
Once completely cooled pop the nests out of the cupcake liners.
I personally like the silicone cupcake liners because nothing sticks to them and they are reusable.
This makes approximately 36 nests.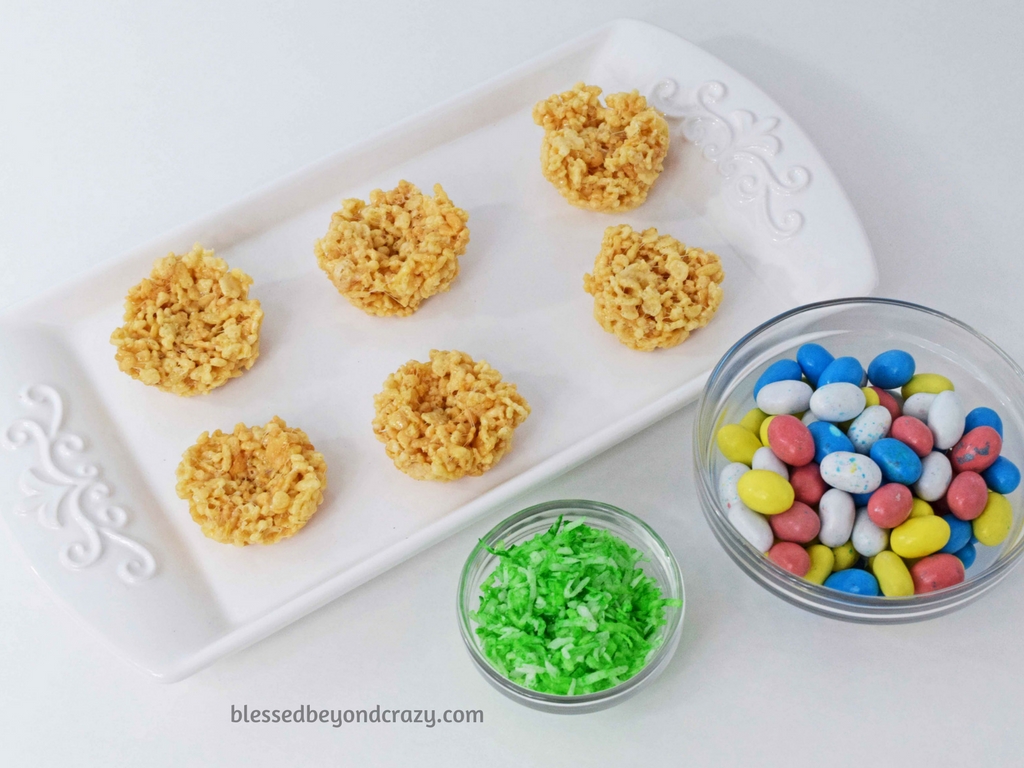 Make Coconut "Grass"
Now to make the coconut look like grass. It's really easy!
Mix 1 cup shredded coconut and 5-6 drops of green food coloring. Stir until well combined. Add more food coloring if necessary.
Spread 1 Tablespoon of the green coconut on top of your Rice Krispie nests.
Place 2-3 egg-shaped candy on top of each nest.
If the eggs are having a difficult time staying on top of the nests, use a drop of green icing to secure the eggs in place.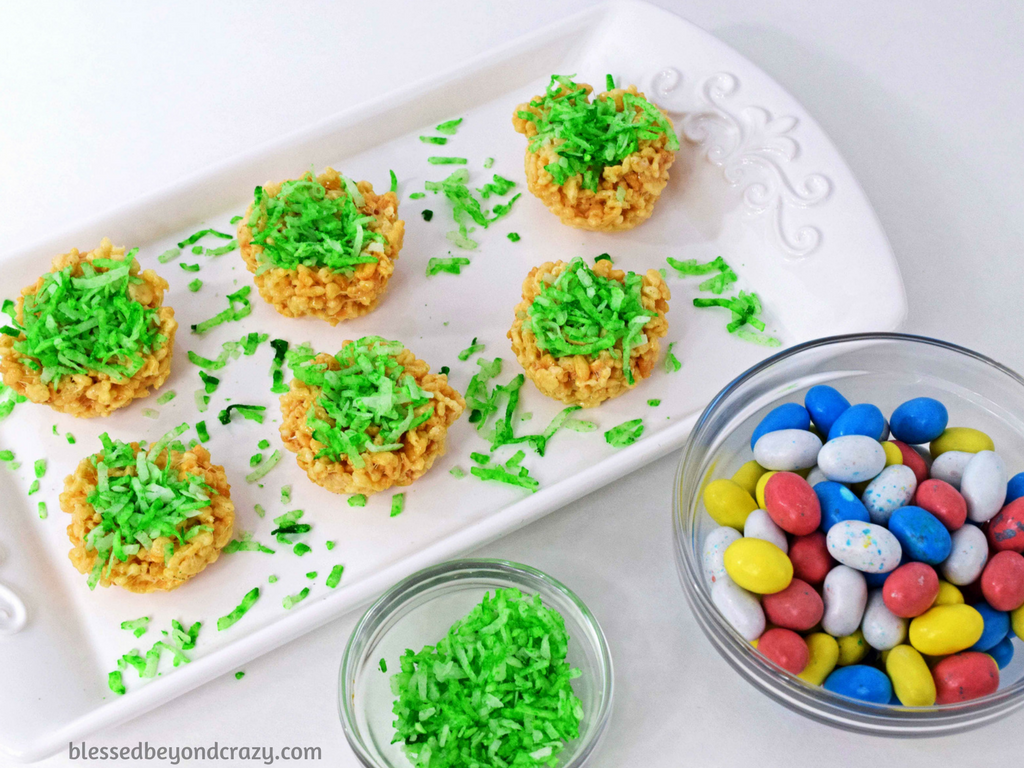 Since this is such an easy no-bake dessert you can have these made up and ready to go in about 15 minutes! You can easily make these ahead of time, no need to refrigerate. Just keep them in an airtight container.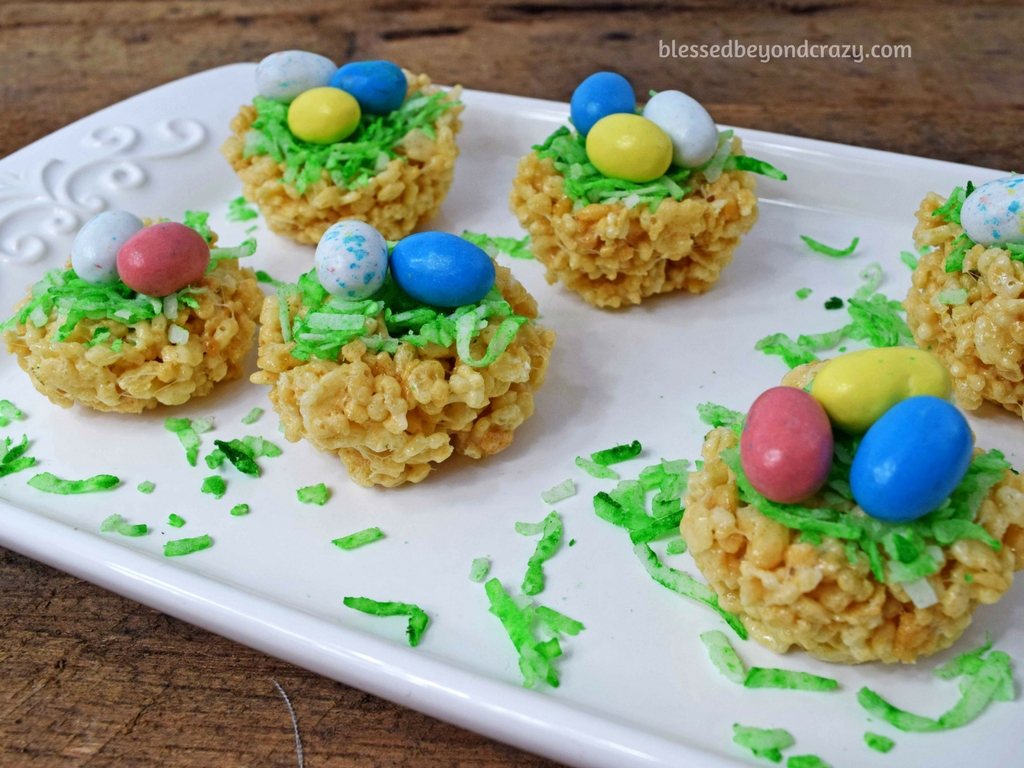 These No-Bake Rice Krispie Easter Egg Nests are adorable and the perfect way to start spring! They are colorful, fun to make, and super yummy!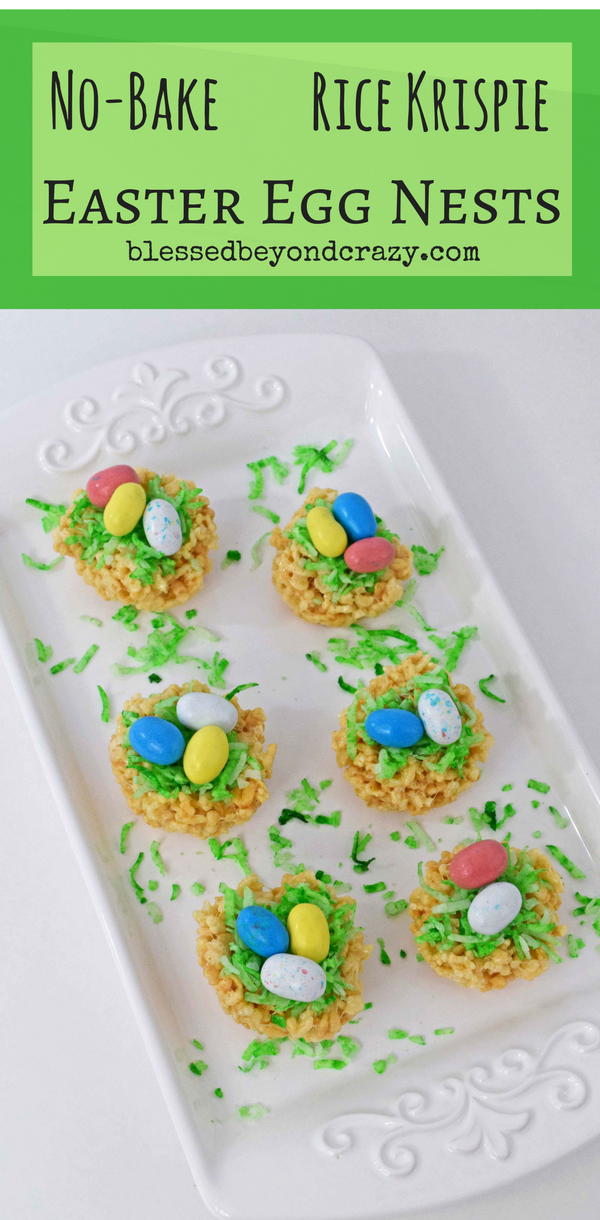 Happy Easter!
Anna
More great ideas: