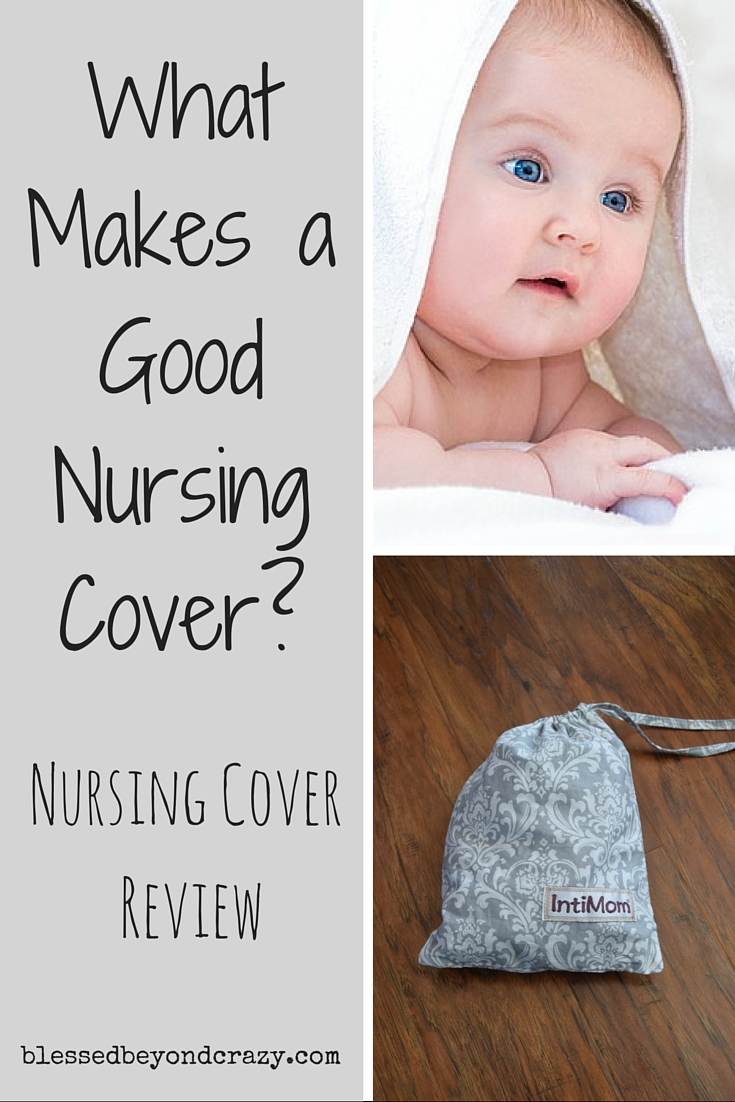 What Makes a Good Nursing Cover?
Is there anything more precious than a newborn baby?
They smell good, their skin is so soft, and they sleep all the time! Every movement they make is the cutest thing you have ever seen in your life!
I honestly love the newborn stage! I want nothing more than to just snuggle up on the couch with a pile of diapers, wipes, and my camera and just take about a million pictures of this sweet tiny human that I somehow miraculously created!
Unfortunately, I can't live on my couch. I must get up, and occasionally I must even leave the house. There are many reasons to want to never leave the house when you have a baby.
You literally take half your house with you! Seriously! How much does a fully packed diaper bag weigh?
If you only pack two extra outfits your baby will have three explosive diapers.
Your baby will only have an explosive diaper when you're not at home.
Strangers ask you surprisingly personal questions about the delivery and your boobs…and then they tell you A LOT of personal stuff about when they had a baby. 
You can't take the swing, the bouncy seat, or the mobile with you.
Is it possible for the car seats to be any more difficult to install?
Catching your baby licking the shopping cart makes you dry heave.
Strangers feel like it's okay to touch your baby. Enough said.
Your baby will be hungry as soon as you get to your destination.
It's miserable nursing in public.
While staying home is easier, it just isn't realistic. At some point, sooner or later, you have to leave and face the world.
Some of these things just can't be helped. It's just part of your new life as a parent.
One thing that might make leaving the house easier is a good nursing cover! Nursing can be difficult, and nursing under a blanket without seeing your baby can be downright impossible!
On a side note: If you choose to not use a nursing cover I am absolutely not judging you in the least bit! I applaud you! I have done both. I personally feel more comfortable and less stressed while using a nursing cover–if I am using a good one. There have been times when I have not used one at all and that has made me uncomfortable and stressed which made the whole nursing experience less than ideal. I have found that when I am comfortable and at ease feeding my baby is a relaxing experience for us both!
As I mentioned using a good nursing cover makes everything easier. So what makes a nursing cover a good one? Well, here is what I have learned over the years to look for:
Big enough to cover 

everything!

 That means top, bottom, and sides. The main reason I use a nursing cover is that I don't really want everyone to see my beautiful stretch marks and baby weight that is still clinging on. I've owned a nursing cover that was long but not wide and vice versa. Is it too much to ask for one that is long and wide?
Adjustable strap.
Lightweight! For some reason, these tinny, itty-bitty humans put off SOOOO much heat! Nursing can be a hot and sweaty experience! I want a lightweight material that can breathe so my poor baby doesn't suffocate and so I don't sweat all over him!
A stiff top hem so you can see your baby. It's really hard nursing a baby when you can't see each other! Especially, when they are newborns. I think this is the most important aspect for new moms. It's hard enough nursing, but it can be almost impossible if you're trying to nurse blindly. That's the biggest downside to nursing with a baby blanket.
I have finally found a nursing cover that actually has all these requirements! I didn't even know how important these things were until I had them all at once! The Intimom Nursing Cover has been a bit of a game changer! I honestly didn't think it was going to be anything worth getting excited over but I promise I'm not exaggerating! I don't have to worry about the thing falling off and leaving me exposed. It's lightweight and not too hot at all.
The half circle loop in the upper hem is worth every penny for this cover! It actually keeps the cover off the baby for the most part so I don't have to worry about baby getting too hot. It also allows me to have constant eye contact with the baby without using either of my hands to hold the cover open!
As I said at the beginning, I prefer to use a cover. But I had stopped using a cover altogether because they were cumbersome and awkward and I was constantly fighting the thing to stay in place while still attempting to see my baby. Using the Intimom Nursing Cover has made nursing in public easier and more relaxing for me and my baby.
The Intimom Nursing Cover also comes at a great price! You can check out their website here or find their products on Amazon!
Just for our readers! Get 10% off at checkout by using coupon code: 3FQLTFY2
This would make a great baby gift for a new or experienced mom!
What are your tips for a smooth outing with a newborn?
Anna
This product was given to me for free for my honest review. All opinions and statements are my own.