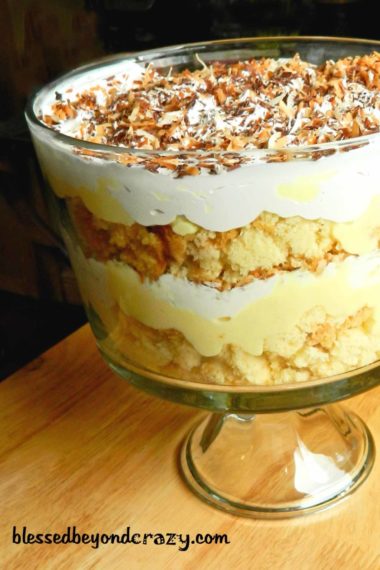 Today we are bringing you not one, but TWO fancy gluten-free trifles. One trifle is chocolate and the other is a coconut cream trifle. Since several in my family are gluten-free I wanted to make an easy, yet fancy dessert. I decided to make a chocolate trifle. The layered look in this glass trifle bowl makes this simple dessert look so fancy.
To help support our blogging activities, our site contains affiliate links. If you make a purchase from a link on our site, we may receive a small percentage of that sale, at no extra cost to you. Blessed Beyond Crazy is a participant in the Amazon Services LLC Associates Program, an affiliate advertising program designed to provide a means for sites to earn advertising fees by advertising and linking to amazon.com.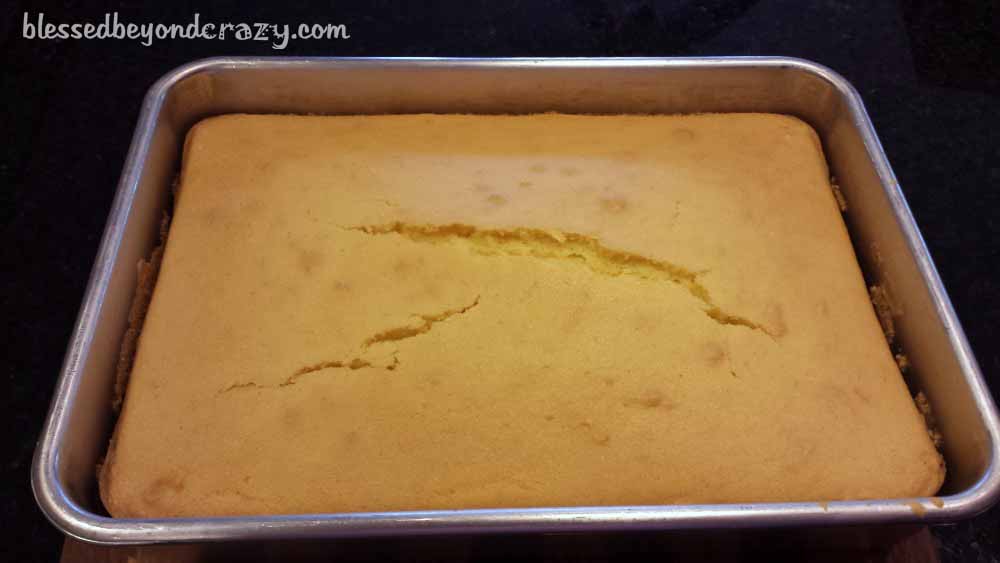 Gluten-Free Cake
I started by mixing two Betty Crocker gluten-free yellow cake mixes and baked them in a 9 x 13 cake pan. I doubled the batch because I wanted some cake leftover so I could freeze some for a later date. This cake freezes really well and it's nice to have some on hand for those times when I get a craving for cake.
Making a cake from a mix is part of what makes this dessert so simple and easy. Click here to find Gluten Free Yellow Cake Mix
I used half of it for the chocolate trifle, then I gave the other half to Anna and she made the coconut cream trifle.
Before we get started–Part of what makes this dessert so awesome is the dish that it is served in. It really makes it look fancy. If you don't have a trifle bowl here is a trifle bowl that is similar to ours that you will see in the pictures.
But I also found this 6-in-1 Deluxe Cake Stand. Not only does it serve as a trifle bowl but also a punch bowl, veggie tray, cake stand, salad bowl, and serving platter. I don't have this particular bowl, but I think it looks pretty cool, not to mention practical.
GF Chocolate Trifle
Gluten-Free Chocolate Trifle
When the cake is completely cool, tear it into bite-size pieces and cover the bottom of the trifle bowl.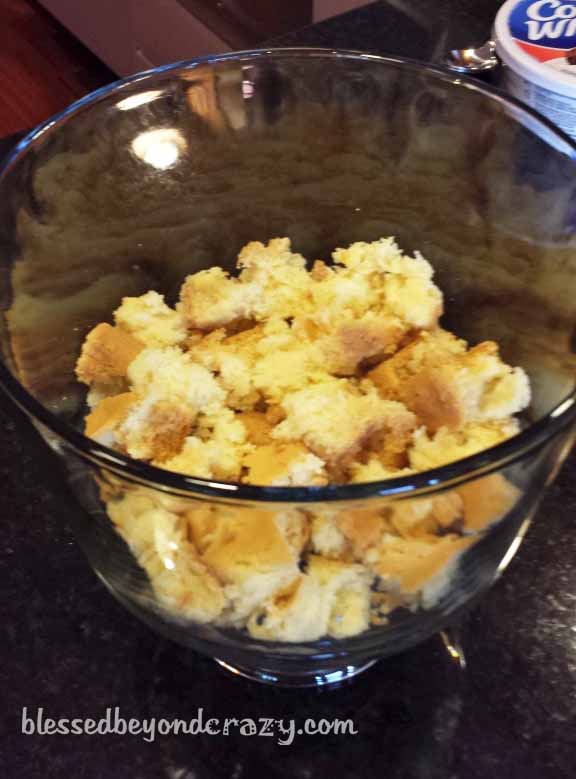 Next, cover the pieces of cake with a layer of chocolate pudding. I used a prepared pudding that does not contain corn, however, you can use a gluten-free box mix of pudding if you wish. Then, add a layer of whipped cream.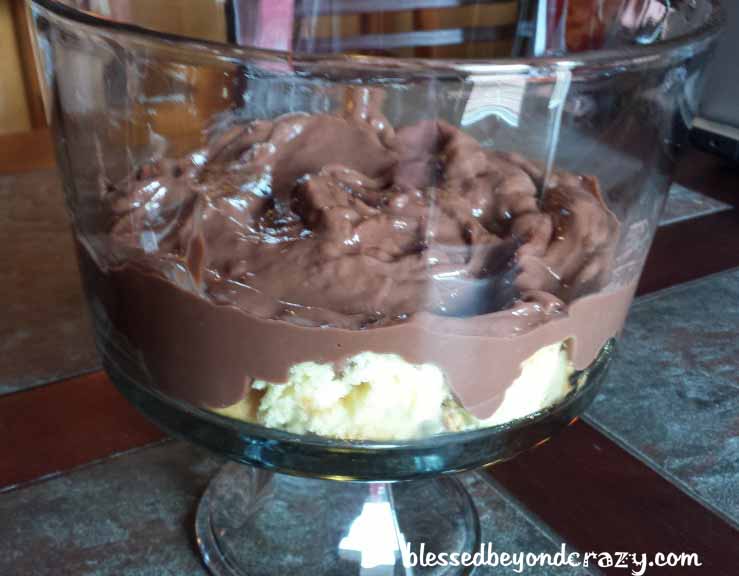 Add an additional layer of cake pieces, then another layer of pudding and whipped cream.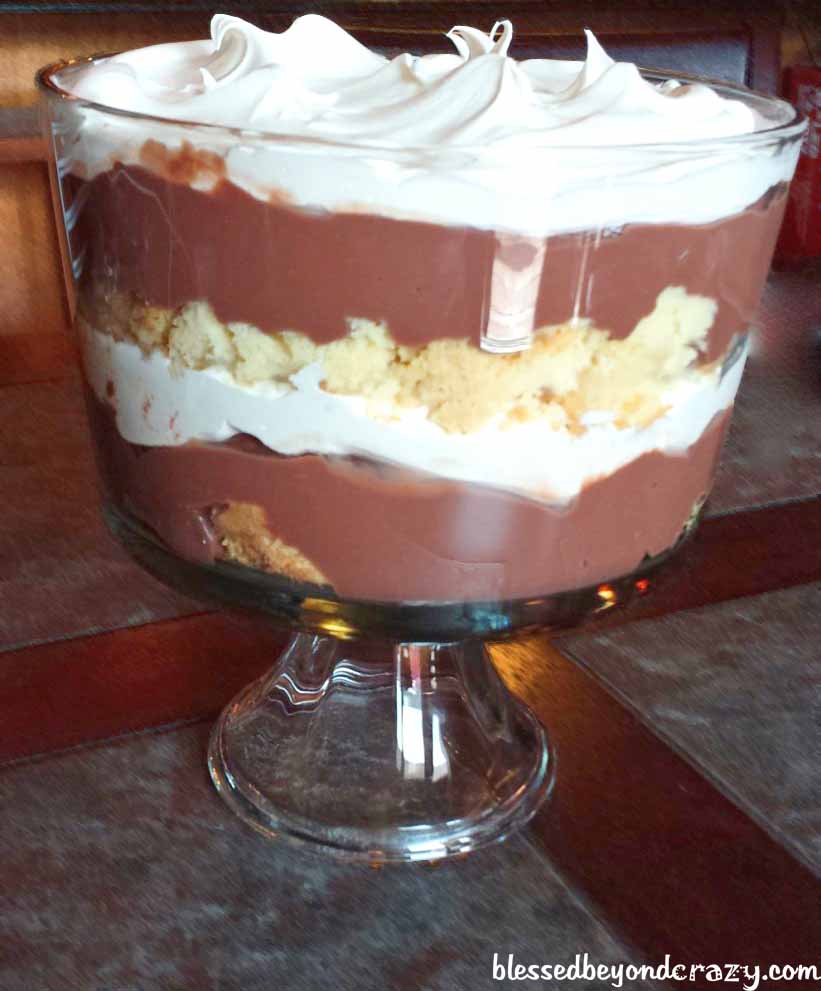 For the final touch, drizzle gluten-free chocolate and caramel syrup on top. You could also add chopped nuts, chocolate curls, gluten-free peanut butter cups, or fresh fruit such as bananas, blueberries, raspberries, etc…
Refrigerate for several hours before serving. This allows all of the ingredients to combine a little.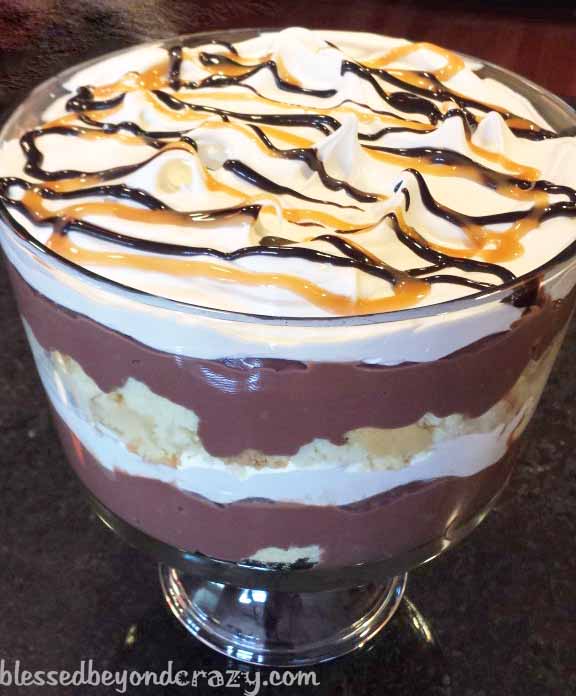 Enjoy!
Linda
GF Coconut Cream Trifle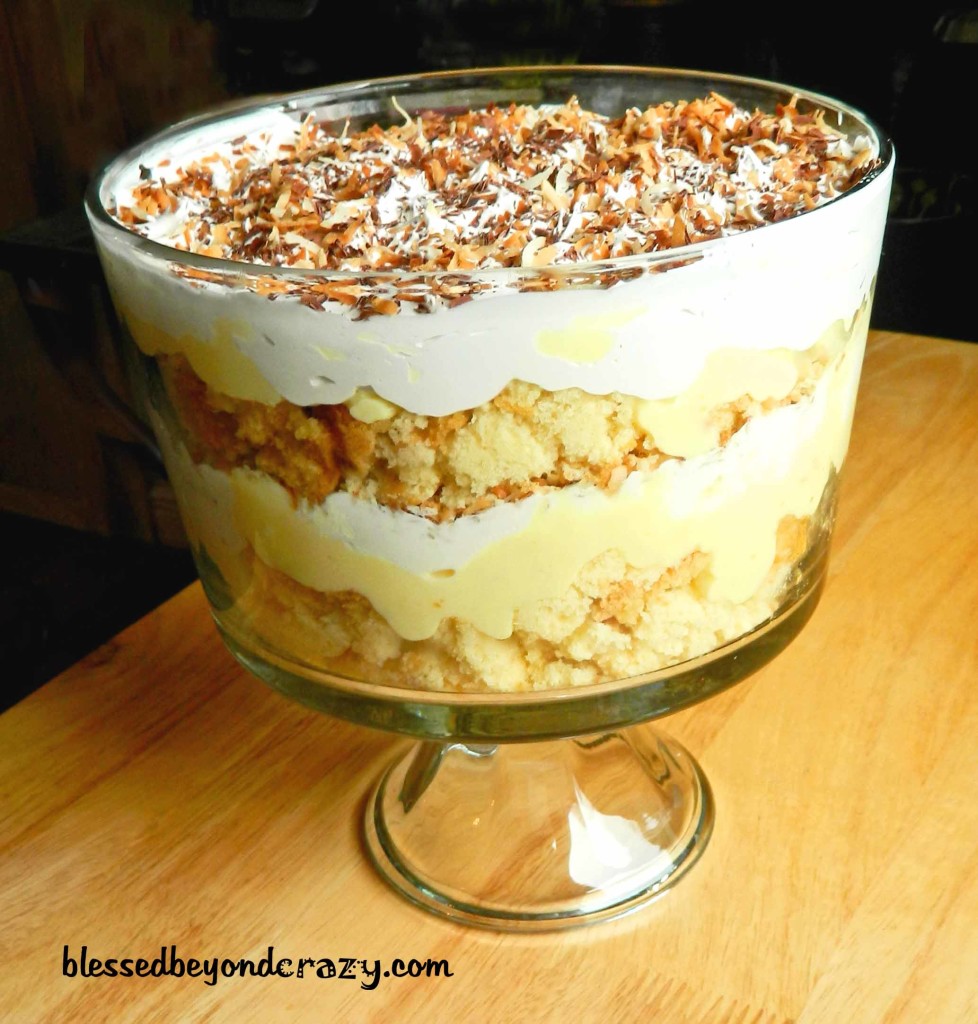 Gluten-Free Coconut Cream Trifle
So I spent this past weekend with my mom.
She is an amazing cook and she was telling me all the food she made for me and my kids to enjoy while we were with her.
On a funny note, she told us that had she had made a truffle. We were excited to eat this great candy. My step-dad said, "It's not a truffle, it's a parfait!" I didn't think either of them was right, but I didn't know what it was called either. Well turns out she had actually made a trifle. So we all learned something new this weekend.
So she pulls out this beautiful glass bowl with this fancy dessert inside it. We were all impressed and "Ooohed" and "Awe'ed" over this.
She kept telling me how simple and easy it was to make. And it tasted sooooo goooood!!!!!
My mom said that this is her new favorite dessert for several reasons.
Easy to make

Looks fancy

So many different varieties and options to make

DELICIOUS!
As my mom stated above, she had made a double batch of the gluten-free yellow cake. She gave me the other half of the cake.
She was also so in love with this new dessert that she gave me her trifle bowl because she was going to go buy another one!
And I loved this dessert so much that I went home and made one for my husband.
Seth LOVES coconut! So I decided to make a coconut cream trifle.
Before I tell about my layers there is a small amount of prep that I did:
I made a box of gluten-free coconut cream pudding.

Next, I mixed one container of cool whip with 4 oz. of cream cheese, 1/2 cup of powdered sugar, and 1 tsp. of vanilla.

Then I toasted some coconut which is really easy to do–just put the amount of coconut you would like in a large skillet and cook it over medium heat, stirring constantly until coconut is as "toasted" as you like. It only takes a few minutes.
Layer the bottom of the bowl with half the cake, torn up into bite-size pieces (just like it is pictured above)

Next layer half of the coconut cream pudding

Next layer half of the cool whip mixture.

Then add half of the toasted coconut

Repeat all layers

I topped it with some chocolate shavings and toasted coconut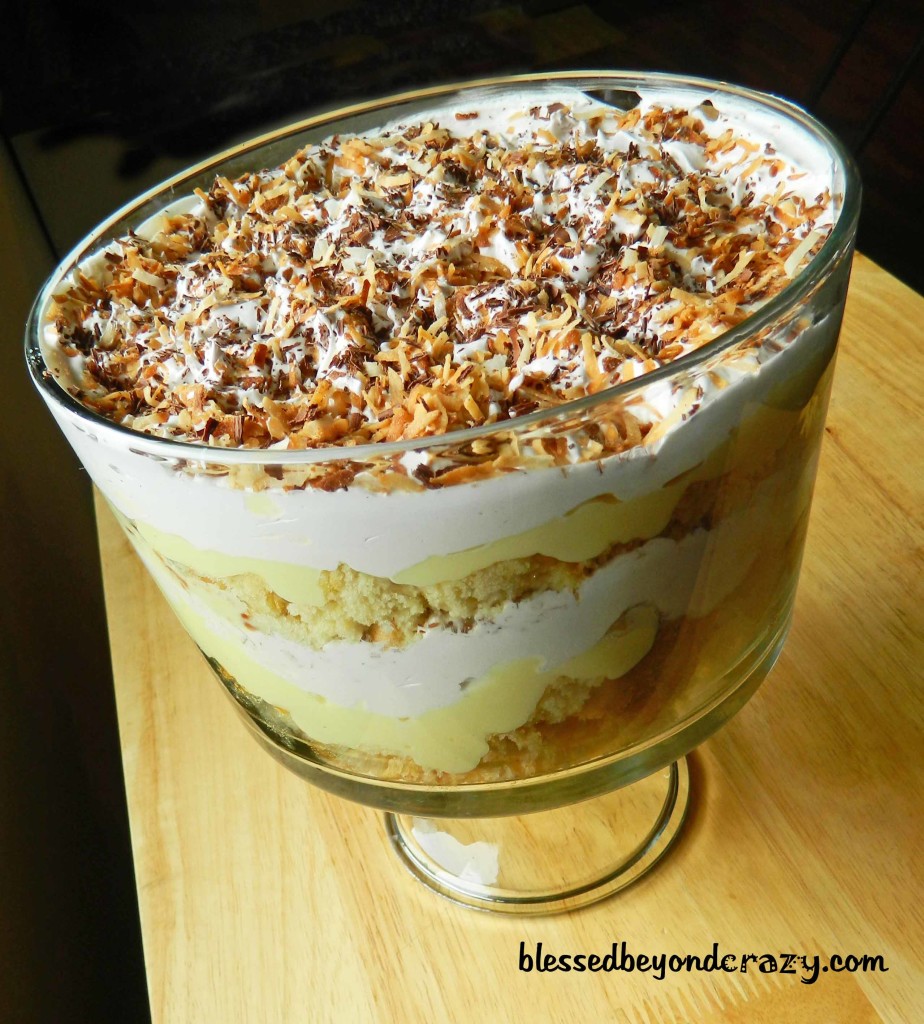 I told my husband I had made a dessert for him. His response was, "Yeah, I'll try it."
Well, he did try it…and then he inhaled it!!
Enjoy!
Anna
More great ideas: