These Zucchini Muffins are full of healthy ingredients. Even small children love them!
This recipe is one of my all-time favorite gluten-free recipes. As a matter of fact, I always make a double batch whenever I make these muffins because they freeze really well. When I am crunched for time in the mornings, I can grab one out of the freezer, warm it up in the microwave for a few seconds and add just a little butter. If time allows I will make eggs too. Such an easy, quick, nutritious, and delicious way to start the day.
To help support our blogging activities, our site contains affiliate links. If you make a purchase from a link on our site, we may receive a small percentage of that sale, at no extra cost to you. Blessed Beyond Crazy is a participant in the Amazon Services LLC Associates Program, an affiliate advertising program designed to provide a means for sites to earn advertising fees by advertising and linking to amazon.com.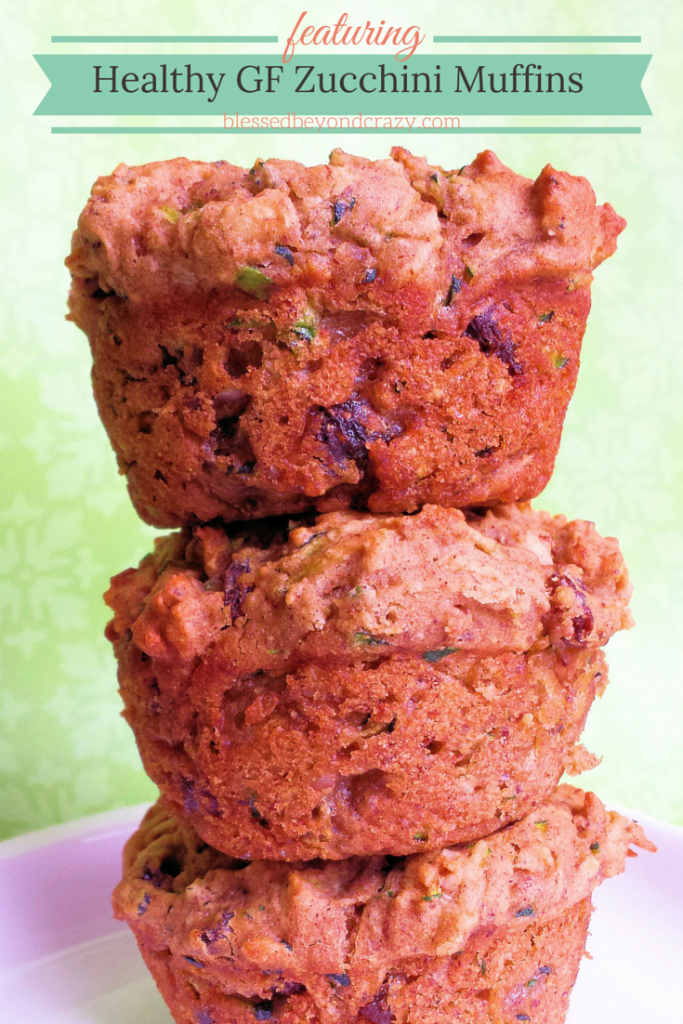 Delicious Muffins!
This past weekend we had a sleepover with a couple of our small grandchildren. Before I went to pick them up, I made a double batch of these muffins.
Our two-year-old granddaughter, (who is on a gluten-free diet), and our 5-year-old grandson LOVED these muffins. (They called them "cupcakes" – lol). The 5-year-old ate at least four of them in a 24 hour period, and the two-year-old had at least two, maybe three. When offered dessert they asked for one of these muffins instead.
These yummy muffins start by mixing all of the dry ingredients together first: sugar, gluten-free flour, baking powder, salt, baking soda, cinnamon, nutmeg, potato starch, and ground flax. Next, combine eggs, vegetable oil, and vanilla with the dry mixture. The mixture will seem dry and crumbly. Now add the grated zucchini, raisins, and chopped nuts. Mix all ingredients well. Again, the mixture will seem crumbly.
Preheat the oven to 350 degrees. Grease a muffin tin (I used stone bakeware), and fill each muffin well all the way to the brim. The muffins do not rise very much at all and are very dense.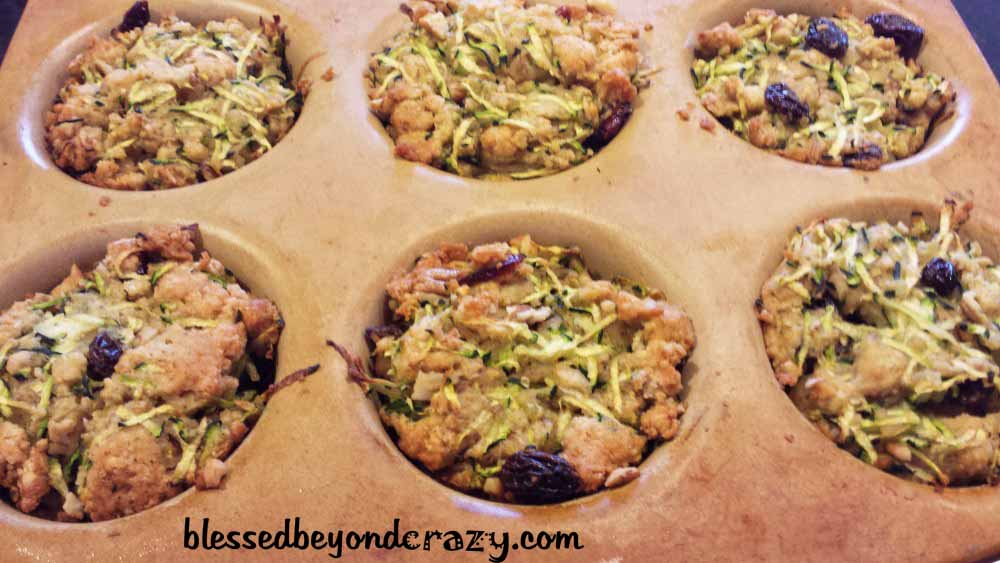 Bake at 350 degrees for 35 – 40 minutes, or until the muffins are a golden brown on top and a toothpick comes out 'clean' when inserted in the center of the muffins.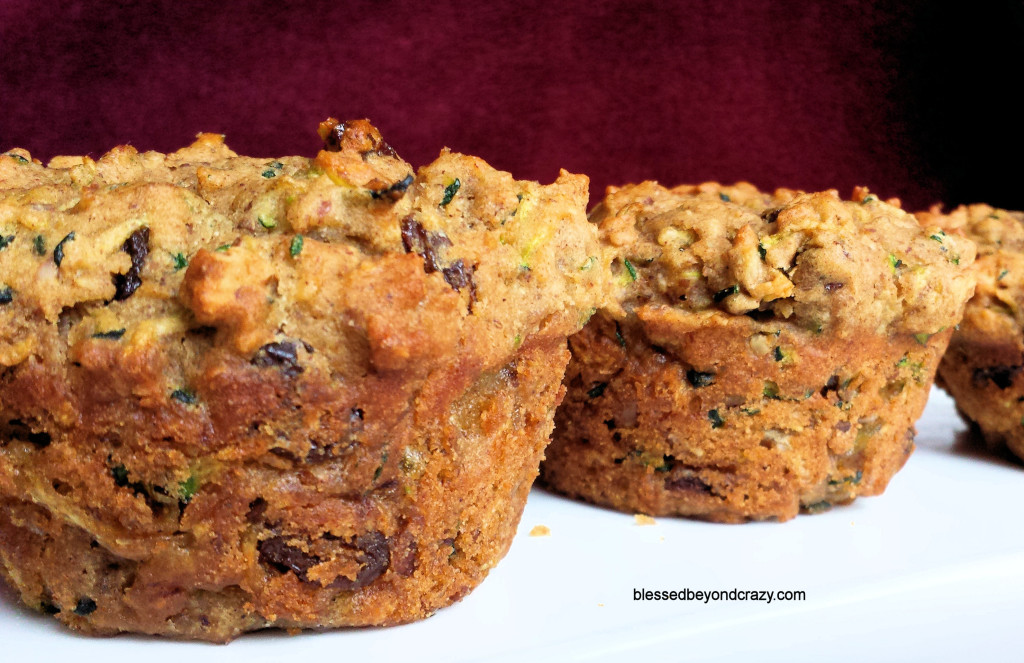 Serve with your favorite jam, jelly, or butter.
Since there aren't any preservatives in these muffins, I store the fresh muffins in an air-tight container in the refrigerator (up to 5 days) or freeze them.
Healthy Gluten Free Zucchini Muffins
---
Yields 12 muffins
A delicious gluten free zucchini muffin recipe.
15 minPrep Time
35 minCook Time
50 minTotal Time
Ingredients
1/4 cup raisins
1 cup grated fresh zucchini
2 eggs
1 tsp gluten free baking powder
1/2 tsp gluten free baking soda
1/2 tsp ground cinnamon
1 tbsp ground flax meal
1 cup gluten free flour blend
1/3 cup granulated sugar
1/4 tsp ground nutmeg
1 tsp potato starch
3/4 tsp salt
1 tsp vanilla
3 tbsp canola oil
1/4 cup pecans
Instructions
In a large mixing bowl, combine dry ingredients: sugar, gluten free flour, baking powder, salt, baking soda, cinnamon, nutmeg, potato starch and ground flax.
In a small mixing bowl, combine eggs, vegetable oil and vanilla.
Add wet ingredients to the dry mixture.(The mixture will seem dry and crumbly.)
Add grated zucchini, raisins and chopped nuts.
Mix all ingredients together well.
Spoon batter into a well greased muffin tin.
Bake in a preheated 350 degree F oven for 35 to 40 minutes.
7.8.1.2
82
https://blessedbeyondcrazy.com/gluten-free-zucchini-muffins/
www.blessedbeyondcrazy.com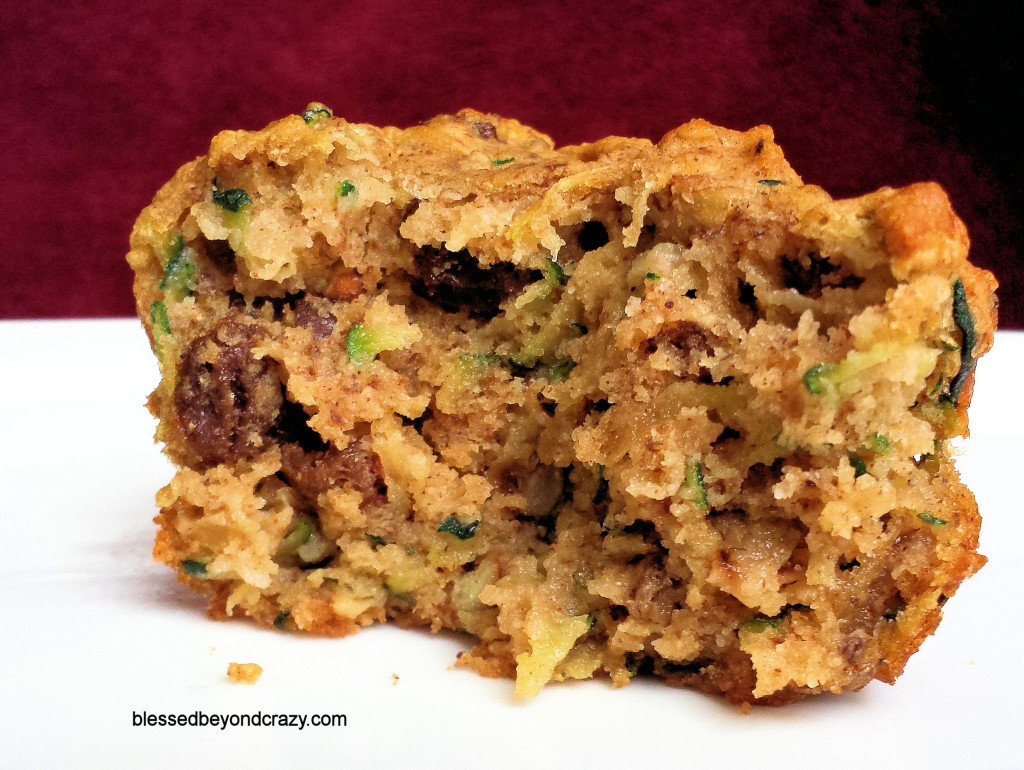 I hope that you enjoy this recipe as much as my family does.
Here's to eating healthy!
Linda
More great ideas: