The weather is getting a little cooler, the apples are falling off the trees and it's a perfect time to make this good Old-Fashioned Praline Apple Bread!!! This bread is absolutely delicious all by itself or served with a cup of coffee, apple cider or hot chocolate.
---
To help support our blogging activities, our site contains affiliate links. If you make a purchase from a link on our site, we may receive a small percentage of that sale, at no extra cost to you. Blessed Beyond Crazy is a participant in the Amazon Services LLC Associates Program, an affiliate advertising program designed to provide a means for sites to earn advertising fees by advertising and linking to amazon.com.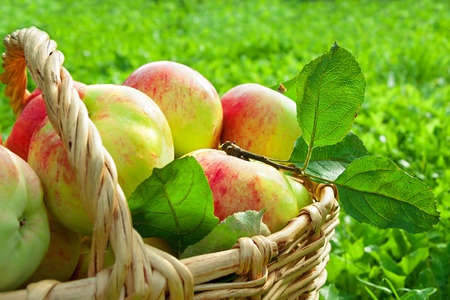 Apples
Because apples are so yummy and good for us I like to use them in recipes whenever I can. Usually, I'll leave the peels on for extra fiber; especially if I am using organic apples from my parent's farm. Their apples are as organic as you can possibly get. No chemicals or pesticides. Totally nature made.
Sometimes we use these apples to make Apple Pie Oatmeal or Mulled Apple Cider or even in Mini Cast Iron Skillet Fruit Pies.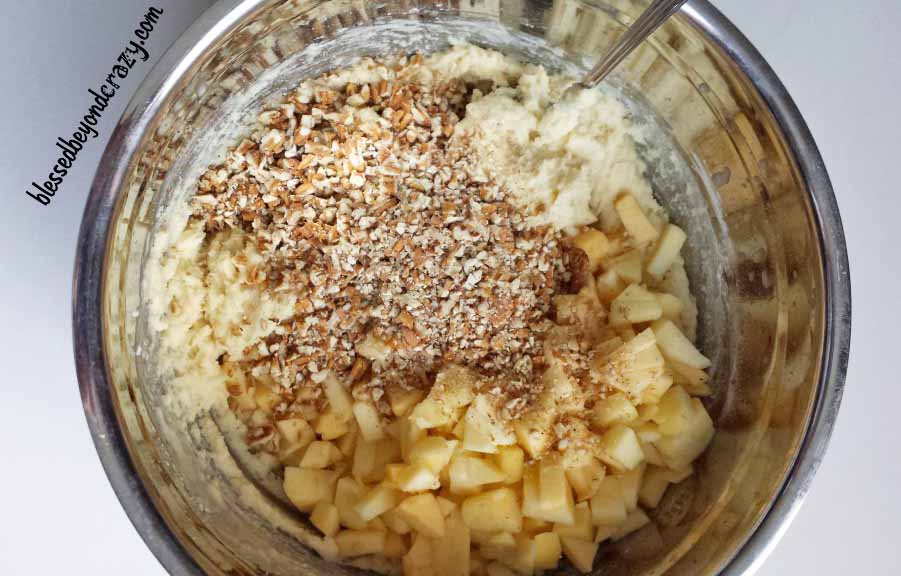 Mix It Up!
The original recipe calls for the use of a loaf pan, however, I used Wilton's Brownie Bar Baking Pan instead. I kept seeing this neat square mini loaf pan in the store and I finally decided to buy it. Man, am I glad I did! It does not stick, it browns evenly and is easy to clean. I have decided to use this versatile pan to make mini meatloaf's, mini cakes, muffins, etc…
Bake
The muffins baked for 45 – 50 minutes and as the bread started to bake, the aroma that filled my home was heavenly.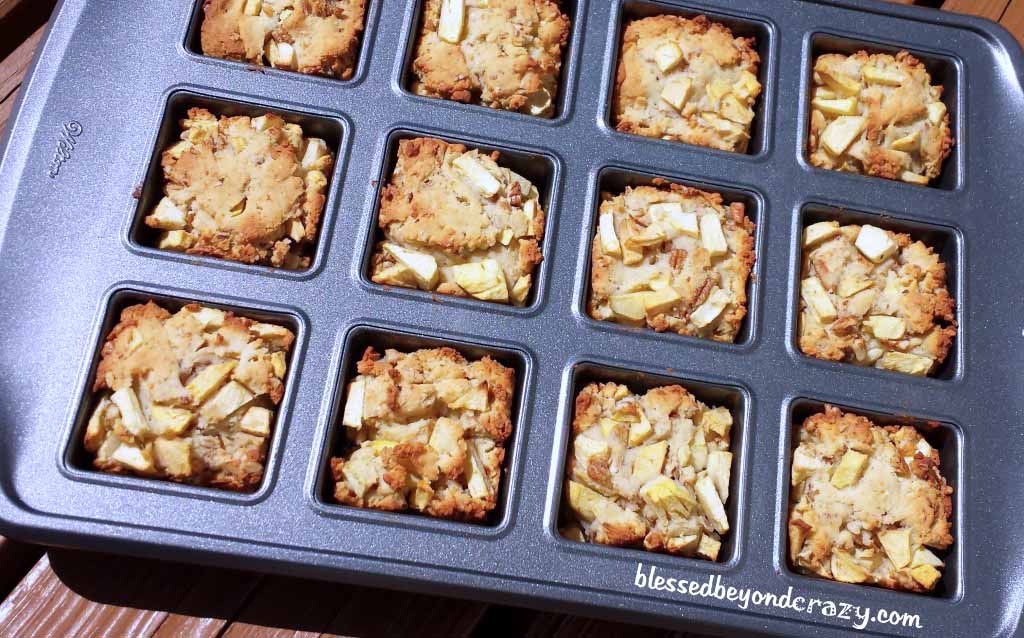 Cool
It's best to allow the bread to cool in the pan for 5 minutes before removing the muffins. The next step is to make the yummy praline topping.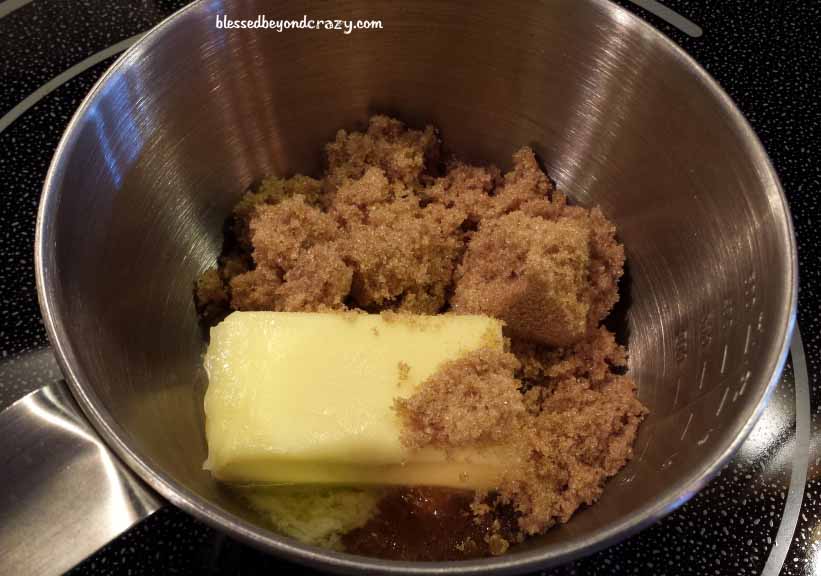 Praline
The praline is created by combining butter and brown sugar. As the mixture came to a rolling boil, I stirred it frequently to keep the mixture from burning.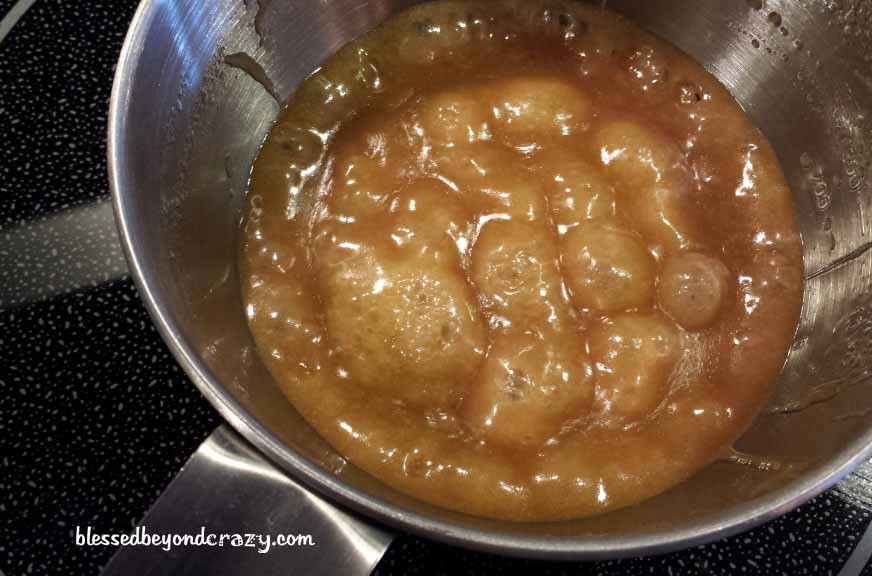 I then removed the bread from pan and drizzle the hot praline mixture over the bread.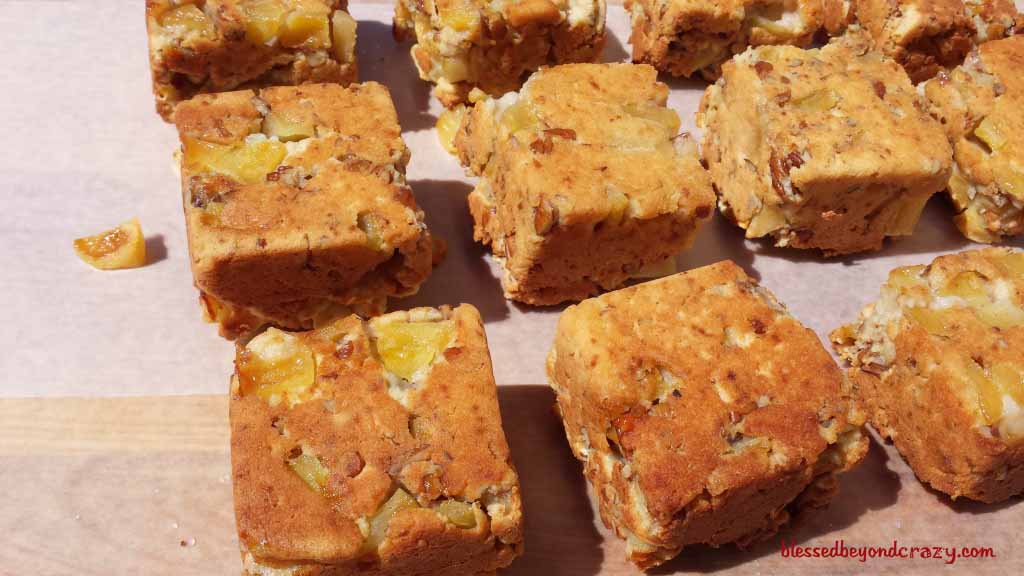 Next, I topped the bread with additional chopped pecans.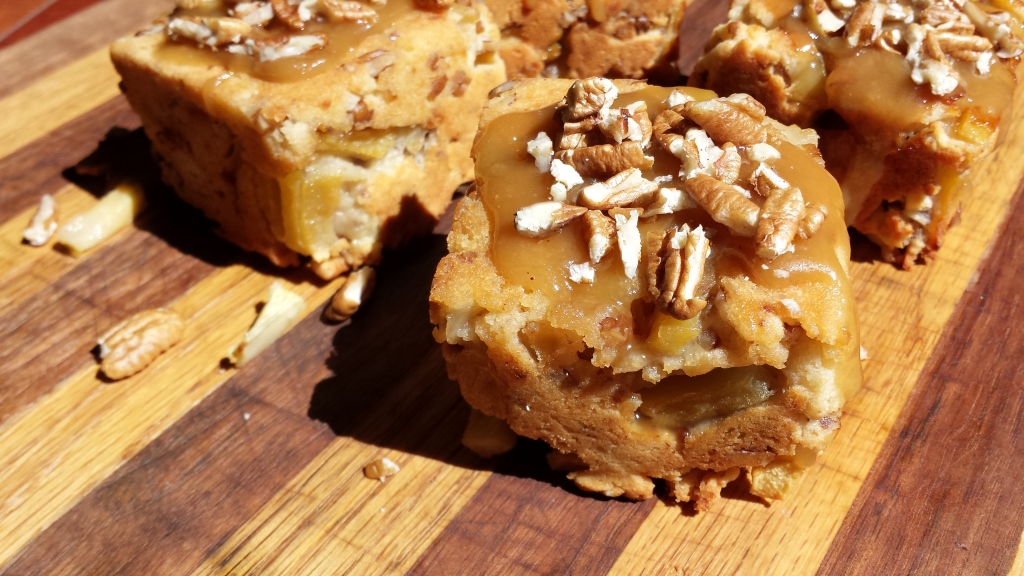 Add Pecans!
Did I mention that this bread smelled so delicious while it was baking??? It made our whole house smell like fall. Mmm, Mmm! Therefore, don't wait until fall to make this delicious Old Fashioned Praline Apple Bread. Because this bread is so yummy, it's fantastic at any time of the year!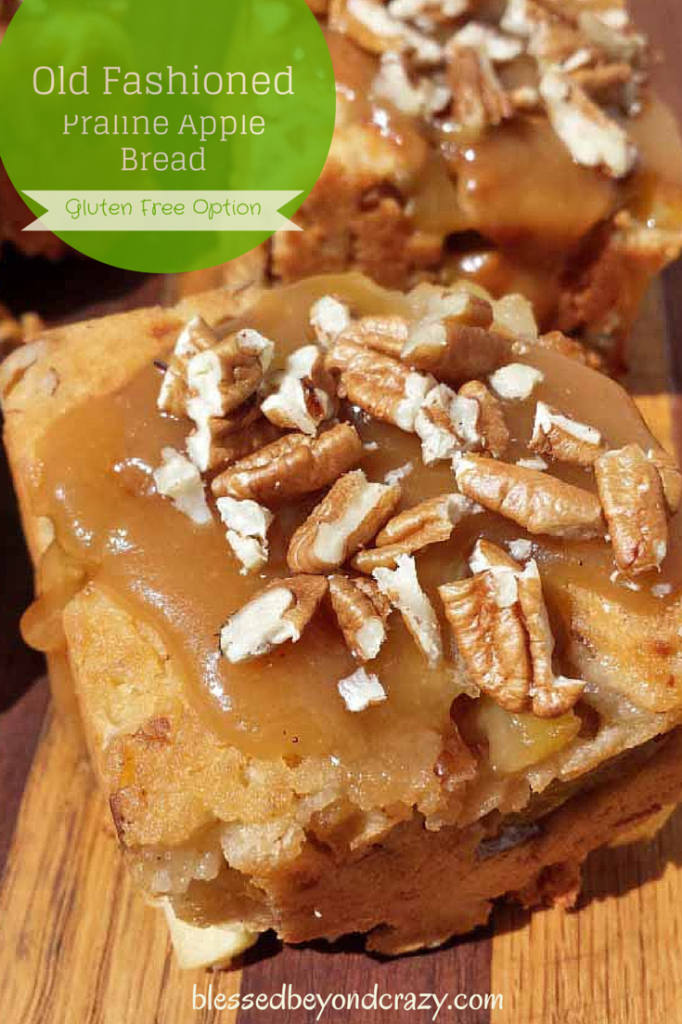 Old Fashioned Praline Apple Bread (Gluten Free Option)
---
Unknown
A delicious praline apple bread recipe.
20 minPrep Time
55 minCook Time
1 hr, 15 Total Time
Ingredients
1 cup sugar
8 ounces sour cream (*GF version - I use Daisy brand of sour cream)
2 eggs
2 teaspoons vanilla (*GF version use gluten free vanilla)
2 cups flour (*GF version, use gluten-free flour blend)
2 teaspoons baking powder (GF version, use gluten-free baking powder)
1/2 teaspoon baking soda (*GF version, I use gluten free and aluminum-free baking soda)
1 1/4 cups, apples, peeled and chopped
1 cup chopped pecans, divided
(*GF version only - add 1 Tablespoon ground flax and 3/4 teaspoon xanthan gum)
GLAZE:
Glaze: 1/4 cup butter + 1/4 cup brown sugar
Instructions
In a mixing bowl, combine sugar, sour cream, eggs and vanilla.
Beat on medium speed for 2 minutes.
Mix in dry ingredients.
Stir in apples and 1/2 cup pecans.
Pour into greased and floured 9-Inch x 5-Inch Non-Stick Loaf Pan and cover with remaining pecans, pressing gently into batter.
Bake in a preheated 350 degrees F oven for 55 - 60 minutes.
Cool in pan for 5 minutes.
While cooling: bring brown sugar and butter to a boil for 1 minute.
After removing bread from pan, drizzle with boiled mixture.
Optional: top with more pecans.
7.8.1.2
126
https://blessedbeyondcrazy.com/make-old-fashioned-praline-apple-bread/
www.blessedbeyondcrazy.com
Happy apple season!
Linda
Disclaimer: Manufacturer's formulations and policies may change at any time, therefore it's important to always read product labels yourself and contact the manufacturer with concerns. We have found that most companies are eager to help answer your questions.
For more great recipes be sure to check out: