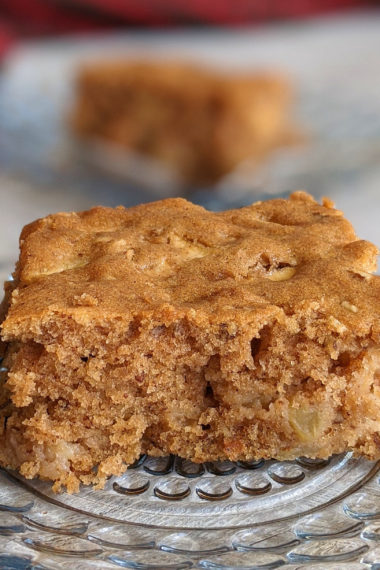 Grandma's Yummy Apple Cake is a delightful dessert and a recipe that my family has passed down through the years. It's also a tasty way to use some of those fresh juicy ripe apples!
This year my parents had an abundance of apples on their trees and this made my entire family very happy. Why? Because my parents are very generous and share their bounty with us and that means we can make a variety of scrumptious apple recipes, including apple cake!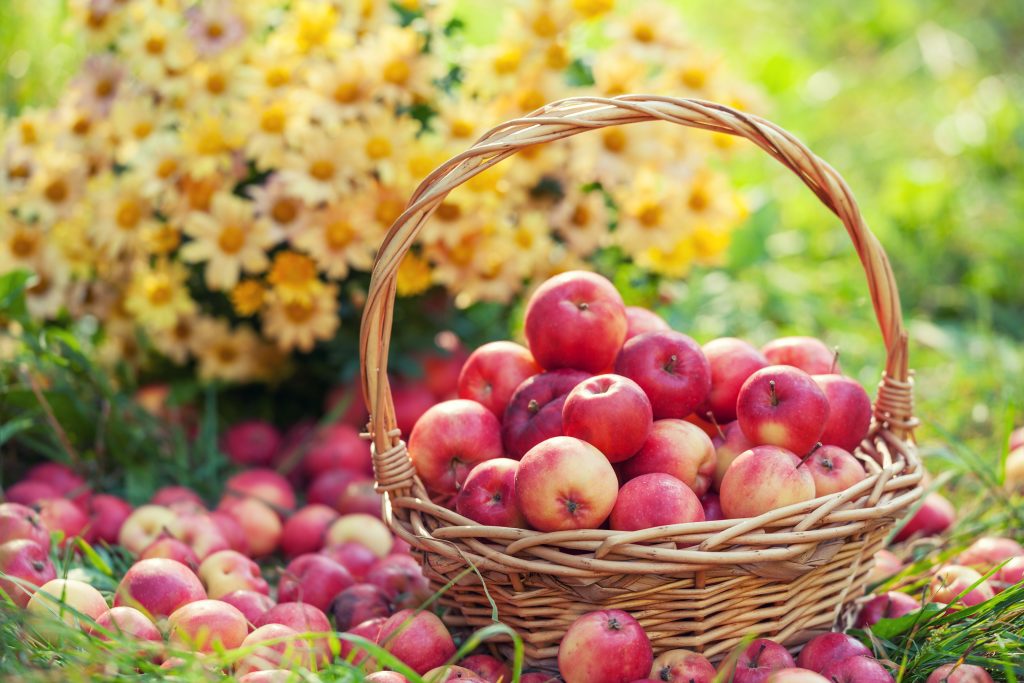 To help support our blogging activities, our site contains affiliate links. If you make a purchase from a link on our site, we may receive a small percentage of that sale, at no extra cost to you. Blessed Beyond Crazy is a participant in the Amazon Services LLC Associates Program, an affiliate advertising program designed to provide a means for sites to earn advertising fees by advertising and linking to amazon.com. As an Amazon Associate, I earn from qualifying purchases.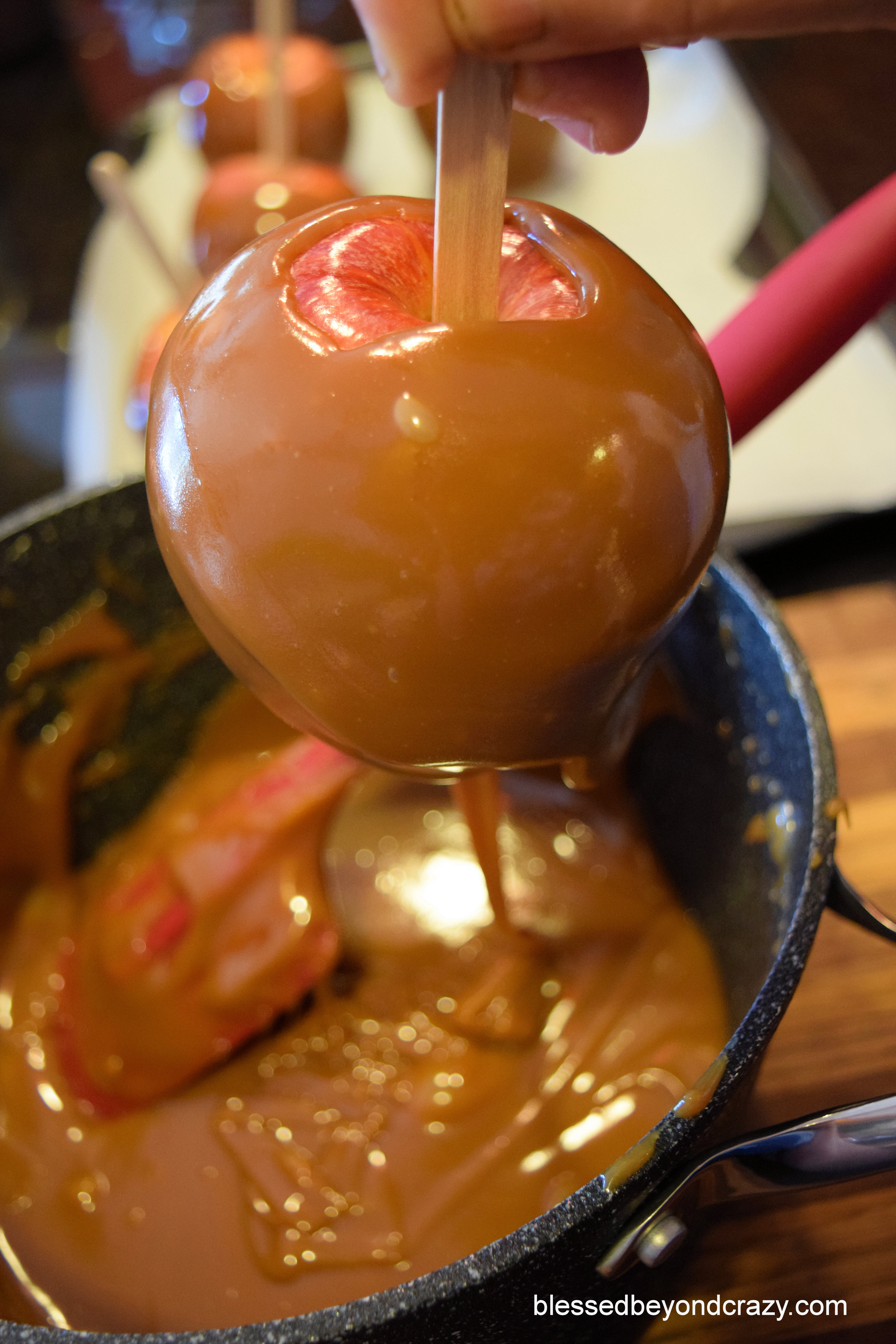 Isn't it amazing just how versatile apples are?
In addition to Grandma's Yummy Apple Cake, we also enjoy using apples to make:
Apple Cake Batter
This recipe for Grandma's Yummy Apple Cake is really easy to make and contains ingredients that you probably already have in your kitchen. This cake is also easy to make gluten-free.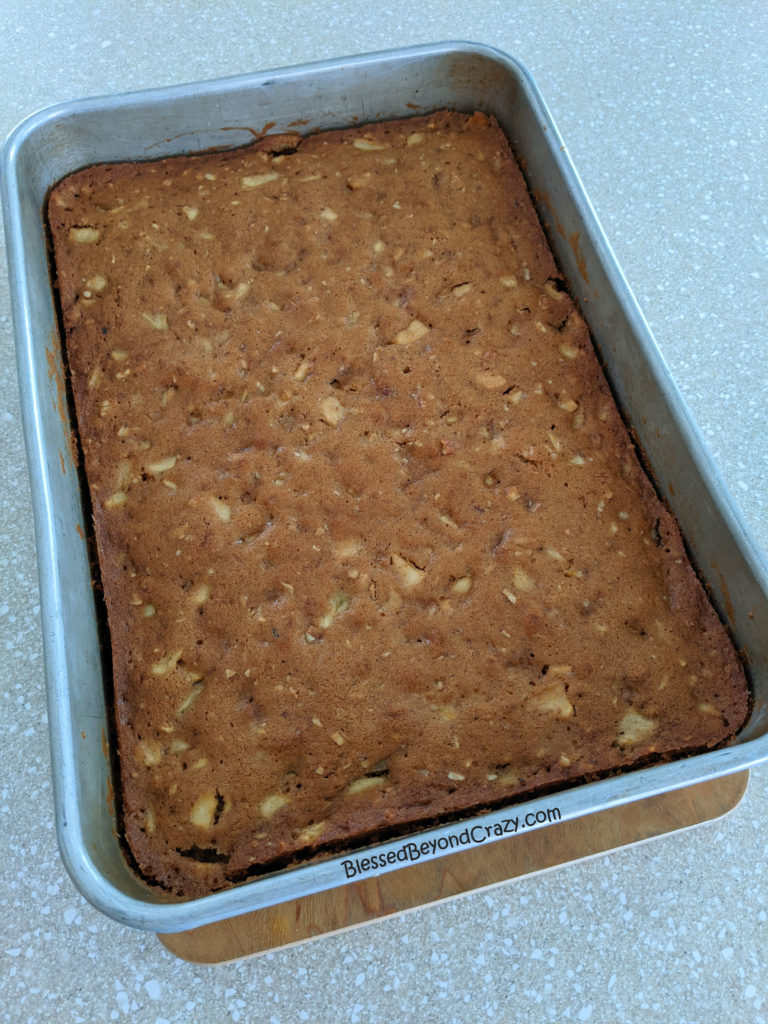 Bake Apple Cake
Bake the cake in a preheated 350-degree oven for 45 to 55 minutes, or until the cake is golden brown and the edges start to pull away from the pan. You can also use a cake tester to test the center of the cake. If the tester comes out clean, the cake is done.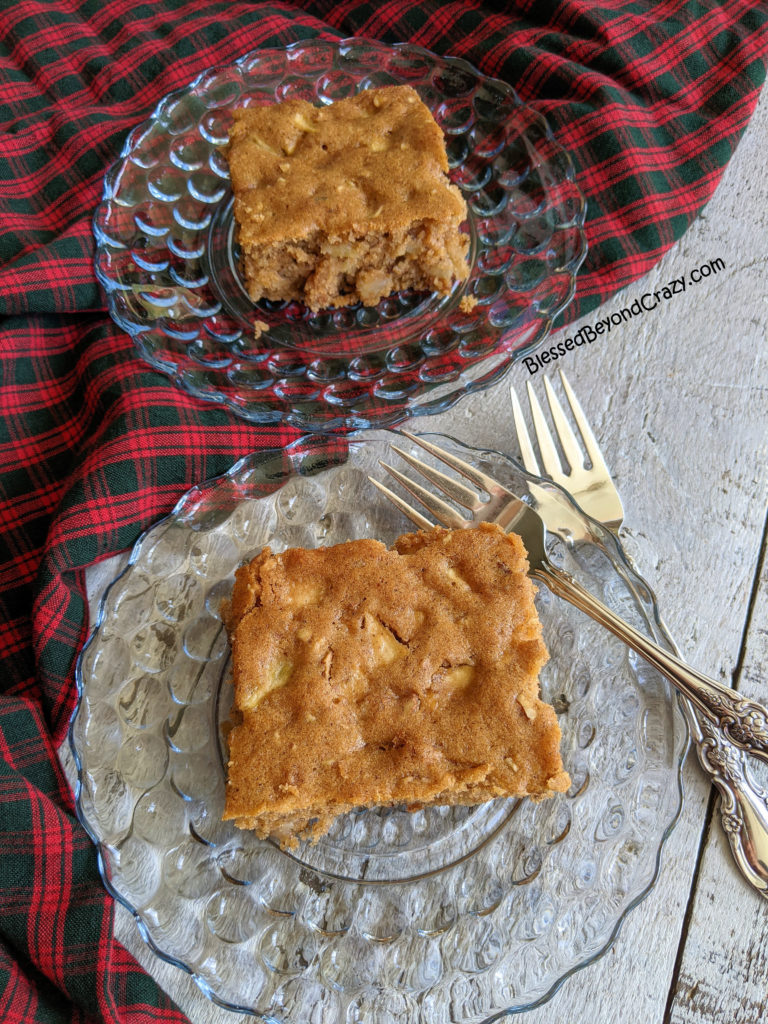 One recipe yields 20 to 24 servings depending on how big you cut each serving.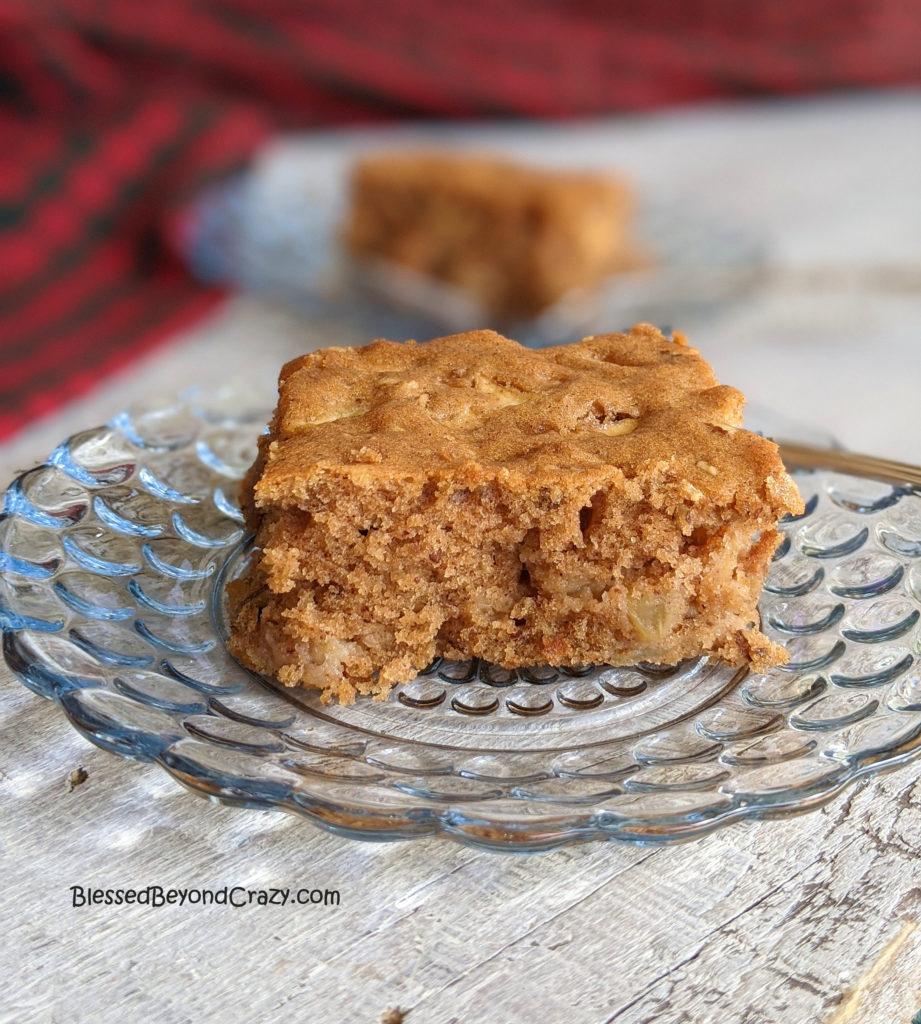 Serve Apple Cake
Feel free to garnish each serving with a dollop of whipped topping or a scoop of vanilla bean ice cream.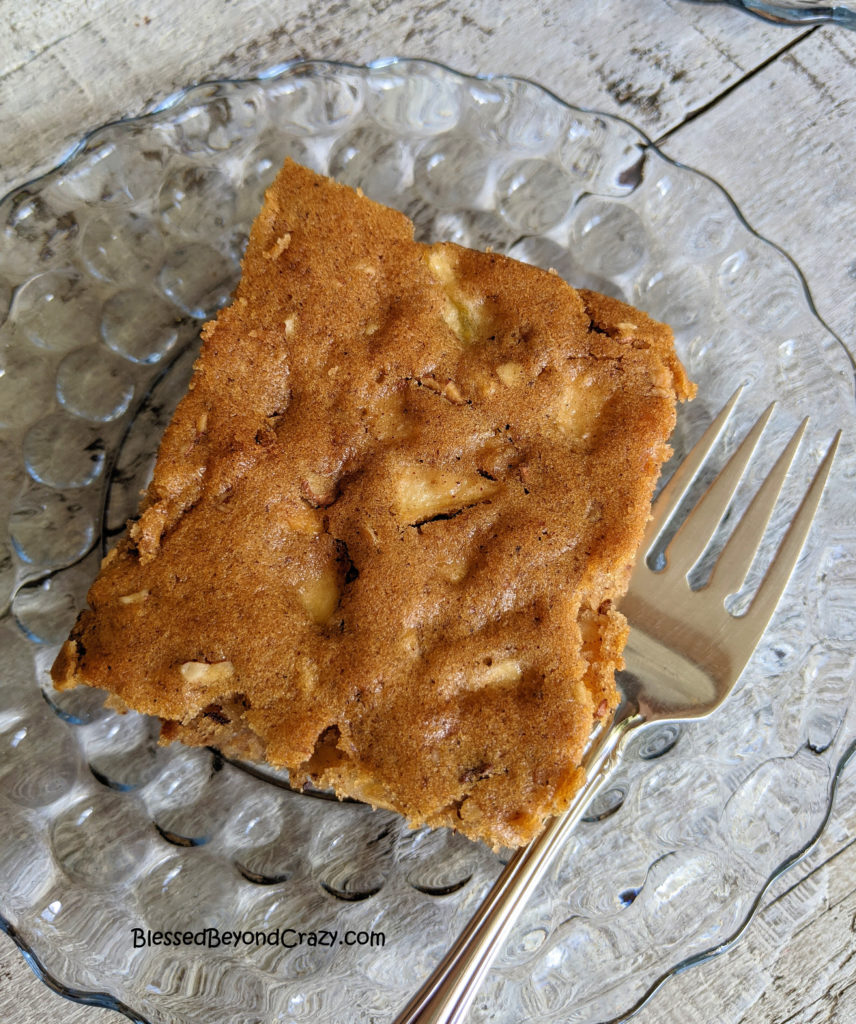 Can you see the apples and chopped pecans peeking through the cake?
Also, this apple cake freezes well for up to one month.
Yield: Serves 20
Grandma's Yummy Apple Cake
Prep Time: 20 minutes

Cook Time: 50 minutes

Total Time: 1 hour 10 minutes

Grandma is right! This apple cake is delightfully moist and loaded with delicious fall flavors! Besides that, it's easy to make gluten-free!
Ingredients
1 cup butter, softened
1-3/4 cup brown sugar
2 eggs, slightly beaten
4 cups chopped apples
1 teaspoon baking soda
1 teaspoon salt
1 teaspoon cinnamon
1 teaspoon nutmeg
1 cup chopped pecans or walnuts
2 cups all-purpose flour (GF Option: use gluten-free flour)
Instructions
Preheat oven to 350 degrees F.
Cream together butter and brown sugar. Add eggs and apples. Stir in baking soda, salt, cinnamon, nutmeg, and nuts. Add flour. Stir until ingredients are well combined.
Pour batter into a greased 9"x13" baking pan. Bake for 45 to 55 minutes or until golden brown and the edges slightly pull away from the pan.
Cool. Serve with a dollop of whipped topping or scoop of vanilla ice cream.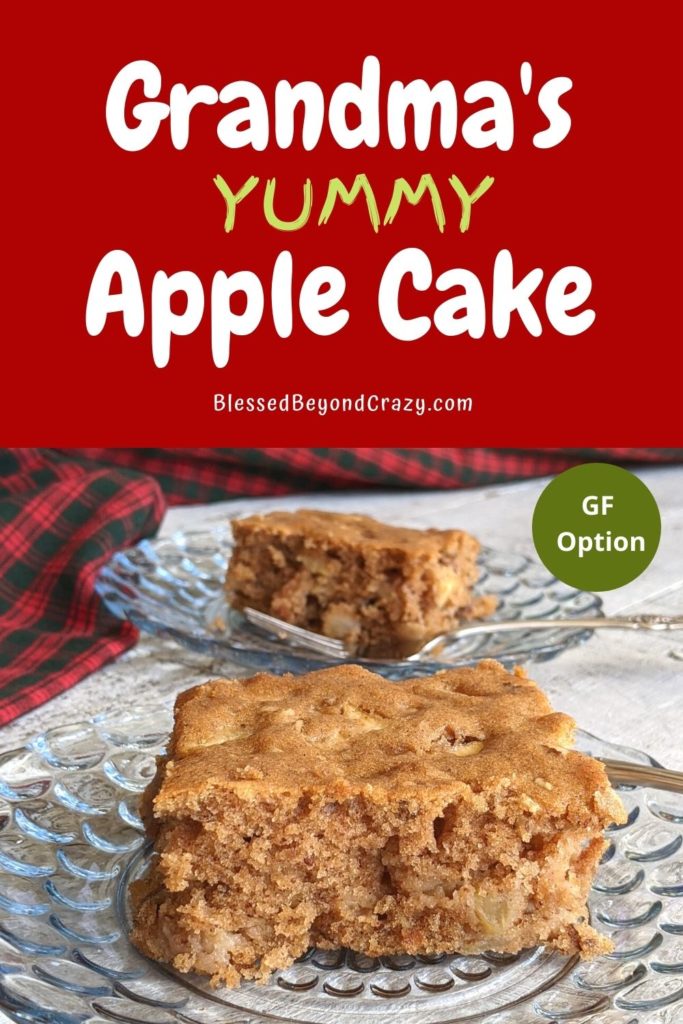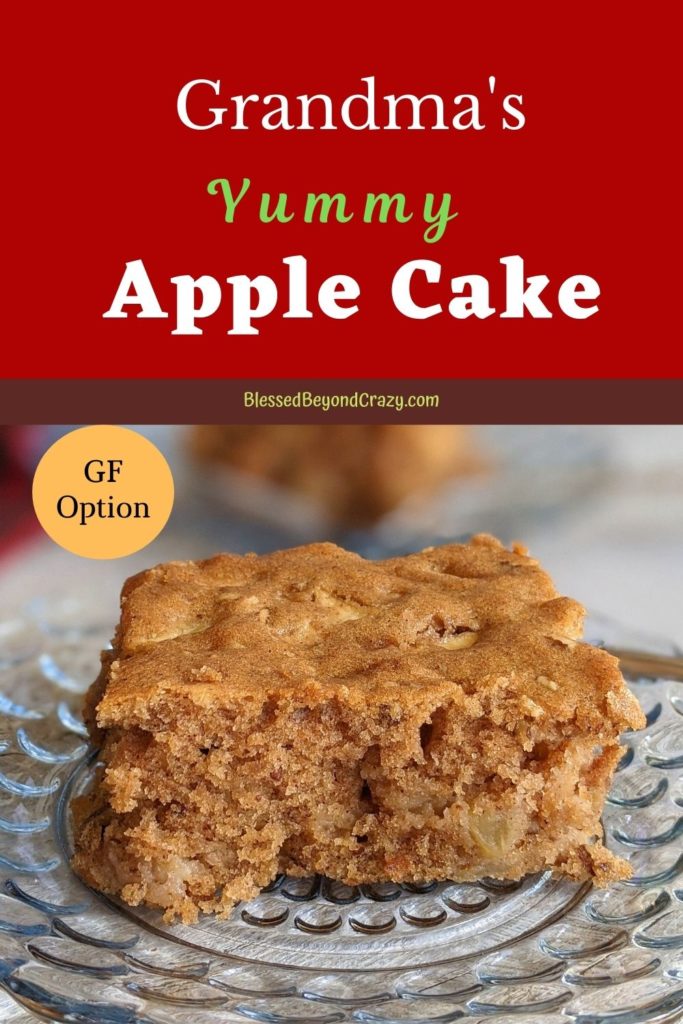 Thanks for sharing!
Enjoy!
Linda
More great ideas: