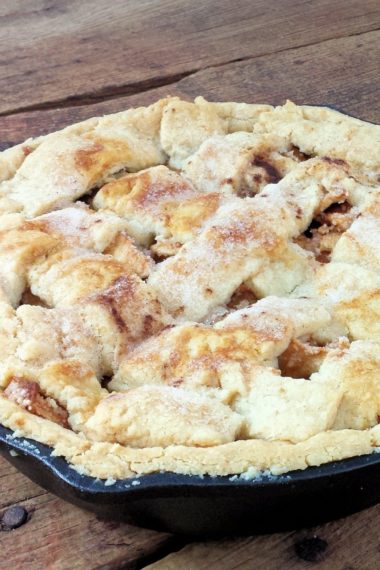 It's nearly summer and that means it's time to start making recipes that represent all things related to the hot summer months. Therefore, what could exemplify summertime better than baseball, hotdogs, a cold glass of lemonade, a picnic in the park, fireworks, and a Rustic Cast Iron Skillet Apple Pie?

To help support our blogging activities, our site contains affiliate links. If you make a purchase from a link on our site, we may receive a small percentage of that sale, at no extra cost to you. Blessed Beyond Crazy is a participant in the Amazon Services LLC Associates Program, an affiliate advertising program designed to provide a means for sites to earn advertising fees by advertising and linking to amazon.com.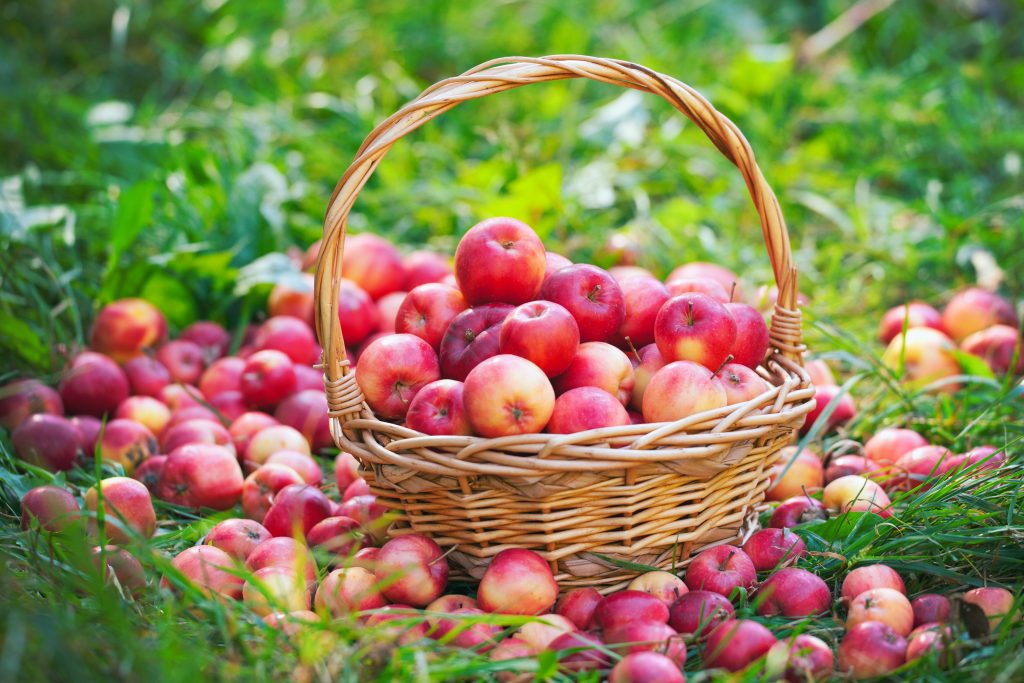 I don't know about your family, but it seems like my family loves a homemade pie any time of the year. Just a few of their favorites are included in this list of Mini Cast Iron Skillet Pies.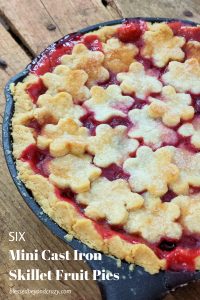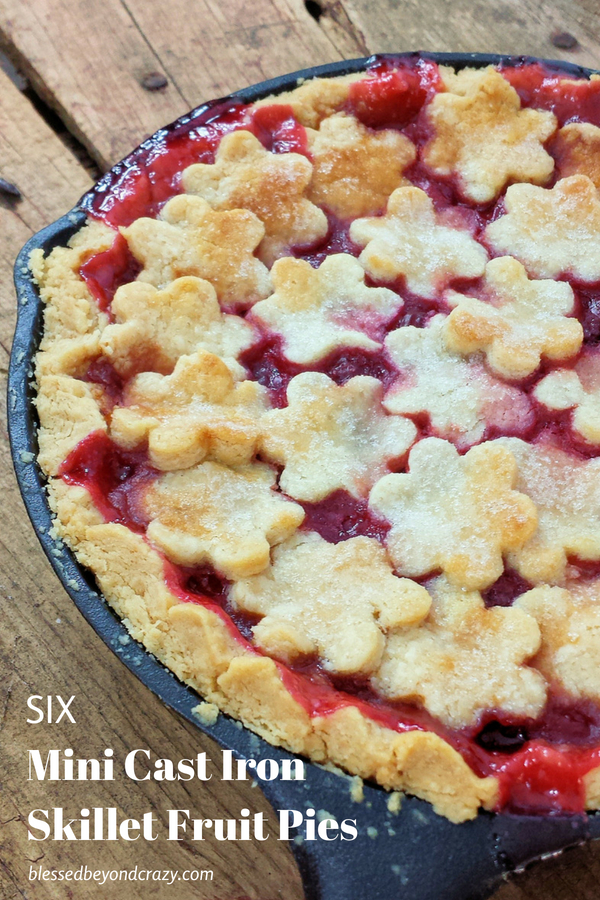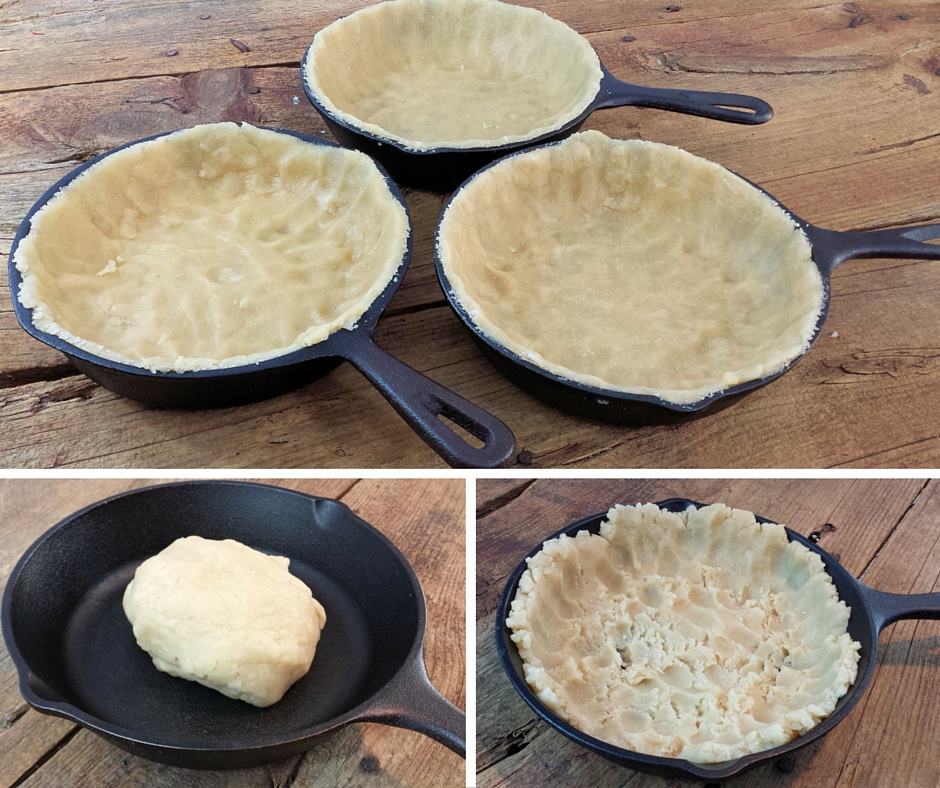 Each pie truly is delicious and easy to make. Perhaps that's why homemade pie is a beloved dessert in my home.
No-Fail Patted Pie Dough
This recipe for Speedy Homemade Pie Crust works great either rolled out between two sheets of waxed paper or simply use your fingers to pat it out inside your cast iron skillet. There's no need to worry about mess-ups either. Why? Because you can roll the dough back into a ball and start all over again. Easy peasy!
Another option is to place half the dough in a 9-inch cast-iron skillet. Use your fingers to smooth out the dough. Trim any excess dough from around the top rim of the skillet with a knife. Next, add the filling, top with the remaining dough, and bake according to the directions.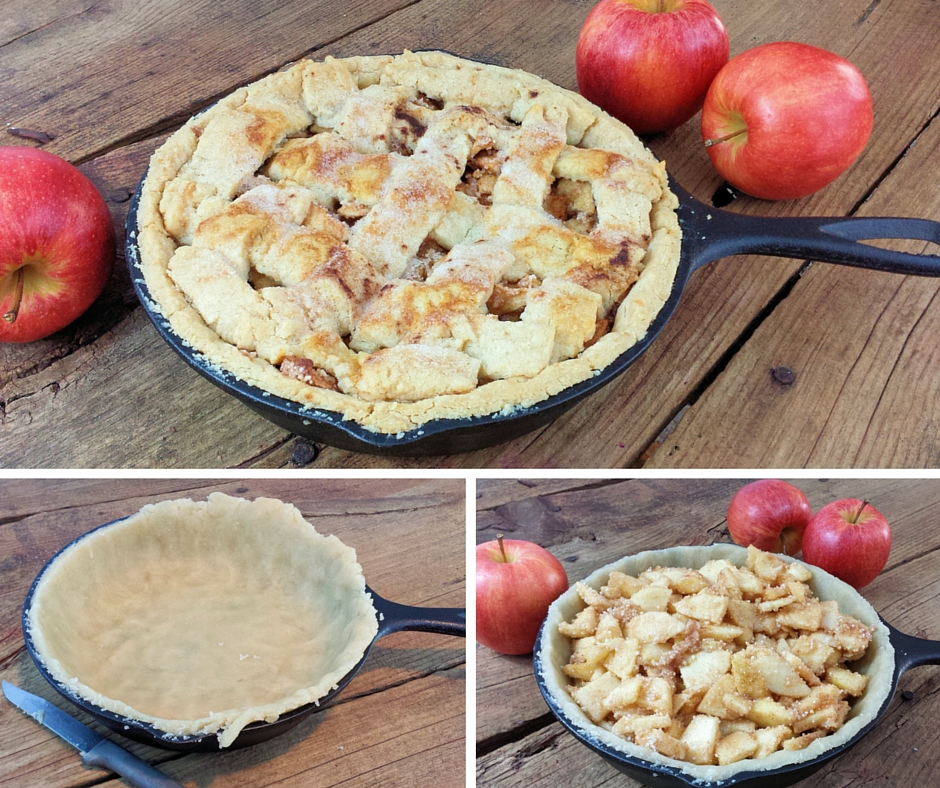 Apple Pie Filling
The filling for apple pie is a simple mixture of minute tapioca, cornstarch, sugar, salt, and cinnamon.

Rustic Cast Iron Skillet Apple Pie
---
Linda Wiseman
Yields Approx. 4 servings
A delicious apple pie that can easily be modified to be gluten-free.
20 minPrep Time
1 hr, 25 Cook Time
1 hr, 45 Total Time
Ingredients
One recipe Speedy Homemade Pie Crust (GF Option: use gluten-free pie dough)
4 cups sliced apples (you can leave the peels on if you'd like)
3 Tbsp minute tapioca (uncooked)
1 Tbsp cornstarch
1 cup granulated sugar (+ 1 tablespoon that will be sprinkled on top of pie)
1/4 teaspoon salt
2 teaspoons apple pie spice
2 tablespoons butter
Instructions
Make one recipe of Speedy Homemade Pie Crust and place half of the dough into the bottom of a 9-inch cast iron skillet. Make a ball with the remaining dough; set aside for top of pie.
Peel 4 to 5 medium size apples (use your favorite apples, or you can mix different apple varieties. For my pie, I used two Red Delicious and three Gala apples). Slice apples; place in a mixing bowl.
In a separate mixing bowl, combine tapioca, cornstarch, sugar, salt and apple pie spice. Sprikle mixture over apple slices; toss until slices are well coated. Place apples into pie crust.
Roll or pat out remaining pie dough between two sheets of waxed paper. Remove top layer of waxed paper. Cut strips of dough, then weave strips to make a lattice top (OR flip dough over onto top of pie. Peel off remaining sheet of waxed paper. Make four little slits with butter knife.)
Dot the top of the crust with butter and a sprinkle of granulated sugar.
Bake at 350 degrees F for approximately 1 hour 25 minutes, or until center of the pie is "set" and top crust is golden brown.
Serve warm. Top with scoop of vanilla bean or cinnamon ice cream.
7.8.1.2
257
https://blessedbeyondcrazy.com/rustic-cast-iron-skillet-apple-pie/
www.blessedbeyondcrazy.com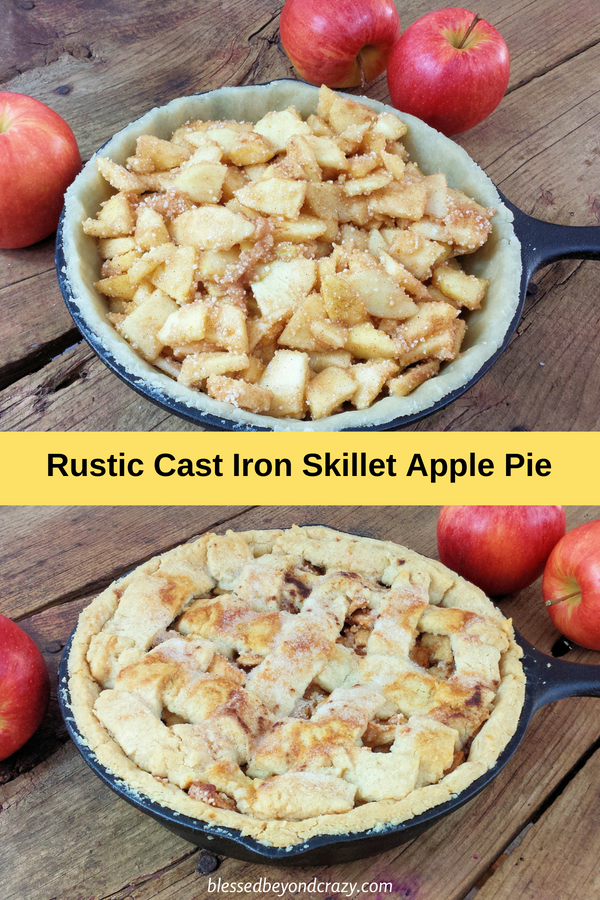 Apple pie is rated in the top five of all-time favorite American desserts. What's not to love about that combo? Guess that's yet another reason to love Rustic Cast Iron Skillet Apple Pie!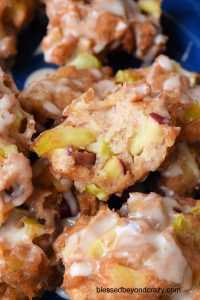 It seems like everyone loves a recipe that includes apples. What's your personal favorite?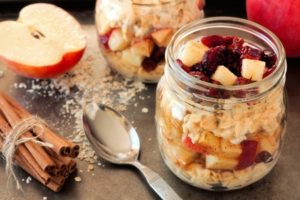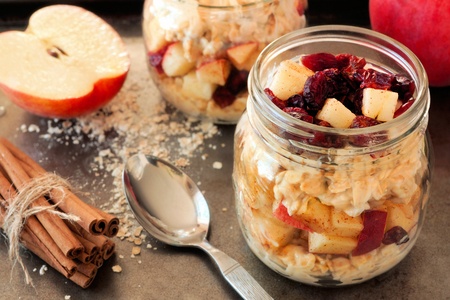 Enjoy!
Linda
More great recipes: