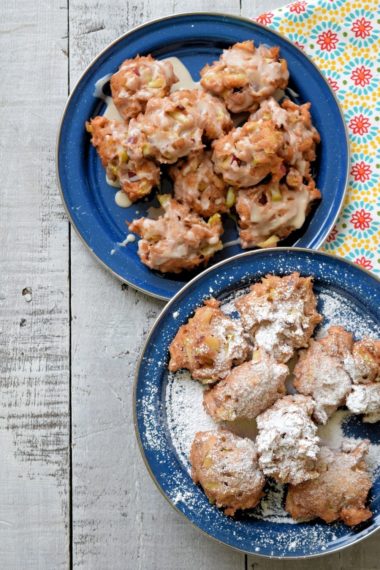 Oh my gosh!!! It's hard to describe just how truly amazing Rustic Apple Pie Fritters are. I will give you a fair warning! It's hard to eat just one! 
To help support our blogging activities, our site contains affiliate links. If you make a purchase from a link on our site, we may receive a small percentage of that sale, at no extra cost to you. Blessed Beyond Crazy is a participant in the Amazon Services LLC Associates Program, an affiliate advertising program designed to provide a means for sites to earn advertising fees by advertising and linking to amazon.com.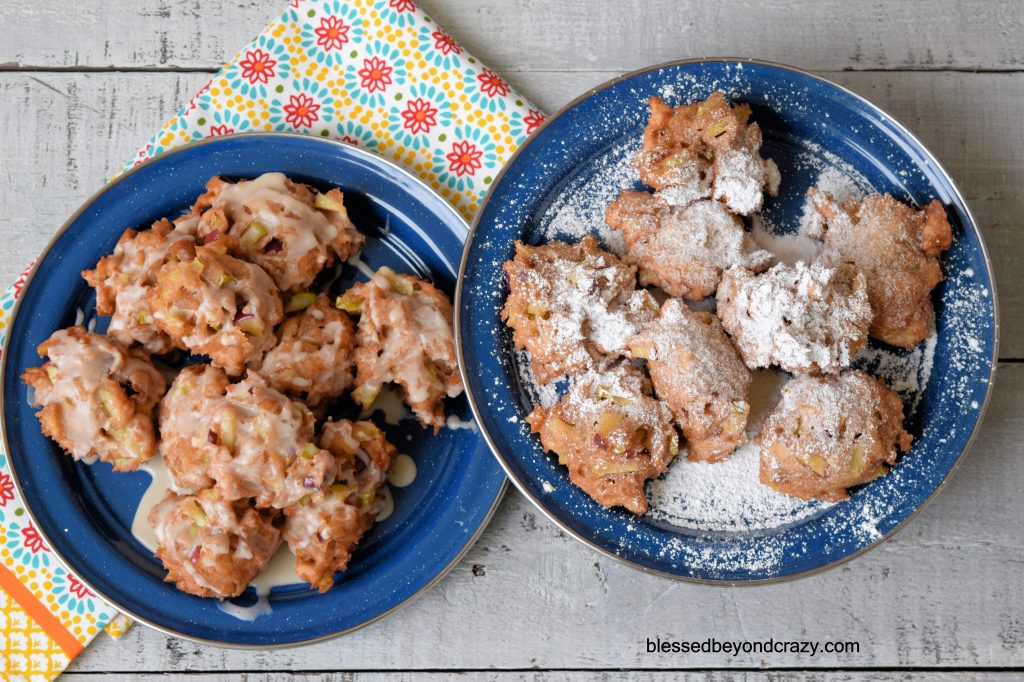 Versatile Apples
Apples are such a versatile fruit and can be used in many diverse ways. Of course, good ole' apple pie is an all-time favorite, as well as apple muffins, spiced apple cupcakes, and caramel apples.
So Good!
I hate to admit it, but I made Rustic Apple Pie Fritters three times just in one week! The first time I made them, my parents happened to be over for dinner. Although the fritters turned out good, the apple and cinnamon flavors were faint.
My second attempt was better because I added more spices and a touch of applesauce, however, I nailed it the third time around.
Two Variety of Apples
In my attempts at perfecting the recipe, I tried using two different kinds of apples. The first time I only used one Granny Smith apple.
For the second and third attempts, I used one Granny Smith apple and one Red Delicious Apple. In the end, my family and I agreed that the combination of the two resulted in the best overall flavor, however, you can certainly use your favorite variety of apples.
My mother was kind enough to share the secret to her glaze recipe with me. It is quick and easy to create and reminds me of the glaze on Krispy Kreme doughnuts. It's simply a combination of powdered sugar, vanilla, milk, and Knox gelatin (the gelatin helps the glaze set up).
Notice the chunks of apples and the flecks of apple pie spice?
A dusting of powdered sugar is also a tasty option. Simply sprinkle on the desired amount.
Rustic Apple Pie Fritters are best when served warm! Although leftovers taste fine, they just are not the same as fresh ones. 
Depending on the size you make, one complete recipe will make approximately 15 to 20 fritters.
Rustic Apple Pie Fritters
---
Adapted from Betty Crocker & Bisquick
Yields 15 - 20 Fritters

A delicious apple dessert that can easily be modified to be gluten-free.

15 minPrep Time

15 minCook Time

30 minTotal Time

Ingredients
Vegetable oil for deep frying
2 cups all-purpose baking mix (GF Option: I use King Arthur GF All-Purpose Baking Mix)
1/4 cup granulated sugar
1 tablespoon apple pie spice
1/2 cup applesauce, divided (Depending on the brand of all-purpose baking mix, you may need to adjust the amount of applesauce; more or less.)
1/2 cup cold water
1 egg
2 cups chopped apples
Topping: powdered sugar or glaze.
Glaze: 2 cups powdered sugar, 1/2 teaspoon Knox gelatin, 1/2 teaspoon vanilla, 3 - 4 teaspoons milk (or just enough to make glaze thin enough to drizzle).
Instructions
In deep fryer or 4-quart heavy saucepan, heat oil to 350 degrees F.
In a large mixing bowl, combine baking mix, sugar, and apple pie spice. Stir in 3 tablespoons of applesauce, water and egg. If dough is dry and crumbly, continue adding applesauce just until the dough is smooth and easy to stir. Fold in apples.
Working in batches, drop batter by tablespoons into hot oil. Cook 2 to 3 minutes, turning occasionally, or until golden brown. Use a slotted spoon to remove fritters from oil; drain on paper towels.
Before serving, sprinkle fritters with powdered sugar, or make glaze.
GLAZE: Combine powdered sugar, Knox gelatin, and vanilla. Gradually add milk, one teaspoonful at a time, until desired consistency. Drizzle over fritters.
Serve.
Notes

Fritters are best when served fresh and warm.

7.8.1.2

188

https://blessedbeyondcrazy.com/rustic-apple-pie-fritters/

www.blessedbeyondcrazy.com



Enjoy!
Linda
More great ideas:
Simple But Might Detox Water Recipes
Old Fashioned Praline Apple Bread (GF Option)