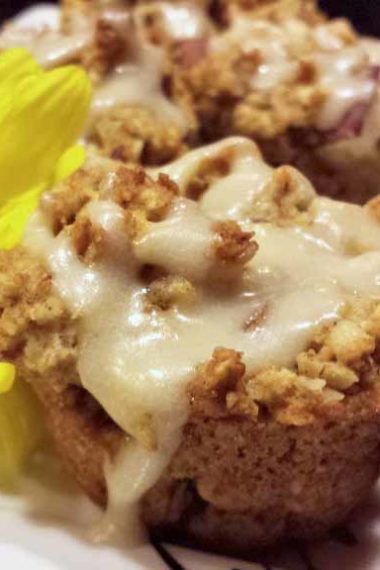 These cute little bite-size Mini Flax'n Apple Muffin Cakes are perfect to serve at parties, breakfast, brunch, or anytime! They made a tasty after-school snack for the kiddos too! Eat them as a mini muffins or drizzle a little homemade vanilla icing over them to make a mini dessert.

Whenever my grandchildren come over to our home to visit they can pretty much bet that "Grandma Linda" will probably be trying a new recipe, or converting a recipe to make it gluten-free. I like to make as much of the meal as I can before the grandchildren arrive. This allows me to spend more time playing with them and less time spent cooking in the kitchen.
To help support our blogging activities, our site contains affiliate links. If you make a purchase from a link on our site, we may receive a small percentage of that sale, at no extra cost to you. Blessed Beyond Crazy is a participant in the Amazon Services LLC Associates Program, an affiliate advertising program designed to provide a means for sites to earn advertising fees by advertising and linking to amazon.com. As an Amazon Associate, I earn from qualifying purchases.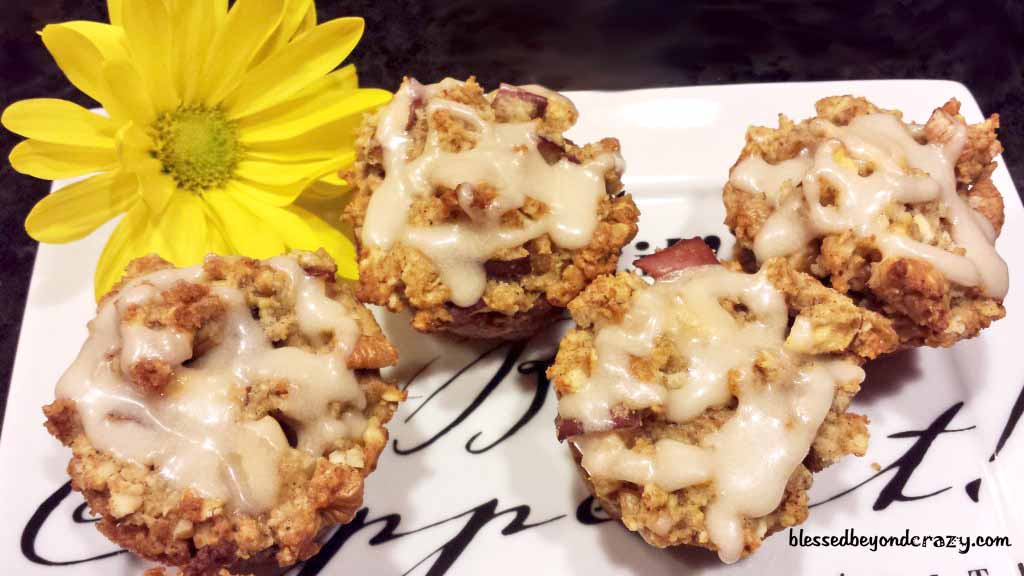 Delightful Muffins!
This recipe for Mini Flax'n Apple Muffin Cakes is not only delicious AND healthy, but the muffins freeze well so I can make them days in advance. When the grandchildren are on their way over, I simply take the muffins out of the freezer and let them thaw. When we are ready to eat them, I warm them up for a few seconds in the microwave and down the hatch, they go!
The recipe is full of wonderful, yummy ingredients that will add valuable nutrition to a child's diet and they won't even realize it! These little gems are so tasty that they could be called mini muffins OR a mini dessert! Plus they are the perfect size for small hands.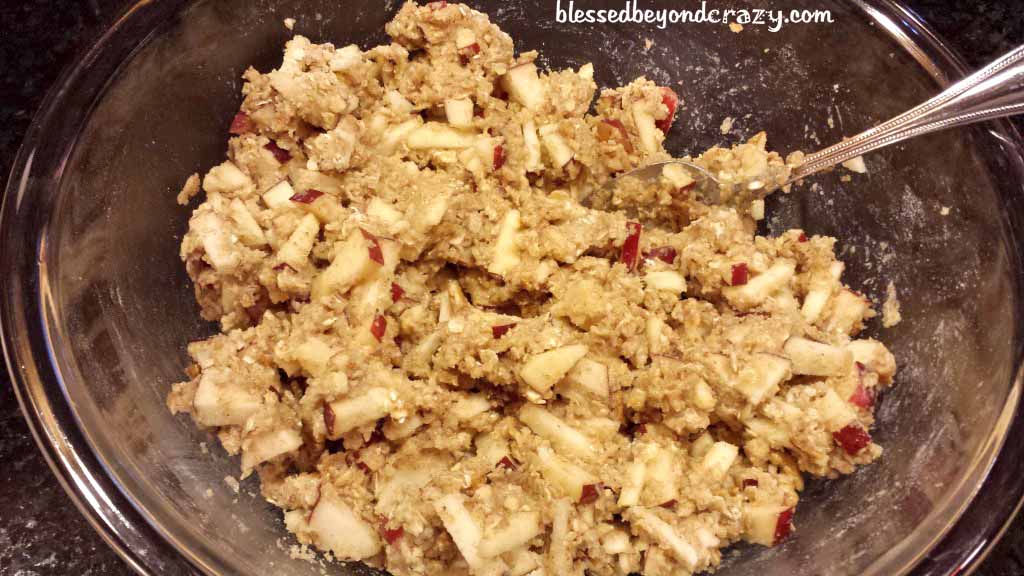 You may notice that I left the apple skins on because I wanted the extra fiber and nutrition.
This mini muffin pan is just like mine – Wilton Recipe Right 24 Cup Mini Muffin Pan If you prefer a silicone mini baking pan, here is a good one: Silicone 24-Cup Mini Muffin Pan.
Apple Cinnamon Pie
As the Mini Flax'n Apple Muffin Cakes bake, your whole house will smell wonderful… just like warm apple cinnamon pie!!! I had these in the oven baking one day and a friend stopped by. After they came inside they said, "Oh wow! What are you making? It smells really good!" Neither of us couldn't wait for them to come out of the oven!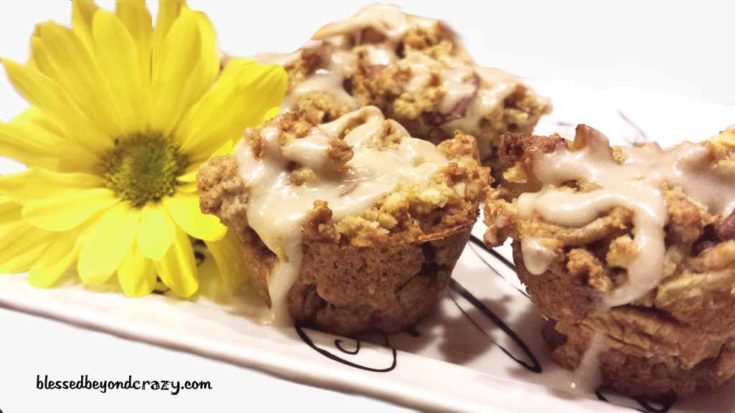 Yield:

YIELDS YIELDS 35 MINI MUFFINS OR 12 REGULAR SIZE MUFFINS.
Mini Flax'n Apple Muffin Cakes (GF Option)
A delicious and easy apple muffin recipe.
Ingredients
1 1/2 cups finely chopped apples
1 egg, slightly beaten
2 tsp baking powder (*gluten-free version: use gluten free baking powder)
1/2 tsp baking soda (*gluten-free version: use gluten free baking soda)
1 tbsp ground cinnamon
3/4 cup flour (*gluten-free version: use gluten free flour blend)
3/4 cup graham flour (*gluten-free version: use gluten free ground graham cracker flour OR chickpea flour)
1/2 tsp salt
1/2 cup sugar
3 tbsp vegetable oil
1/2 cup pecans
1/2 cup milk
1/4 cup ground flax
Icing:
1 tsp vanilla, (*gluten-free version: use gluten free vanilla)
1 tablespoon butter, softened
1 teaspoon milk
1 2/3 cup powdered sugar
Instructions
Blend dry ingredients together in a bowl.
In a separate bowl, combine egg, vegetable oil and milk.
Add dry ingredients to egg mixture and stir until just blended.
Fold in apples and nuts. Batter will be thick.
Spoon batter into well-greased muffin tin, 2/3 full.
Bake in a preheated 400 degrees F oven for 18 - 20 minutes, or until top springs back when touched.
Remove from oven and place on cooling rack.
Cool for 5 minutes.
Drizzle icing over top.
Serve warm.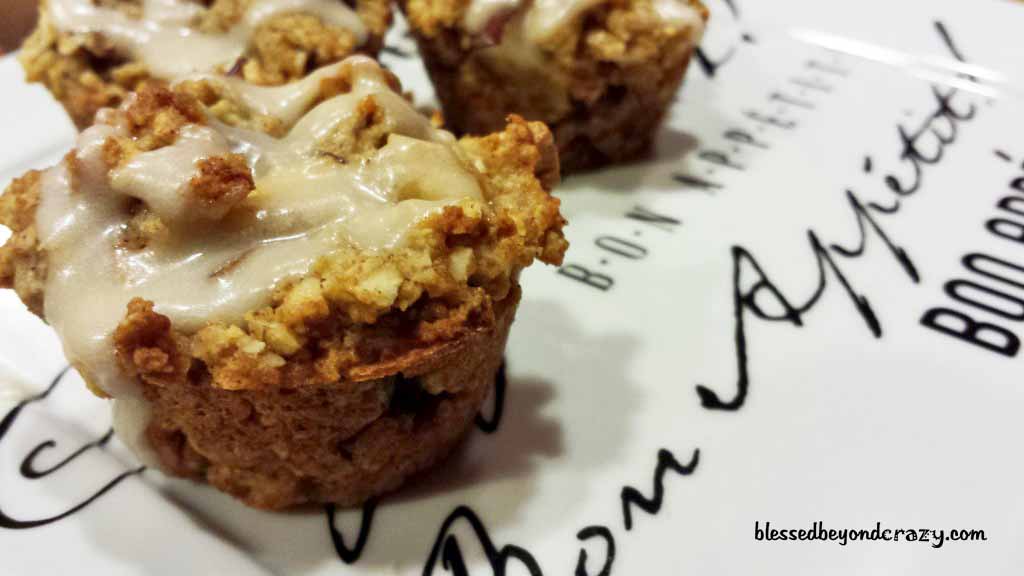 I hope that you enjoy these delicious little treats as much as my family does!
Be sure to check out our other delicious bread recipes!

What is your favorite muffin recipe?
Bon Appetit!
Linda
More great ideas: