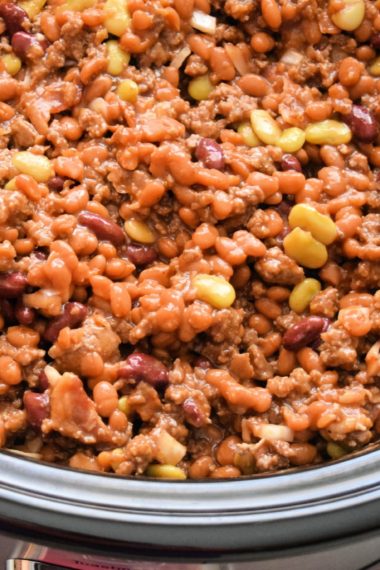 Loaded Crock-Pot Campfire Beans are not your average, boring baked beans. Nope! Instead, these baked beans are absolutely LOADED with protein and yummy flavors, plus a hint of smokiness. I don't think there's anything boring about that!

To help support our blogging activities, our site contains affiliate links. If you make a purchase from a link on our site, we may receive a small percentage of that sale, at no extra cost to you. Blessed Beyond Crazy is a participant in the Amazon Services LLC Associates Program, an affiliate advertising program designed to provide a means for sites to earn advertising fees by advertising and linking to amazon.com. As an Amazon Associate, I earn from qualifying purchases.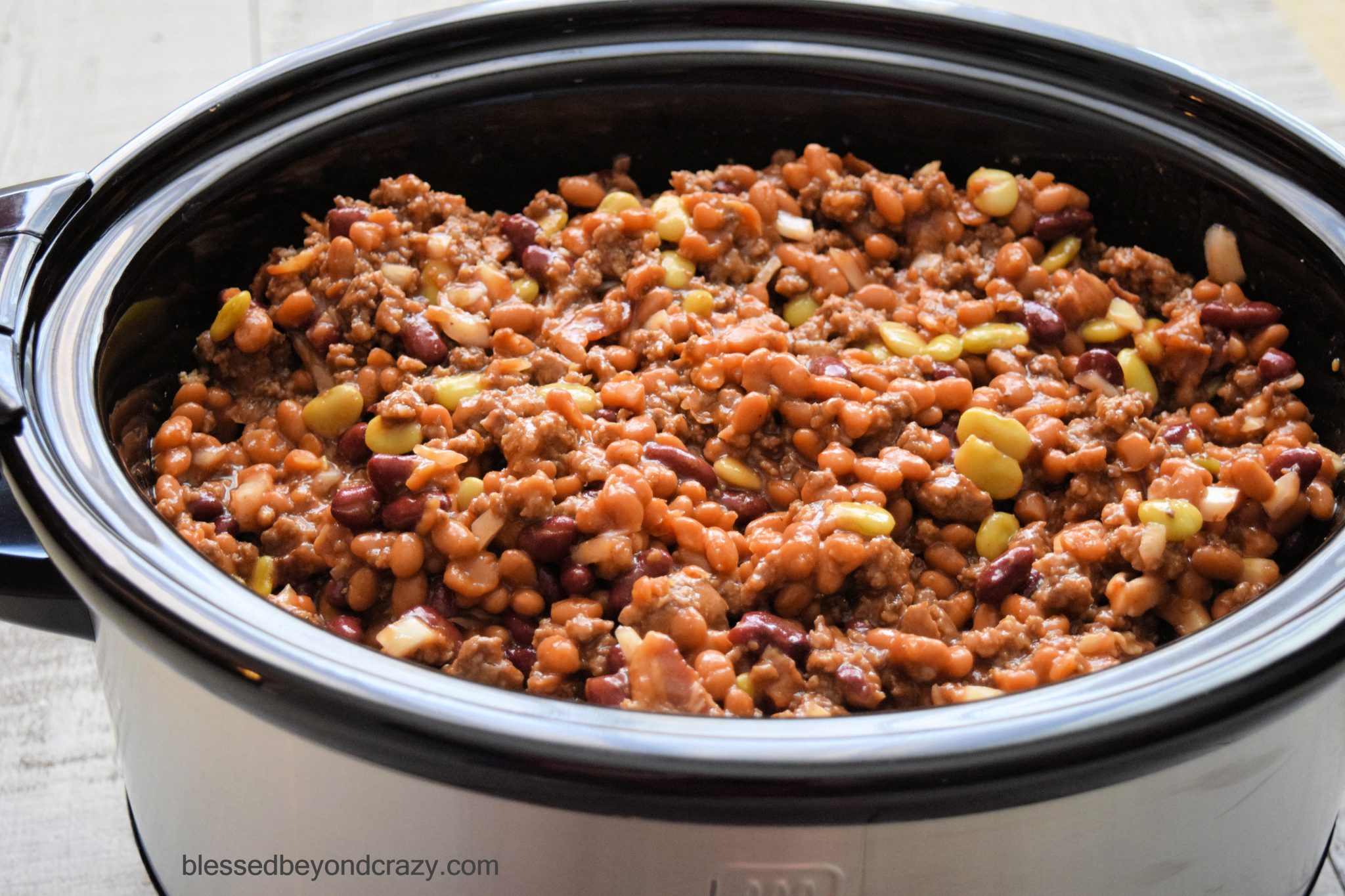 Did I mention that this recipe can easily be made gluten-free? Yep! That's just another reason why this recipe is so fabulous! It's truly a great dish and perfect for any party, carry-in/pot-luck, picnic, BBQ, reunions, or when camping.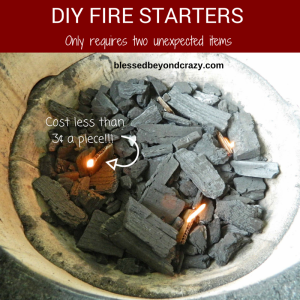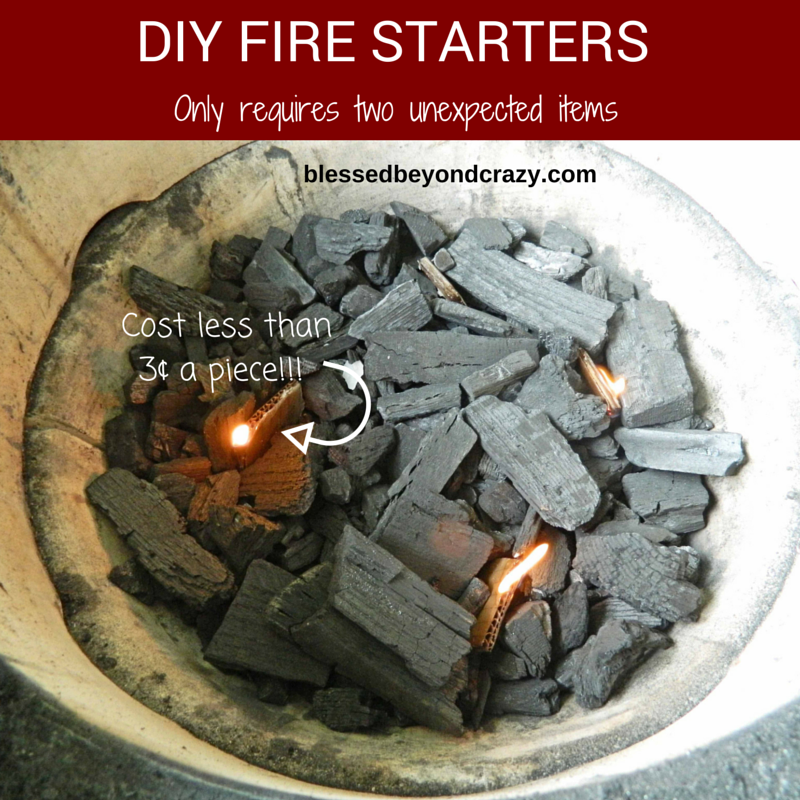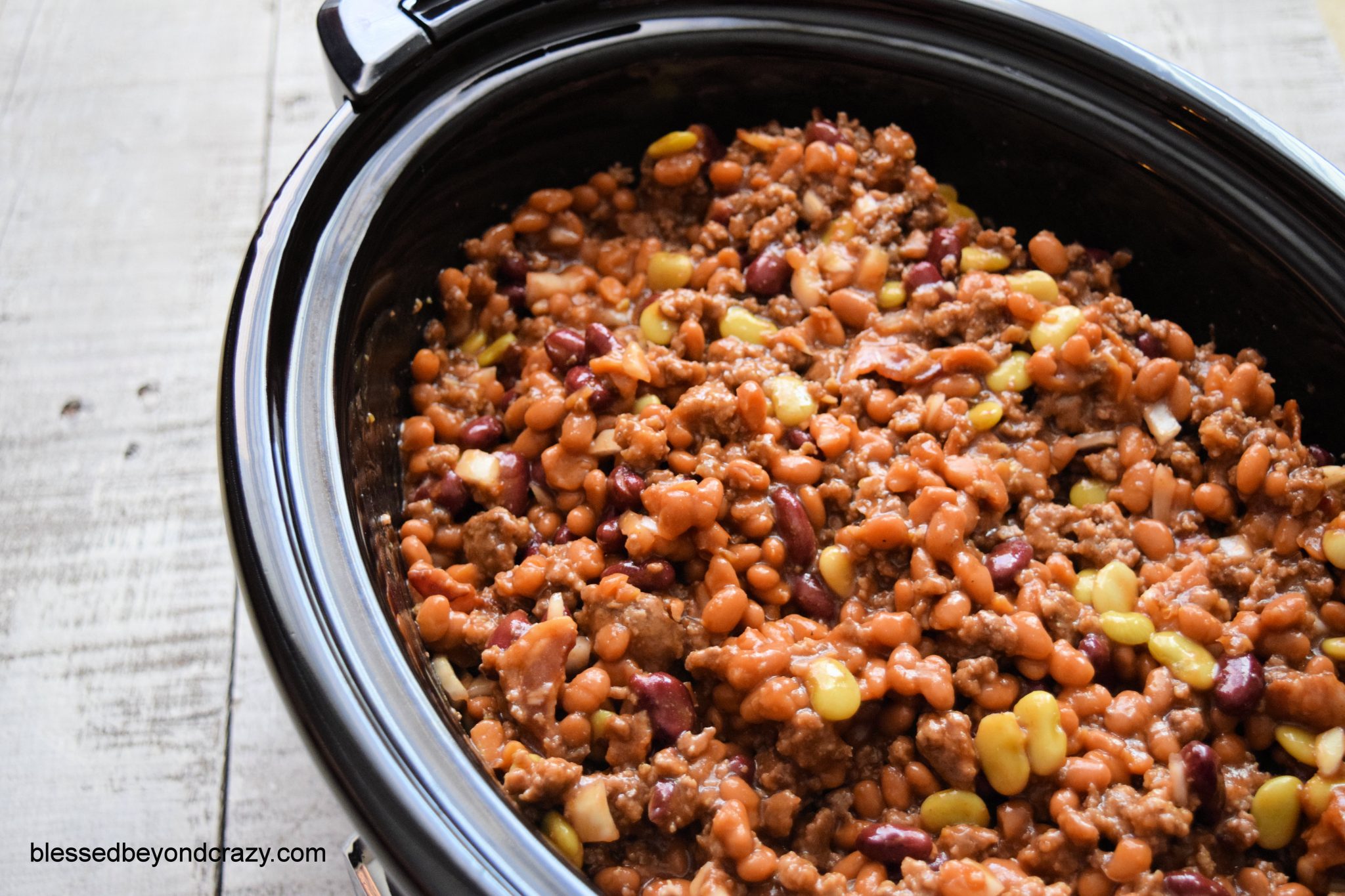 In addition, Loaded Crock-Pot Campfire Beans can serve as a side dish, or they can stand alone as a hearty and filling meal.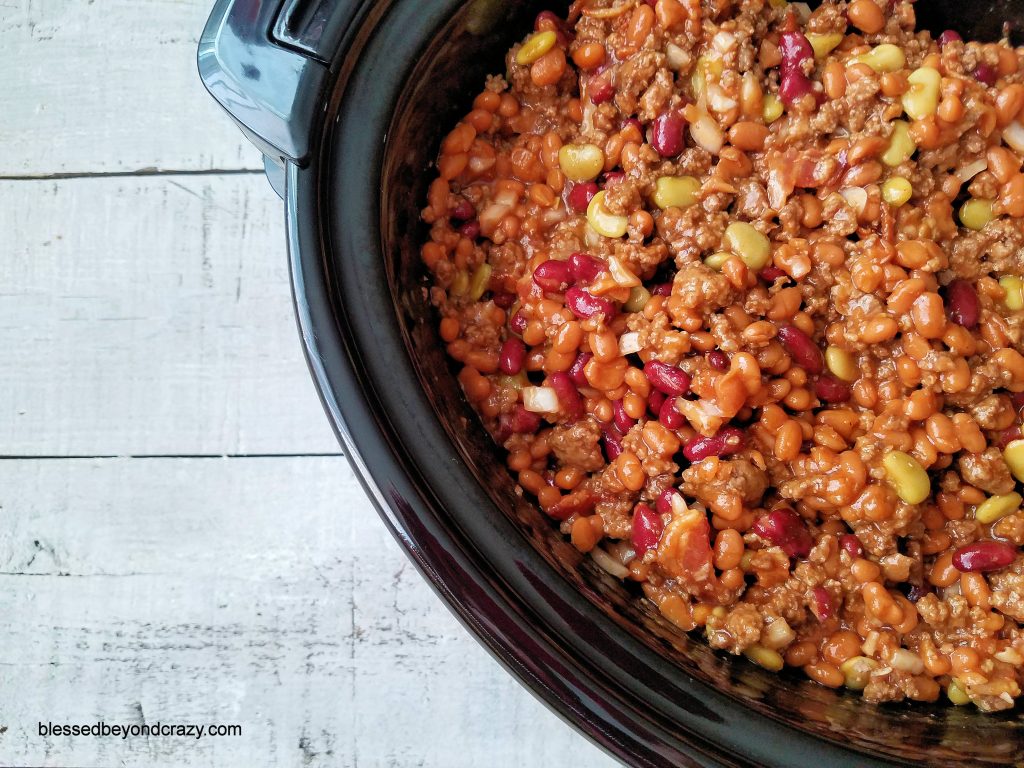 In the video, you can see just how easy it is to make Loaded Crock-Pot Campfire Beans.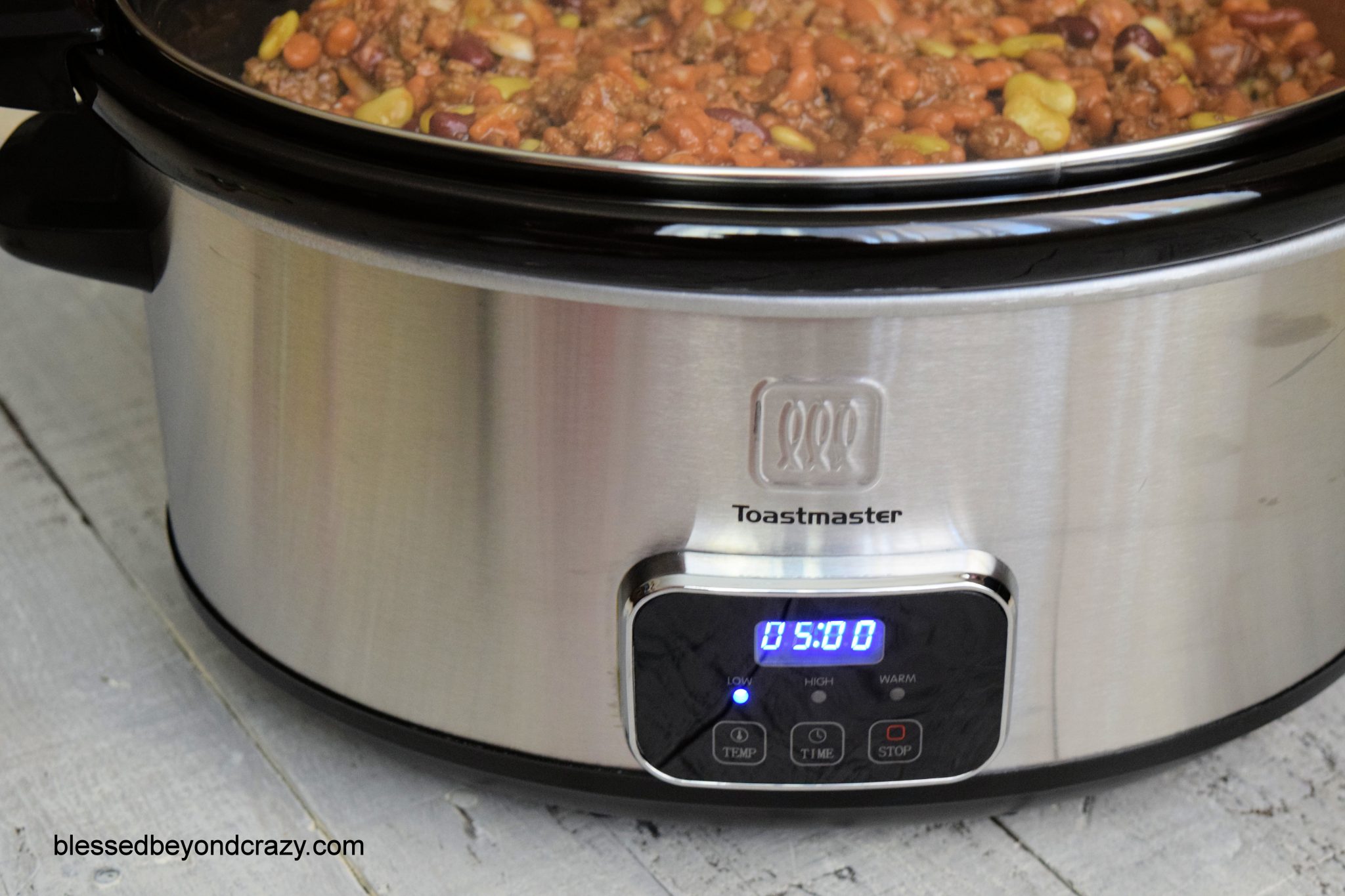 This recipe couldn't be any easier. Simply precook ground beef and bacon, drain well, chop a few veggies and dump everything into a large dutch oven or crock-pot.
Note: I used a 7-quart programmable digital crock-pot that my husband gave to as a Christmas gift. (That man knows how much I love receiving cookware and practical small kitchen appliances as gifts!)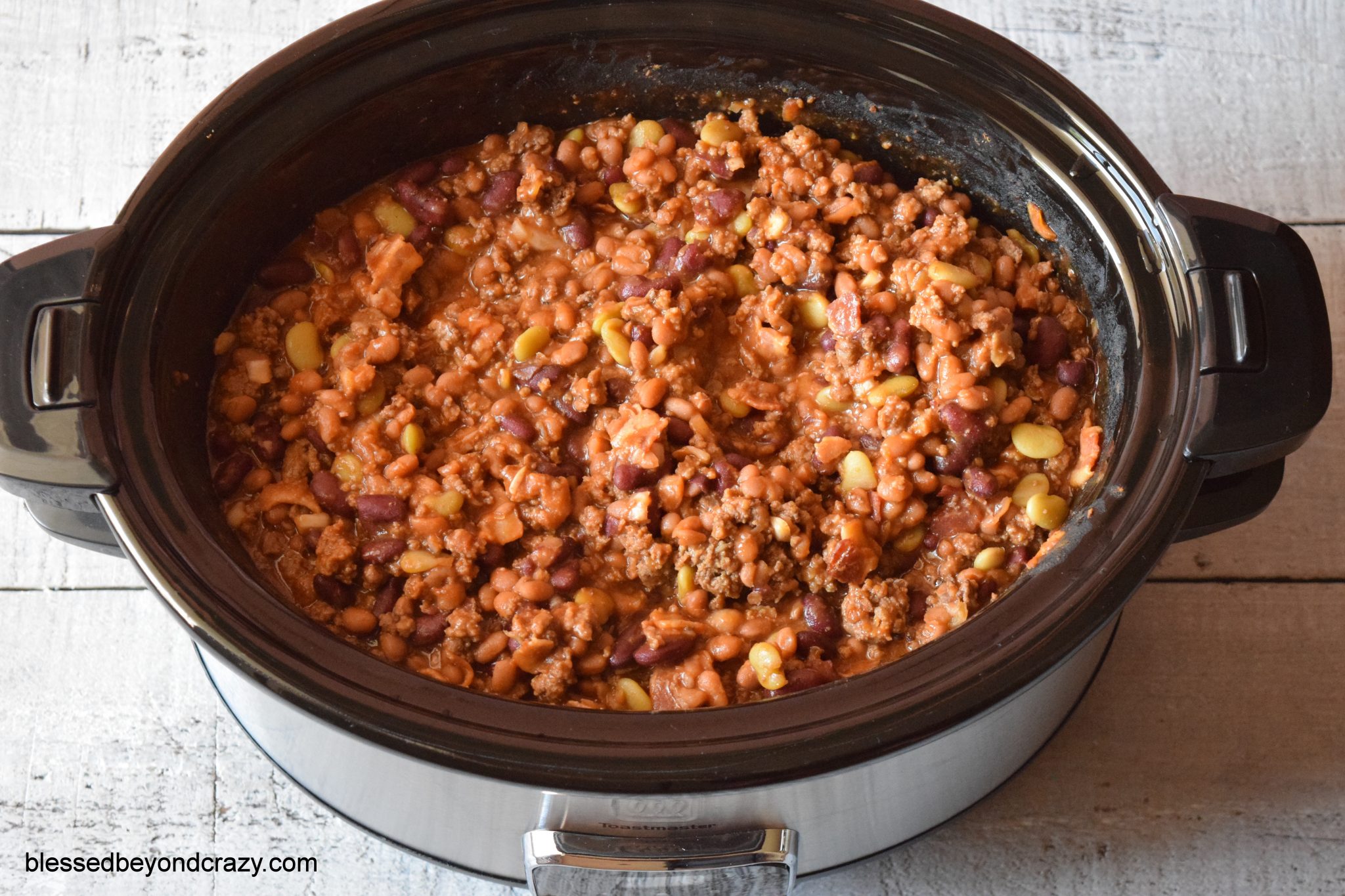 Perfect for a Carry-In
Last Sunday I attended a family reunion. Each family was asked to bring one meat dish, and either a side dish or a dessert. Guess what we took? Yep, I shared Loaded Crock-Pot Campfire Beans (and a cake), with our family.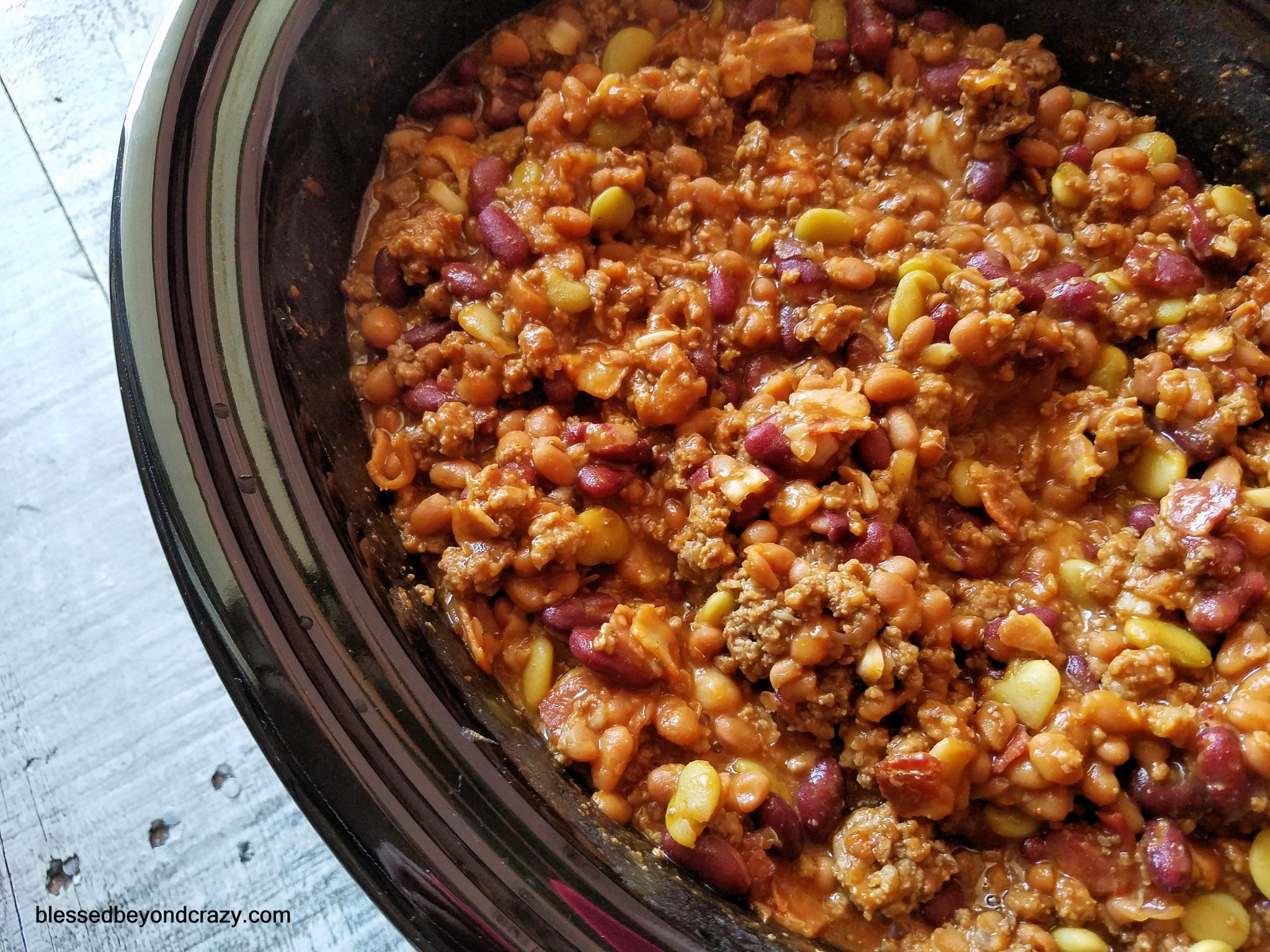 Crock-Pot Campfire Beans
---
Adapted from Rival Crock-Pot Cookbook
Yields Approx. 6 quarts
A hearty one-pot recipe that can serve as either a side dish or main meal. (GF Option included)
15 minPrep Time
3 hrCook Time
3 hr, 15 Total Time
Ingredients
3 pounds ground beef
1 pound bacon (GF Option - use a gluten-free brand of bacon)
1 cup onion, chopped
(3) 16-ounce cans baked beans (GF Option - I use Bush's gluten-free beans)
(2) 16-ounce cans dark red kidney beans, drained (GF Option - I use Bush's gluten-free kidney beans)
(1) 16-ounce can lima or butter beans, drained (GF Option - Bush's has gluten-free butter beans)
1 cup ketchup (GF - I use a gluten-free Hunt's Ketchup)
1/2 cup brown sugar
2 - 3 teaspoons liquid smoke (GF Option - use a gluten-free brand of liquid smoke)
3 tablespoons rice vinegar, (or white vinegar)
1 teaspoon salt
1 teaspoon pepper
Instructions
Brown ground beef and bacon in skillet; drain off fat.
Place all ingredients into a 7-quart crockpot; stir well. Cover and cook on Low setting 5 hours (or High setting 3 hours).
Serve hot.
7.8.1.2
189
https://blessedbeyondcrazy.com/loaded-crock-pot-campfire-beans/
www.blessedbeyondcrazy.com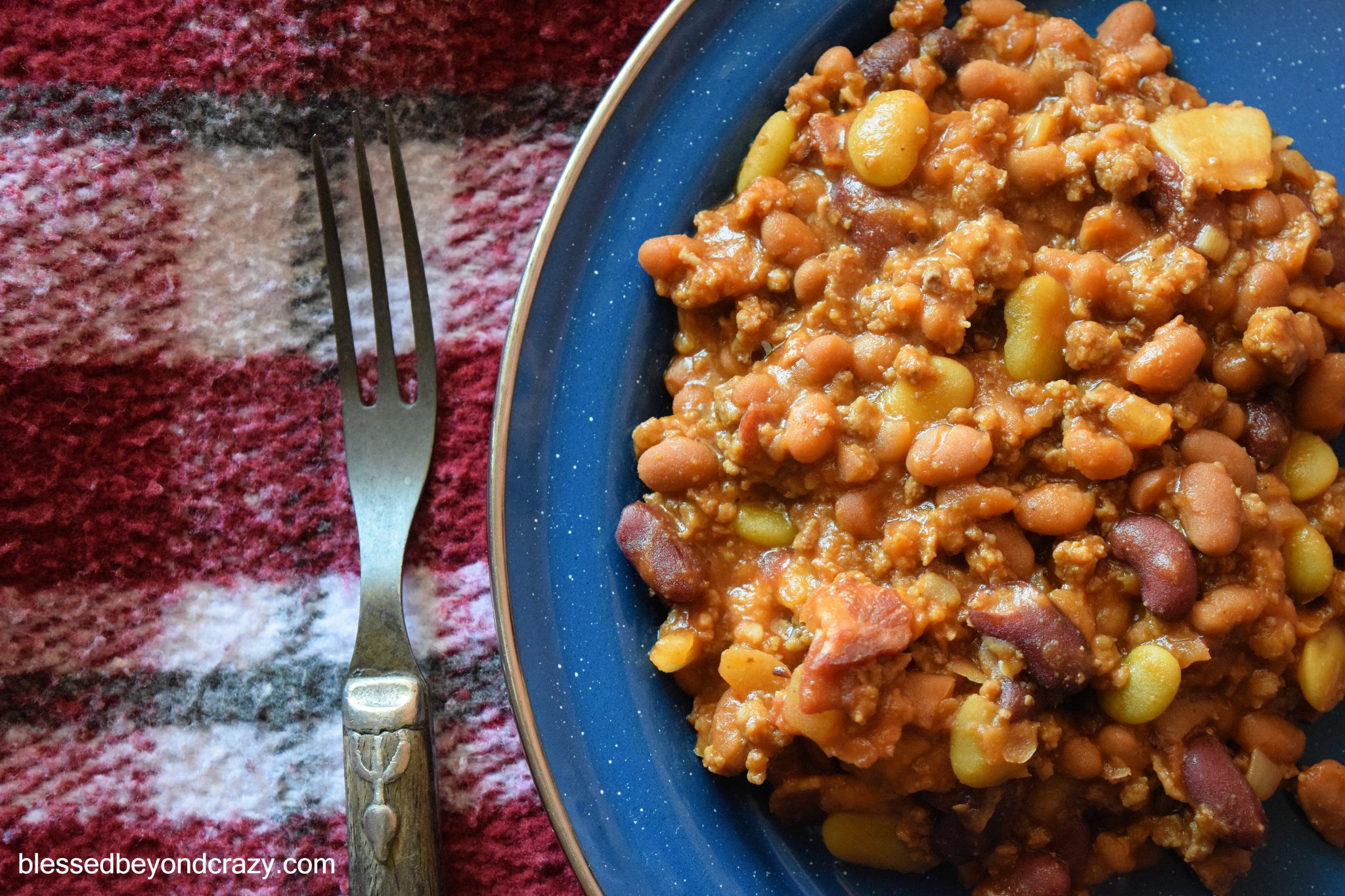 Simply Delicious
As you can see in the picture above, Loaded Crock-Pot Campfire Beans are a hearty meal and perfect for your next camping excursion. In order to simplify things, I suggest precooking the ground beef and bacon beforehand and perhaps cutting the recipe in half (unless you are going to be serving a large group of people).
Depending on your campfire and the placement of your Dutch oven, obviously, the cooking time will vary. All you need to do is thoroughly heat and serve the tasty dinner piping hot. It's also easy to reheat any leftovers the next day.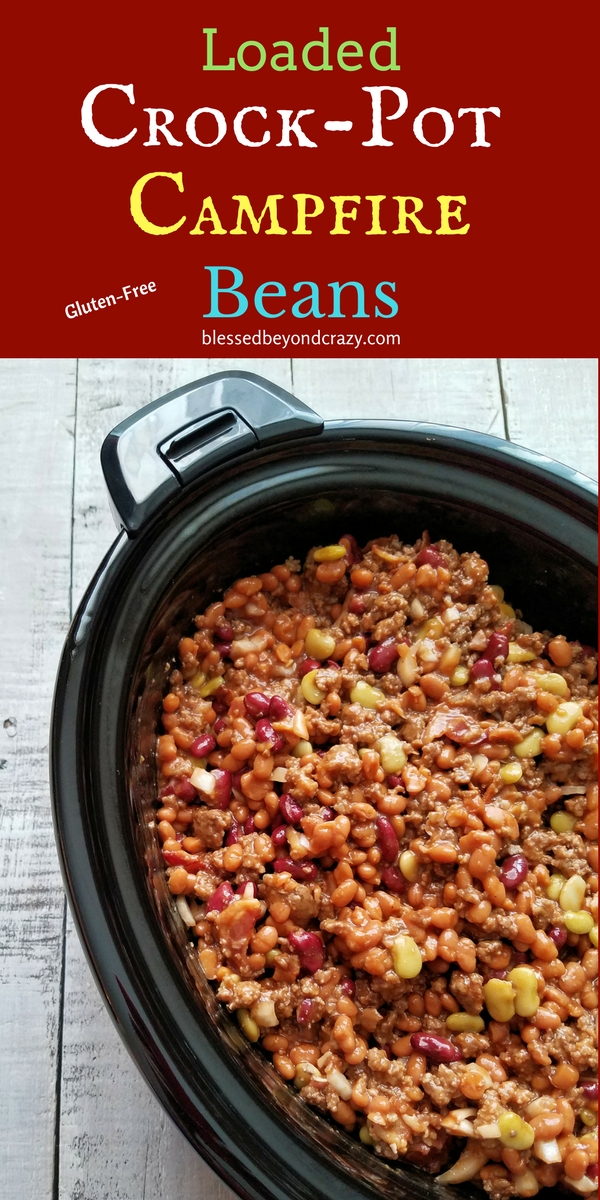 Enjoy!
Linda
Read about Nutrition, Diet & Allergy facts regarding Bush's Beans > HERE
More great ideas: