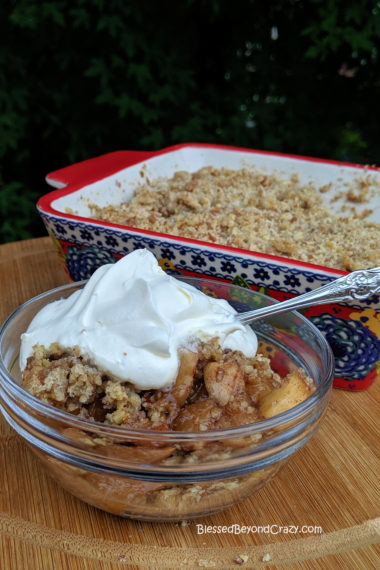 Lip-smacking Cinnamon Apple Pecan Crumble is loaded with ooey-gooey sweet apples, warm autumn spices, and a slightly crunchy crumble topping.
Invite friends over, brew your favorite coffee, and grab a stack of bowls! Then, dish up servings of this incredible dessert and watch everyone do a little happy dance!

To help support our blogging activities, our site contains affiliate links. If you make a purchase from a link on our site, we may receive a small percentage of that sale, at no extra cost to you. Blessed Beyond Crazy is a participant in the Amazon Services LLC Associates Program. This affiliate advertising program is designed to provide a means for sites to earn advertising fees by advertising and linking to amazon.com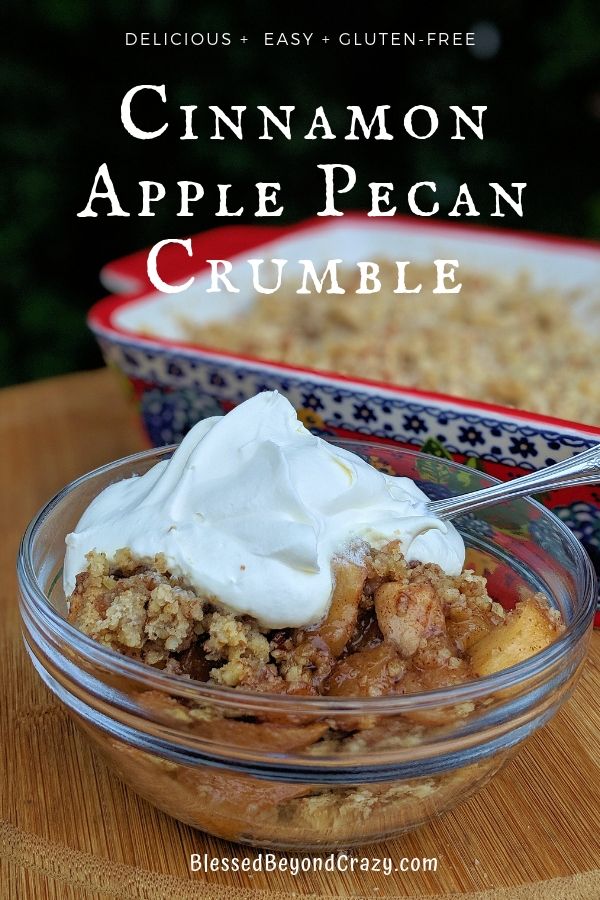 Every bite of Cinnamon Apple Pecan Crumble tastes just like fall!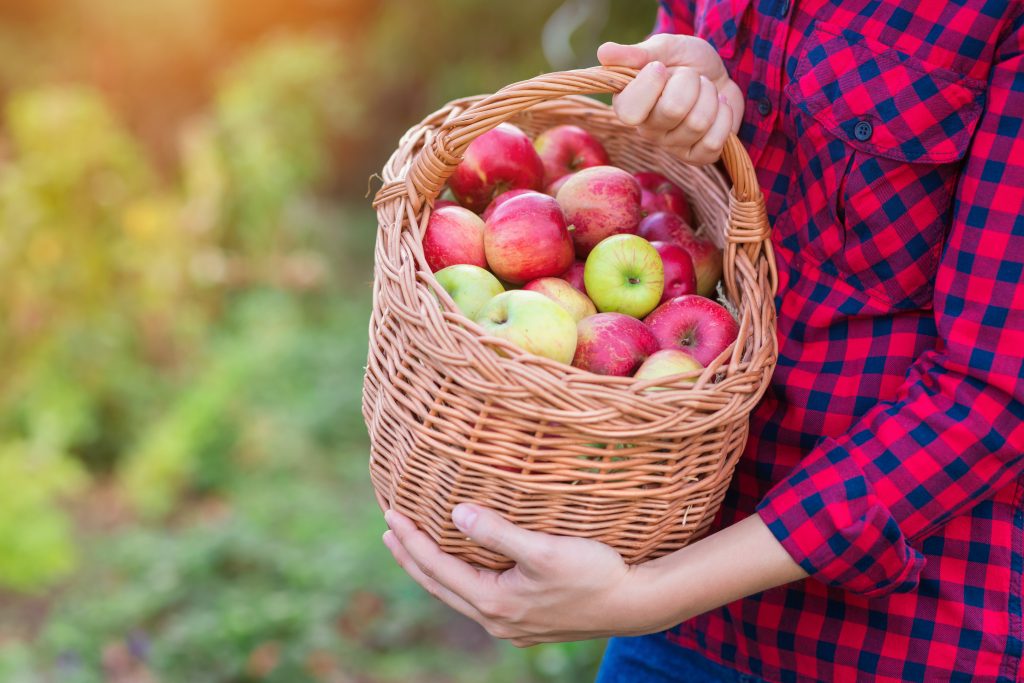 Apple Season
Every year I look forward to apple season. Probably because apples remind me of my childhood and memories of our kitchen overflowing with the sweet aroma of yummy comfort foods baking in the oven.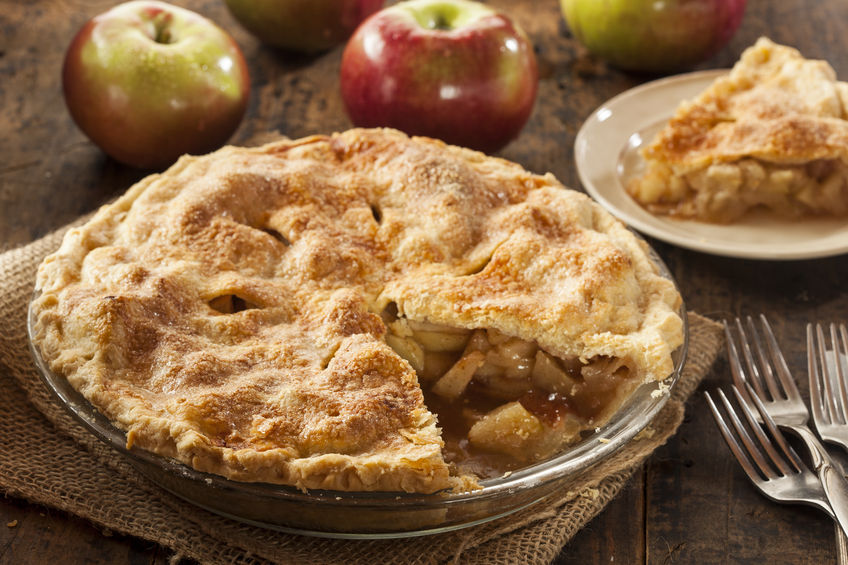 I mean, seriously, it's really hard to beat a big nice warm slice of Grandma's Favorite Apple Pie, a plate full of fresh Apple Pie Fritters, or a slice of Old-Fashioned Praline Apple Bread.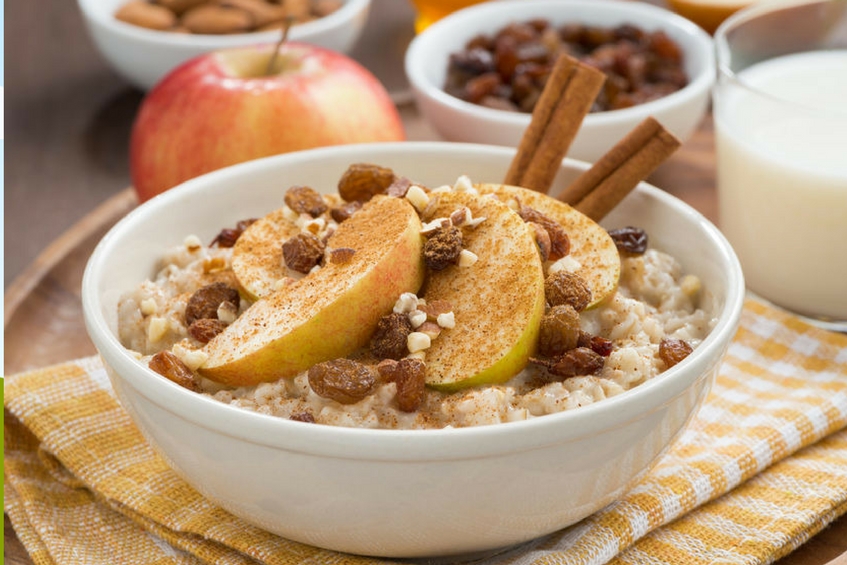 Not to mention a hearty bowl of Apple Pie Oatmeal on a cold morning. Besides that, a bowl of Healthy Apple Salad or a sweet and juicy Old-Fashioned Double-Dipped Caramel Apple make the perfect afternoon snack!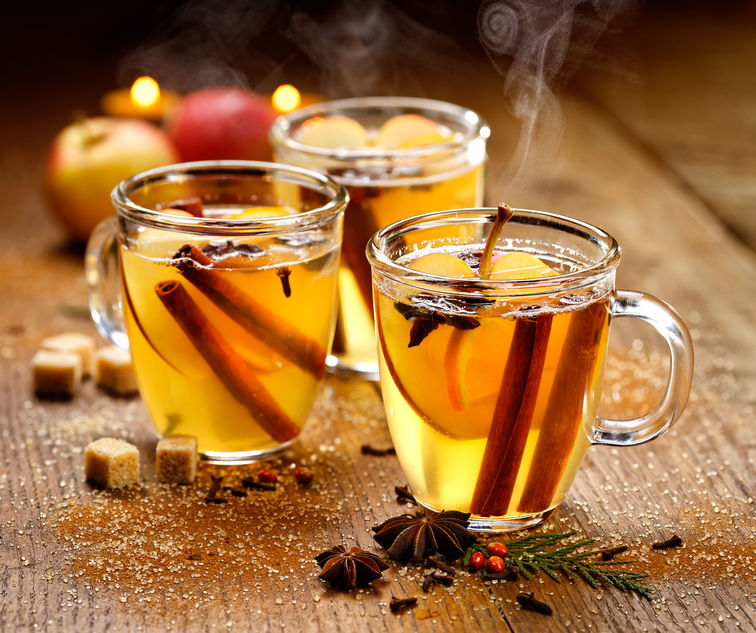 Warm Autumn Spices
Toasty cinnamon, spicy cloves, and aromatic allspice are just a few warm spices that remind me of crisp fall days.
Some of the most popular warm autumn spices are:
In addition to all those delectable desserts, a mug full of Mulled Apple Cider also hits the spot on a chilly autumn day.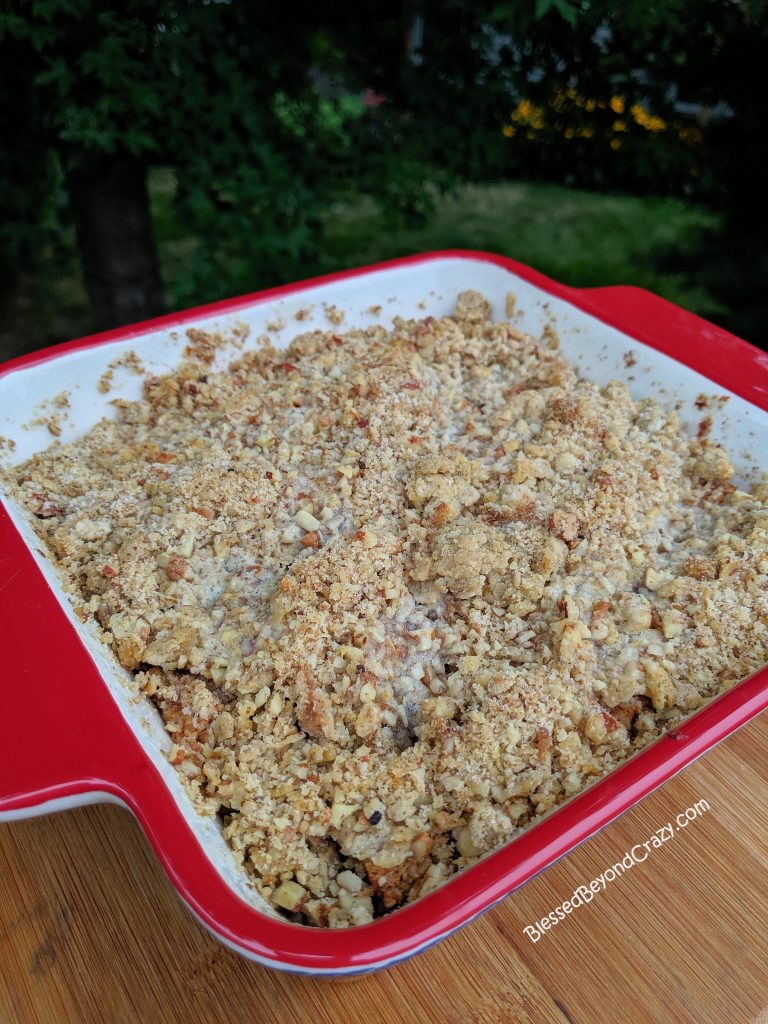 Uncomplicated
Now on to this uncomplicated and easy-to-make Cinnamon Apple Pecan Crumble Dessert. This recipe is such a great way to use up some of those extra apples you may find lying around your kitchen. It really doesn't matter what variety of apples you use in this recipe because I think they all taste amazing! Better yet, mix several different varieties of apples!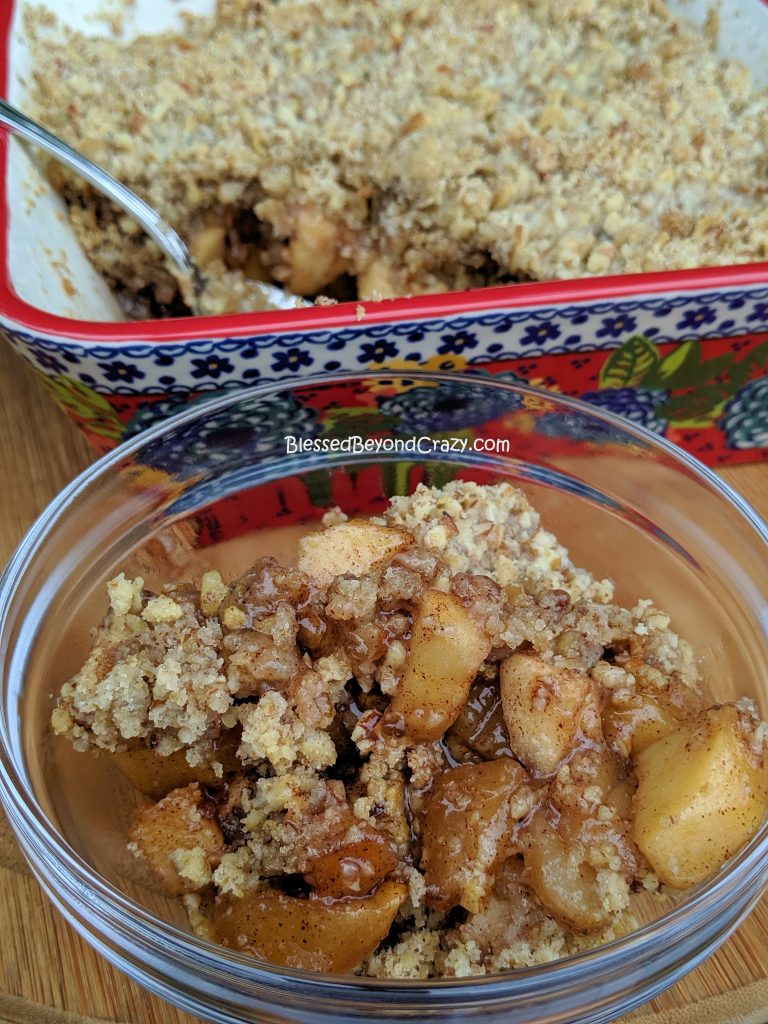 So Good!
Can you see the cinnamon, apples, and chopped pecans in the picture above? Let me tell ya… the combination is so incredibly good!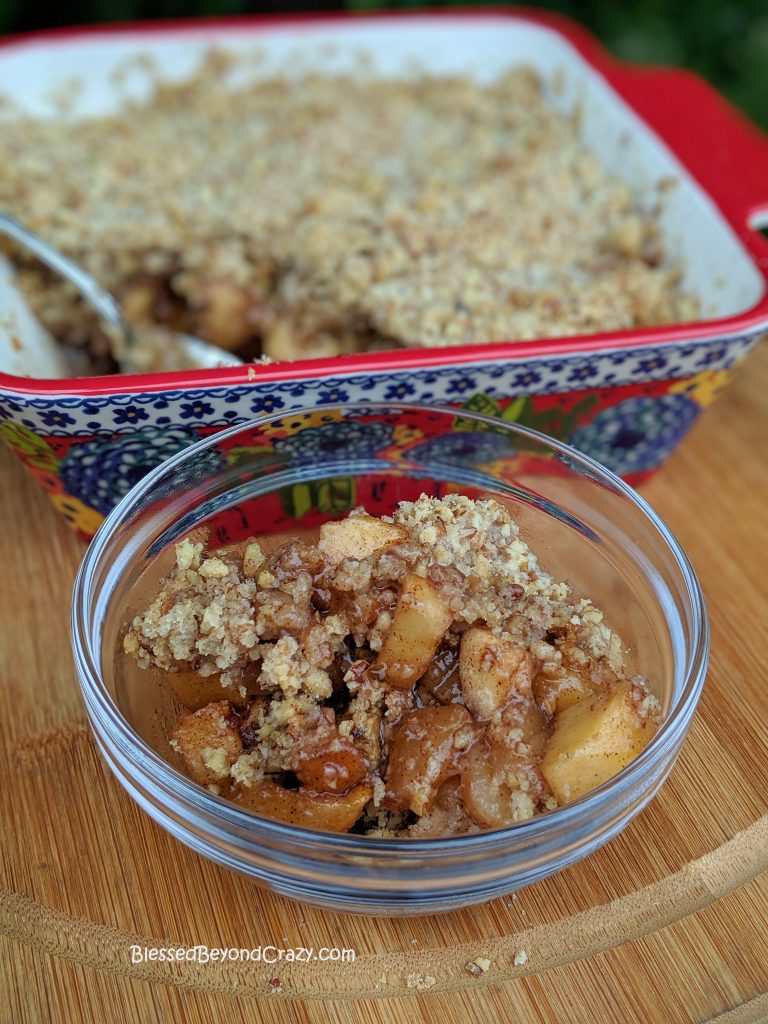 Garnish
Although Cinnamon Apple Pecan Crumble is great all by itself, I like to fancy it up a bit by adding a dollop of whipped topping or a scoop of vanilla bean ice cream.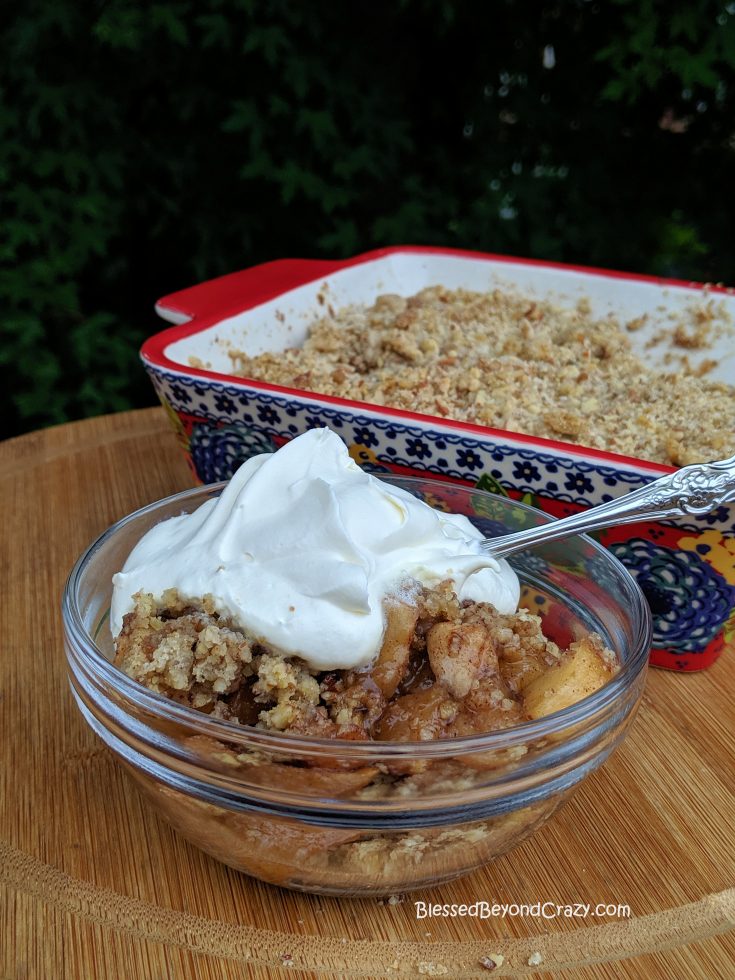 Yield: 6 Servings
Cinnamon Apple Pecan Crumble
Prep Time: 15 minutes

Cook Time: 40 minutes

Total Time: 55 minutes

A favorite autumn dessert that's loaded with ooey-gooey sweet apples, warm autumn spices, and a crunchy crumble topping.
Ingredients
3 cups apples, peeled and chopped
1/2 cup brown sugar
1 1/2 teaspoon ground cinnamon
1/4 teaspoon ground nutmeg
2 teaspoons instant tapioca
pinch of salt
CRUMBLE TOPPING:
4 Tablespoons butter, softened
1 cup flour (GF Option: use gluten-free flour blend)
1/2 cup brown sugar
1 teaspoon baking powder
1/2 teaspoon ground cinnamon
pinch of salt
1 egg, lightly whisked
1/2 cup chopped pecans
1/4 cup butter, melted
Instructions
In a large mixing bowl combine apples, brown sugar, cinnamon, nutmeg, tapioca, and salt. Pour into a lightly greased 8-inch square baking dish.
In a separate bowl combine butter, flour, brown sugar, baking powder, cinnamon, salt, and egg. Gently stir in pecans. Drizzle melted butter over the top of the crumble mixture.
Bake at 350 degrees F. for 40 minutes or until golden brown and center is set.
Serve warm with a garnish of whipped topping or scoop of vanilla bean ice cream.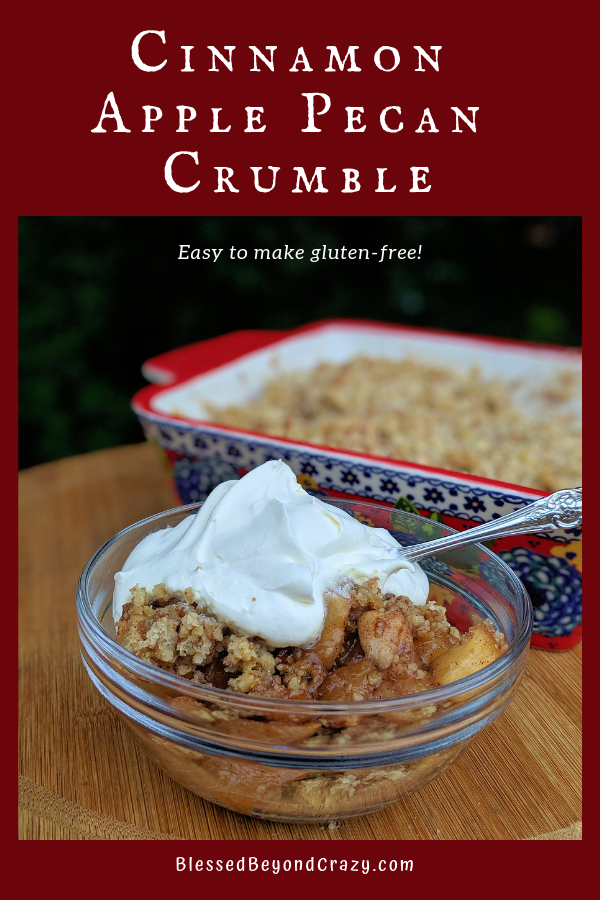 What's your favorite apple recipe?
Linda
More great ideas: