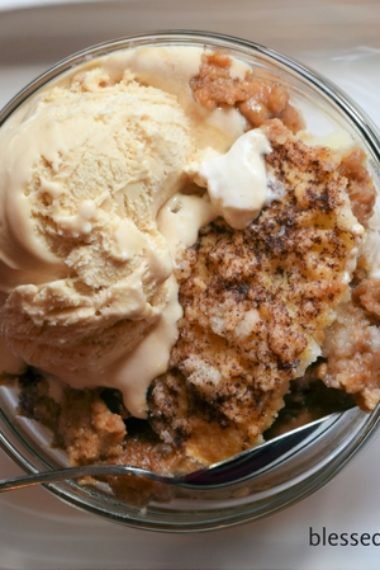 What do you do with an abundance of apples? You make delicious Apple Pecan Dump Cake of course!
Anna and I are super excited to be a part of this month's 30 Day Recipe Challenge! This month, the roundup is featuring a variety of scrumptious APPLE recipes so be sure to scroll to the very end of this post to see the many drool-worthy apple creations.

To help support our blogging activities, our site contains affiliate links. If you make a purchase from a link on our site, we may receive a small percentage of that sale, at no extra cost to you. Blessed Beyond Crazy is a participant in the Amazon Services LLC Associates Program. This is an affiliate advertising program designed to provide a means for sites to earn advertising fees by advertising and linking to amazon.com.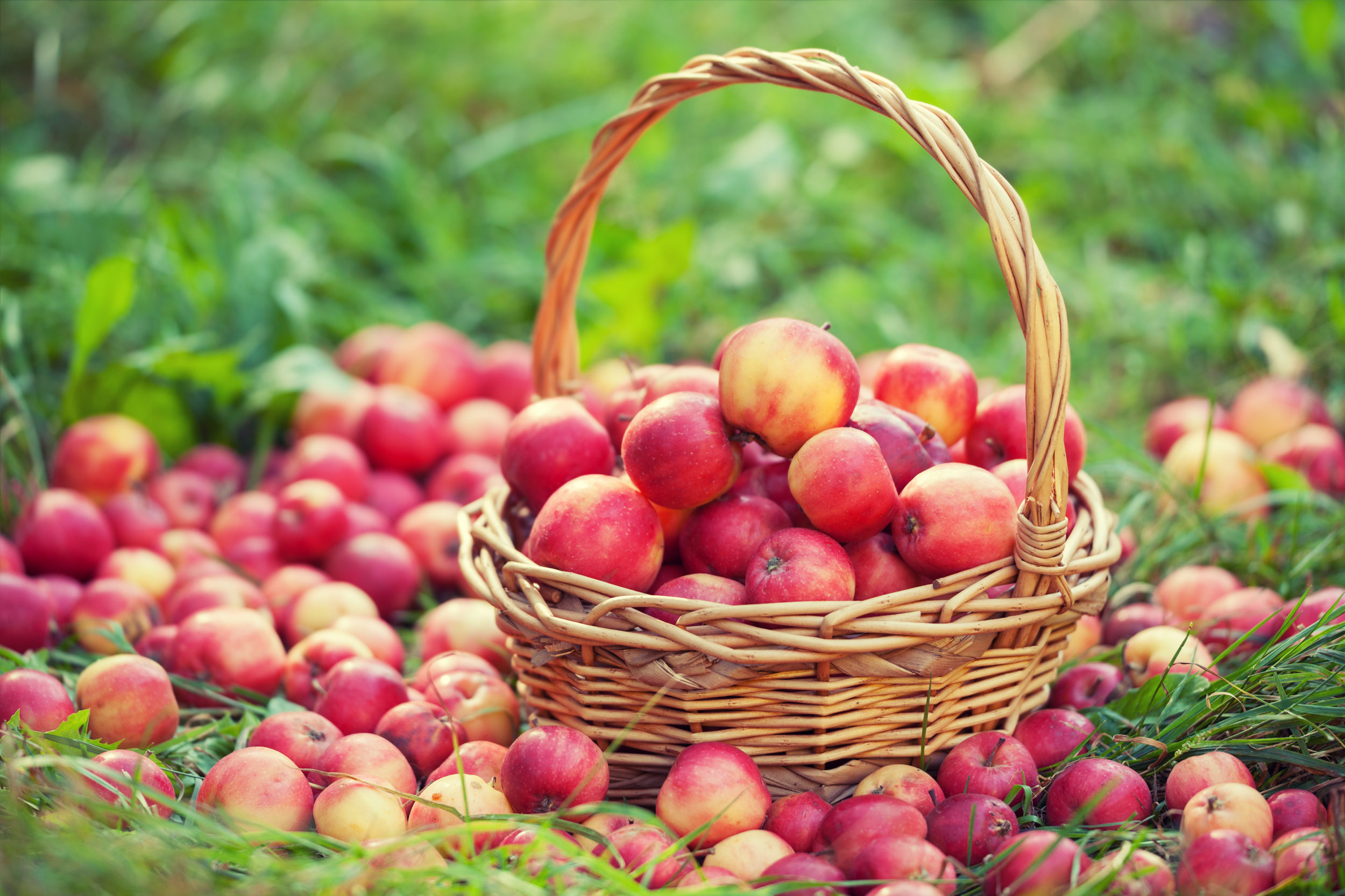 My love for apples probably came from growing up on a farm where we had several varieties of apple trees. In the fall, it was great being able to leisurely walk out to one of our apple trees and pluck off a delicious ripe juicy apple! As a result of having an abundance of apples, we enjoyed making our own homemade applesauce, apple pies, cakes, and other tasty apple recipes regularly. Therefore, my love of apples developed early on.
While there are tons of great apple recipes, for now, let's talk about Apple Pecan Dump Cake. This amazing dessert can easily be modified to be gluten-free and as a matter of fact, the pictures in this post are actually of the gluten-free version. Consequently, you may want to file this recipe away for the upcoming holidays. Seems like so many people must follow a gluten-free diet these days.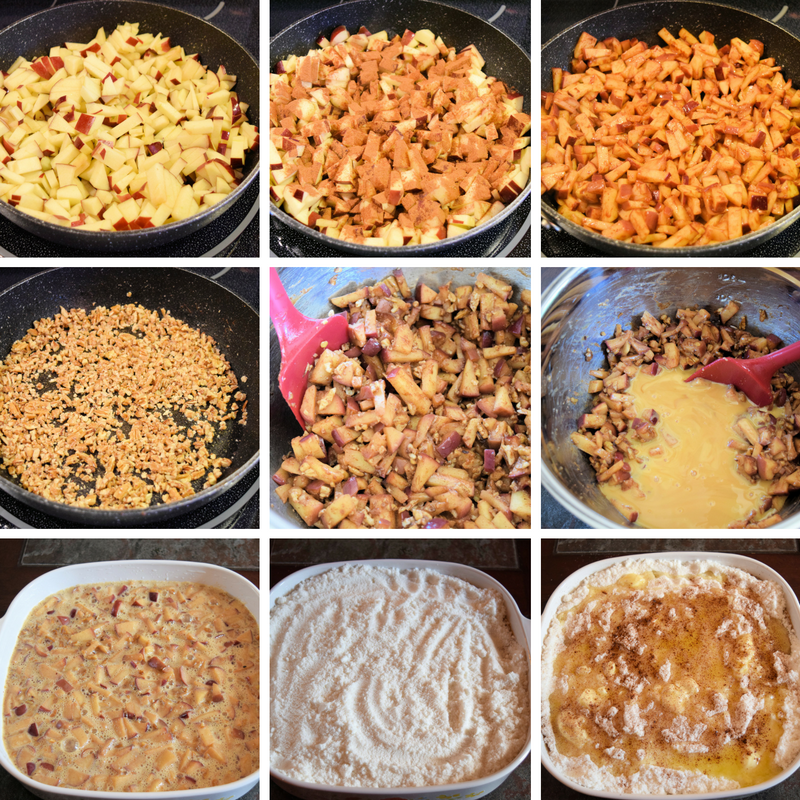 The step-by-step picture collage above shows the various steps to creating this tasty, yet easy dump cake.
The first step is to wash, chop, and place apples in a skillet with melted butter.

A generous sprinkle of apple pie spice goes on top of the apples.

Cook the apples just until tender, and

place the apples in a separate bowl.
Add more butter to a skillet and add chopped pecans, saute.
Combine apples and pecans, and stir.
Next, add salted caramel topping and condensed milk to the mixture, and stir.

Pour mixture into a well-greased baking dish.

Top with sugar cookie mix.

Pour melted butter over top and an additional sprinkle of cinnamon.

Bake.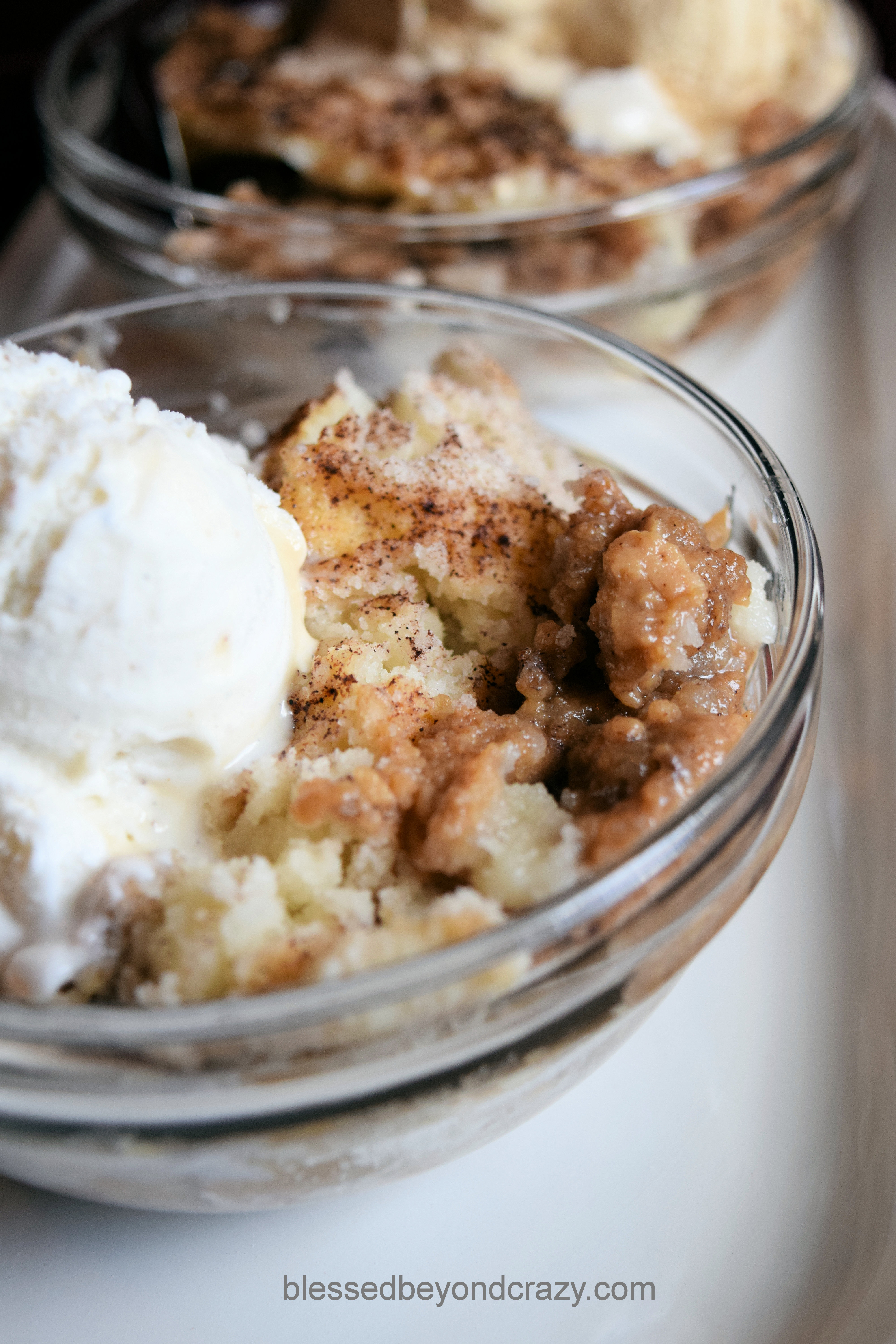 When the Apple Pecan Dump Cake is finished baking, allow it to cool 5 minutes. Spoon into cute dessert bowls and top with ice cream.


There are many delicious flavors of ice cream that pair well with Apple Pecan Dump Cake. A personal favorite flavor is salted caramel ice cream. Another favorite is vanilla bean followed by butter pecan and cinnamon ice cream. Coffee flavored ice cream would probably be another great combination as well.
Personally, I like Breyer's gluten-free ice cream so I've provided a link to Breyer's website HERE!
Because apples are so versatile they work well in numerous recipes. Everything from Spiced Applesauce Pecan Cupcakes with Caramel Frosting, to a Mini Cast Iron Skillet Pie, as well as Apple Pie Oatmeal. In addition, apples are delicious in beverages too. This recipe for Mulled Apple Cider is heavenly and a perfect drink to help warm up on a cold day.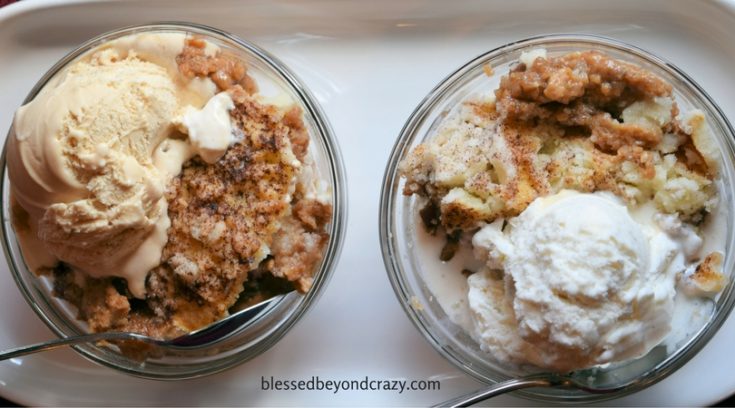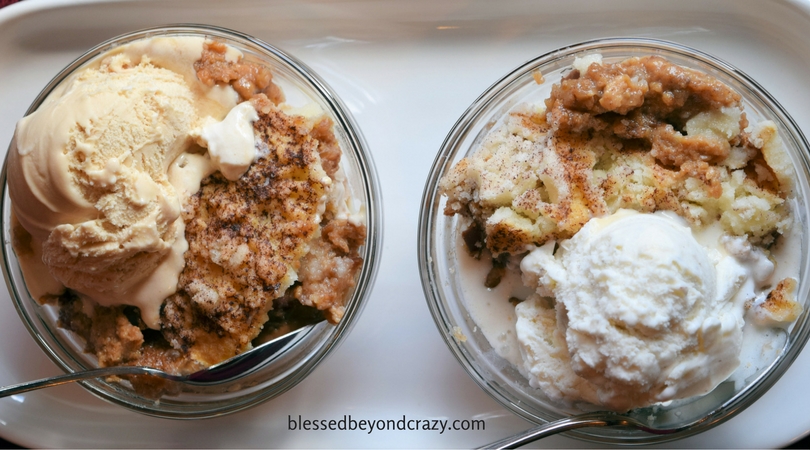 Apple Pecan Dump Cake with GF Option
Total Time:
1 hour
15 minutes
A delicious dump cake recipe that can easily be modified to be gluten-free.
Ingredients
3 1/2 cups chopped apples
3 tablespoon butter, divided
1 heaping tablespoon apple pie spice
1 cup chopped pecans
3 eggs, slightly beaten
1/4 cup salted caramel topping (GF Option: Smucker's Simple Delight Salted Caramel Topping)
1 (14 ounce) sweetened condensed milk
1 (17.5 ounce) box sugar cookie mix (GF Option: Pillsbury GF Sugar Premium Cookie Mix)
1/2 cup butter, melted
1 teaspoon ground cinnamon
Instructions
In a medium size skillet melt 2 tablespoons butter over medium heat.
Add chopped apples and apple pie spice to skillet, cook for 5 minutes, stir occasionally.
Remove from heat, place apples in mixing bowl.
Return skillet to heat, add remaining 1 tablespoon butter and pecans.
Heat pecans over medium heat until warm and toasted, add to apples, stir.
Cool to room temperature.
In small mixing bowl beat eggs, add to apple mixture.
Pour mixture into a well greased 10 x 10 baking dish.
Sprinkle sugar cookie mix evenly over top.
Drizzle melted butter over cookie mix.
Top with a sprinkle of ground cinnamon.
Bake in a preheated 350 degree F oven for 45 to 55 minutes, or until golden brown and center is set.
Remove from oven, cool for 5 minutes.
Spoon into serving bowls.
Top with scoop of ice cream.
Serve.
Refrigerate leftovers.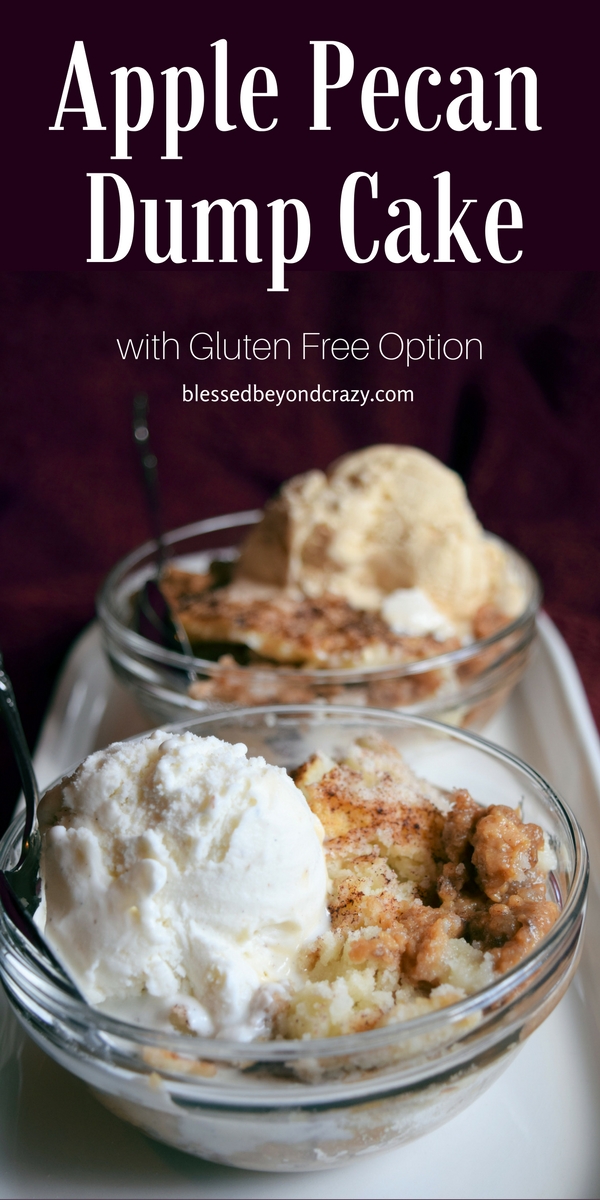 I always value my husband's option because he is my trusty taste-tester. Although he loves me very much, he is totally honest when it comes to his assessment of any recipe. Since he informed me he loved this Apple Pecan Dump Cake, I believe he really loved it! That is especially relevant because he isn't a big fan of apples. Therefore, I consider this recipe to be a double winner!
Linda
Disclaimer: Manufacturer's formulations and policies may change at any time, therefore it's important to always read product labels yourself and contact the manufacturer with concerns. We have found that most companies are eager to help answer your questions.
Check out all the other delicious APPLE recipes below from bloggers who took part in our 30 Day Apple Challenge.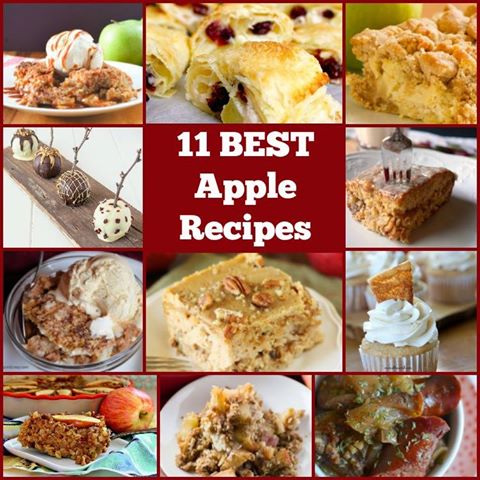 More great ideas from Blessed Beyond Crazy: