It's soup season and therefore time to make a pot of hearty soup. This delicious vegetable soup is preservative-free and gluten-free. Made the good ole fashioned way, just like grandma used to do. Scrumptious Old Fashioned Vegetable Soup always seems to be a winner! (Psst, for a fast and easy meal, simply heat up any leftovers later in the week!)
To help support our blogging activities, our site contains affiliate links. If you make a purchase from a link on our site, we may receive a small percentage of that sale, at no extra cost to you. Blessed Beyond Crazy is a participant in the Amazon Services LLC Associates Program, an affiliate advertising program designed to provide a means for sites to earn advertising fees by advertising and linking to amazon.com.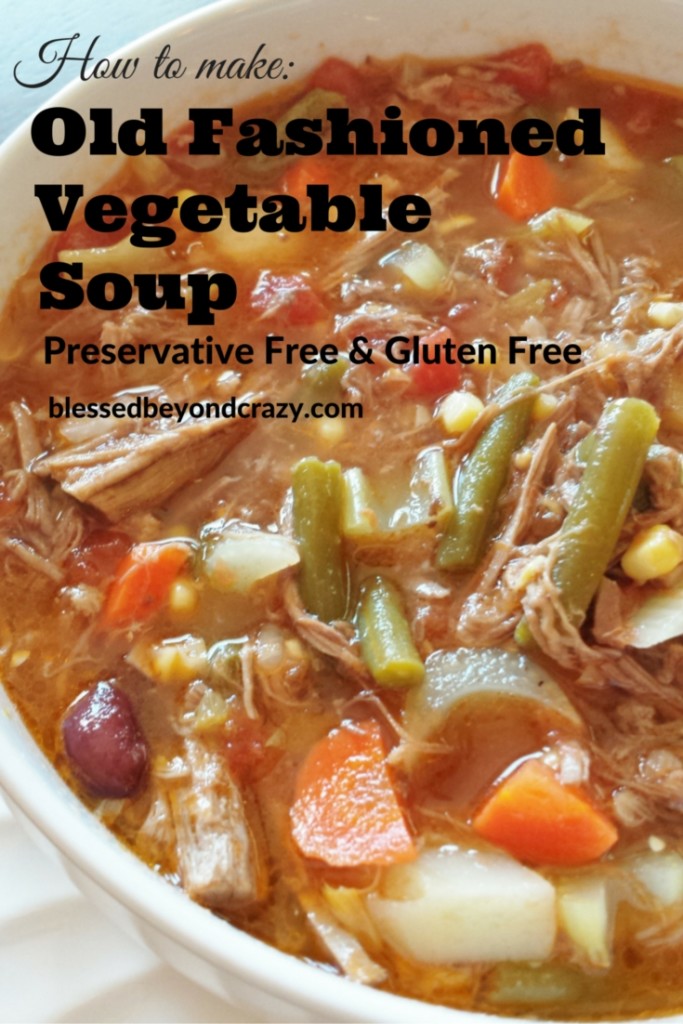 Healthy Homemade Soup
I have to confess that when there's a chill in the air, I crave a good hearty bowl of soup. Since I am on a gluten-free diet and have multiple food allergies I really need to be careful what ingredients I use.
Rather than buying store-bought soup I always make a homemade soup that's healthy and not laden with preservatives and/or fillers.
Therefore, without further ado, allow me to introduce you to made-from-scratch, good Old Fashioned Vegetable Soup that is also gluten-free.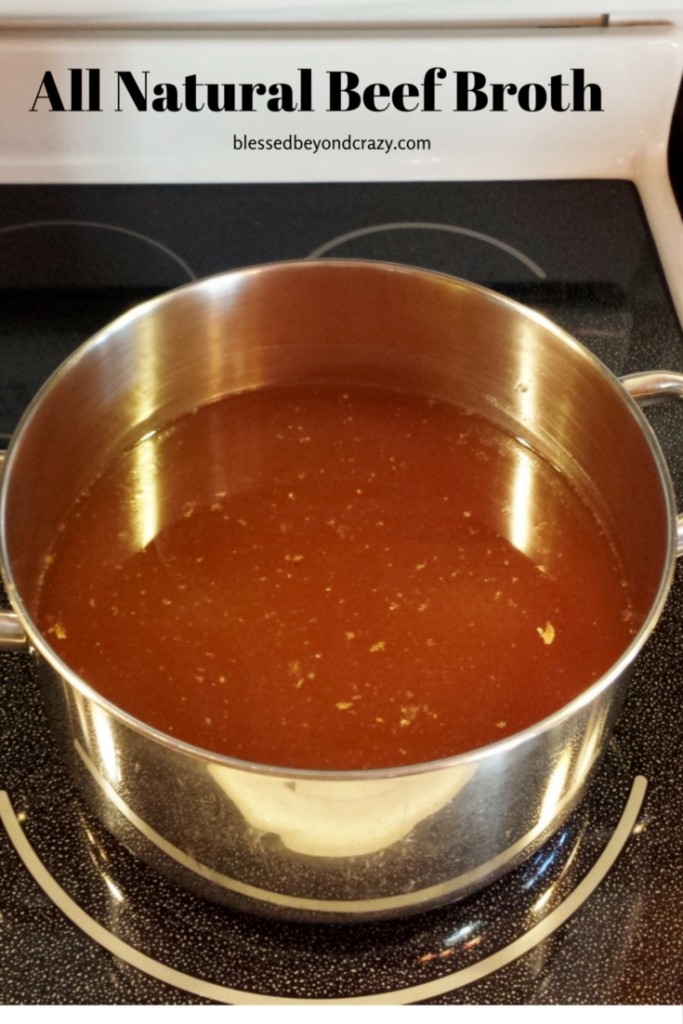 Beef Broth
This recipe starts by slow-cooking fresh beef roast (either round or chuck roast works well) in a crock-pot for 8 hours. I covered two chuck roast (total of 4 pounds worth) with just a little over 2 quarts of water and seasoned them with salt, pepper, and two bay leaves. The roast is cooked in the crockpot on the lowest setting overnight.
The next morning I separated the roast from the broth and removed the bay leaves. I then used my fat separator to strain the broth, removing the excess fat and drippings, and placed the broth into a stockpot.
Now I had all-natural, preservative-free beef broth. This broth freezes well so feel free to divide up a batch of this delicious broth for later use, such as when making homemade beef gravy.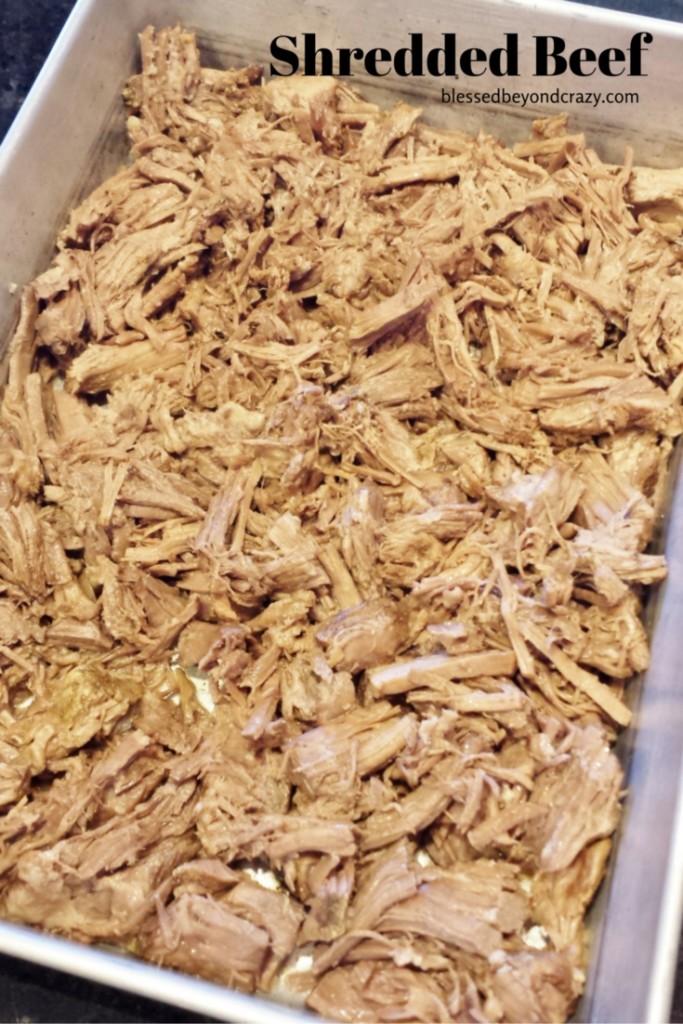 Shredded Beef
After the beef cooled for just a bit, I took two forks and shredded the beef. If you choose not to use all of the shredded beef in your soup, you can make BBQ beef sandwiches with the extra. (Equally as delicious!)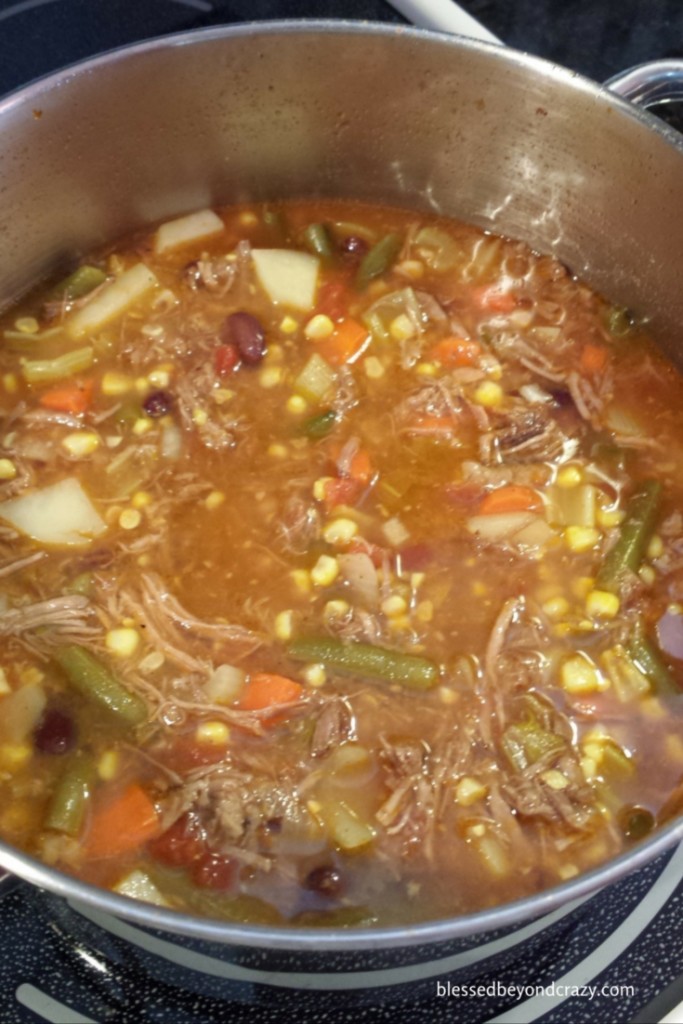 Vegetables
The next step is to bring the broth to a low boil and add a variety of fresh vegetables. I used fresh carrots, celery, green beans, potatoes, diced tomatoes, onions, corn, and a few preservative-free kidney beans. If I would have had cabbage, I would have thrown some of that in too.
NOTE: Due to my allergies to onions, garlic, and corn, I removed a portion of the soup before adding these ingredients.
I placed a lid on my stockpot and simmered the soup until the vegetables were tender when poked with a fork. Next, the shredded beef went in. I allowed the soup to simmer a little longer to allow the beef to get completely hot.
Steamy Bowl of Soup
There really isn't anything quite like a bowl of good Old Fashioned Vegetable Soup to warm one's soul. This soup is not only delicious and healthy, but it's also filling. Enjoying a hot, steamy bowl will help you stay toasty warm on a cold day or night.
If you are looking for soup bowls, be sure to check out these ceramic soup crocks. These would make a great bridal, birthday or Christmas gift for someone!
Old Fashioned Vegetable Soup
---
Linda Wiseman
Yields 1 to 1 1/2 gallon
A delicious gluten free and preservative free vegetable soup recipe.
40 minPrep Time
9 hrCook Time
9 hr, 40 Total Time
Ingredients
Approximately 4 pound chuck or round beef roast
2 quarts water
1 tablespoon sea salt, or to taste
1 tablespoon ground black pepper, or to taste
2 large bay leaves
3 cups diced carrots
3 cups diced celery
3 cups fresh green beans, cut
3 cups diced potatoes
3 cups diced tomatoes
3 cups diced cabbage
1 cup diced onions
1 cup fresh sweet corn
1 cup preservative-free kidney beans
Pinch of garlic
Pinch of sugar
Instructions
Place 4 pound chuck or round beef roast, water, salt, pepper and bay leaves in a crock-pot for 8 hours on lowest setting.
Separate roast from the broth and removed the bay leaves. Using a fat separator, strain the broth and remove excess fat and drippings, place broth in stockpot.
Using two forks, shred beef.
Over medium heat, bring beef broth to a low boil.
Add vegetables, beans, garlic and sugar.
Optional: add more salt and pepper to taste
Simmer until vegetables are tender when poked with a fork.
Add shredded beef, simmer until beef is hot.
Serve.
Refrigerate or freeze leftovers.
7.8.1.2
128
https://blessedbeyondcrazy.com/old-fashioned-vegetable-soup/
www.blessedbeyondcrazy.com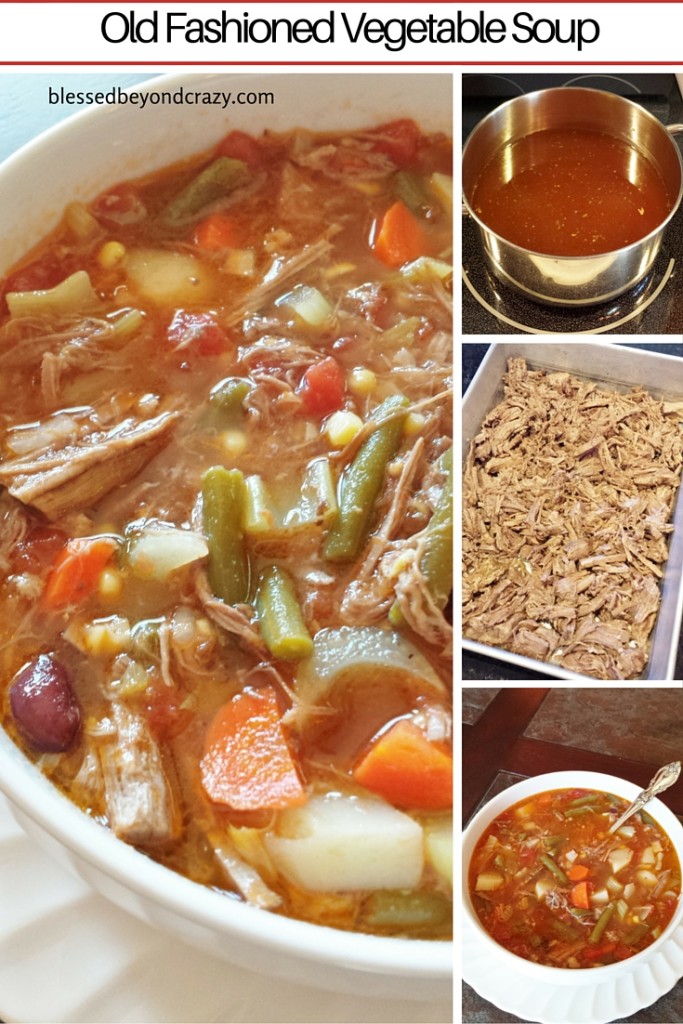 Here's to staying, warm, healthy, and happy this winter season.
Enjoy!
Linda
More great soup recipes: